Peppermint Cheesecake Oreo Brownies: layers of homemade brownies, holiday cookies, and peppermint cheesecake will put a smile on your face this Christmas.
Do not forget the swirl of Peppermint Whipped Cream because it adds just the right touch of holiday love!
*I am partnering with ADA Mideast this month to bring you a holiday recipe. As always, all opinions are 100% my own.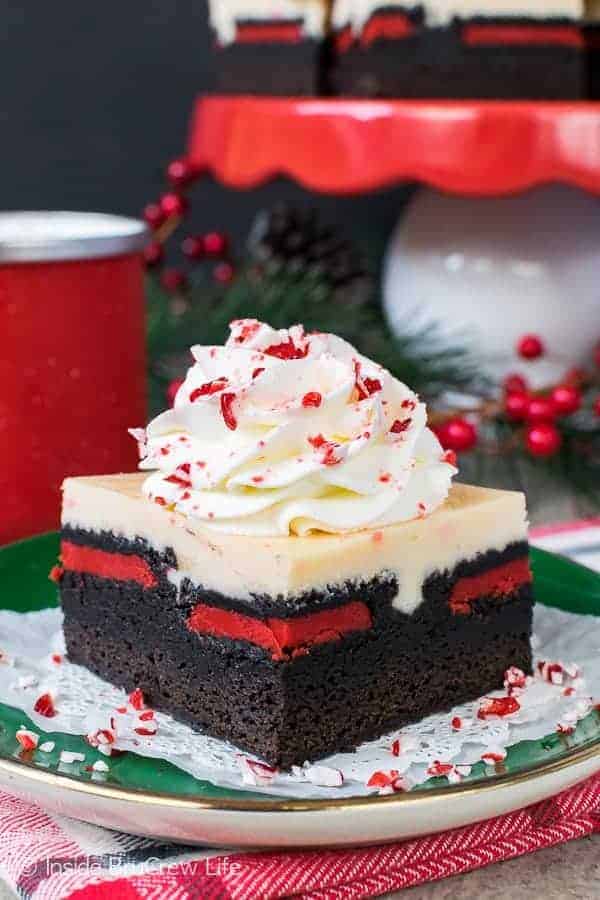 CLICK HERE TO PIN THIS RECIPE FOR LATER!
It's the most wonderful time of year. Christmas decorations are up, and everywhere you go there is Christmas music playing or bells ringing. I don't know about you, but hearing those ringing bells outside most stores gives me the warm fuzzies. It's the sound of people giving back because they care.
The church that we have been attending for the past few months had a big donation drive earlier this month. We participated by shopping for children from other countries with our two youngest children. They had fun picking out items for each box.
They also do different food drives and work days through the year, so we are looking forward to helping out even more. We want our children to see how much it means to help out and give back to others that are in need. My desire is that they will remember these giving moments instead of the gifts under the tree each year.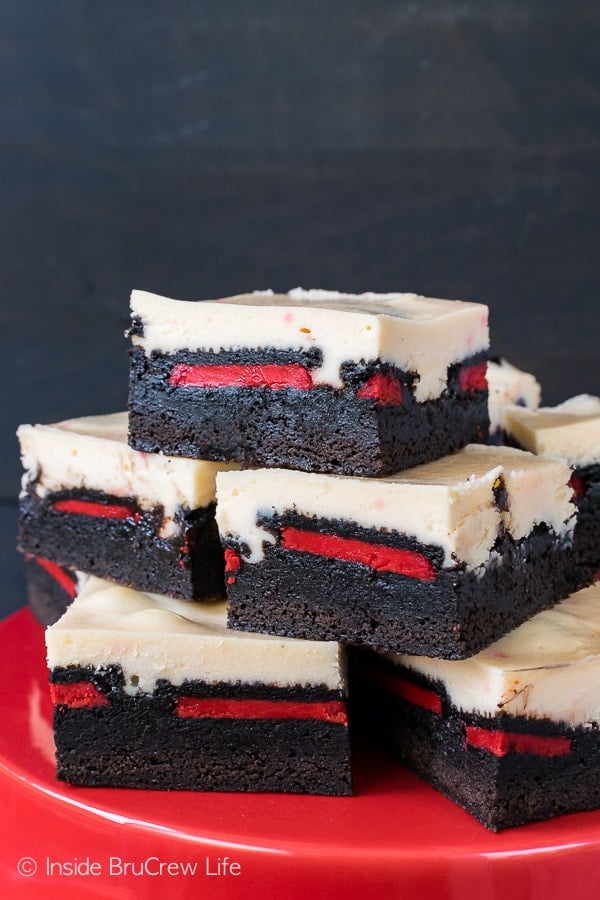 This month I am partnering with the American Dairy Association Mideast for their annual Cooking Together to Give Gallons campaign. They will be donating 25 cents to The Great American Milk Drive for every new follower on Twitter, Facebook, and Instagram through December 13. One click of a button can help so many families in need.
Did you know that milk is the number one requested item by most food banks, but it is rarely donated? We go through a few gallons a week at our house. So, I can't even imagine not having milk available to drink. The Great American Milk Drive will be delivering thousands of gallons of milk because there are so many families in need.
The daily recommended dosage for dairy is three servings of milk a day, which is about a gallon of milk a week. Unfortunately even here in the United States there are millions of children and families who only get one gallon per year.
If you would like to donate separately, you can do that here as well. Your $5 donation will provide a gallon of milk to one family in need this holiday.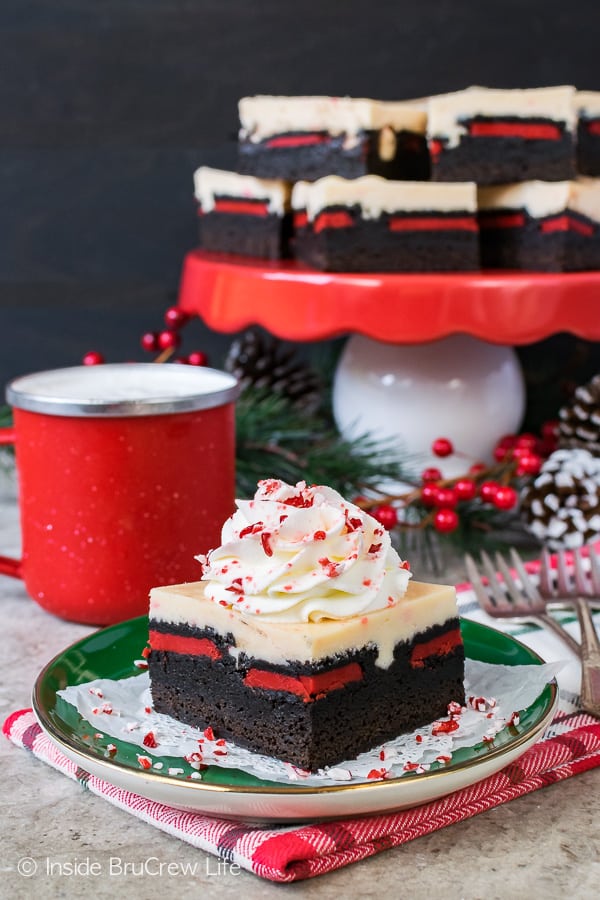 One of my absolute favorite ways to add dairy to our diet is in the form of cheesecake. These fun cheesecake bars staring back at you have three times the dairy goodness in them. That's right. I included cream cheese, Greek yogurt, and heavy whipping cream in every bite.
A pan of these cheesecake brownies in your fridge is one way to get your daily dairy intake.
Tips for making Peppermint Cheesecake Oreo Brownies:
This sweet bars start with a double batch of homemade chocolate chip brownies topped with Oreo cookies. I wanted the cookies to really stand out, so I bought the holiday cookies with red frosting.
For the cheesecake layer I beat together a mixture of cream cheese, sugar, yogurt, and extracts. To give it even more peppermint goodness, I melted down some white chocolate peppermint chunks and beat that into the cheesecake batter along with some eggs.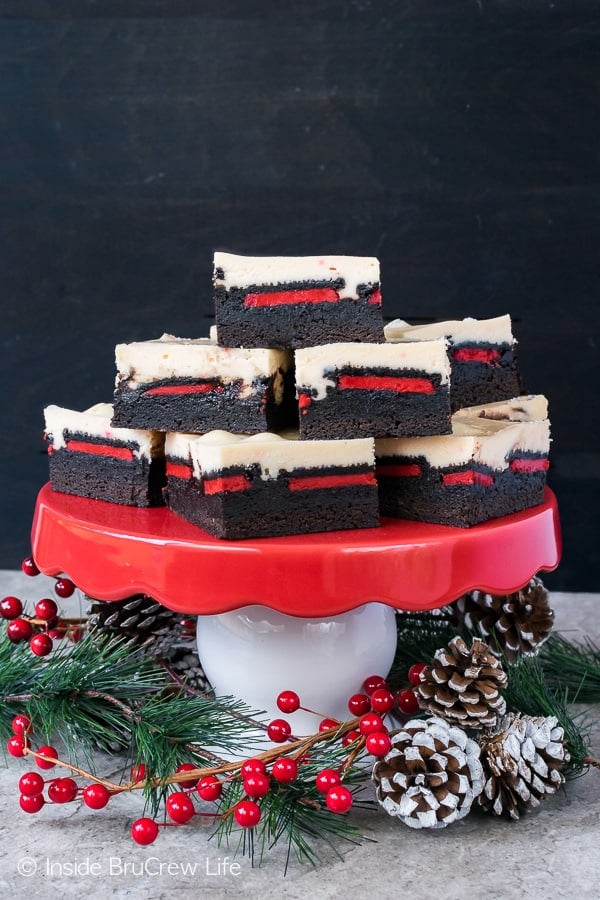 Before you add your cheesecake batter to the pan, make sure to press the cookies down into the brownie batter until they are even. As these peppermint cheesecake Oreo brownies bake, the cookies will start to float up and allow the brownies to bake through the cheesecake layer.
Start with the cookies pushed down, so it will keep this from happening. Too much anyway.
I did have a few spots around the edges of my brownies where you could see a bubble of brownie mixture baked through the top. Don't worry if this happens because they still taste amazing!
The pan of these fun Christmas brownies didn't stand a chance in our fridge. One by one these little square of peppermint goodness disappeared.
I guess it's time to bake another batch of brownies. I'm feeling the need for more dairy today. Wink, wink!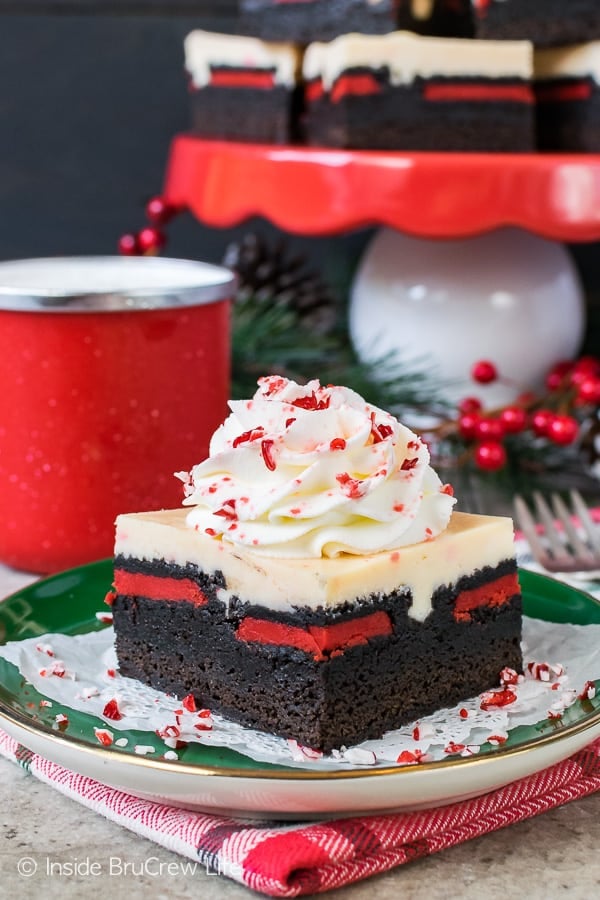 Here are a few more easy holiday recipes that you may enjoy:
Stay up to date on all the BruCrew baking here:
FACEBOOK | PINTEREST | TWITTER | INSTAGRAM | BLOGLOVIN
Sign up to receive an email in your inbox for each new recipe:
EMAIL SUBSCRIPTION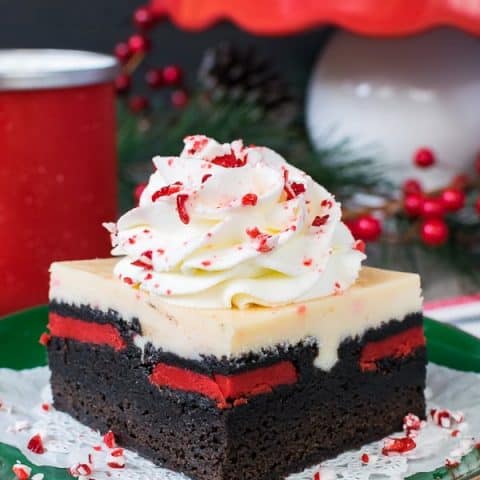 Peppermint Cheesecake Oreo Brownies
Yield:
24 cheesecake brownies
Total Time:
1 hour
10 minutes
Peppermint Cheesecake Oreo Brownies: layers of homemade brownies, holiday cookies, and peppermint cheesecake will put a smile on your face this Christmas. Do not forget the swirl of peppermint whipped cream because it adds just the right touch of holiday love!
Ingredients
For the Brownies
1 cup butter, melted
½ cup dark cocoa powder
4 eggs
2 cups sugar
2 teaspoons vanilla
1 teaspoon salt
1 ½ cups flour
½ teaspoon baking powder
24 holiday Oreo cookies
For the Cheesecake
2 - 8 ounce packages cream cheese, softened
¼ cup sugar
¼ cup plain Greek yogurt
½ teaspoon vanilla extract
½ teaspoon peppermint extract
1 ⅓ cup white peppermint baking chunks
2 eggs
1 batch peppermint whipped cream
peppermint candy pieces
Instructions
Preheat the oven to 350 degrees. Line a 9x13 pan with foil. Spray it with nonstick baking spray.
Mix together the melted butter and cocoa powder.
Beat the eggs and sugar together. Add the vanilla, salt, and butter mixture and beat again.
Slowly add the flour and baking powder until mixed in. Spread in the bottom of the prepared pan.
Place the Oreo cookies on top of the batter side by side.
Using a clean bowl, beat the cream cheese and sugar until creamy. Add the yogurt and extracts and beat again.
Place the white peppermint chunks in a microwave safe bowl. Heat for 30 seconds and stir. If needed, heat an additional 15-20 seconds and stir again until creamy.
Slowly pour the melted chocolate into the cheesecake batter and beat until mixed in.
Add the eggs one at a time beating after each addition. Do not over beat the batter.
Press the Oreo cookies down into the brownie batter gently. Spoon the cheesecake batter slowly on top of the cookies.
Spread the batter out and bake for 45-48 minutes. Do not over bake.
Remove the pan from the oven and place on a cooling rack. After 5 minutes, use a butter knife to gently loosen the brownies from the edge of the foil. Let cool in the pan for 1 hour, then refrigerate until completely chilled.
Serve the brownies with the peppermint whipped cream and extra peppermint pieces. Makes 24 brownies.
Recommended Products
As an Amazon Associate and member of other affiliate programs, I earn from qualifying purchases.
Nutrition Information:
Yield:

24
Serving Size:

1
Amount Per Serving:
Calories:

318
Total Fat:

18g
Saturated Fat:

10g
Trans Fat:

0g
Unsaturated Fat:

6g
Cholesterol:

86mg
Sodium:

285mg
Carbohydrates:

36g
Fiber:

1g
Sugar:

24g
Protein:

5g

*I was compensated by ADA Mideast to create a holiday dairy recipe and participate in the #GiveGallons campaign. All opinions expressed are 100% my own.