Easy to make treats are always a great thing when you have so many cookies and sweets to make during the holidays.  This Candy Cane Pretzel Bark only has 3 ingredients and can be made and ready to eat in 10 minutes.  I'd say that was a dessert win for sure!
*Sign up for the BruCrew email subscription to receive these recipes in your inbox each day.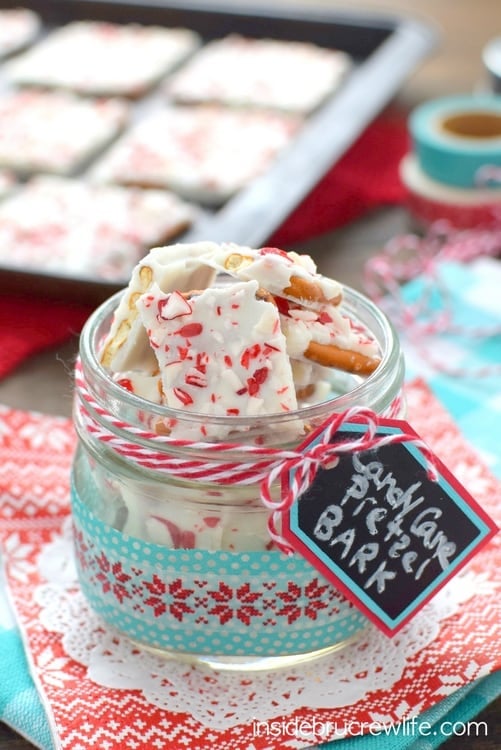 I love to make about a billion different holiday treats during the holidays.  Ok, ok!  Maybe a billion is exaggerating slightly…  But there are quite a few yummy cookies and candies that get made this month.
Not that my kitchen is lacking the rest of the year because as a dessert blogger, it's kind of my thing to bake dessert at least once a day.  Anyway, during the holidays the sweets tend to happen even more because we make extra goodies like these Chocolate Candy Cane Kiss Cookies for friends and family.
With all these sweet treats happening, it gets a little crazy and chaotic in our kitchen.  So I am always trying to find quick and easy ways to simplify some of the treats.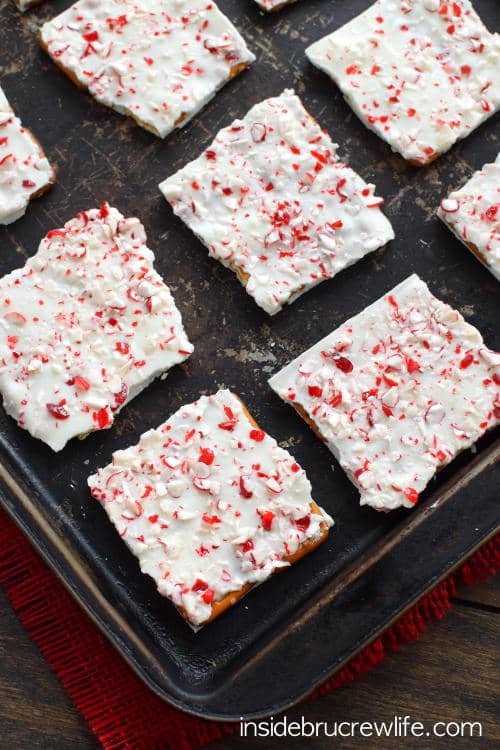 One year I made this Gingerbread Oreo Truffle Bark and was in awe at how much quicker truffles are when made into bark form.  So this year I came up with a way to make chocolate covered pretzels in under 10 minutes.
If you have ever dipped pretzels, you know that this doesn't usually happen that quickly.  Oh, but it can!  I'm going to let you in on my little secret.
A few weeks ago I made this Hot Chocolate Cheesecake Dip for my daughter and her friends.  One of the dippers I bought for it were some white chocolate covered pretzels with candy cane pieces on them.  Oh, my word!!!!  Those instantly became my new favorite thing in the world.  The sweet and salty with the peppermint crunch…I was in heaven!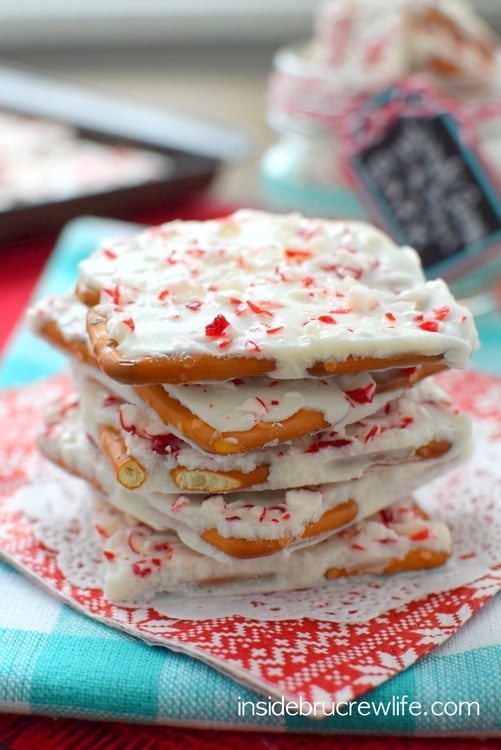 Let's just say the bag that I bought didn't stick around very long!  LOL!
It got me thinking about making my own mini chocolate covered pretzels and sprinkling them with candy cane sprinkles.  Of course then I remembered how much I really don't like standing there dipping one pretzel at a time.  It always takes forever!  Oh, maybe not quite that long.  Drama much?
Enter the Candy Cane Pretzel Bark idea…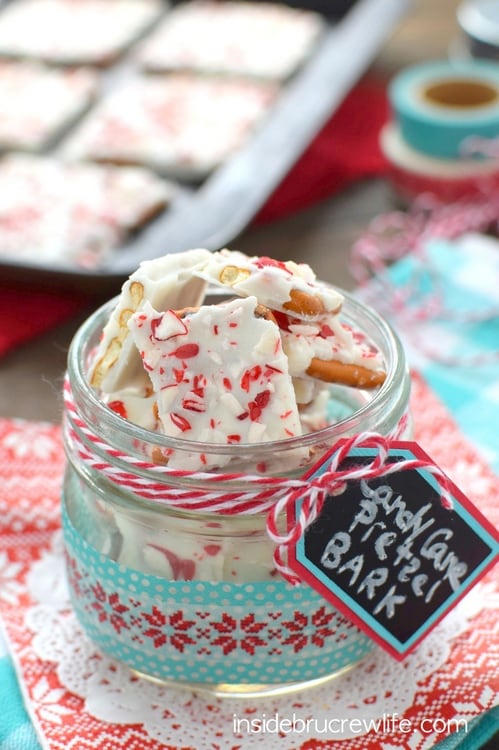 Are you ready for the pretzel secret?
Line a 15×10 jelly roll pan
 with foil and make sure the edges wrap around the end of the pan.  You don't want it to move while you work.  Then spread rows of waffle pretzels over the entire pan edge to edge.
Melt a package of White CandiQuik and spread it over all the pretzels.  (You can use whatever kind of melting chocolate you want here as long as it measures 16 ounces.)  I like to use an angled spatula
 to very gently spread the chocolate.  You just need to go slowly, so the pretzels do not move all over the place.
Then sprinkle away with crushed candy canes.  I used these peppermint crunch sprinkles
 because they don't get sticky in the air like regular candy canes do.  But candy canes work too because I use them all the time in these Peppermint Snowball Cookies, and they are fine!
Pop the whole pan in the fridge for 5 minutes while it sets up.  Then start breaking apart the pretzels in sections.  Using waffle pretzels means you have straight lines, and the bark will break apart in nice squares.  You can break it into 1 pretzel square, which is perfect for filling little jars for gifts.  Or you can break them into 2×2 squares and package them into treat bags.
That is if you don't hide in the closet and eat the entire batch of bark!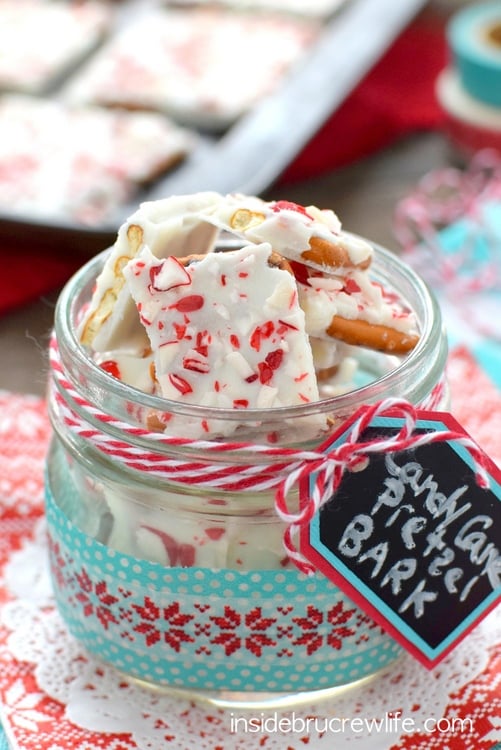 Stay up to date on all the BruCrew baking here:
FACEBOOK | PINTEREST | TWITTER | INSTAGRAM | BLOGLOVIN
 Sign up to receive an email in your inbox for each new recipe:
EMAIL SUBSCRIPTION
Yield: 12 servings
Candy Cane Pretzel Bark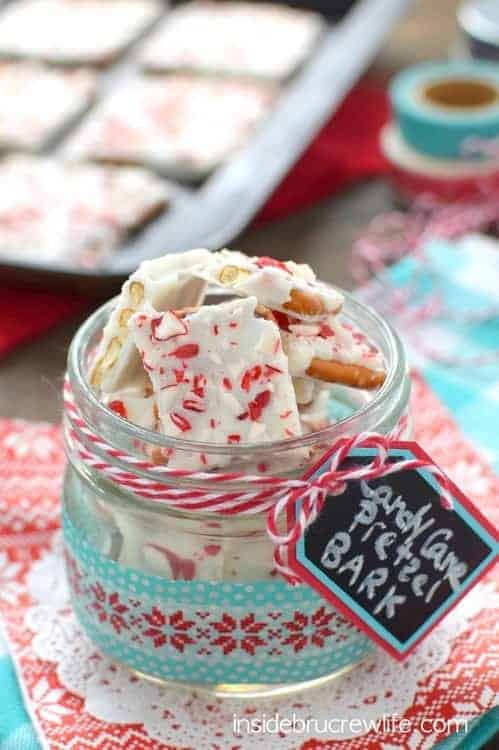 This Candy Cane Pretzel Bark only has 3 ingredients and can be made and ready to eat in 10 minutes.
Ingredients
1 bag waffle pretzels
2 - 10 ounce packages white chocolate melts
Wilton Peppermint Crunch sprinkles or crushed candy canes
Instructions
Line a 15x10 baking sheet with foil. Make sure the ends of the foil wrap around the pan, so it doesn't move.
Lay out the waffle pretzels end to end covering the entire pan as much as you can.
Melt the chocolate melts according to the package directions. Gently pour over the pretzels on the pan.
Use an angled spatula to evenly and gently spread the chocolate over the tops of all the pretzels.
Sprinkle with crushed candy canes or peppermint crunch sprinkles. Let set. Break apart into single pretzels or bigger squares of pretzels.
Recommended Products
As an Amazon Associate and member of other affiliate programs, I earn from qualifying purchases.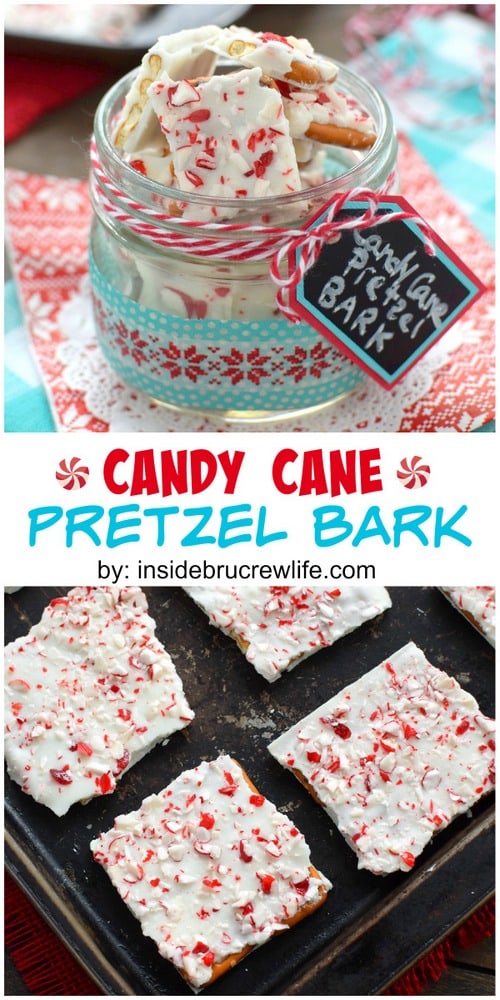 *This post does contain some affiliate links.  Thank you for letting me share the products I use with you. This blog does receive a small percentage from sales made through these links.