Easy no bake treats are always a great idea during the holidays. This Candy Cane Pretzel Bark only has 3 ingredients and can be made and ready to eat in 10 minutes. It's the perfect recipe to make for parties or cookie trays.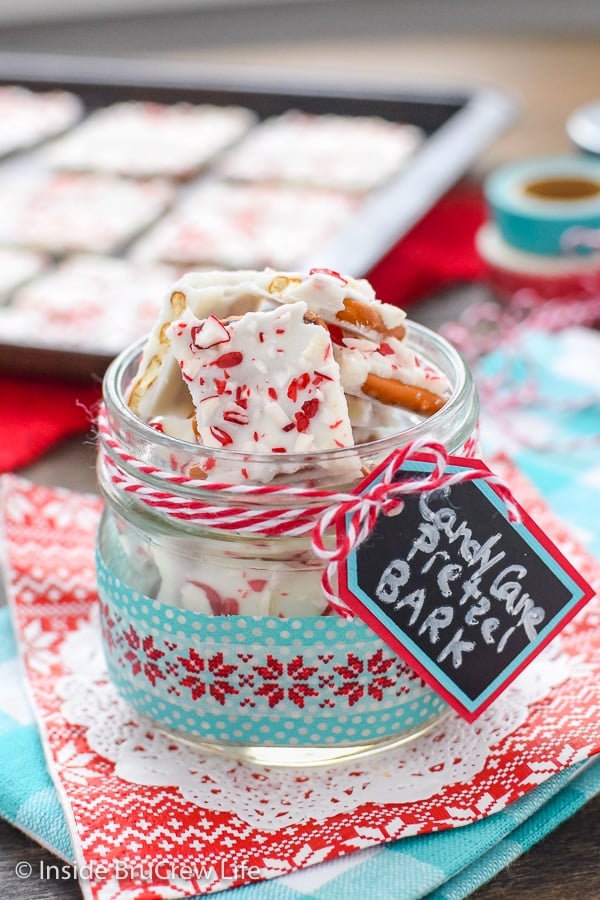 I love to make about a billion different holiday treats during the holidays. Ok, ok! Maybe a billion is exaggerating slightly. But there are quite a few yummy cookies and candies that get made this month.
During the holidays I tend to make even more sweet treats because we love to make extra goodies like these Chocolate Candy Cane Kiss Cookies or these Peppermint Brownie Truffles to send to friends and family.
With all these sweet treats happening, it gets a little crazy and chaotic in our kitchen. So, I am always trying to find quick and easy ways to simplify some of the treats.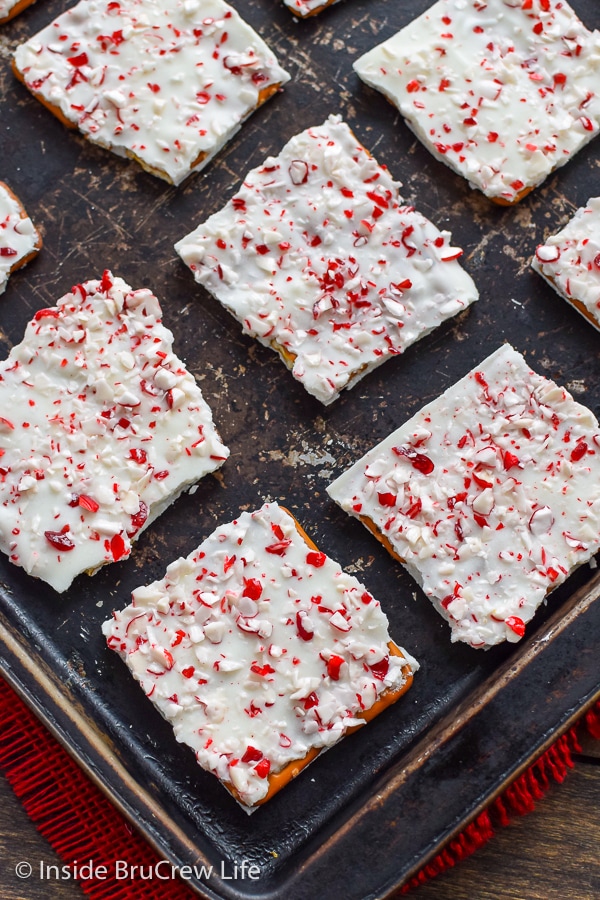 A few years ago I made this Hot Chocolate Cheesecake Dip for my daughter and her friends. One of the dippers I bought for it were some white chocolate and peppermint pretzel crisps.
Oh, my word!!!! Those holiday chocolate covered pretzels instantly became my new favorite thing in the world. I was in love with the sweet and salty with the peppermint crunch.
I knew right away that I had to make my own homemade version, but the problem was that I really didn't want to hand dip each one individually. So, I came up with a way to make chocolate covered pretzels in under 10 minutes.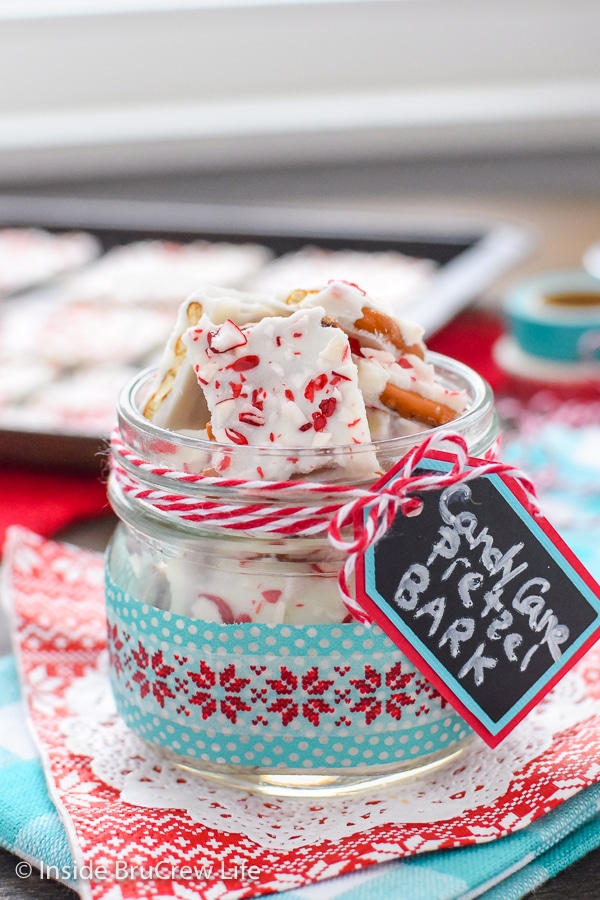 If you have ever dipped pretzels, you know that this doesn't usually happen that quickly. Oh, but it can! I'm going to let you in on my little secret.
Enter the Candy Cane Pretzel Bark idea...aka...the best chocolate covered pretzel idea I have ever had. The best thing is that you only need 3 ingredients and 10 minutes to make these white chocolate peppermint pretzels.
Ingredients
Waffle Pretzels - you can use any small pretzel, but I have found the waffle ones are easier to work with
White Chocolate Melting Wafers - my favorite chocolate for melting and dipping are the Ghirardelli melting wafers
Peppermint Bits - crushed candy canes work but tend to get sticky in the air. I have found the Wilton peppermint crunch sprinkles work great.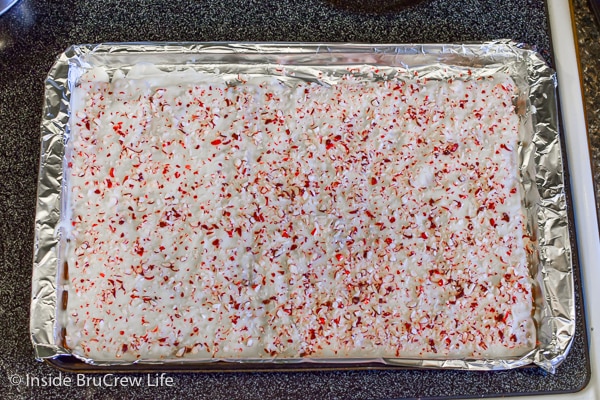 How to make Candy Cane Pretzel Bark
Line a 15x10 jelly roll pan with foil. Make sure the edges wrap around the end of the pan, so it does not move.
Spread rows of waffle pretzels over the entire pan edge to edge.
Melt the white chocolate wafers according to the package directions. Stir it and pour slowly over the pretzels. Use an angled spatula to very gently spread the chocolate. Go slowly, so the pretzels do not move all over the place.
Sprinkle the top with crushed candy canes or peppermint crunch sprinkles. Use the leftovers to make these Peppermint Snowball Cookies.
Place the pan in the fridge for 5 minutes while it sets up. Then start breaking apart the pretzels in sections.
PRO TIP: Use waffle pretzels so you have straight lines that will break apart easily in squares. If you break it into small pretzel square they are great for filling little jars. Break them into 2x2 pretzel squares and package them into treat bags.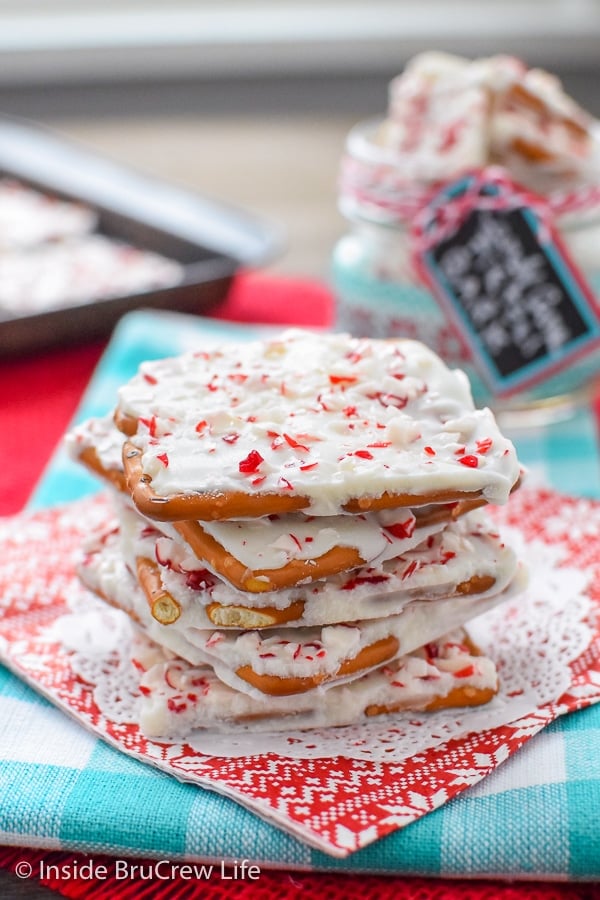 More no bake peppermint desserts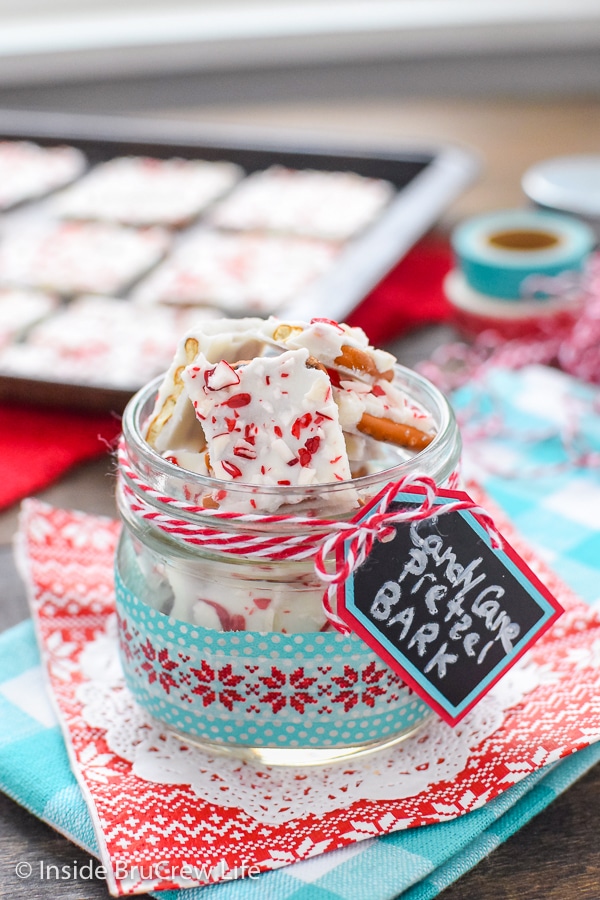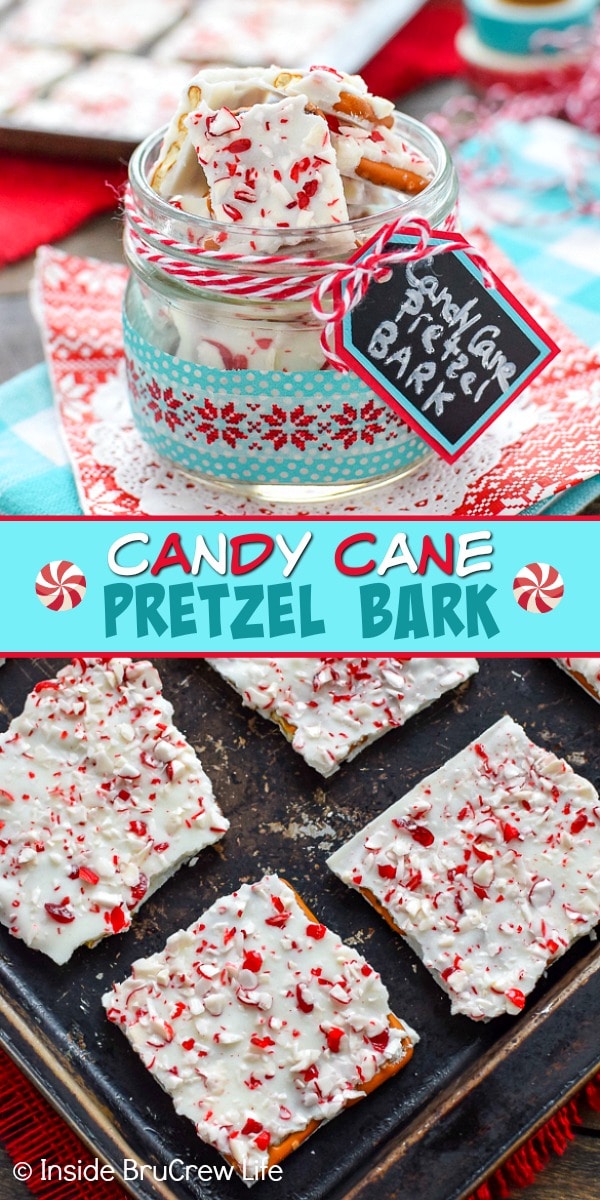 *The post for Candy Cane Pretzel Bark was first published December 3, 2014. The pictures and post were updated and republished December 2, 2020.