A big bowl of this White Chocolate Peanut Butter Pretzel Popcorn is a great snack mix to munch on during movie nights or game days.
This sweet and salty treat will disappear in a hurry, so you might want to make a batch of this Sweet and Salty Trail Mix too.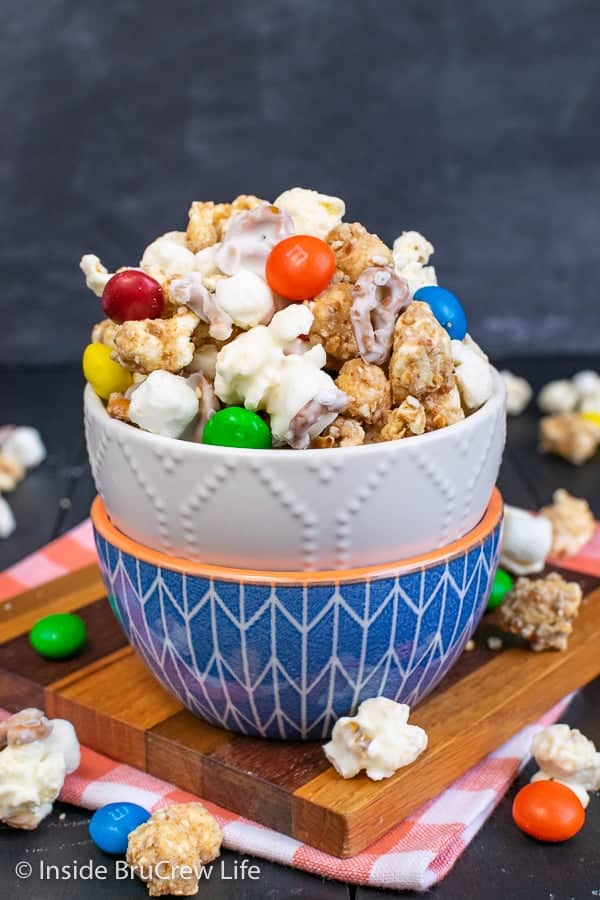 I used to make chocolate covered popcorn all the time. An easy no bake snack mix that can be ready to be devoured in minutes is always a good idea. Well, maybe that's not such a good thing for my raging sweet tooth.
Anyway, I realized that it has been a few months since I shared some popcorn fun with you, so I had to change that. This month (and probably next month) I am on a mission to use up some of the extra baking stuff in the pantry. So, I started rummaging and pulled out some peanut butter M&M's, pretzels, and white chocolate melts to make something with.
White chocolate and peanut butter is quite an amazing combo. If you think so too, you have to try these Peanut Butter Balls dipped in white chocolate. They are also awesome in dark chocolate, just so you know.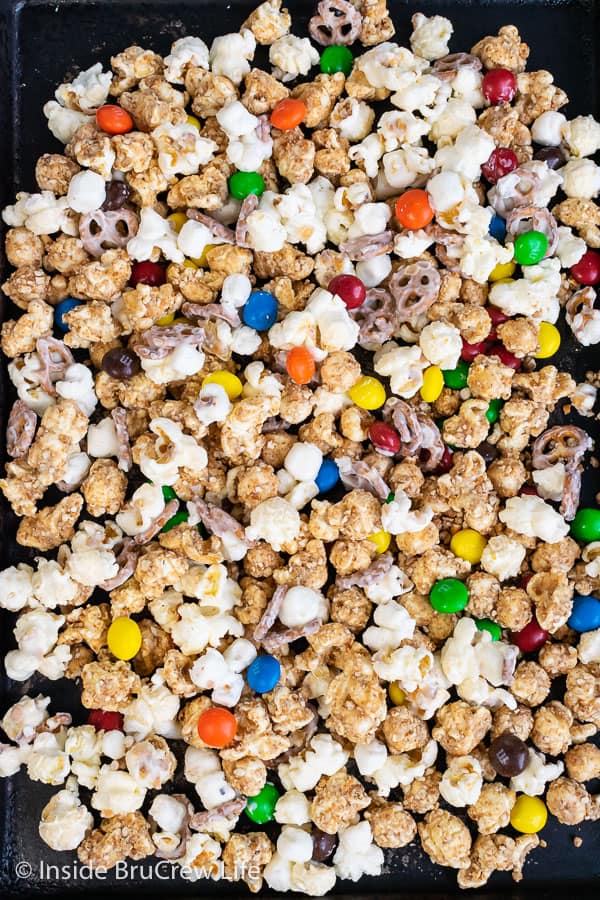 For this fun popcorn mix, I decided to add pretzels to it for a delicious sweet and salty flavor.
But instead of just mixing the pretzels into the mix, I went one step further and crushed some of them into coarse crumbs and then covered the white chocolate covered popcorn in it. It reminded me of this Butterfinger Cookies and Cream Popcorn that I made a few years ago.
There was almost a recipe catastrophe. When I went to make popcorn, I realized that I was almost out of my favorite popcorn seeds. Luckily there was just enough in the bag to make one more batch of popcorn. Shew. Crisis averted. LOL!
Butterfly Popcorn versus Mushroom Popcorn:
Did you know that there is a difference in popcorn kernels? The difference in the butterfly popcorn and the mushroom popcorn is the shape of the kernel.
Mushroom seeds will pop up in more of a round shape with an even surface. This it makes it easier for different coatings to stick to it. Mushroom popcorn is perfect for making caramel corn, kettle corn, or chocolate covered popcorn. The shape of the popcorn is more compact, so it can hold up to these heavier coatings.
Butterfly popcorn pops up in random shapes. The popcorn will look like it has wings that stick out in different directions. It is the most common popcorn that you find in movie theaters. Butter and seasoning easily stick to the popcorn wings. Heavier coatings such as chocolate and caramel will make this type of popcorn crumble much easier.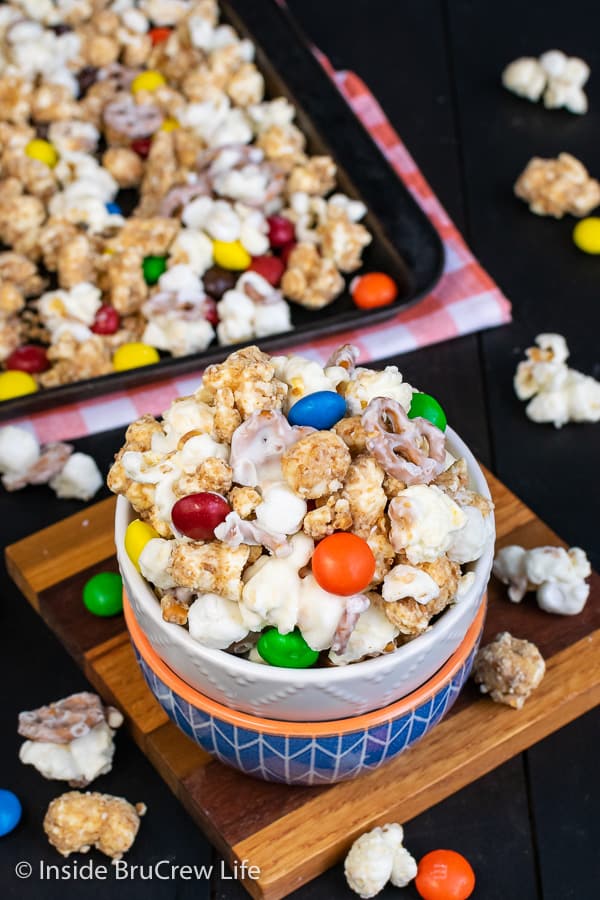 How to make White Chocolate Peanut Butter Pretzel Popcorn:
Pop your popcorn kernels and remove any seeds that do not pop. (full recipe is down below)
Divide the popcorn and marshmallows evenly into two bowls. Add 1 cup of pretzels to one of the bowls of popcorn.
Crush 2 cups of pretzels into coarse crumbs.
Melt the white chocolate according to the package directions. Spoon half of the melted chocolate into another bowl and stir peanut butter into it.
Pour the plain melted white chocolate into the bowl that has popcorn, marshmallows, AND pretzels. Stir until everything is combined. Stir in most of the M&M's. Pour onto a wax paper lined tray and let set.
Pour the peanut butter white chocolate into the other bowl of popcorn and stir until coated. Sprinkle half of the crushed pretzels over the popcorn. Toss and repeat. Pour the popcorn on another tray and let set.
Break apart the two kinds of popcorn and combine them in one large bowl or bag with the rest of the candies.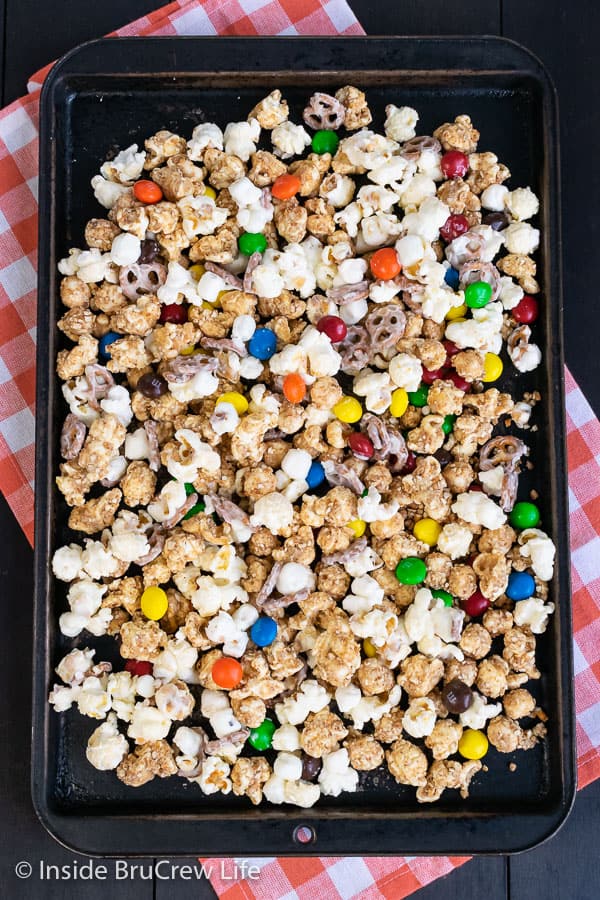 Other chocolate covered popcorn recipes you may like: