Adding shredded apples and butterscotch chips is a fun way to create a delicious donut. These Butterscotch Apple Cake Donuts are a great choice to make as a breakfast or after school snack for your children. They will get gobbled up in a hurry.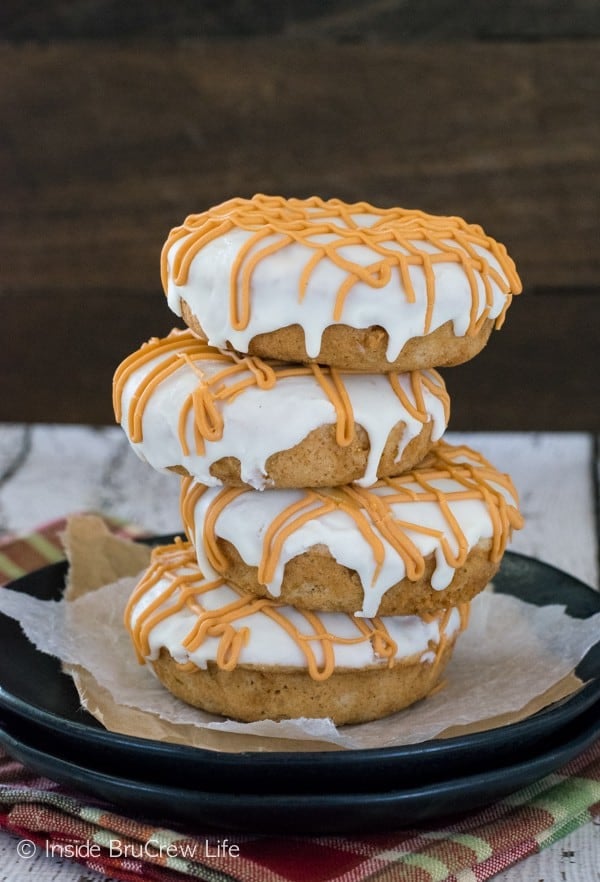 We are finally into a really good routine in the morning for school and work outs. It only took 5 weeks to get it down. I think that means the habit is set, right?
The funny thing about our family is that we are not morning people. Usually there is someone in every family who just naturally wakes up early and is ready to go. That is not the case here. If we do not have alarms set, there will be no waking up until much later.
That means that when the start of school comes, it takes a while for everyone to adjust to a new routine. As long as everyone does their own thing in the morning, we get along just fine.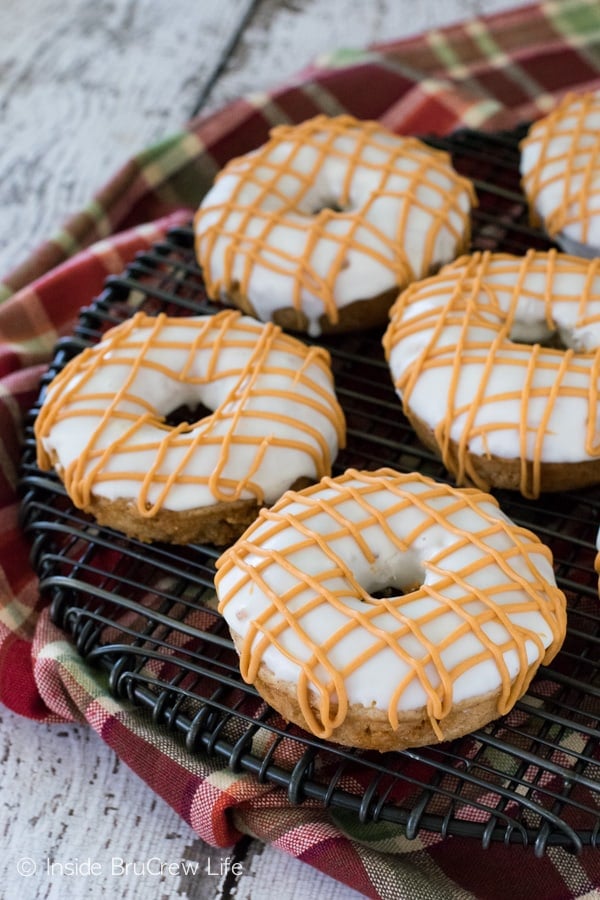 We have talked before about how breakfast does not happen early in the morning around here. What I mean is that I do not make breakfast first thing in the morning. If there is going to be muffins and donuts, I have to get a head start the day before. My brain and hands don't communicate before 9 am.
Most days our kids will grab a bowl of cereal or granola bars for a quick and easy breakfast.
But then there are the days, I get creative in the kitchen and make fun cake donuts for them to enjoy.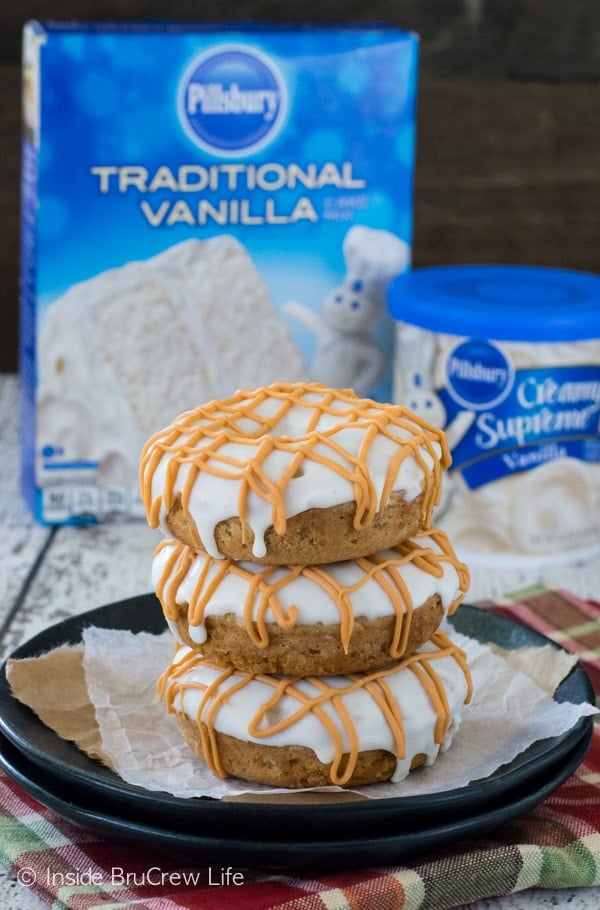 For some reason I have been picking up cake mixes every time I go to the store. It's probably time to use a few of them before they take over the pantry.
I remembered that these chocolate covered strawberry donuts started from a cake mix, and I knew what I wanted to do. I just changed up the ingredients a little and gave it a fun fall flair.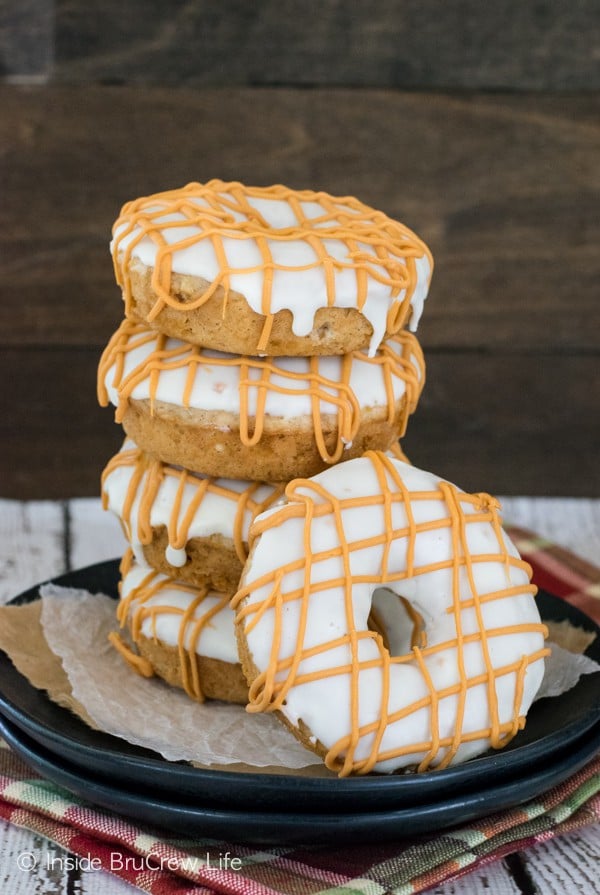 Every fall when the kids were little we would go to the apple orchard, pick apples, and drink apple cider. I have so many cute pictures of them holding up apples and trying to climb trees.
If I would mention going to an apple orchard to them now, I think all three of them would give me that teenager look. You know the one, right? The look that says, "really, mom?" But I like to think they would humor me and my family fun ideas.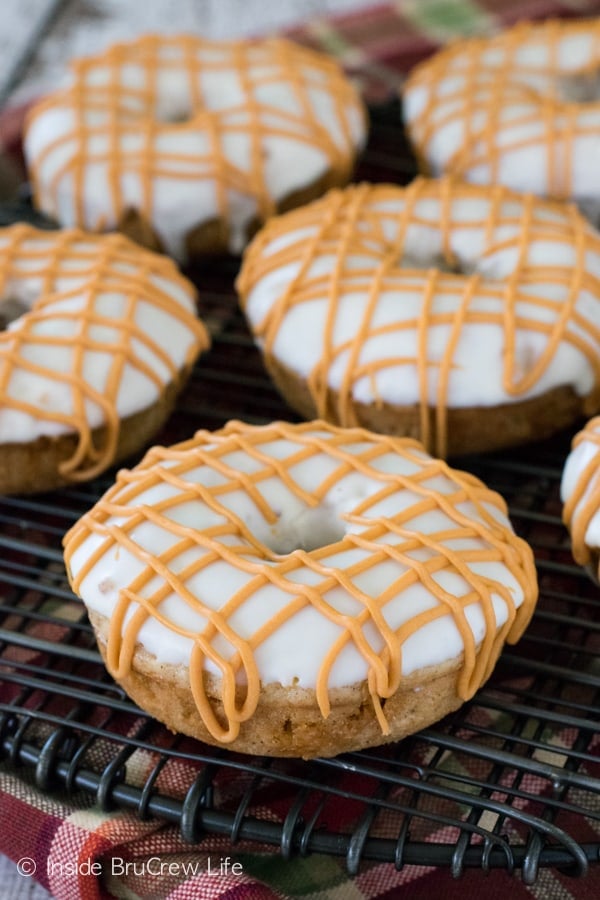 For these donuts, I used applesauce instead of any oil or butter, and I used apple cider instead of milk or water. That means these apple cake donuts got three times the apple love.
There are so many different flavors that pair well with apple. I have done caramel, maple, candy, and nuts.
As I dug through my baking cupboard, I saw a lonely bag of butterscotch chips and realized that it has been a while since using them in anything. I had a feeling that butterscotch would give these apple donuts some pizzazz. Boy, was I right!
Now just a word of warning regarding the donut pan and the butterscotch chips. They will stick slightly to the bottom of the hot pan. Make sure you let the donut cool in the pan for a few minutes before removing them. That helps the donut and chip stick together better. Also, let them cool completely before giving them a dunk in the frosting.
Did you know that you could use canned frosting as a glaze? It's a fun little trick I like to use for quick and easy donut glaze. Just make sure you do not over heat it, or the glaze will run right off the sides of the donuts. I might have learned the hard way.
Go ahead and set the donuts on a plate and just watch them disappear. It's a good feeling when you get texts saying how these donuts were the best thing ever.