Easy, no yeast cinnamon rolls topped with chocolate is a delicious way to start out the morning. These Chocolate Chip Cinnamon Rolls have been kid approved in our house. Give them a try and see what your family thinks.
A Dark Chocolate Latte and these cinnamon rolls would be the perfect breakfast combo for the chocolate lover in your life.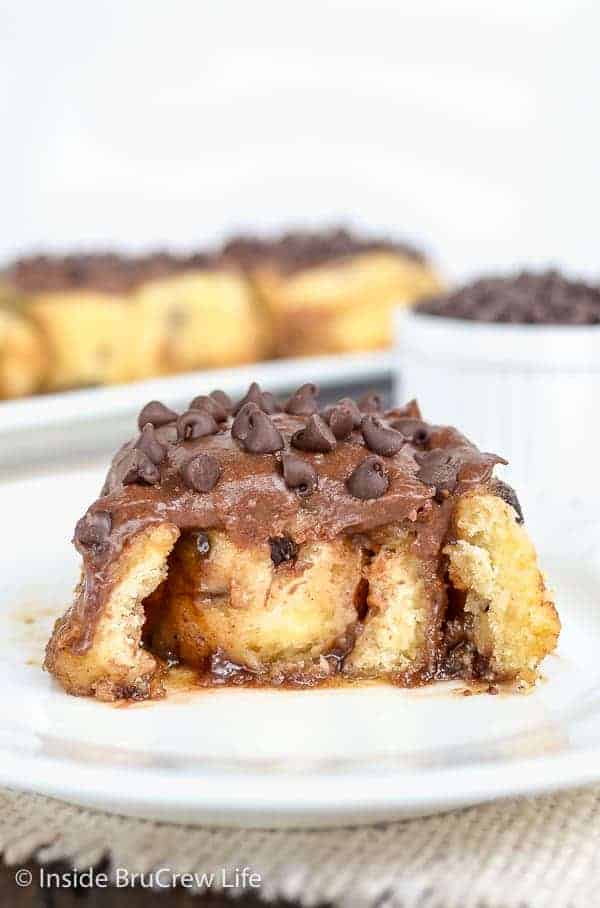 CLICK HERE TO PIN THIS RECIPE FOR LATER!
These homemade cinnamon rolls without yeast are a quick and easy breakfast that we like to make every once in a while around here.
You can seriously have these breakfast rolls made, baked, and eaten in under an hour. Give or take a few minutes depending on how quickly you are moving. Just don't move too quickly and forget a step or an ingredient. Been there, done that, and been mad at myself for rushing.
Learn from my mistakes because no one will appreciate homemade cinnamon rolls that do not have all the buttery goodness they deserve.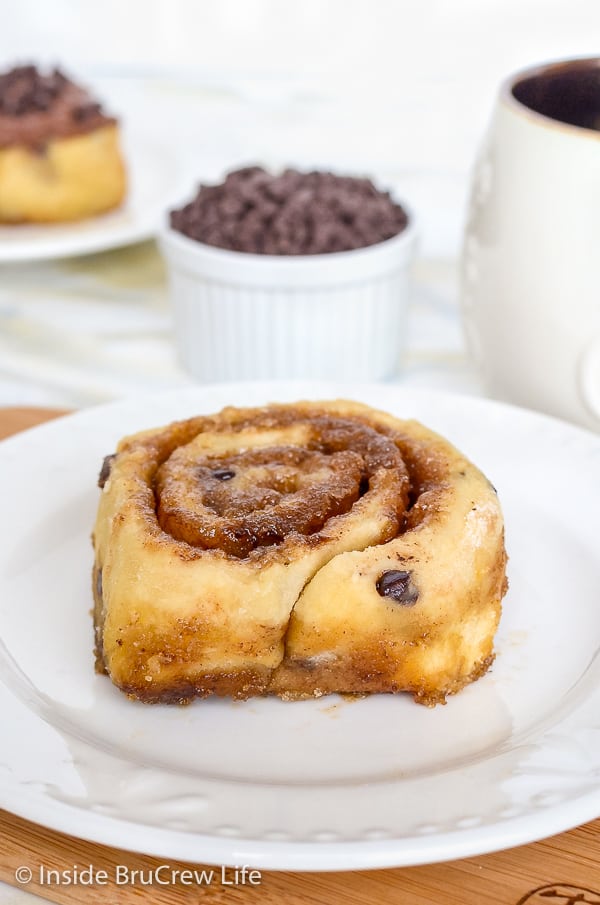 Can I tell you something? I have a fear of working with yeast. The funny thing is that I have made this Homemade Pizza Dough and that uses yeast!! The pizza turned out perfectly fine too.
So, I don't know why I shy away from making cinnamon rolls with yeast. My guess is that I have been making these no yeast cinnamon rolls for years, and I am not a big fan of change. Why mess with a good thing?
Well, other than to change out the flavor combo every once in a while. This is me we are talking about. Making the same thing twice is not something I do very often.
I also use this basic cinnamon roll recipe to make these Banana Nut Cinnamon Rolls and these Apple Butter Cinnamon Rolls.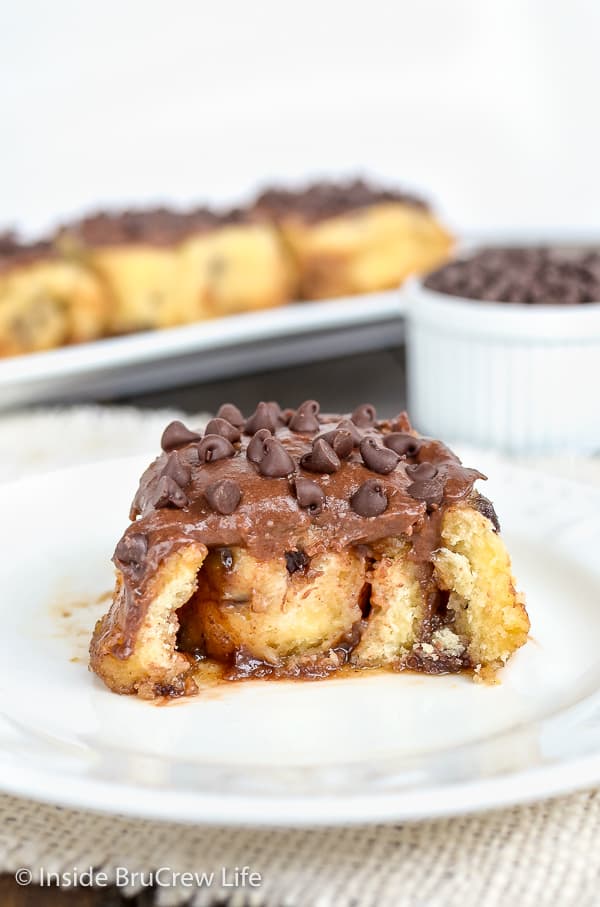 The dough for these quick cinnamon rolls is very simple to make. All you need is a bowl and a fork. Gotta love not dirtying a whole sink full of dishes, right?
How to make Chocolate Chip Cinnamon Rolls:
Stir together the dry ingredients in a bowl. Pour in the milk and melted butter and mix until it forms a soft dough. Gently added the mini chocolate chips to the dough.
Knead the dough a few times with some flour on the counter, and then press it out with your fingers to form a rectangle that is 10 inches by 14 inches. Make sure you have a light layer of flour under the dough as you work, so it doesn't stick to the countertop.
Spread melted butter and a whole lot of sugar and cinnamon in the center. Roll it up and cut into 9 even slices. I usually cut a small piece from each end to even it up first, but that isn't necessary.
Place the rolls in a buttered pan, drizzle with more butter, and bake for 18 minutes. That is just long enough to make the chocolate frosting, clean the counter and floors, and do the dishes. Before you know it, the easy cinnamon rolls are done and ready to eat.
Let the cinnamon rolls rest in the pan for a few minutes. Warm rolls are delicious, but hot rolls that burn your tastebuds off aren't desired. Trust me on this one.
After a few minutes, remove them from the pan, slather on some chocolate frosting, and go to town on a sweet, delicious cinnamon roll. Oh, and don't forget the extra chocolate chips on top. The more chocolate, the better!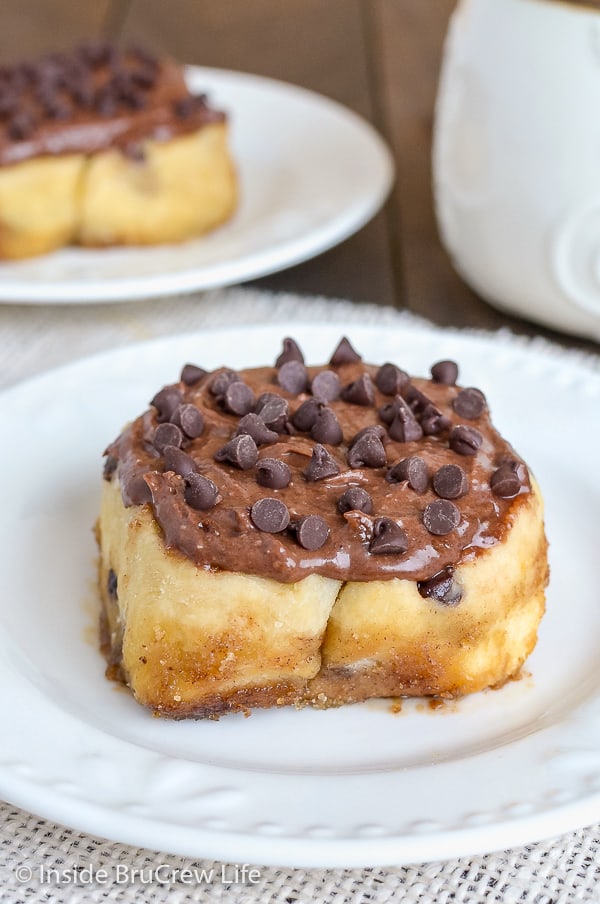 More easy breakfast recipes that include chocolate:
Add a loaf of this Cherry Chocolate Chip Banana Bread to your baking plans. This easy banana bread is loaded with chocolate and cherries.
Strawberry Chocolate Cinnamon Roll Bake adds the sweet taste of spring to cinnamon rolls. And don't forget about that chocolate.
Mornings that start with homemade cinnamon rolls are the best. No yeast Chocolate Cinnamon Rolls with frosting are even better than the best.
These easy Nutella Pop Tarts are a fun breakfast treat. Using a few ingredients gives you a homemade treat that looks just like the store bought version.
Chocolate Zucchini Cheesecake Muffins and a cup of milk is the perfect way to start out the day. Chocolate and cheesecake always gets my vote.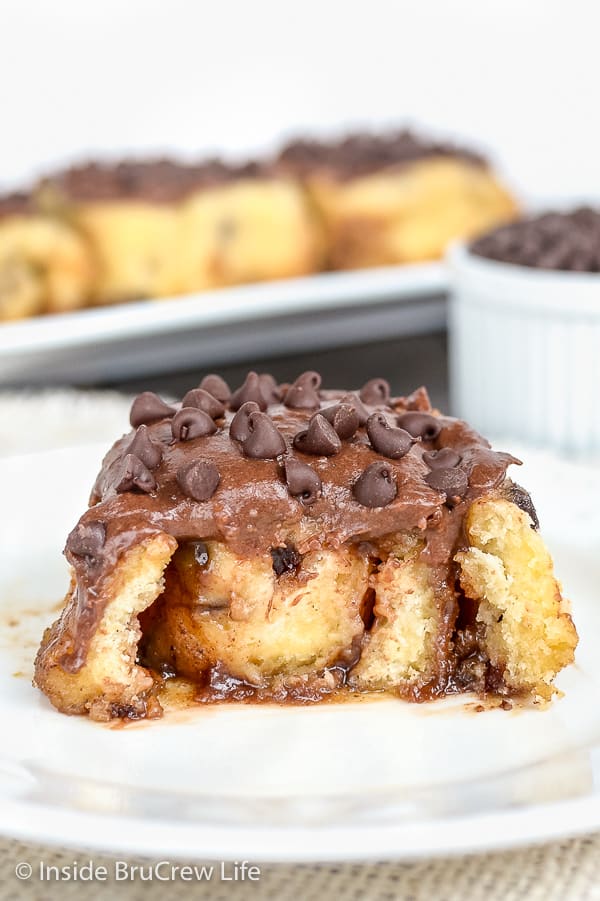 Connect with Inside BruCrew Life! Be sure to follow us on our social media, so you never miss a post.
FACEBOOK | PINTEREST | TWITTER | INSTAGRAM | BLOGLOVIN | EMAIL SUBSCRIPTION
I also created a fun new Facebook group, and I would love for you to join. It's a group where you can share your favorite recipes, ask questions, share photos, and see what's new with the BruCrew. If you would like to check it out, you can request to join HERE.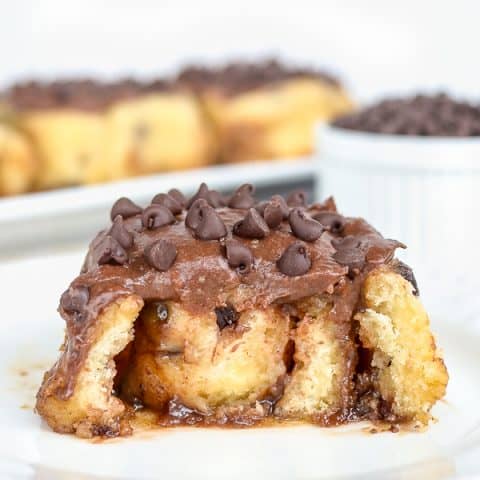 Chocolate Chip Cinnamon Rolls
Easy, no yeast cinnamon rolls topped with chocolate is a delicious way to start out the morning. These Chocolate Chip Cinnamon Rolls have been kid approved in our house.
Ingredients
For the Filling
¾ cup brown sugar
¼ cup sugar
2 teaspoons cinnamon
1 Tablespoon melted butter
For the Dough
2 ½ cups flour
2 Tablespoons sugar
1 ½ teaspoons baking powder
½ teaspoon baking soda
½ teaspoon salt
1 cup buttermilk
7 Tablespoons melted butter, divided
¼ cup mini chocolate chips
For the Frosting
4 ounces cream cheese, softened
1 Tablespoon heavy cream
½ cup powdered sugar
2 Tablespoons cocoa powder
½ teaspoon cinnamon
¼ cup mini chocolate chips
Instructions
Preheat oven to 400 degrees. Grease an 8x8 pan with 1 Tablespoon butter.
Mix together the filling ingredients and set aside.
Sift together the flour, sugar, baking powder, baking soda, and salt. Create a hole in the middle of the ingredients and pour in the buttermilk and 2 Tablespoons butter. Stir with a fork until a soft dough forms.
Add the chocolate chips and gently mix in.
Place the dough on a flour lined counter or table. Knead the dough 5-6 times to work a little flour into it. Use your fingers and palms to press the dough into a 10x14 inch rectangle making sure to keep flour under it.
Spread 2 Tablespoons melted butter over the dough. Evenly sprinkle the topping over the butter.
Gently roll the dough up from the shortest side. If the roll sticks to the counter, use a butter knife to gently slide it under the roll.
Cut off each end to even up the log. Slice the roll into 9 even rolls.
Place the rolls in the prepared pan. Drizzle with the remaining 2 Tablespoons butter. Bake for 18 minutes.
Remove from the oven and let cool a few minutes.
Beat together the cream cheese and cream. Slowly add the powdered sugar, cocoa powder, and cinnamon.
Spread on the rolls and top with the mini chocolate chips. Store any leftover rolls in a sealed container in the refrigerator.
To reheat, place one roll on a plate, and heat for 10 seconds.
Recommended Products
As an Amazon Associate and member of other affiliate programs, I earn from qualifying purchases.
Nutrition Information:
Yield:

9
Serving Size:

1
Amount Per Serving:
Calories:

440
Total Fat:

18g
Saturated Fat:

11g
Trans Fat:

0g
Unsaturated Fat:

6g
Cholesterol:

41mg
Sodium:

451mg
Carbohydrates:

66g
Fiber:

2g
Sugar:

36g
Protein:

6g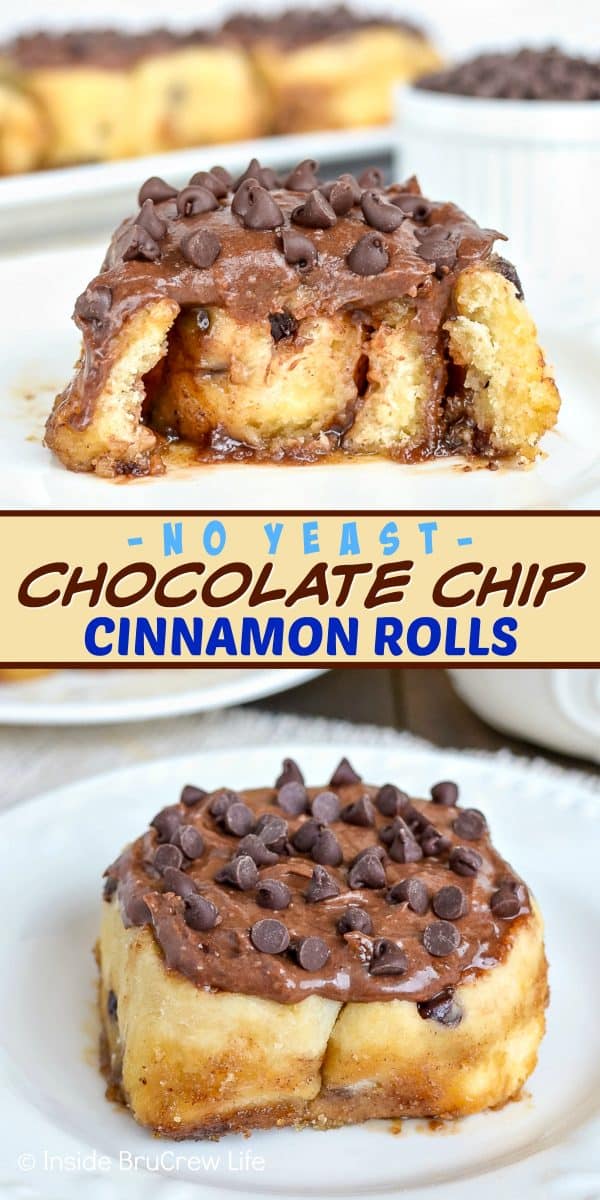 *The post for Chocolate Chip Cinnamon Rolls was first published on May 10, 2014. It has been updated and republished on May 3, 2019.