These Caramel Oatmeal Bars are an easy breakfast to have ready on busy mornings. Homemade granola bars never looked so good.
I love that the internet is a fun place to be able to share my crazy baking stuff.
Creative people have a strange desire to share their crafting love with others.
And blogging has given me a connection with others
that are just as "crazy" about baking as me.
I love sharing my baking passion with all of you.
It makes me the happiest to be creating in my kitchen
and then happy to share the fun recipes online.
I love that bloggers get bloggers.
You all leave the sweetest comments.

(don't ever stop:-)
Last fall I joined a secret recipe club.
Just another fun way to "connect" with more fun foodies!!!
Once a month you are assigned another food blogger to "stalk".
No really! You are supposed to study this person
and find one of their yummy recipes to recreate without telling them.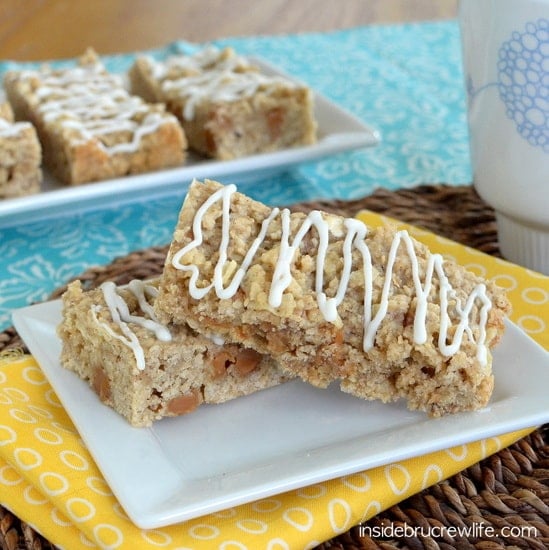 This month I was assigned
Ruchi's Simply Food
.
This girl keeps herself busy making super cute cakes
and hosting baking classes for kids.
I enjoyed reading through her posts as I searched for the perfect recipe.
I knew it was going to be a winner.
What totally sold me was that it was one bowl recipe.
Any time I can bake and not make a huge mess...win win for everyone.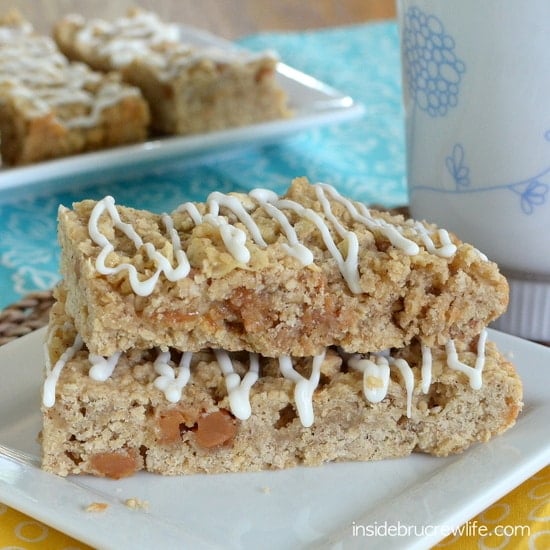 I used almost the exact same recipe, but
I decided to simplify the recipe even more.
Instead of taking the time to make cookies, I used a 9X13 pan.
Simple is always better, right?
As I dug through my baking cupboard,
I pulled out a bag of opened caramel bits.
For some reason this sounded really good to me.
And then a lightbulb went off
as I thought about the potato chips in the other cupboard.
Potato chips and caramel bits mixed with some marshmallow bits?
Yes, please.
This caramel oatmeal bars might be my new favorite flavor.
At least for today...