These easy oatmeal bars have plenty of caramel and peanut butter in every bite. Try these Caramel Peanut Butter Oatmeal Bars to satisfy all those sweet and salty cravings.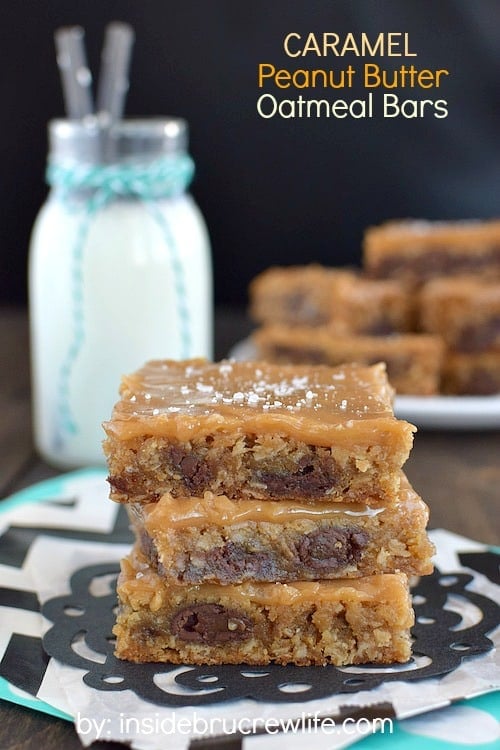 I just can't get over salted caramel. It gets me every single time. Just ask my jeans because they are not too happy about these awesome bars you are looking at. But they were absolutely amazing, so it's all good.
These bars are a result of everyone posting about the new salted caramel peanut butter. I have been to every grocery store in my area without being able to find it. Sad face.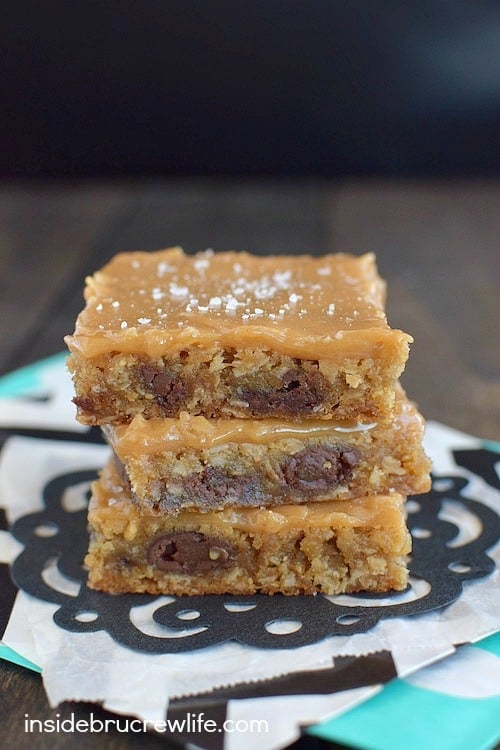 So, I decided that I could just add caramel to my favorite Peanut Butter Bars recipe. Oh, my word! Seriously best idea ever!
I'm not sure that I will ever make the original one again. Ok, that's probably not true because they are good. But this caramel version seriously kicks some dessert butt! Although this caramel peanut butter pretzel fudge is very close to being tied for the top spot because it's amazing too.
All three of our kids looked at me with big eyes when they got home from school because they couldn't wait to dive into them. Good thing pictures already happened because I don't think they would have wanted to wait.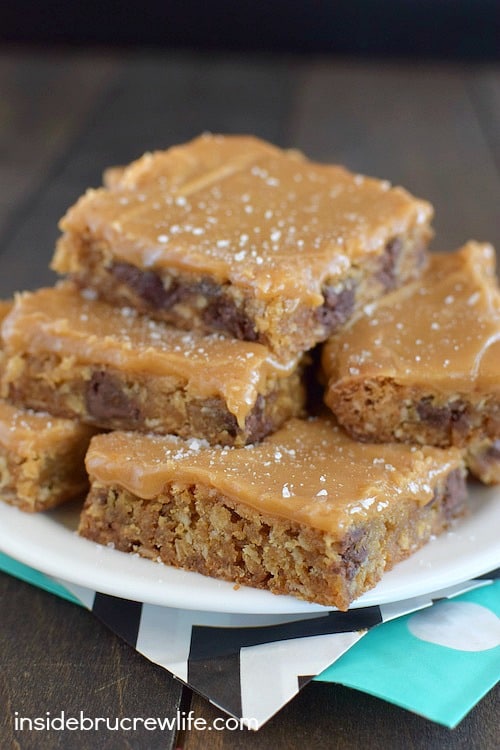 Another plus about these bars is that they are ready to spread in a pan in about 10 minutes. One bowl, a little mixing, and then into the pan it goes. Easy, peasy!
Bake for 24 minutes...do not over bake the bars!!! I know you might think they look under done, but they will set up as they cool. Trust me!
Stir together the glaze ingredients and spread over the warm bars. The heat from the bars will help you spread the glaze out a little bit better. Now give it a sprinkle of sea salt. Make sure you use coarse ground because regular salt will ruin your bars! You should be able to see the salt chunks. Then let everything cool before you cut into it.
Sweet and salty in every bite. Believe me, you need these Caramel Peanut Butter Oatmeal Bars like yesterday!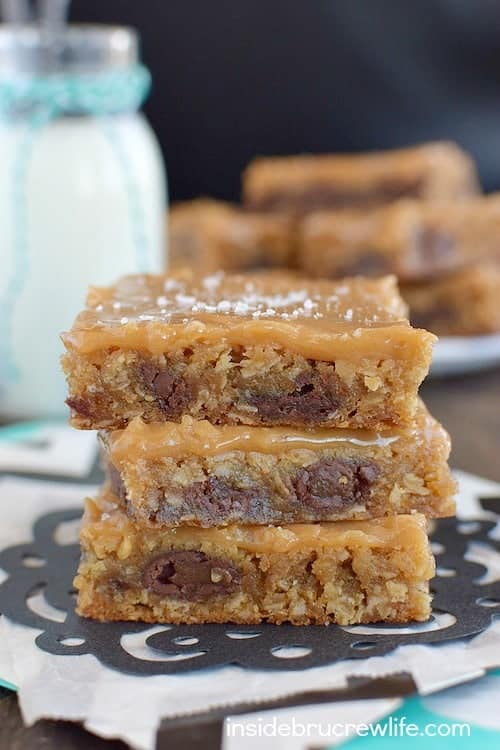 More peanut butter goodies from friends: