Pretzels and candy bars swirled in this easy Caramel Peanut Butter Pretzel Fudge add a fun crunch and chew to each creamy square.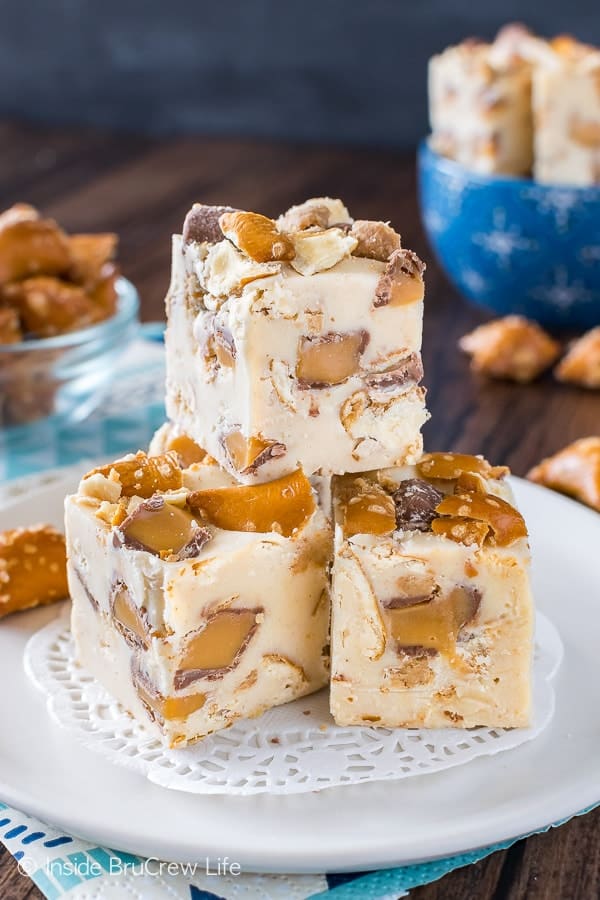 The one thing that I have always been able to resist eating are bags of chips or snack mixes. My body just doesn't crave salty snacks. Now give me something sweet and salty, and I will go to town on it like there is no tomorrow. The combination of sweet and salt is definitely a skinny jean killer.
I was pretty proud of myself for being able to resist that one food group. That is until I tried peanut butter pretzels. Those doggone little bites of crunchy salty pretzels filled with creamy peanut butter have me under their control. We have been buying the big container at Sam's Club because our son loves them too.
If I can stay out of the container, it's all good. But it only takes one pretzel for my resolve to crumble, and then I find myself eating at least 50 of these little pretzels in one sitting. Dang it!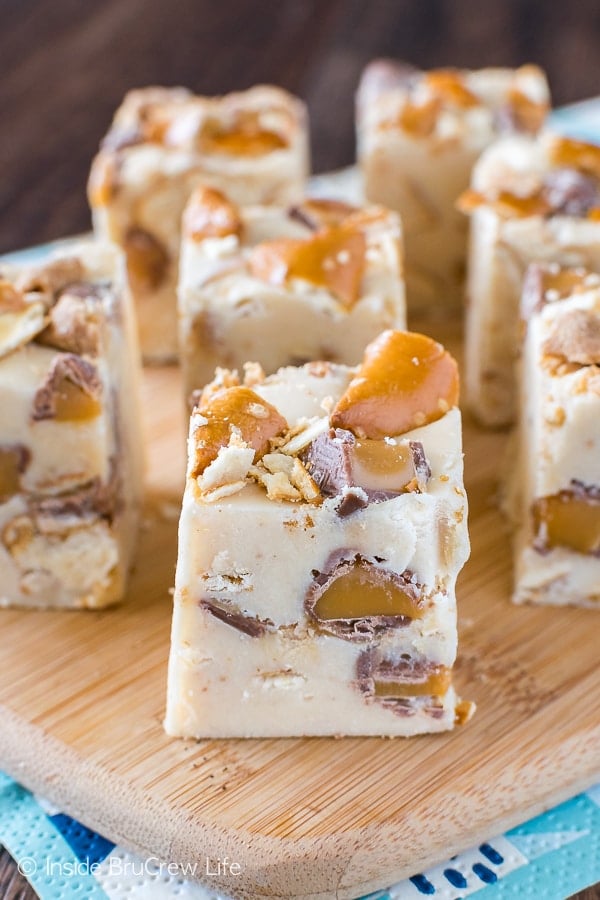 A few months ago, I was munching away on the pretzels when I had a lightbulb moment. Why not chop these pretzels up and add them to a creamy peanut butter fudge?
And since there was an unopened bag of caramel candy bars in the pantry, why not throw those in too? Ever since I made these caramel peanut butter oatmeal bars I have been wanting to mix that combo again.
As soon as I had this fudge idea, I couldn't wait another minute to mix it up. Plus, if it gets those pretzels out of my kitchen, I'm all for it!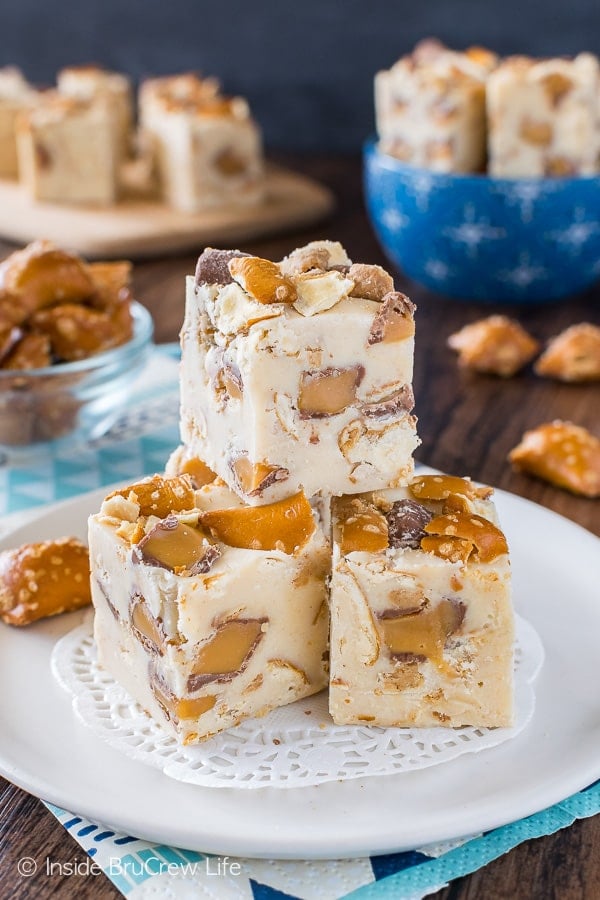 Although, adding the pretzels and candy bars into a creamy fudge, just added another treat to my kitchen that I couldn't resist. Seriously! I kept sneaking little bites of this fudge all afternoon.
This caramel peanut butter pretzel fudge had to be removed from my clutches immediately because all hopes of fitting into my shorts and jeans were quickly dissolving. Thank goodness for a quick trip to visit family, so I could load them up with sugar! Haha! Anything to get it away from me, right?
The problem is that looking at these photos again has me craving that creamy fudge again. But since we are out of candy bars, I might have to make a batch of peanut butter buckeye pretzels instead. Who wants to wear skinny jeans anyway?
If you love peanut butter snacks as much as I do, you should check out these recipes from some of my friends. This Easy Chocolate Peanut Butter Fudge from Mary looks so creamy and delicious. And these Peanut Butter Mountain Bars from Dorothy look so good. I've never had one before, so I need to try her homemade version soon. Melissa has me craving more sweet and salty treats with here Chocolate Peanut Butter Pretzel Bars. Holy yum!!!