No Bake cookies are always high on my list of treats to make. Anything to save time in the kitchen gets an A+ from me. Try these Caramel Pretzel Cookie Dough Bites this year. They will add a pop of sprinkle fun to your cookie trays.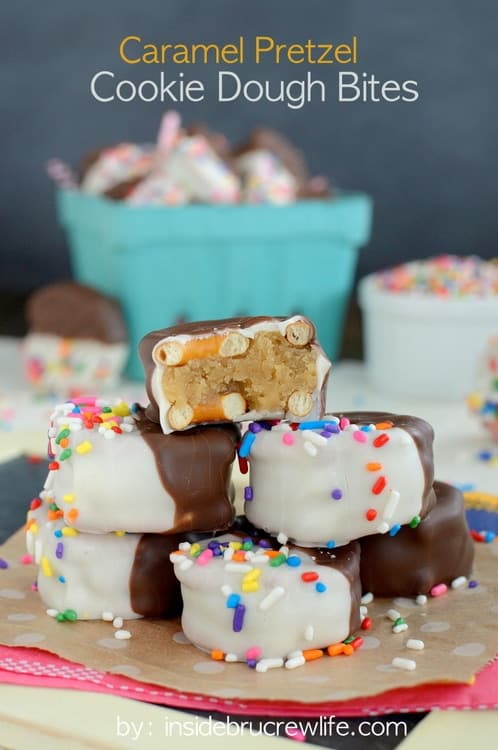 I know that with every sweet I postI share, I tell you it is my new favorite. And it's the honest truth. At the moment that particular thing becomes my all time favorite sweet, until I make something else that tops it.
Right now these Caramel Pretzel Cookie Dough Bites are my absolute favorite cookie dough treat that I have made yet. And there have been quite a few that I have loved. I think it is the combination of sweet & salty and smooth & crunchy that does it for me with these bites. My husband really liked them too...and he is really not a big sweets eater. Any time I find a treat that he approves of, it goes to the top of the must bake list. (I did dip some of his in just all chocolate and topped them with sea salt...I think that's why he liked them so much)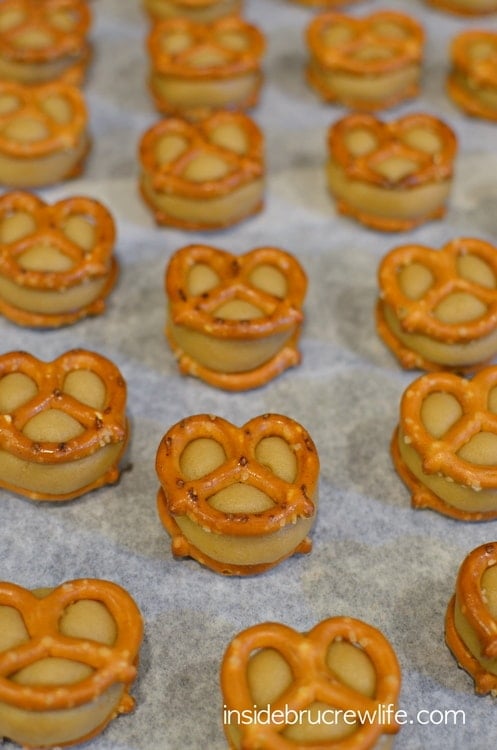 These cute little treats are definitely making a come back this holiday. Each year I try some new cookies along with some tried and true favorites. These will join the ranks of tried and true!
They are so easy to make and are the perfect treat to have your kids help you with. My youngest little guy is my kitchen helper. He still absolutely loves to help out whenever I am making goodies. Although I have been catching him swiping chunks of cookie dough and candy lately. Something tells me his sweet tooth is he reason he likes to help me with baking.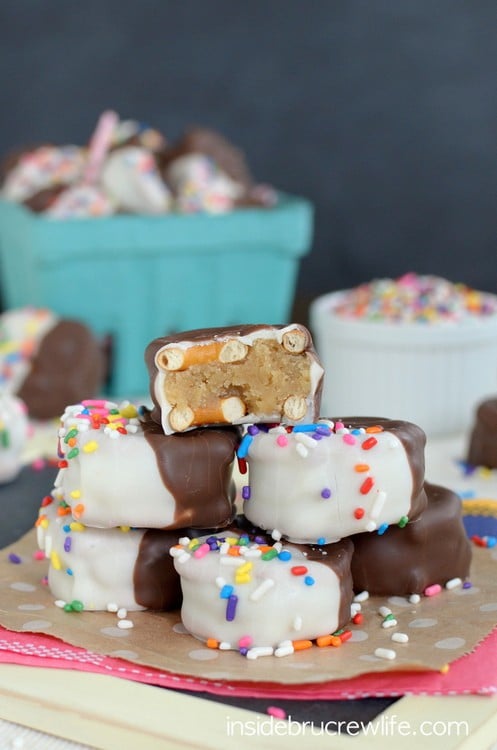 Can I tell you a secret? The anal perfectionist in me almost didn't let me post these treats.
I was cleaning out my cupboards when I made these and tried to use up some of the old melting chocolate I found up there. It melted just fine, but for some reason the next day when I took the cookie dough bites out, they had cracked all over the place. Uuuuggghhhh! Nothing like making yourself mad over something you cannot control. I may have thrown a little mini fit, silent of course. Then because these were so doggone good, I decided to take pictures anyway.
Then I looked at them on my computer and the cracks seemed even bigger than I remembered. It was enough to make me want to delete them all and start over...but, ain't nobody got time for that!!!!
Perfectionism is over rated right? I finally decided that I kind of like the way these look, cracks and all. It makes them seem more down to earth and user friendly.
So if you make them and get cracks in your chocolate, don't give it another thought. Cracked chocolate still tastes just as good as perfectly smooth chocolate.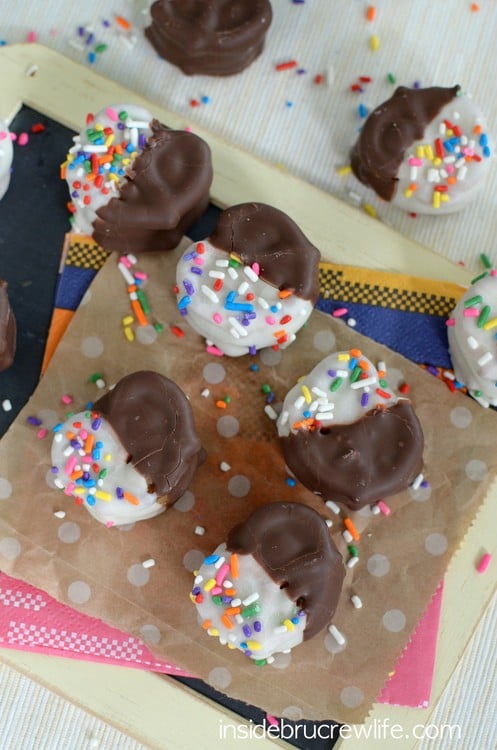 The funny thing is that when I was telling my husband about the cracks...he just looked at me funny. He said he didn't even notice them because he was too busy eating the goodness.
So I probably just made you look at the chocolate to see these monster cracks that you hadn't noticed either. It's ok...I know I'm slightly delusional at times. Nothing a good cookie dough truffle can't fix 🙂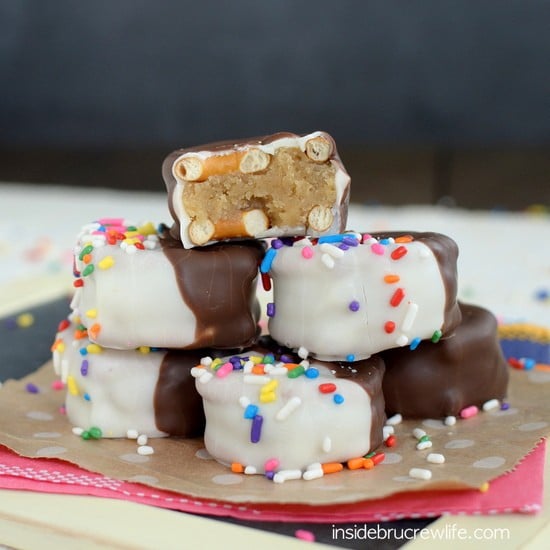 Stay up to date on all the BruCrew baking by following here:
FACEBOOK | PINTEREST | GOOGLE+ | TWITTER | INSTAGRAM | BLOGLOVIN
More No Bake cookie dough truffles for your holiday cookie plates: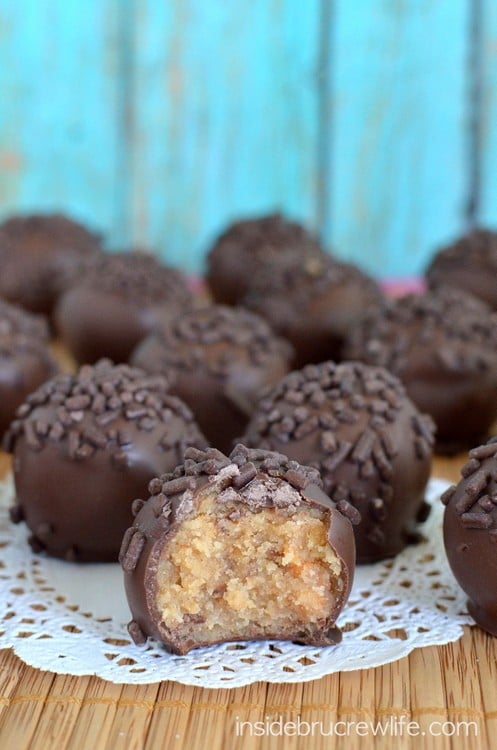 Butterfinger Cookie Dough Truffles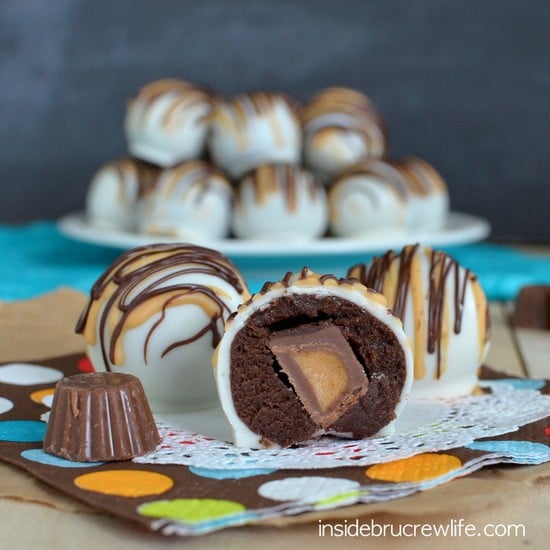 Chocolate Peanut Butter Cup Cookie Dough Truffles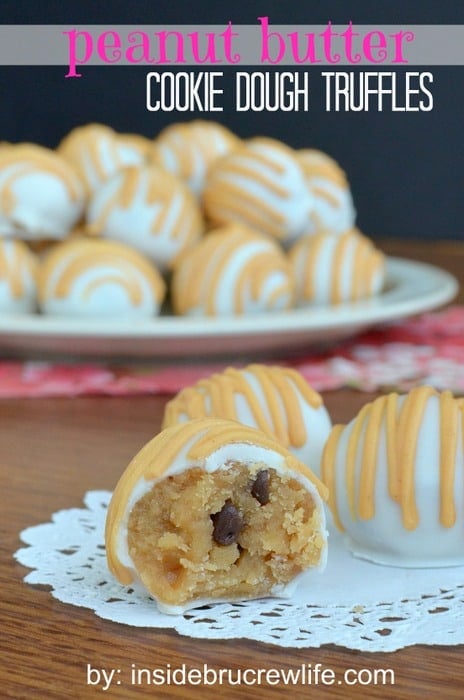 Peanut Butter Cookie Dough Truffles