Looking for an easy No Bake dessert to keep on hand for when it is too hot to turn on the oven? These Peanut Butter Cookie Dough Truffles are a quick and easy fix for those steamy days.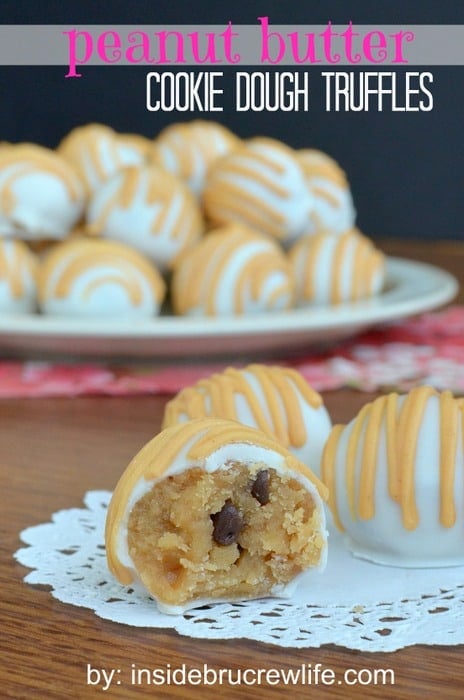 Over the past few months I have been updating old recipes and re-editing old pictures. I thought about redoing the pictures completely, but I do enjoy seeing the old pictures to see how far I have come...and I really don't have time to add that to my schedule right now. Maybe one day.
One of the old recipes that I worked on earlier this week were these Cookie Dough Truffles. I lightened the picture and sharpened it a little, but that was all. Then I shared the old picture with the recipe link on FB. Turns out you guys really like cookie dough truffles, even ones with old, bad pictures.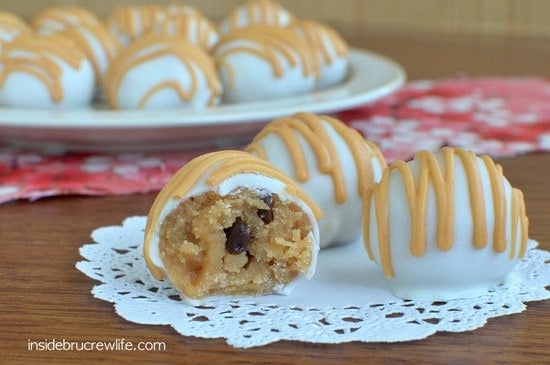 It got me thinking on how I could make the original even better. Peanut butter is probably one of the things I use the most when I bake, right behind bananas. I knew right away that I wanted to add peanut butter to the dough and dip it in white chocolate.
I also had a bag of Reese's peanut butter cups that I was going to throw into the dough, but at the very last minute I decided to just use mini chocolate chips. Mainly because I'm lazy, and I didn't want to cut the peanut butter cups into smaller pieces. I did drizzle them with some melted Reese's chips, so I got my beloved Reese's in them still.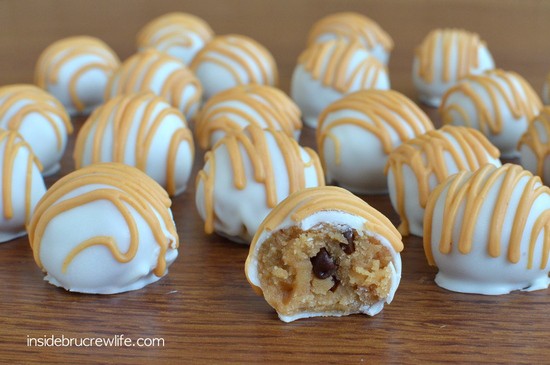 This recipe makes quite a few truffles. 72 to be exact. Now I don't know about you, but I can't have 72 delicious peanut butter truffles sitting in my refrigerator calling out to me in a sweet sing-songy voice. I could still hear the voices, even when the door was closed.
So, I did the best thing possible. I dropped a box full of the goodness off at one of my friend's house. She has 4 kids, so I knew they would disappear quickly there, saving my thighs a little bit of extra working out. I just wish I had given her the whole batch, because I ate more than one of these.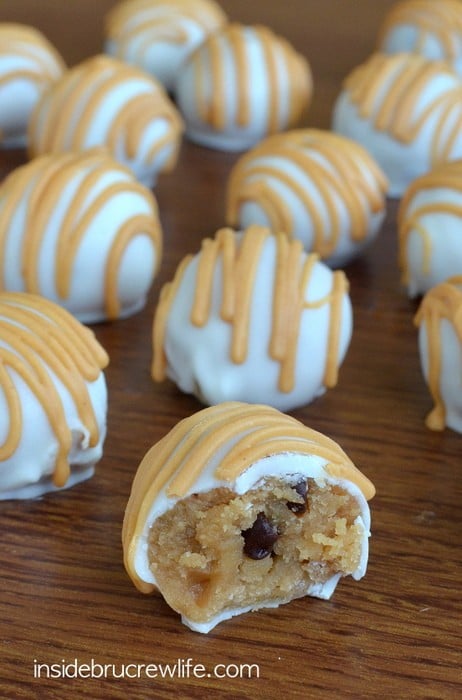 Fast forward about 3 days. I was chatting with my good friend Aimee, and she is telling me about her new cookie dough truffles. All I could do was laugh!!
We are such twins that we make the same things quite often without the other one even knowing it. I think it turned out that we both made and photographed our peanut butter cookie dough truffles on the same day, without the other one even knowing. So, we decided it would be fun to post them on the same day too.
Now I'm really wishing I hadn't been so lazy about adding the peanut butter cups...we would have been even more of twins. Check out her peanut butter truffles to see why I say that 🙂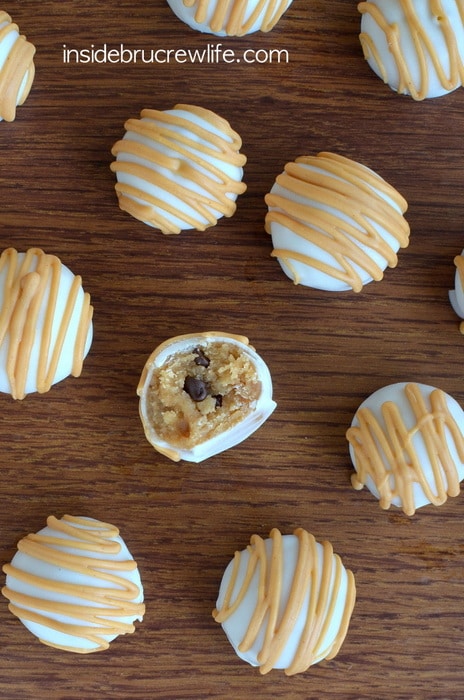 Other easy NO BAKE recipe for those up coming hot summer months: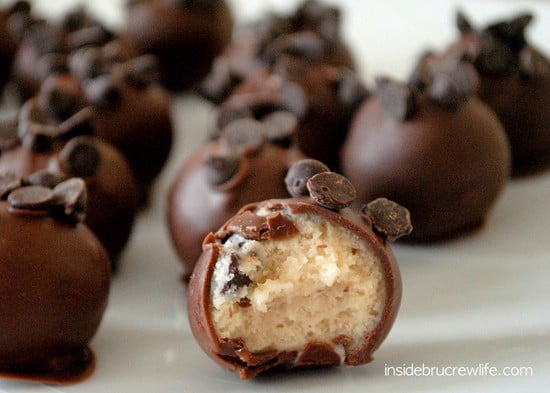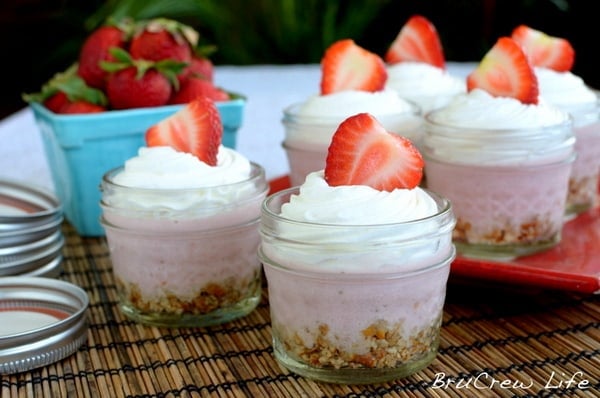 No Bake Strawberry Cheesecakes