The spices and fruit filling in these Cherry Apple Crumble Bars work so well together. Eat one of these cherry cobbler bars warm with vanilla ice cream for a delicious summer dessert.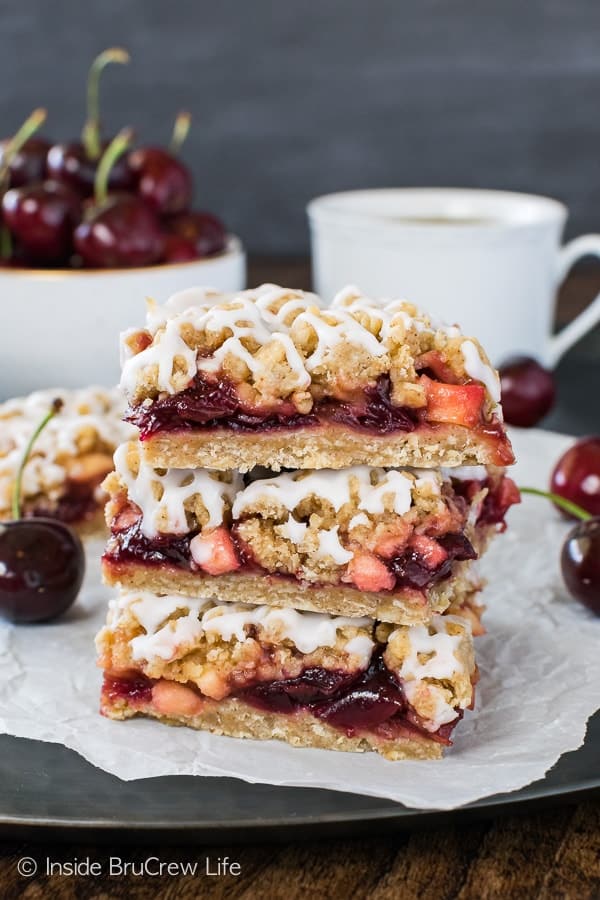 The past few weeks we have been slowly packing boxes as we get ready to move across the country again. As I pull things out of closets and drawers I keep asking why. Why do we have so many towels for 5 people? Why did I keep all the jewelry making supplies from when I was in the "make your own" phase? I haven't made anything new for almost 2 years. Maybe it is time to let go.
Why are there 15 jillion bottles of curly hair product in my closet and under the sink? Oh, yeah curly girl problems. I like to try every single product out there for curly hair because you never know which one might work the best.
The problem with that theory is that you end up with a lot of bottles of product that just sit there because it didn't make your hair look as good as you hoped. This week I am making myself use the old stuff up. If you see me wearing a hat, you will know why.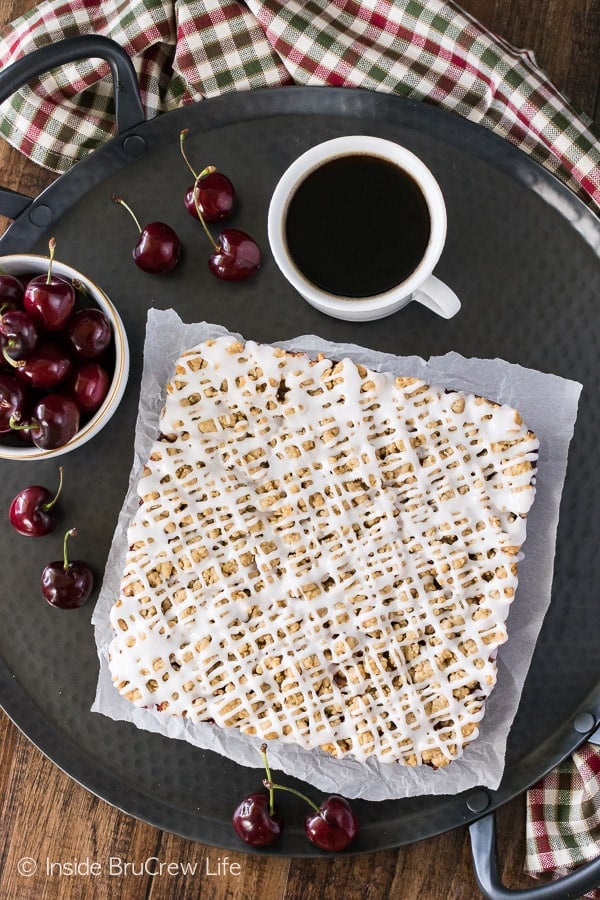 Another why that has been plaguing me is why do I have so many clothes? I may have a slight shopping obsession. Lately I'm blaming that on losing 12 pounds. When you drop that much weight and drop 2 pant/short sizes, it's time to do some more shopping. Yes, I could just wear the baggy clothes, but where is the fun in that? When you lose weight, you want to show off new cute clothes that fit better.
The other day I ran out to the mall for a new dress. I had seen it a few weeks before and couldn't get it out of my mind, so I went back hoping it was still there. Happy dance because it was still there in my size.
As I walked to the dressing room, I saw a rack of jean capris. Now I had just purged 3 pairs from my closet for being too big, so a new pair was sort of a necessity. Not really, but I was going with it at the time. Plus, they were on sale! So, I grabbed a much smaller size off the rack than I usually wear. In fact, I can't even remember the last time I could fit into that size.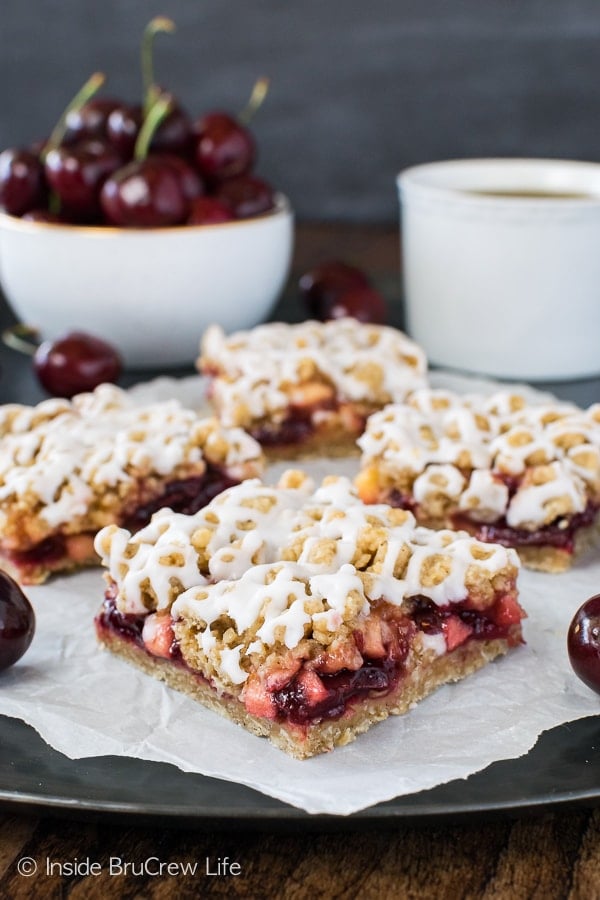 Honestly, I didn't even think that they would fit. But since they were cute and I was headed to the dressing room anyway, I figured why not. Guys, I put them on and did a double take!! They fit perfectly! There was some more happy dancing going on in that little dressing room! You better believe they came home with me.
Ok, that was a giant rabbit trail. Let's get back to my why's and these yummy bars!!!
After taking one bite of these cherry apple crumble bars, I have been asking myself why I never mixed cherries and apples together before. They work so well together!
A few years ago I made these brown butter blackberry crumble bars. I was remembering how good they were, so I decided to make another version this summer. I just happened to have a jar of small batch cherry preserves sitting in the fridge waiting to be used too. It was fate!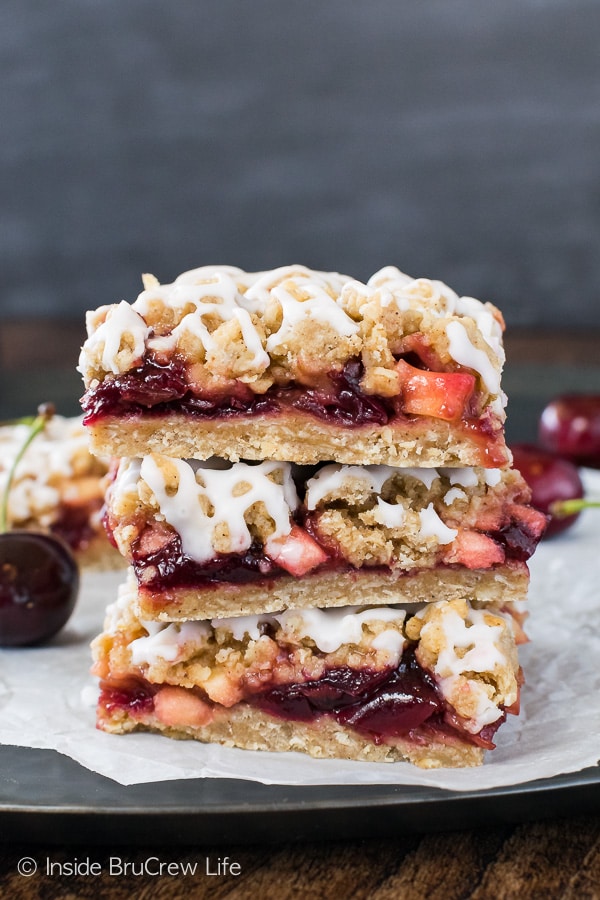 As I opened the fridge to get the preserves, I realized I had some apples that needed to be used up too. It was a hasty decision to dice some up and add them to the bars, but I am so glad that I did. Now honestly, you could just do the preserves and the bars would be delicious too. But something about the apple and cherry combo was so good. It was a good mash up of a summer and fall dessert! Did I really just say fall?
That brings me to my last question. Why in the world is summer almost over? Our kids have less than a month before school starts. That is crazy town! Just pass me another square of these bars. This time I'm warming it up and adding ice cream. Just trust me and do the same!!!
Do you still have another bag of summer cherries to use up like me? Make some homemade cherry pie filling or some cherry crisp.
Check out some of these delicious recipes I found from some blog friends. I love the mix of chocolate and berries in this cherry garcia ice cream. A big bowl of that would be perfect for these hot days! This cherry fritter cake is calling my name for sure! I want a big pan of it for breakfast this weekend! And then a big slice of this rustic cherry galette with ice cream on top would be awesome to finish out any day!