There is absolutely nothing wrong with grabbing a bowl of this Cherry Chocolate Chip Dip and going to town on it.  Maraschino cherries and chocolate chips give it such a fun taste and texture.  It is sweet comfort food at its best and perfect for Valentine's Day snacking!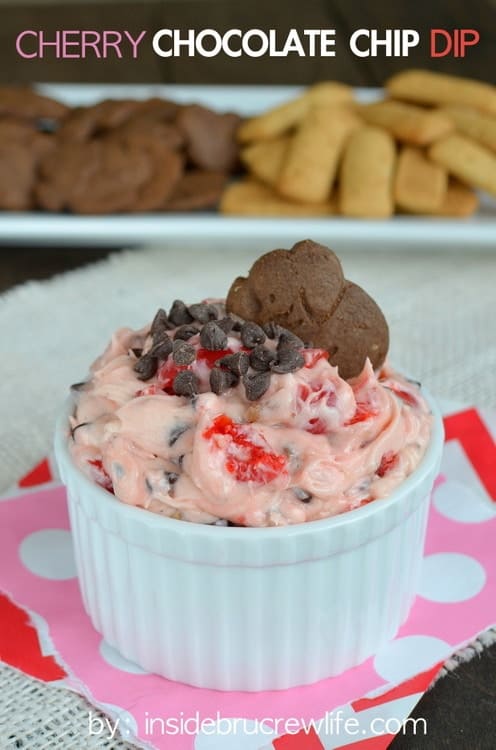 Today I am sharing a recipe that was actually made 2 years ago.
2 YEARS AGO…and I never shared it!  Can you even believe that I have been keeping this sweet dip from you???  Yeah, me either.
This dip is full of cherries, chocolate chips, and pecans and is absolutely delicious, but my first attempt at pictures was seriously lacking.  You see I tried to make a cheese ball when I made it the first time around.  Let's just say 2 years ago my cheese ball making skills were very lacking.  Don't ask me how you can mess up rolling a cheese ball, but…yeah, I did.  Now I wish I had saved those originally pictures, so we could have a good laugh over them 😉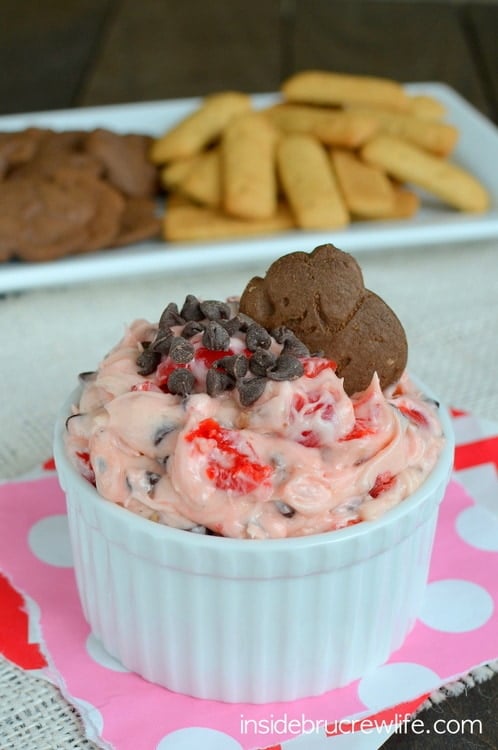 Or maybe it was just my photog skills then.  Whatever it was, I just never liked the pictures enough to share them.
Fast forward to the beginning of last year.  I had every intention of remaking this dip for you because I remembered just how good it was.  But I ran out of time…or something like that.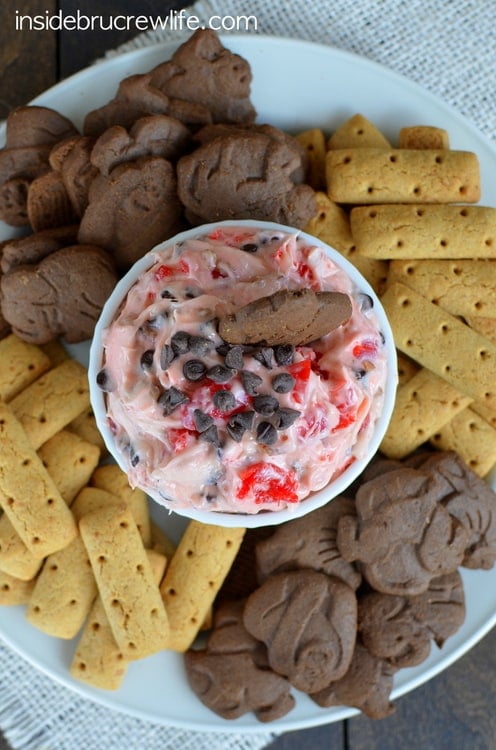 Fast forward again to this year.  I knew that this was the year of the cherry dip.  I made it last week, and it was every bit as good as I remembered from the first time.
But I got lazy on you.  I had every intention of rolling this cheese ball in pecans.  But I just didn't want to wait for the cheese ball to set up.  Maybe that first attempt scarred me from ever making another cheese ball, but for whatever reason I decided to add the pecans to the dip and leave it in a bowl.  Awesome idea because I got to dive into the bowl as soon as the pictures were finished.
I have a sweet surprise for you today though.  You all know my blogging BFF Aimee, right?  She and I are seriously twins separated at birth with different colored hair.  You see last week Aimee made a cherry chocolate chip cheese ball without knowing about my dip.  This happens way more than you guys realize.  I think our dessert taste buds are just so similar that we end up creating basically the same stuff all the time 🙂
Last week I texted Aimee and was telling her about my dip that I just couldn't wait to share.  She just laughed and said it probably is just like her cheese ball.  So today you are getting a fun dip and a delicious cheese ball.   Make sure you head over to Shugary Sweets and see her awesome Cherry Chocolate Chip Cheese Ball.
Me…well, I'm going to stay right here with another bowl of Cherry Chocolate Chip Dip goodness and some chocolate animal crackers.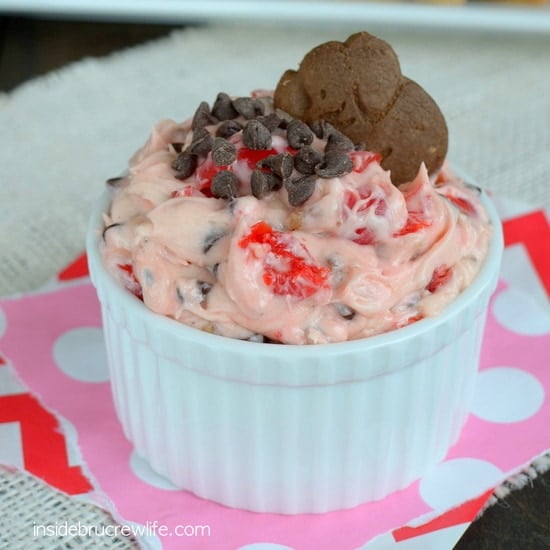 Make sure you don't miss any recipe ideas
by following the BruCrew here:
FACEBOOK | PINTEREST | GOOGLE+ | TWITTER | INSTAGRAM | BLOGLOVIN
This rich and sweet cheese dip is full of cherries and chocolate chips. It is the perfect treat for that special someone on Valentine's Day.
Ingredients
1 package cream cheese, softened (8 oz.)
1/2 cup butter
2 Tablespoons cherry juice (from 10 oz. jar)
1 cup powdered sugar
1/2 cup miniature chocolate chips
1 cup finely chopped pecans
1 jar maraschino cherries, quartered (10 oz.)
graham crackers or animal crackers
Instructions
Beat cream cheese and butter until creamy. Beat in the cherry juice. Slowly beat in the sugar.
Stir in the chocolate chips and pecans. Add the cherry pieces and stir very gently by hand.
Serve with graham crackers or animal crackers. Keep refrigerated.
https://insidebrucrewlife.com/cherry-chocolate-chip-dip/
Copyright Inside BruCrew Life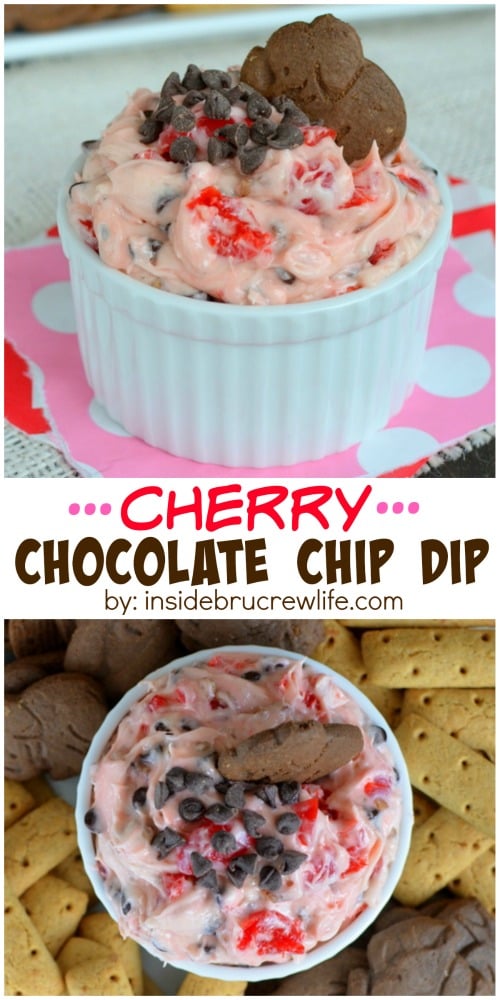 More CHERRY recipes you will love: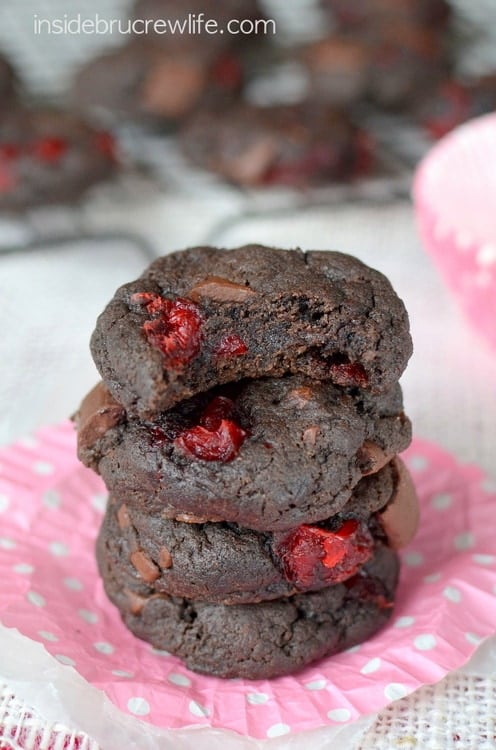 Chocolate Cherry Chunk Cookies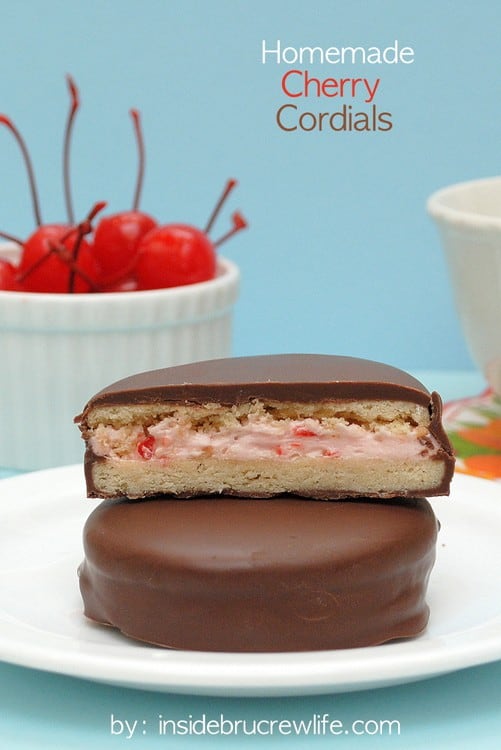 Homemade Cherry Cordials (Little Debbie copycat)