Chocolate Cherry Chunk Cookies are the perfect treat for the chocolate lover in your life. Chocolate chunks and cherries make this easy chocolate cookie recipe so rich and decadent.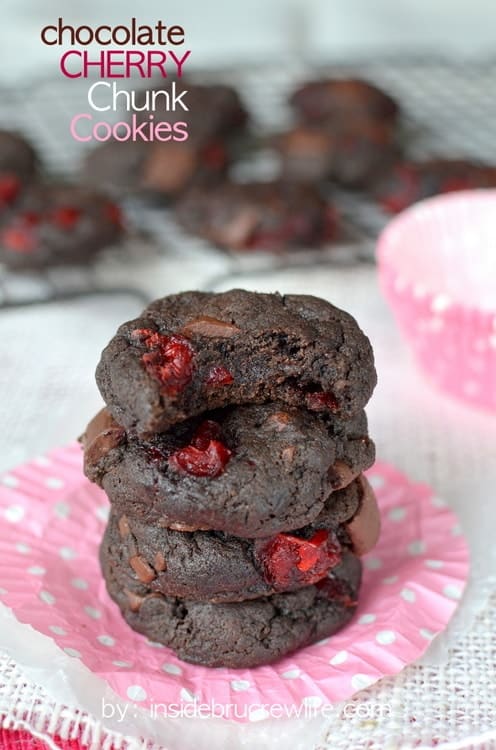 So my sister says I have a problem. A big baking problem.
You don't believe her, do you? I mean just because I bake 4-5 times a week and share those crazy recipes here. I don't see the problem at all.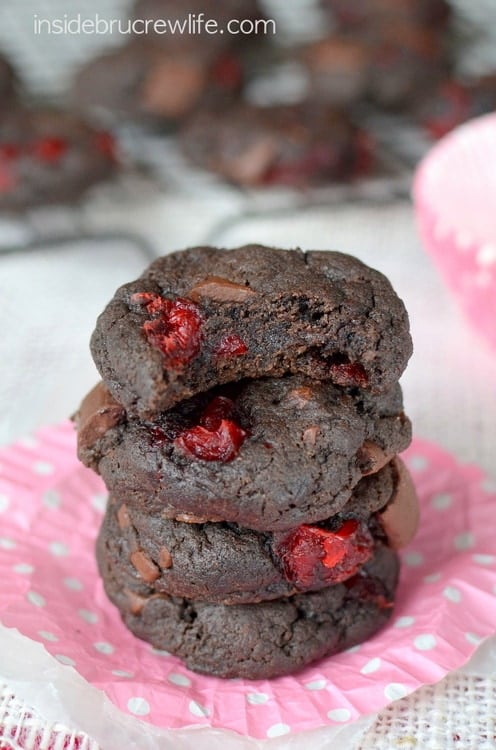 A few weeks ago we packed up and went to visit family for a week. When we were almost to my sister's house, I text her and let her know we had to stop at Walmart for a few things.
I then asked if she wanted me to bake some goodies while we were there visiting. I didn't bake any treats to bring with us, so I figured why not make them there and have them be super fresh.
Her first choice was these Marshmallow Reese's Blonde Brownies. So I picked up the ingredients for those...plus the ingredients for these chocolate cake mix cookies.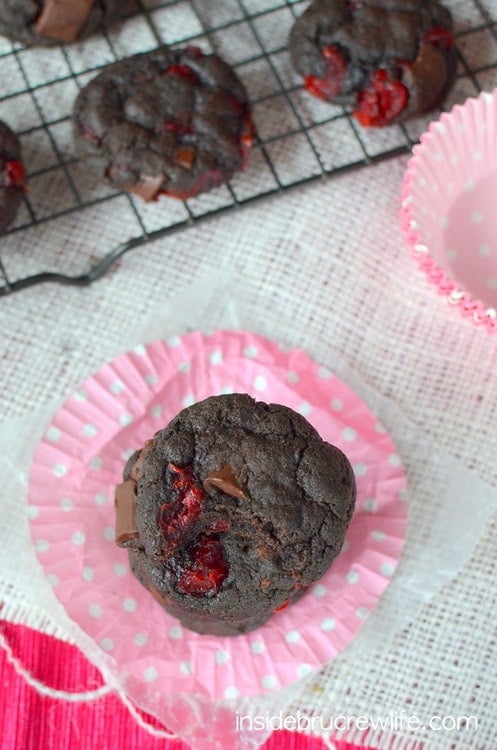 I have had the idea for these cookies on my brain for a while and just couldn't wait any longer to create them. And I figured what better time to experiment on a cookie! I mean I had extra people to sample the goodies for me, right?
So, I made blonde brownies one day. And then I baked cookies the next day.
What? Baking cookies on vacation? I don't see the problem at all.
My sister says I need Bakeaholics Anonymous though. She says baking on vacation isn't normal. Oh, and taking pictures of said cookies is even less normal apparently.
I rummaged around through my sister's house to find anything I could use to showcase these amazing cookies. I found burlap, a colorful placemat, and some cupcake liners. Then I moved her dining room table so I could experiment with the light from her window. It was snowing too, so it was harder to capture these cookies. The whole time my sister was laughing and calling me crazy. Ok, so maybe it was a little crazy, but that's just me. Baking is always on my mind. Now if I was in the Caribbean on the beach, I wouldn't be baking! But inside on a cold snowy day, why not?
Now trust me when I say you need these cookies! I realize we are still in January, and every one is still going strong on those diets. BUT...you need these cookies. Like yesterday!
Chocolate Cherry Chunk Cookies:
These are the easiest cookies to make. Cake mix, butter, egg, and cream cheese. And then throw in whatever mix ins your heart desires. These have cherry pieces and chocolate chunks in them because that is what I was craving that particular day.
Rich decadent cookies are the perfect treat for a cold snowy day! I think you need a baking day pronto! Just don't call me when you can't stop eating these cookies...because I won't answer. I will be hiding in my closet devouring my own cookies.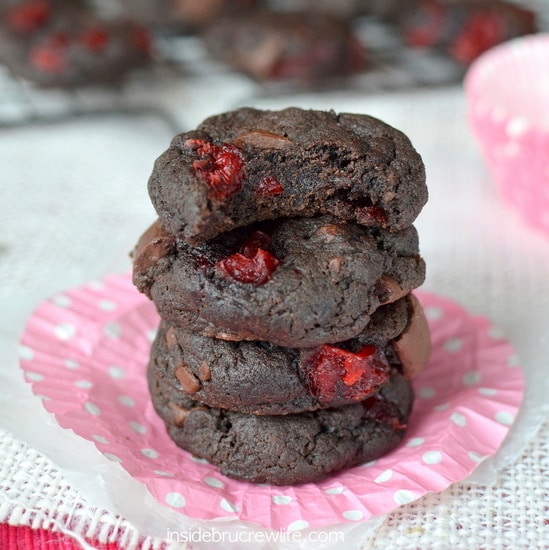 Make sure you don't miss any of the crazy baking
by following the BruCrew here:
FACEBOOK | PINTEREST | TWITTER | INSTAGRAM | BLOGLOVIN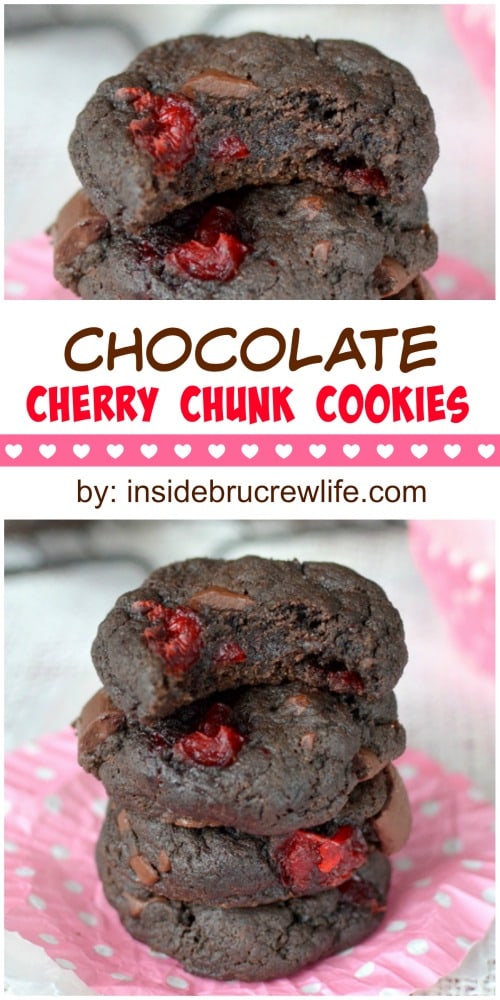 Add more chocolate and cherries to your diet with these recipes: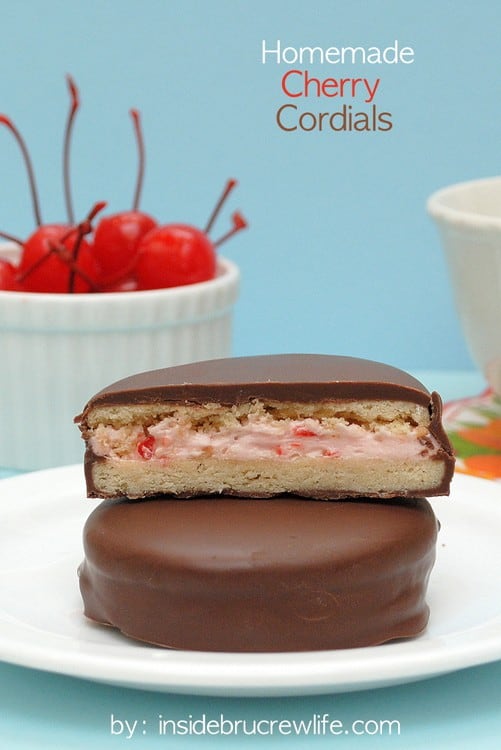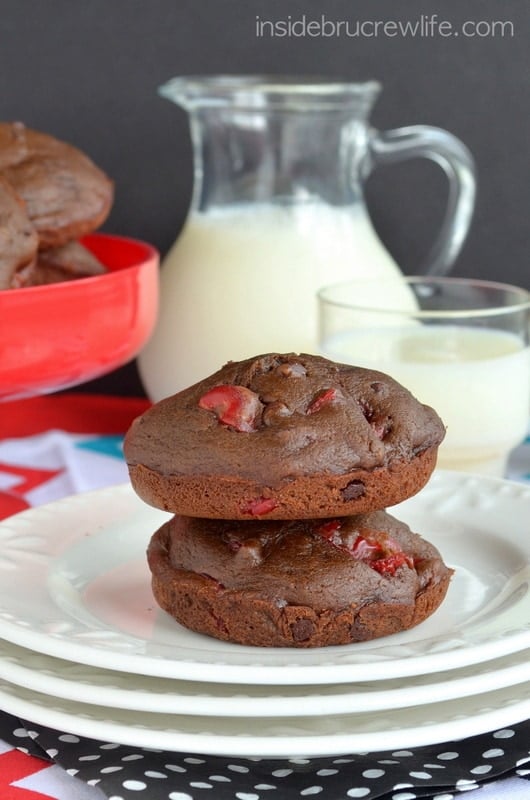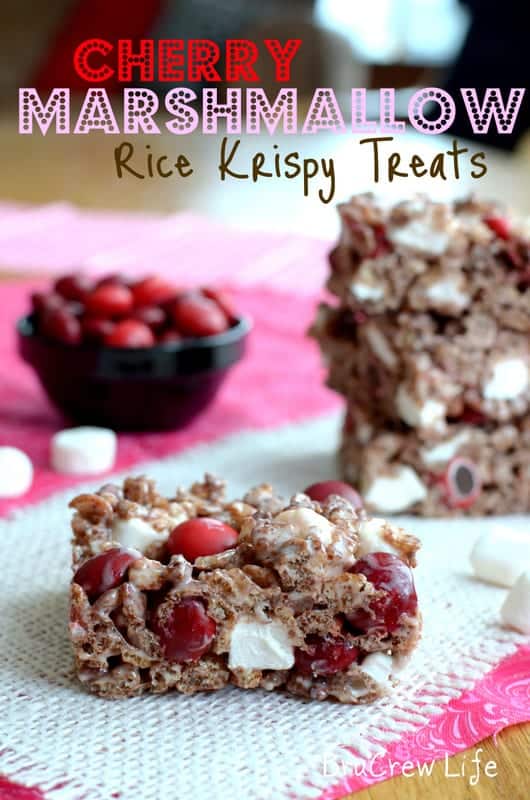 Cherry Marshmallow Rice Krispie Treats