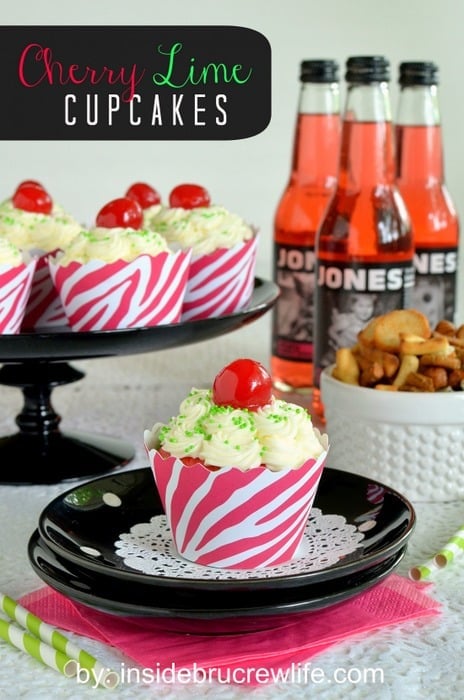 These Cherry Lime Cupcakes are a great summer flavor for any party you may be hosting this year.
After years of baking cakes, I have officially come to the conclusion that I like making cupcakes so much more. They bake faster, they are faster to frost (because you don't have to smooth it out), and it is easy to make them look cute.
Now I may just be slightly against cake right now because starting tomorrow I need to start baking a bazillion cakes. Ok, ok, it is only 12 layers, but it's going to feel like so much more by the time I get to that 12th cake. Not to mention how many batches of butter cream I am going to be making.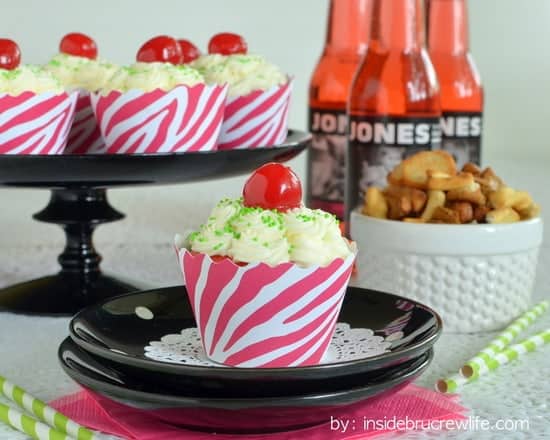 I love how easy it is to make a cupcake look so cute! There are so many cute wrappers and toppers out there to make your cupcakes be fashionable for any party you might be having. I had the opportunity to use these adorable pink zebra wrappers from Bella Cupcake Couture.
I didn't know what wrapper she was going to be sending me, so I got really excited when I opened my envelope and found zebra print staring back at me. I just might have a zebra print obsession!!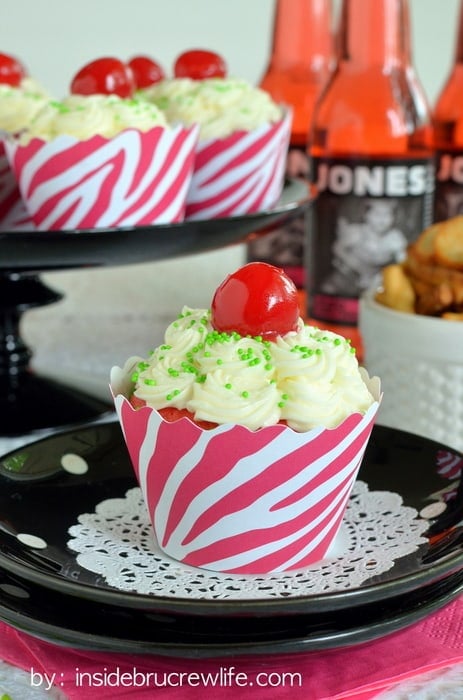 Then came the fun of coming up with a delicious cupcake and party idea for these adorable wrappers. Right away I knew it had to be some sort of pink cupcake, so I decided on these easy cherry lime cupcakes with a slightly tart frosting.
My daughter loves having sleepovers. With bright colors and animal print being so popular right now, I knew these would make the perfect sleepover cupcake.
I love sleepovers at this age. Since parents are not the coolest anymore, the girls entertain themselves with make overs, fashion shows, and movies. I just need to make sure there are plenty of snacks and drinks. Some fun colored Jones soda, some snack mix, and cute cupcakes make this a perfectly fun and easy sleepover to have.
The only thing left to come up with was a party scene. I ended up going very simple for this cupcake party. I wanted to tie in the pink and white from the wrappers and the black and white from the soda labels. A quick walk around my house and I came up with a black cupcake stand, some black and white plates, green striped straws to match the sprinkles, some white bowls from Valentines Day, and some extra pink napkins leftover from another party.
Try walking through your house the next time you are planning a party. You might be surprised at the things you find to use that are already there in your home.