This Cherry Jello Salad is a sweet side dish to add to your dinner menu. It can put together quickly in the morning and then is ready for dinner later.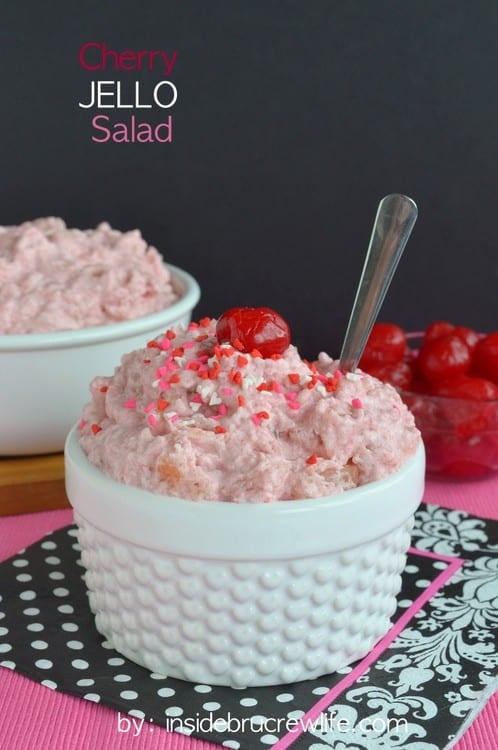 Why is it that the kids are extra loud and sing songy on the morning after you stay up really late the night before?
I have been trying to be better about getting to bed earlier. I am quite the night owl and would much rather stay up late at night working on projects. Getting up early is for the birds in my opinion.
Of course the other night, I stayed up way too late doing who knows what. The next day the kids were louder than normal and were singing about everything under the sun.
Now don't get me wrong. I am thankful they were happy and cheerful...but my head and ears just want quietness until I fully wake up. Thank goodness there was no snow delay that morning.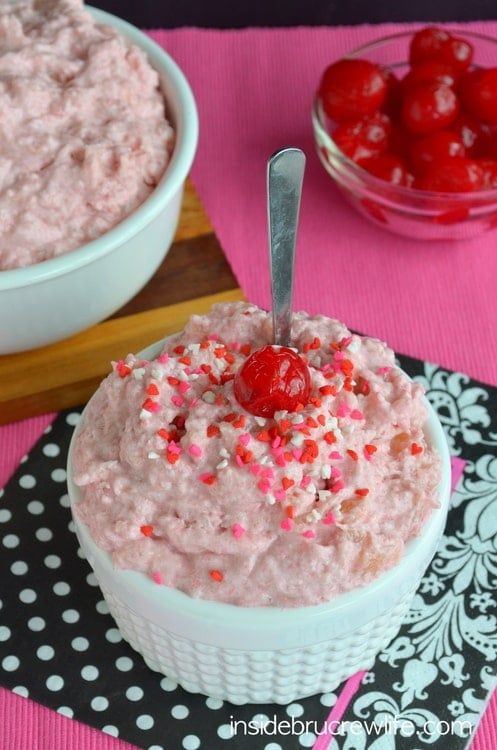 Why is it that when you are trying to eat healthy all you want is sugar?
I have really been trying to watch what I am eating this year. And no, not watch it go into my mouth. Healthy eating has been working great too.
Eating healthy and working out has helped me to lose a few pounds. It is a slow process, but I can totally see results and that keeps me motivated to keep going.
I have high hopes of fitting back into those smaller summer clothes I have sitting in our storage room. That doesn't stop my sweet tooth from craving sweets like mad though.
This light Jello salad is one that I love to make up and have ready in the refrigerator. I can whip it up first thing in the morning, and then it is ready for dinner later.
It really is a dessert salad, but I like to have it with dinner sometimes. I also like having it in my refrigerator for when I get a sugar craving. One or two spoonfuls really does calm them down.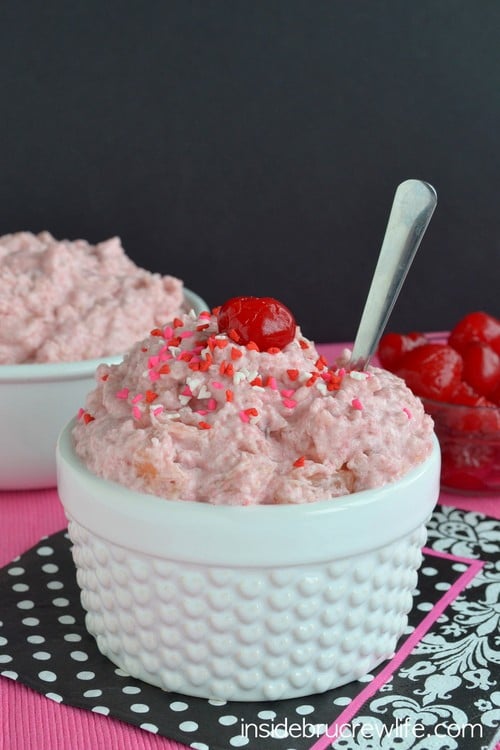 You can change up the Jello flavor if you like, but this time of year I can't get enough cherry treats. I used a sugar-free cherry Jello mix to flavor this salad.
Using sugar free and low fat products helps keep this salad a little bit on the healthier side. Perfect for that raging sweet tooth that needs to be tamed.
The pretty pink of this salad also makes it the perfect snack for Valentine's Day. Serve it with dinner and watch everyone smile.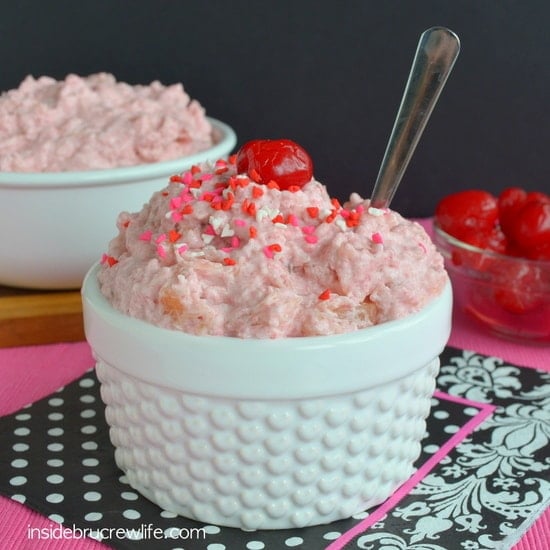 Stay up to date on all the BruCrew recipes here:
FACEBOOK | PINTEREST | TWITTER | INSTAGRAM | BLOGLOVIN
More Cherry recipes to make and enjoy: