This Skinny Cherry Banana Smoothie is full of protein and fruit goodness. It is perfect for a quick and easy breakfast or lunch, and it will keep you full longer.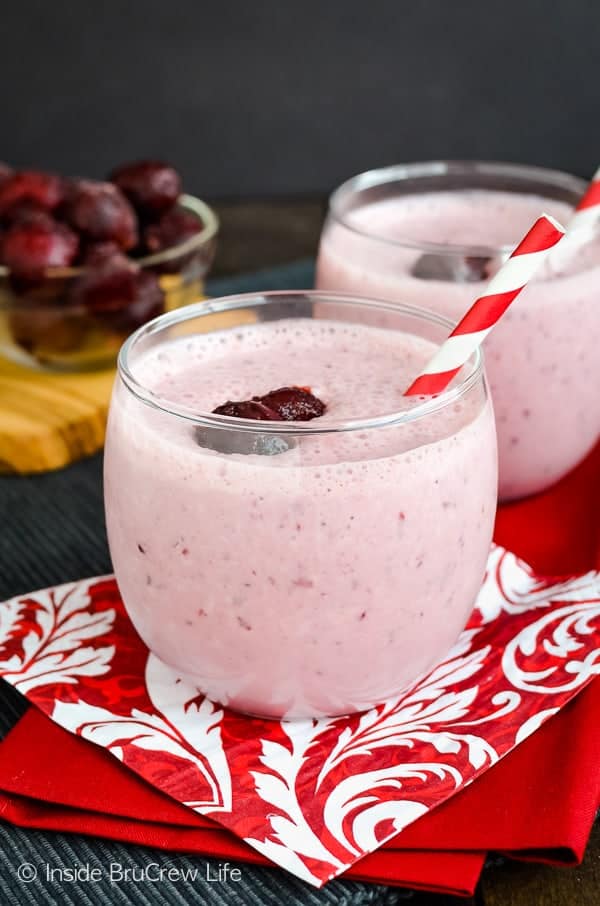 Last year I really enjoyed creating and sharing more healthy recipes and ideas. Over the past year and a half we have made a conscience effort to incorporate healthier options to our meals throughout the day, so it was natural to begin sharing the food we were eating with you.
The hardest part is resisting all the baked goods that I am still making. Baking is one of my favorite things to do, so I'm not planning on giving that up any time soon.
It's been hard, but totally worth it. By making these healthy eating habits, we have seen a difference in our attitude, strength, and overall well-being. It has become a lifestyle for us.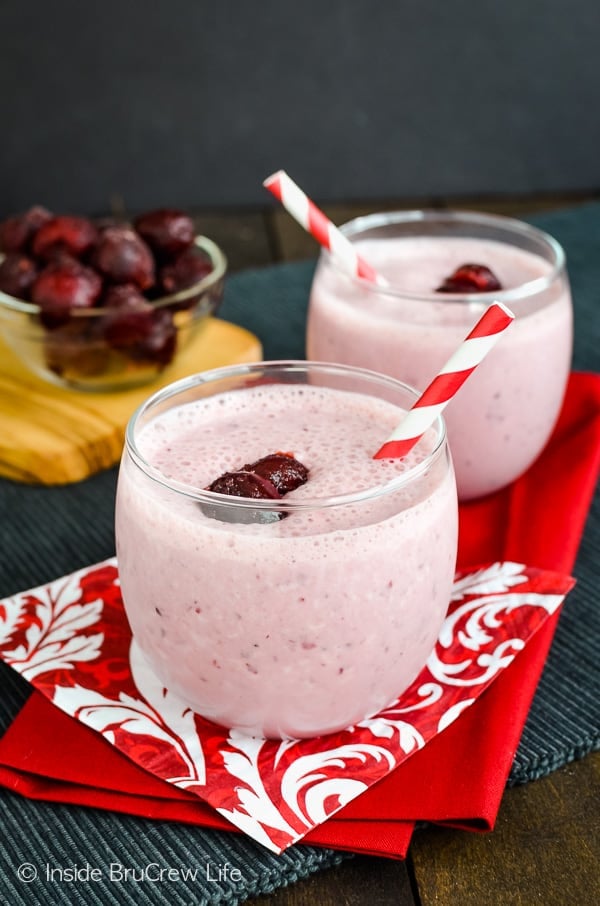 One thing that we do 4-5 days a week is some type of work out. Honestly, working out is something that I have to talk myself into every single day.
I have never been one of those people that gets an exercise high. My excitement comes when I do that last move, and know I am done for the day. That gets me pretty excited!
Over the past few years my husband and I have worked out in different gyms and in our own garage gym. The biggest obstacle that I face is always myself. Each time I look at the workout on the board, I start to second guess myself and what I'm capable of.
The first time I saw box jumps on a list at one of the gyms, I told myself that there was no way. Sure enough, I tried and just about fell on my face. So, step ups were what I resorted to doing.
Fast forward a few months and there were those dang box jumps on the list again. (They have been there a few other times, but I had been doing step-ups) I stared that box down and decided that I was going to do it.
All it takes is getting past the mental block that I kept putting there. I stepped up to the box and did it on the first try. I think I ended up doing a total of 35 jumps that day! Woo hoo! That 20 inch box has nothing on me!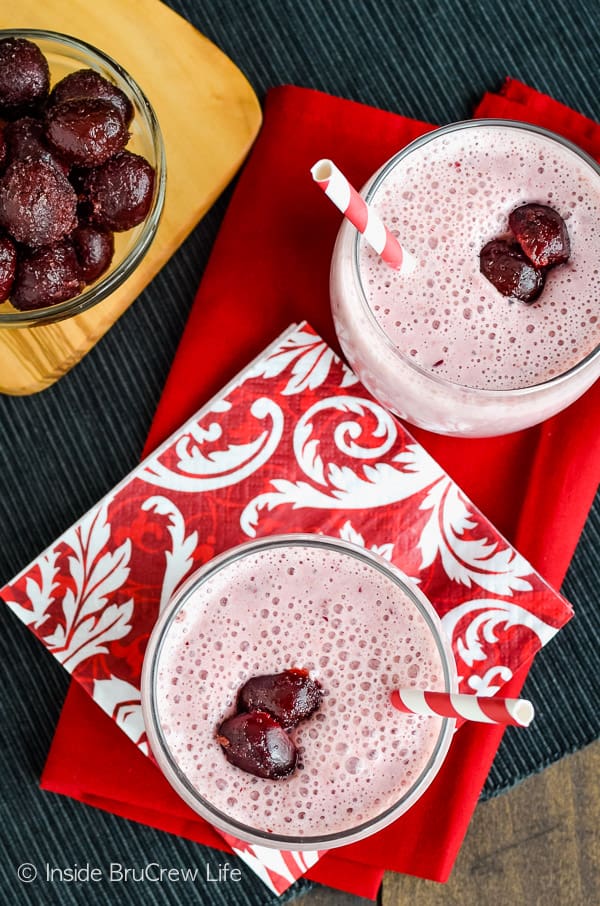 Now to face that mental block about healthy eating. I have the biggest sweet tooth around. Give me a choice between Peanut Butter Cup Cookies and a protein shake and my first instinct is to grab the cookies and run.
But I have learned that fueling your body with healthy nutritious food makes a huge difference in how you feel longterm. Sure a cookie makes me feel good in the moment, but that moment on the lips, ends on the hips.
It's all about making those little changes, right? Eventually enough little changes add up to a big difference.
Now let me clarify one thing. Enjoying one cookie every once in a while is not a bad thing. In fact, I think giving yourself permission to have something every once in a while is actually a good thing. It's just not a good thing when it becomes every single day.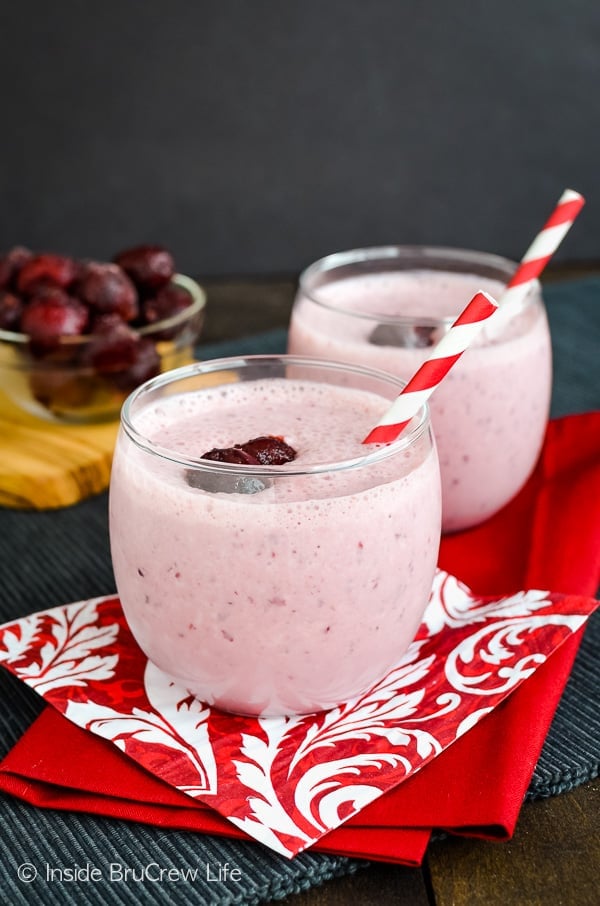 This Skinny Cherry Banana Smoothie and this Triple Berry Orange Smoothie are two of my favorite breakfast or lunch options. Now I do not drink it every day because I am watching how much fruit I eat too. There is actually quite a bit of sugar in fruit so it's a good idea to limit it.
Adding Greek yogurt and a good quality protein powder makes this healthy shake a delicious meal replacement.
The benefits to drinking smoothies with protein is that it keeps you full longer and gives you energy.
How to make a Skinny Cherry Banana Smoothie:
Pull out your blender and dust it off.
Chop the frozen banana into smaller pieces, so it is easier to blend together with everything else. Add the banana slices and frozen cherries to the bottom of the blender.
Pour the fat free milk, Greek yogurt, and protein powder on top of the fruit.
Pulse for a few minutes until the protein shake is thick and creamy. Pour it into one or two glasses and enjoy right away.
How to change up the flavor of your Protein Smoothie:
Change out the frozen fruit. You could use raspberries, strawberries, blueberries, mangos, pineapple, peaches, or blackberries instead of cherries. There is really no wrong fruit to add with the banana.
Use almond or coconut milk in place of the fat free milk for a delicious dairy free option.
Try a different flavor of protein powder. Chocolate is a delicious addition to your healthy smoothies.
Other ingredients to add to a Healthy Smoothie:
Leafy greens like spinach and kale
Chia seeds
Flaxseed
Avocado
Matcha green tea powder
Peanut Butter or Nut butters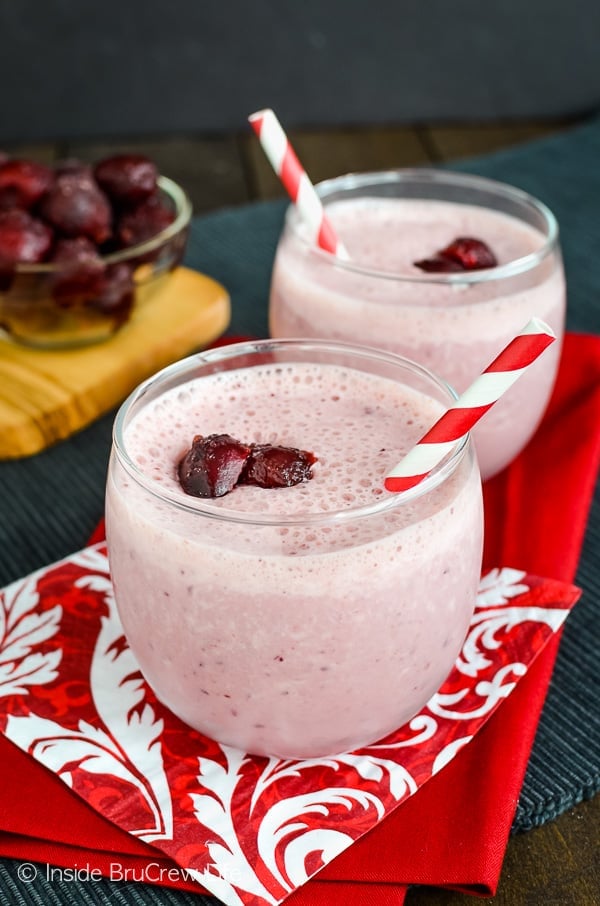 More easy healthy recipes:
Chocolate protein powder, oats, and cocoa powder gives these Skinny Chocolate Banana Oatmeal Pancakes their delicious flavor. Easy to make for breakfast!
This Broccoli and Cheese Egg Casserole is loaded with veggies. It's an easy and delicious option for breakfast, lunch, or dinner.
Keep a batch of these little Peanut Butter Cranberry Granola Bites on your counter for when you need a "sweet" treat. Whole grain oats and protein is a good snack to reach for.
These no bake Healthy Snack Bars taste amazing and are so easy to make with a food processor.
A pan of these Roasted Veggies is a delicious addition to any dinner. Use your favorite seasonings to change them up every time.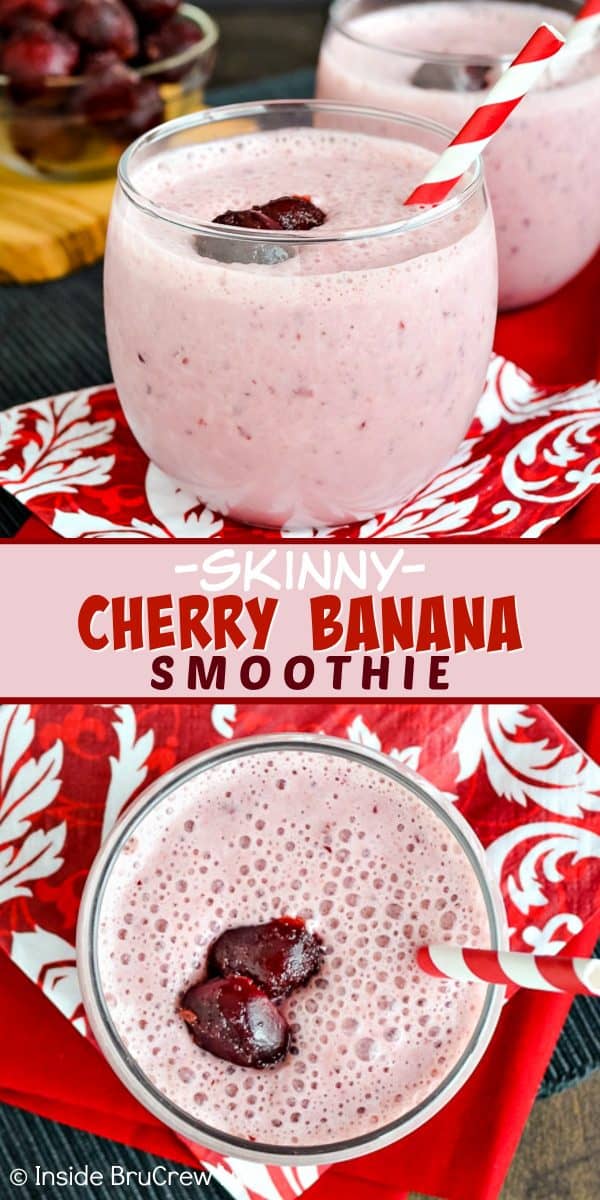 *The post and recipe for this Skinny Cherry Banana Smoothie was originally published January 16, 2014. The post and pictures have been updated, and it was republished on January 3, 2019.