This Chocolate Cherry Mousse Tart has layers of rich chocolate fudge, creamy cherry mousse, and sweet cherry pie filling. It's the perfect dessert to make for your friends and family.
*I am partnering with Lucky Leaf this year as a blog ambassador bringing you delicious recipes using pie filling.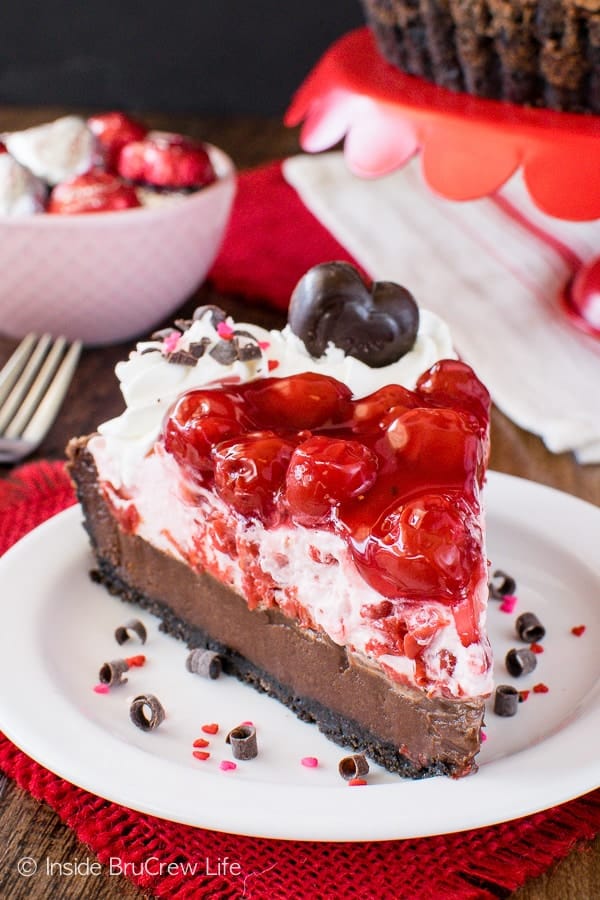 So, our daughter got her permit a few weeks ago and has been doing different drives and taking a driver's ed class. They have done drives in the country, down town, on the freeway, and around town.
She was a little nervous about all those places before she started, but each time she came back and said they were easy. The more she drives, the more confident she is getting behind the wheel. As hard as it is to watch your children grow up, it is fun to see them conquer fears and challenges.
I had the opportunity the other day to show her why you shouldn't hit a curb with your tire. Since this particular skill wasn't being offering in class, I decided to step up and be the one to help her out.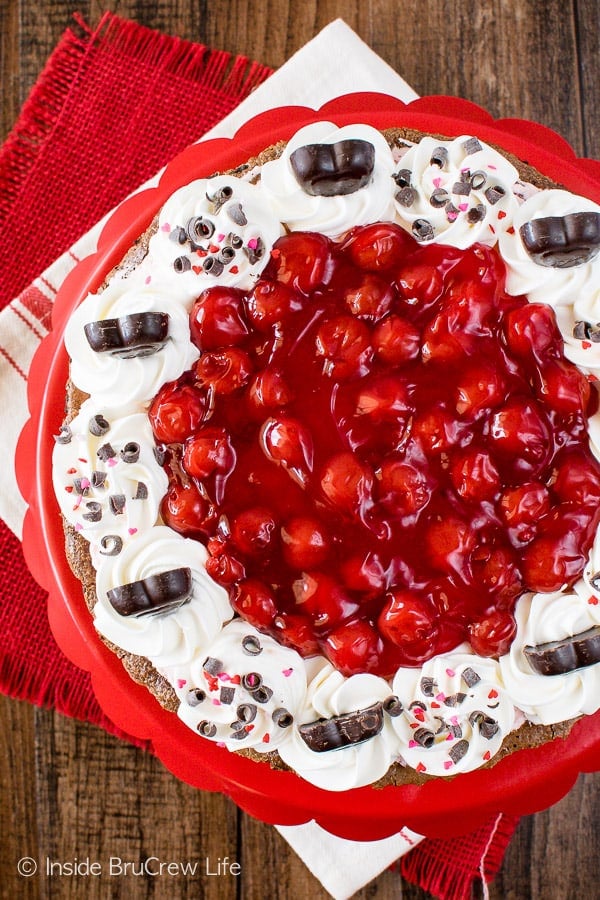 Yeah, I've been driving for 24 years and all it took was one sharp turn in the dark. You know that feeling in your stomach when you know you just popped a tire?
That was the exact feeling I had the instant it happened. Maybe stopping at the store for a shirt I probably didn't need was a bad idea after all. We pulled over and text my hubby to come help us out.
A big slice of chocolate goodness definitely would have made me feel better as we waited. What is it about homemade chocolate chip brownies that just seems to soothe the soul?
Since I didn't have chocolate right then and there, I took the opportunity to explain to our daughter how and why I hit the curb. We also talked about changing a tire and where the spare was in our little car.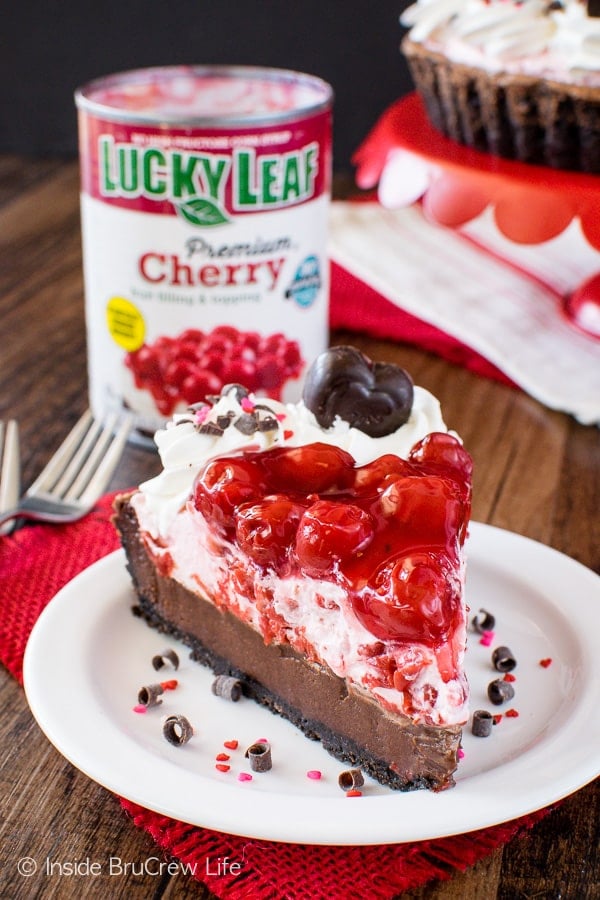 You better believe I ate a slice of this chocolate cherry mousse tart as soon as we got home. Chocolate and cherries are good for Valentine's day...and for a bruised ego.
I have enjoyed working with Lucky Leaf® over the past few years. Their pie filling is hands down my absolute favorite one. Each can is filled to the brim with natural fresh fruit. I also love that they prepare each can without using high fructose corn syrup because then I don't feel as bad about eating it by the spoonfuls.
It is so much fun creating new recipes as one of their brand ambassadors. Each month I look at my shelf of pie filling and try to decide what flavor would work for that particular time of year. I decided to give this cookies and cream fudge tart a cherry makeover since Valentine's day is very soon!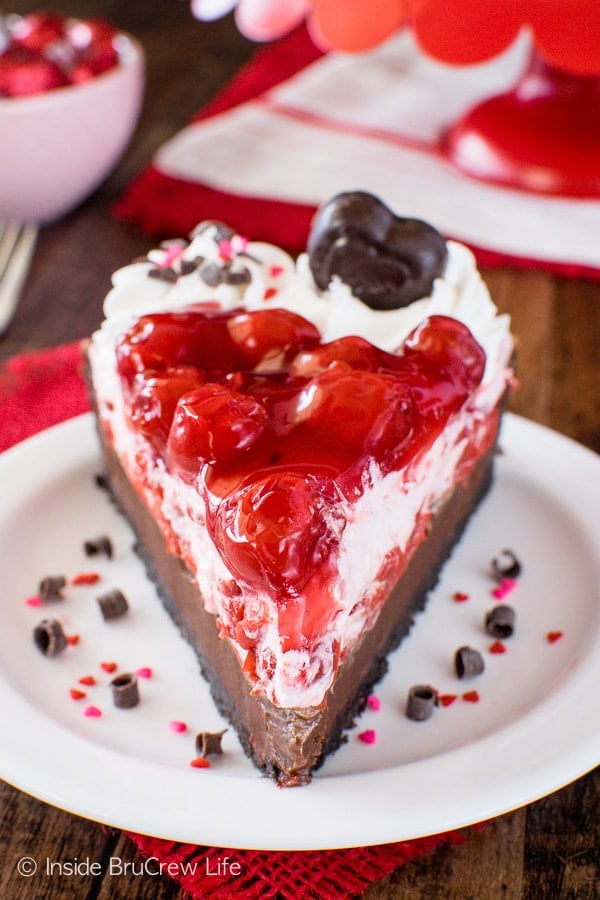 A chocolate cookie crust holds the chocolate cherry mousse tart together in the pan.
Let it chill in the refrigerator for at least 2-3 hours before you try to remove it from the pan because it would be sad if it all fell apart before you could give it some cherry love. Although, if that ever does happen just grab a trifle bowl and get to layering.
Whipped topping and some cherry pie filling creates a fluffy mousse for on top of the chocolate. To finish it off and make it look pretty, you will add more swirls around the top. Fill the center with the rest of the pie filling because we do not want to waste good filling. Plus, it makes it stand out on the dessert table!
Since I tend to over buy on holiday candy and sprinkles, I had a bag of chocolate hearts and some sprinkles in my pantry that gave this tart the last perfect touch!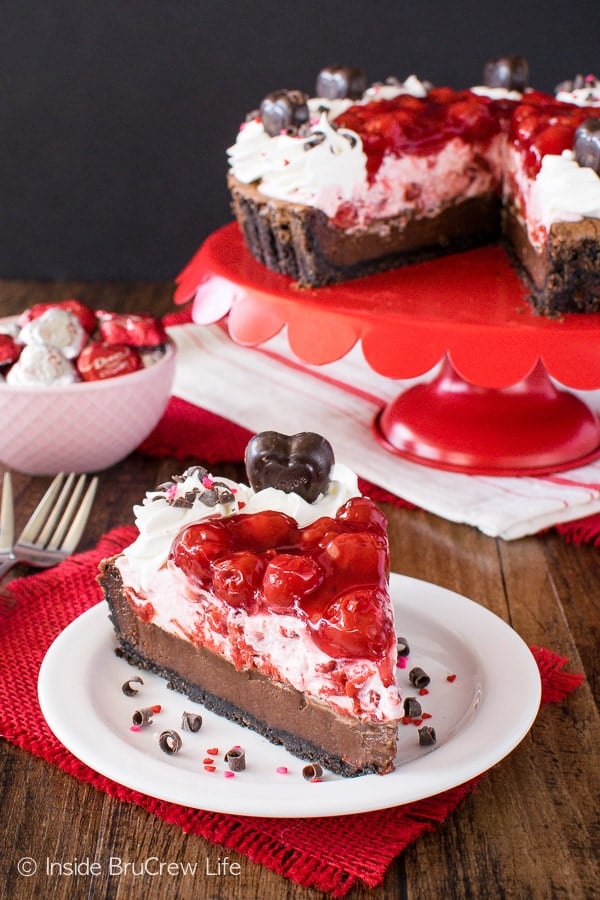 More recipes with pie filling

*Lucky Leaf has sponsored this recipe and post. All opinions expressed are 100% my own. Thank you for letting me share products and brands we use and love. See my disclosure policy for more information.*