The layers in this Chocolate Chip Banana Cake with Honey Peanut Butter Frosting will have you reaching for another slice in a hurry.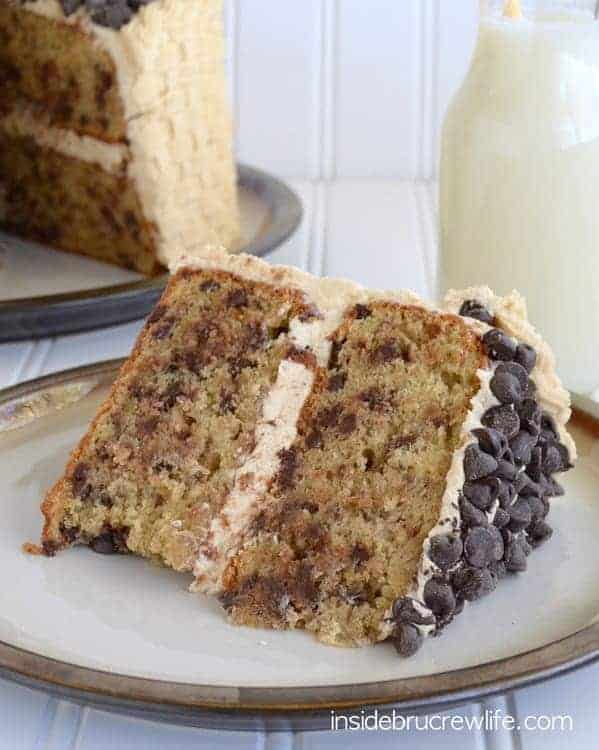 I used to decorate cakes for other people. Real life people. Do you know how stressful that is?
I am kind of a perfectionist (in some areas of my life). So when I would have a cake order, it would make me kind of neurotic. I would spend hours at a time making sure everything looked absolutely perfect. There were times I would scrape it off and start over if there was a line that I couldn't make right.
Then I had to make sure that I was doing it exactly how the customer wanted it.
My most fun cakes were the ones that they said "just do whatever". Actually those were fun but also VERY stressful because what if they hated what I came up with?!?!?
Reality set in and I realized that I couldn't charge enough to balance out the time I was putting into these cakes. So now I just bake when I want to and what I want to. There is waaaay less stress baking for my family.
Although, every once in a while I will take a cake order and then kick myself when I actually have to work on it. In fact, I will try to talk people into cupcakes 9 times out of 10 because they are much easier to do. Plop a swirl on top, and they are good to go.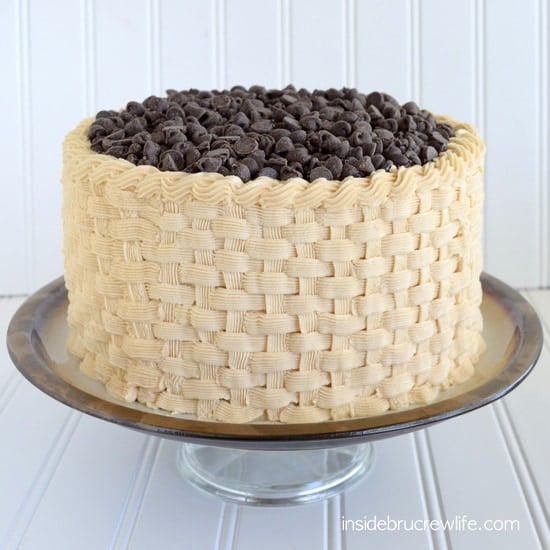 I created the best banana cake for my birthday this year. Yes, I know my birthday was almost a month ago, and I am just now sharing.
Remember what I said about less stress. That is the fun about blogging. I can share whenever I feel like it.
Today feels like a cake day to me. Plus, with all the veggies I have been eating, I wanted to drool over the Best Honey Peanut Butter Frosting again.
One of my favorite designs to do is the basket weave. This is the one that I will do most times if I have my own choice. It makes such an impressive cake AND everyone thinks it took you hours.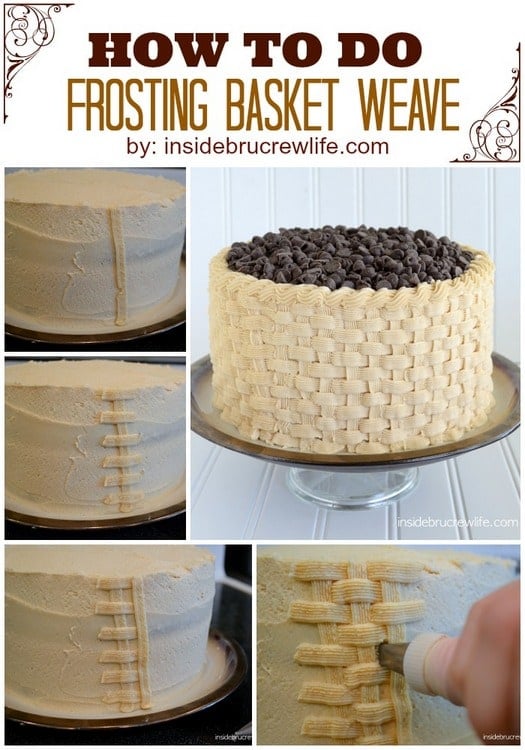 Want to know a secret? This awesome looking basket weave design is actually one of the easiest frosting techniques. Once you have mastered it that is.
I thought it would be fun to show you step by step, so that you believe me when I say it is easy.
Frosting a Chocolate Chip Banana Cake with Honey Peanut Butter Frosting:
First gather all your supplies, so you can have it all near you as you work. You can purchase all these items at your local Hobby Lobby or Michaels.
flat plate
frosting bags
plastic coupler
icing tip #47 and #18
cake leveler
icing spatulas
Put your cake on a FLAT plate. I had this one on a plate with an edge and it was hard to get the bottom strips of frosting straight down at the bottom.
Level the cakes and completely cover the cake with a thin layer of frosting.
Put the bigger part of the plastic coupler in the inside of the bag. Fill the bag with frosting. Add the metal tip and the small screw part of the coupler.
Twist the bag at the top and hold it between the thumb and index finger in the palm of your hand. Make sure the bag is twisted so that the edged part of the tip is facing up.
Squeeze the bag gently while moving down the side of the cake. Don't worry if it isn't perfectly straight. When you get all the lines on, no one will even notice.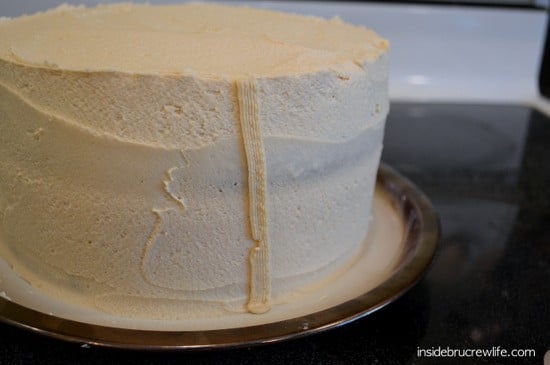 Go back to the top and start squeezing small strips of frosting horizonally across the line. Make sure you leave a space the size of the metal tip in between each one.
You will have to continue to twist the top of the frosting bag so it stays tight in your hand.
Always make sure the edged part of the tip is facing upward. This is what gives your line the basket look.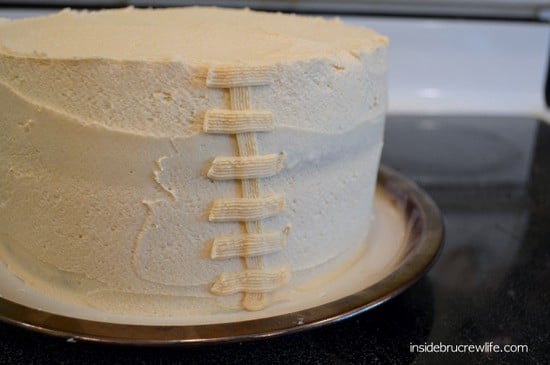 Now squeeze another straight line vertically over the ends of each small strip.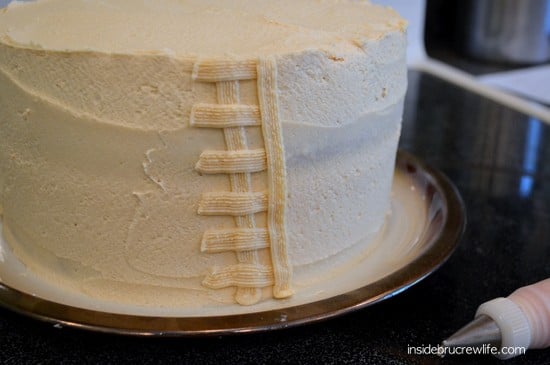 It starts to get a little tricky right about here.
You want to pipe your small strips opposite the ones you did on the first line.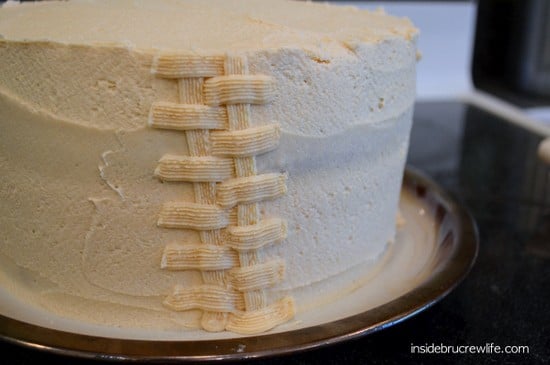 Each time you add a small strip, make sure the metal tip is down into the peanut butter frosting.
In fact, it will be slightly under the straight frosting line. This makes it look like the frosting is all one piece.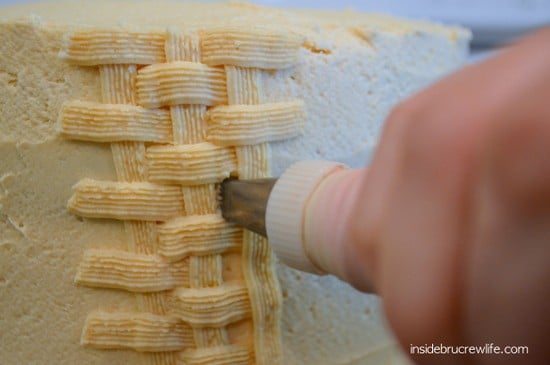 Now I say this is seriously so easy, and it really is. But it does take a lot of practice to get it right.
My first cakes like this were sorry to look at, but I kept trying and now I can whip one out in less than an hour.
Don't give up!! They are so fun to do, and believe me, everyone loves them!!!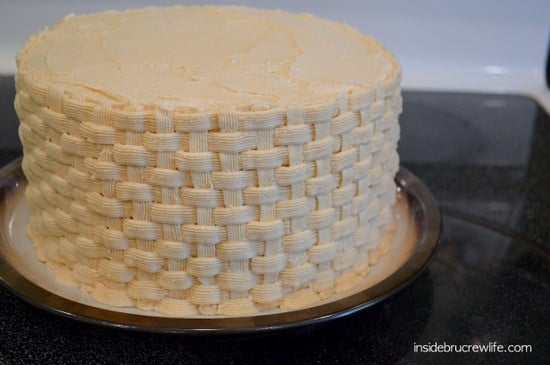 After you get all the way around the cake with your lines, add a decorative border to the top of the cake as a finisher. I usually do a backwards S using metal tip #18.
Each time you do another S, you need to make sure the tip is under the last one. By starting under the frosting, it keeps it looking like one giant strip of frosting.
You could also just do a shell border or even a star border on this banana cake.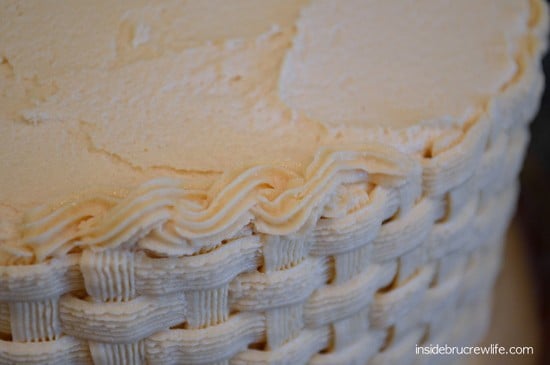 After all that hard work, you deserve a GIANT slice of frosted banana cake!
Yes, I know, that after putting all that time into making it pretty, you will feel kind of sad to make the first cut.
Believe me, it gets easier with each cake you do.