These Chocolate Covered Coffee Spritz Cookies are decorated with two kinds of chocolate and fun colored sprinkles.  They are the perfect little treat for tea time or parties.  Change out the colored sprinkles to match any party or holiday.
 **Make sure you sign up for the BruCrew email to receive these recipes in your inbox.**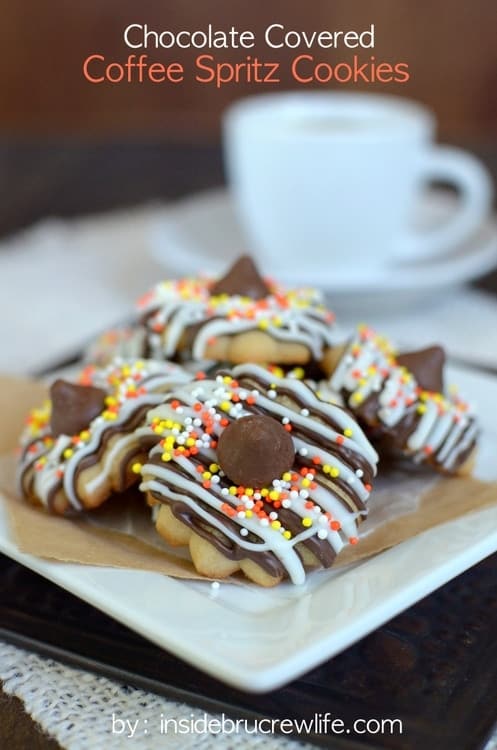 I had so much fun making these little cookies, although  I really didn't have any real reason to make them.
I was able to send some to a lunch we had at church, and then I also brought some with me to one of our small groups that night.  It is always fun to show up with desserts when no one expects it.  I am starting to wonder if it really is a surprise anymore because they all know just how much I bake.  I'm guessing they would be more surprised if I came empty handed.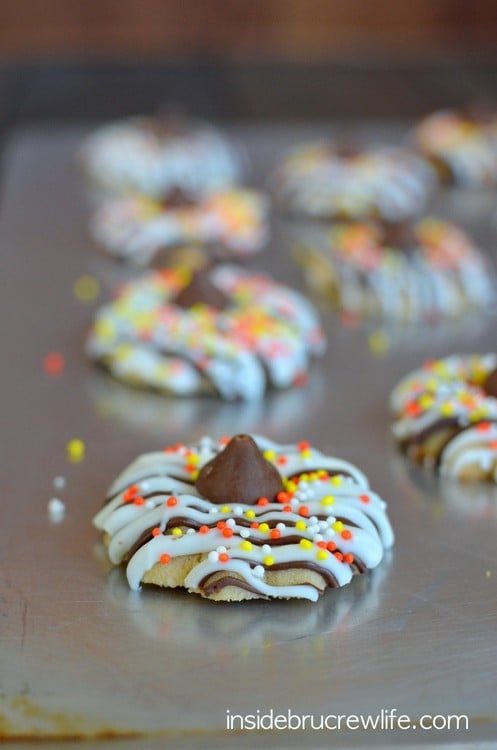 I can't remember the last time I made spritz cookies was.  I really think it has been many, many years since making some.
A few weeks ago OXO contacted me about partnering with them for their Bake a Difference Campaign that benefits Cookies for Kids' Cancer.  They are doing an outstanding job raising money to help children who are suffering from cancer.  During the entire month of September, OXO will be donating money for each blog post dedicated to this campaign. They will also donate $.25 for every product sold in stores with the green sticker promoting the campaign.
Last year I made these Homemade Chocolate Chip Brownies for the same campaign.  This year I wanted to do something different.  OXO graciously provided me with a box of fun baking supplies, so I could get in the kitchen and make cookies to help get the word out about this wonderful campaign.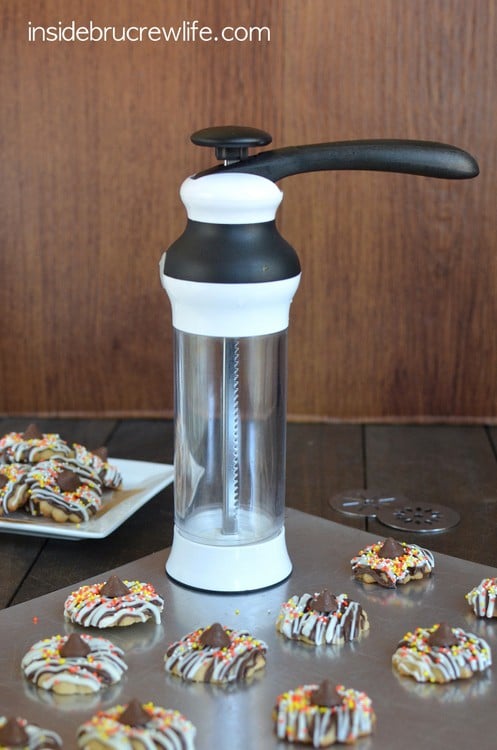 I had so much fun making these little spritz cookies.  Most of the time spritz cookies are a vanilla based cookie, although I have seen some pretty awesome chocolate and peanut butter ones too.  I was looking through my cupboards and found a little bit of coffee extract left.  Right away I knew I wanted to make a coffee flavored spritz cookie.
The cookie press is so easy to use.  Just fill it with your dough and start pressing it onto the cookie sheet.  I love that every cookie came out the same.  I did find out that the dough presses best on a cold cookie sheet or onto a Silpat.  Also, do not refrigerate your dough too long, or it will be harder to press out.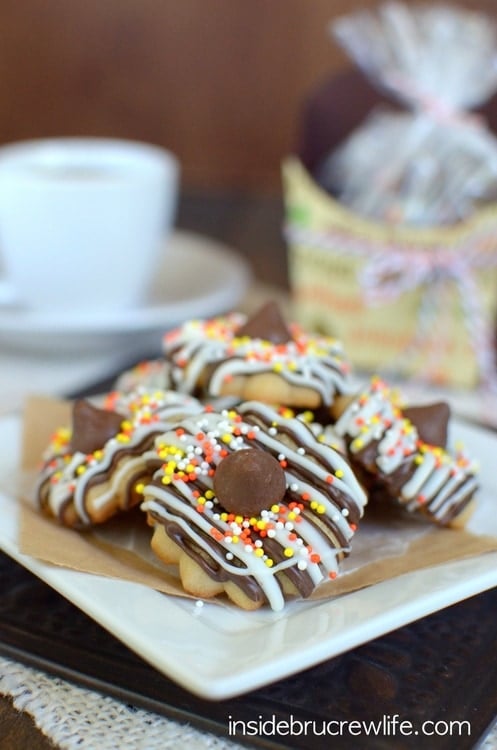 While the cookies were cooling, I started to think how I was going to make these cookies stand out.  I mean they tasted great, but they really looked rather boring.
Chocolate drizzles and sprinkles to the rescue.  Sprinkles make everything better, right?
I melted chocolate and vanilla to drizzle over the cookies because I liked the contrast of 2 colors with the chocolate chip and sprinkles on top.  Feel free to do just one chocolate if you like.  But really, more chocolate is better, so why would you skimp?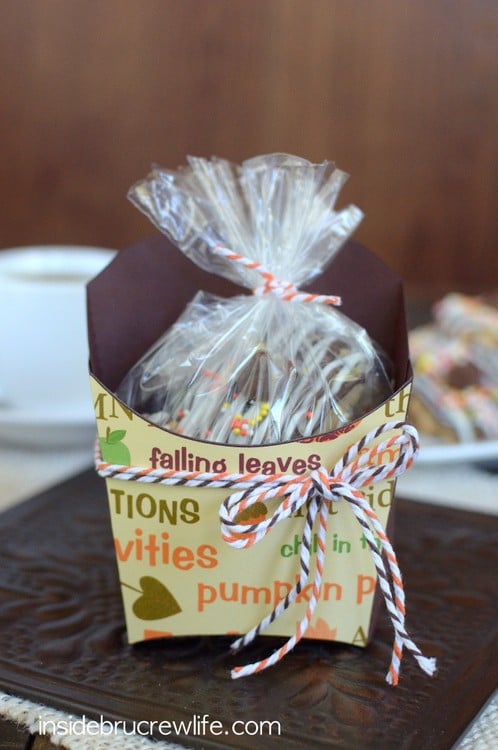 This cookie recipe does make about 96 little cookies.  Yes, I know that sounds like a lot of cookies, but they are very small.
So small that you really could eat 5 at a time, and it would still only equal 1 large cookie.  So when you think about it that way this batch really only makes 19 servings.  That's totally do-able!
You can also package up the cookies in these cute little french fry boxes to hand out to all your friends.
Cute sprinkled cookies, adorable packaging, and helping with a wonderful project that benefits children is definitely a fun reason to be in the kitchen baking up a cookie storm!!!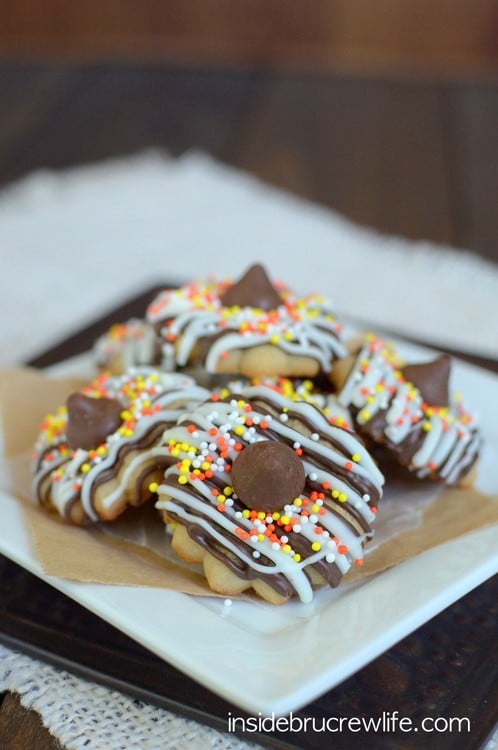 Stay up to date on all the BruCrew baking here:
FACEBOOK | PINTEREST | GOOGLE+ | TWITTER | INSTAGRAM | BLOGLOVIN
Sign up to receive an email in your inbox for each new recipe:
EMAIL SUBSCRIPTION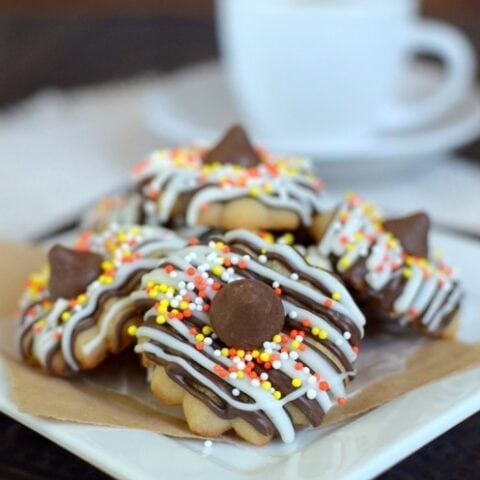 Chocolate Covered Coffee Spritz Cookies
Coffee cookies drizzled with 2 kinds of chocolate and topped with fun colored sprinkles are a delicious treat to bring to any party.
Ingredients
1 cup butter, softened
2/3 cup brown sugar
1 egg
2 teaspoons coffee extract
1/2 teaspoon salt
2 1/4 cups flour
8 ounces chocolate CandiQuik
8 ounces vanilla CandiQuik
96 chocolate chips
sprinkles
Instructions
Beat the butter and sugar until creamy. Add the egg, coffee extract, and salt and beat again. Slowly beat in the flour. Refrigerate the dough for 30 minutes.
Spoon dough into cookie press. Press out cookies onto an ungreased baking sheet, 1 inch apart. Bake at 400 degrees for 7 minutes. Cool for 1-2 minutes on sheet, then remove to wire rack to cool completely. Repeat with remaining dough.
Melt the chocolate CandiQuik according to package directions. Spoon the chocolate into a plastic baggie and cut on tip off. Drizzle over all the cookies.
Melt the vanilla CandiQuik according to package directions. Spoon half the melted chocolate into another plastic bag and cut one tip off. Drizzle over half the cookies. Top with a chocolate chip and sprinkles before the chocolate sets. Repeat with the remaining melted chocolate and a new baggie. Let set. Makes 96 cookies. Store in a sealed container on the counter.
Notes
*If you do not like coffee flavored desserts, substitute vanilla extract for the coffee extract.
*I was sent OXO products and Life Style products in exchange for sharing about them on my blog.  No other compensation was received.  All opinions are 100% my own.