A pan of this easy Apple Bread Pudding is a delicious dessert to enjoy any time of year. This warm dessert casserole recipe has apples, spices, and raisins baked into the sweet bread pudding. Add caramel drizzles and ice cream to make it a decadent treat!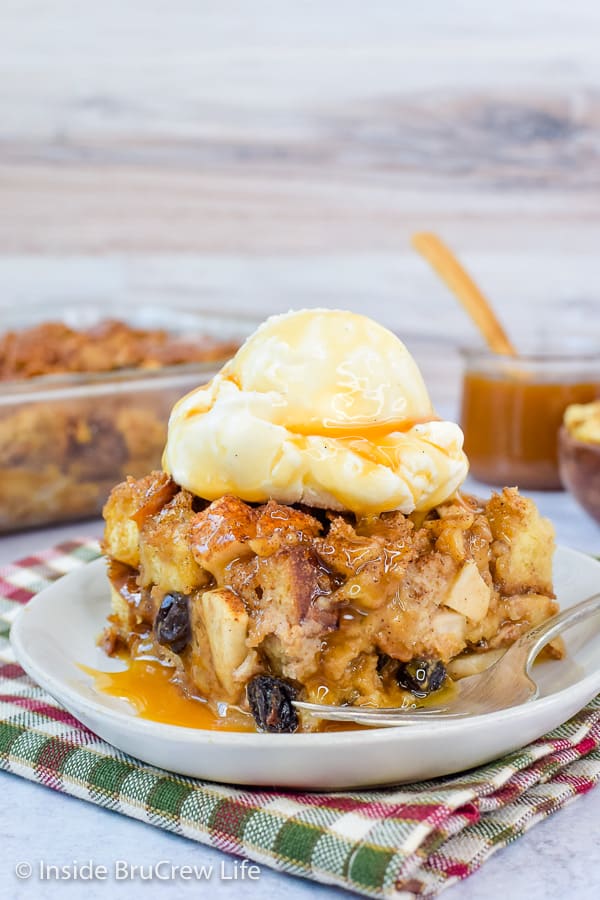 Jump to:
Why This Recipe Works
I'm not going to lie. I love a good slice of warm bread pudding topped with drizzles of caramel and ice cream. Bread pudding is such a delicious comfort food dessert that is totally underrated and overlooked in the dessert world.
Over the years bread pudding has been known for being a way to use up day old or stale bread. But bread pudding isn't just about a way to use up those loaves of bread.
It's also about the sweet custard that the bread is cooked in. Adding fruit and nuts to the baked pudding also makes it extremely delicious.
The cinnamon sugar baked on top gives the bread a crispy texture that contrasts with the soft bread pieces underneath. It's truly a decadent dessert!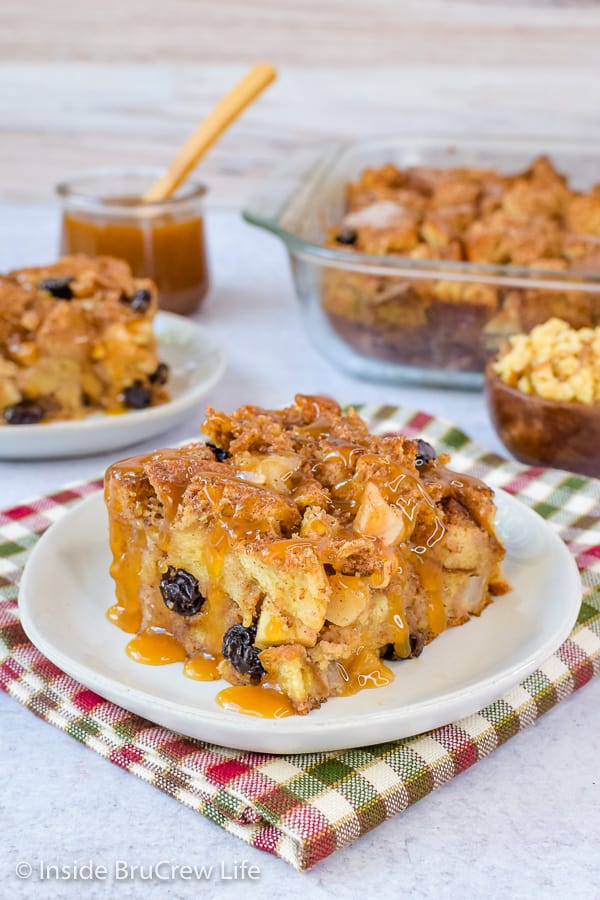 A few years ago my husband and I were in St. Louis for a convention. We love trying new restaurants, so we headed down to the Irish pub in our hotel for dinner one night.
Of course, the first thing I always do is check out the dessert menu. They had a harvest bread pudding that I just had to try.
This bread pudding had apples, walnuts, and raisins baked into it. They also served it in the cutest little cast iron skillet. It was definitely something I couldn't wait to remake at home.
Now you may be wondering how this bread pudding recipe with raisins is different from French toast casserole. Honestly, they are basically the same thing. In my opinion, the difference is in the toppings and what time of day you serve it. See how similar this French Toast Bake looks.
What is Bread Pudding?
Bread pudding is a dessert casserole. It is made with day old bread cubes that are soaked in an egg custard sauce. The mixture can also have fruit and nuts mixed into it.
A drizzle of warm sauce is usually served on top of the bread pudding.
Try maple syrup for a great breakfast or brunch option.
Caramel topping along with ice cream or Homemade Whipped Cream makes this a decadent fall dessert.
What kind of bread is best for making Bread Pudding?
You can use any type of bread, rolls, bagels, biscuits, or donuts in this easy bread pudding recipe with apples. The key is to let them sit out uncovered for a few hours or overnight. Using donuts may result in a heavier casserole.
I like to use a firmer, sweeter bread such as a brioche or challah bread when making apple cinnamon bread pudding. French bread is also a good option.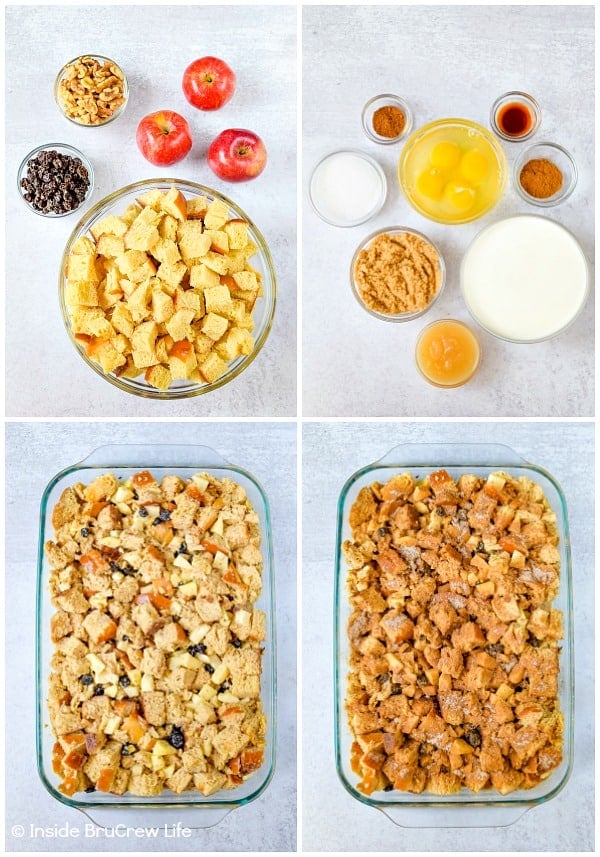 Ingredients Needed
Start by assembling your ingredients. Most will be ones you may already have at home. This bread pudding with apples and raisins is delicious any time of year.
Bread - You want to make sure to use a dense firm bread.
Half and Half - You can also use whole milk or 2% instead.
Eggs - Gives the custard a rich flavor.
Sugar - Brown sugar and granulated sugar sweeten the custard filling.
Vanilla Extract - Adds flavor.
Spices - Cinnamon and nutmeg give it a rich, spicy flavor
Fruit - Apple chunks, raisins, and applesauce give this bread pudding a great fruit flavor.
Walnuts - These are optional, but they do add a nice crunch to the dessert casserole.
Cinnamon Sugar - Adds a sweet crunch to the top of the baked bread pudding. Check out my tutorial on How to Make Cinnamon Sugar if you do not want to buy an extra ingredient.
How to make Apple Bread Pudding
This apple bread pudding recipe comes together so quickly. It's a delicious dessert or breakfast to make ahead of time.
Cut the bread into cubes and let it sit out uncovered for a few hours or overnight.
Combine the bread, diced apples, walnuts, and raisins in a large bowl.
Whisk together the eggs, applesauce, milk, sugar, and spices in a bowl.
Pour the egg mixture over the bread and apple mixture. Let it soak for 15 minutes.
Spoon the milk mixture into a greased baking dish. Sprinkle with cinnamon sugar and bake.
Serve the warm bread pudding with caramel topping and vanilla ice cream.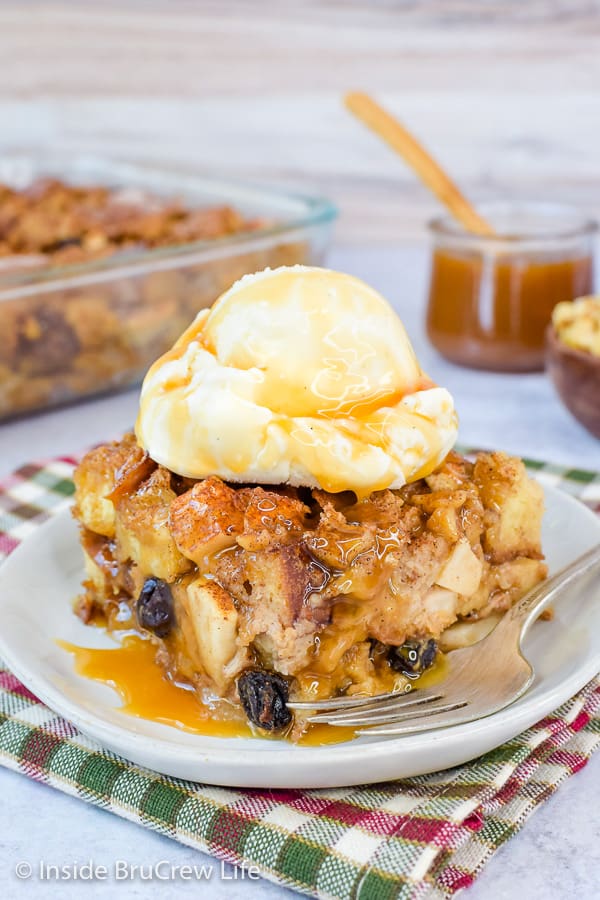 Recipe

FAQ'S
What apples are best for making bread pudding?
Any variety of apple will work when you make this bread pudding recipe. I prefer to use Gala apples in all my baked goods and Apple Pie Filling recipe. They are just sweet enough and hold up well when baked.
You could also use Granny Smith, Honey Crisp, Fuji, or Pink Lady, if you prefer the taste of those apples instead.
Can bread pudding be made ahead of time?
Yes, you can make and bake this bread pudding 1-2 days ahead of time. Let it cool completely before covering it and refrigerating until needed. Remove the pan from the fridge 30 minutes before reheating.
Cut squares and place on a pan. Cover with foil and reheat in a 325 degree oven for 15-20 minutes. You can also reheat slices in the microwave for 15-20 seconds or until heated through.
How long does Apple Bread Pudding with raisins last?
This bread pudding is best if served within 1-2 day of baking. Make sure to cover it tightly and refrigerate it.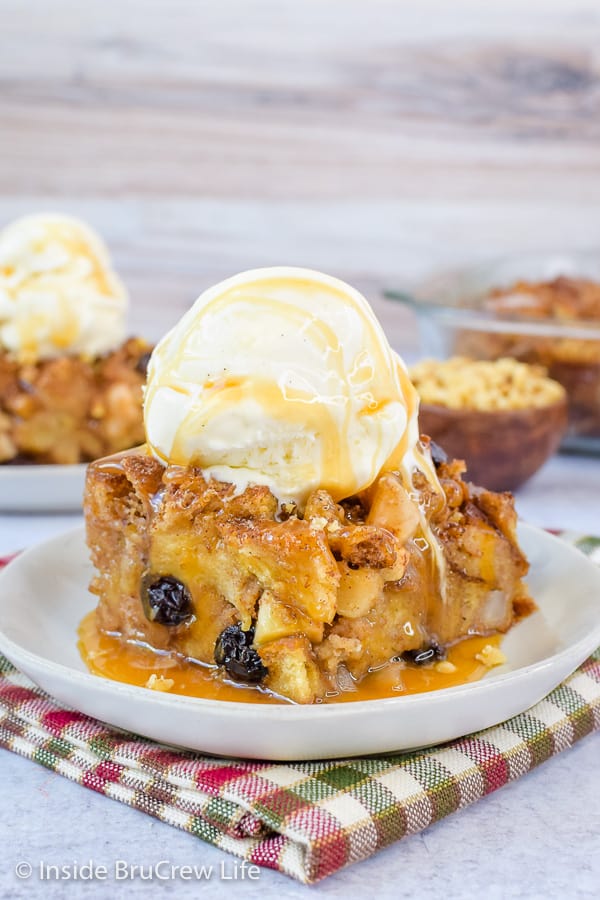 Other Apple Dessert Recipes
More Easy Breakfast Recipes