This Triple Berry Coffee Cake is perfect for breakfast or dessert this summer. A soft homemade coffee cake filled with blueberries, blackberries, and raspberries and a buttery streusel is a very good idea.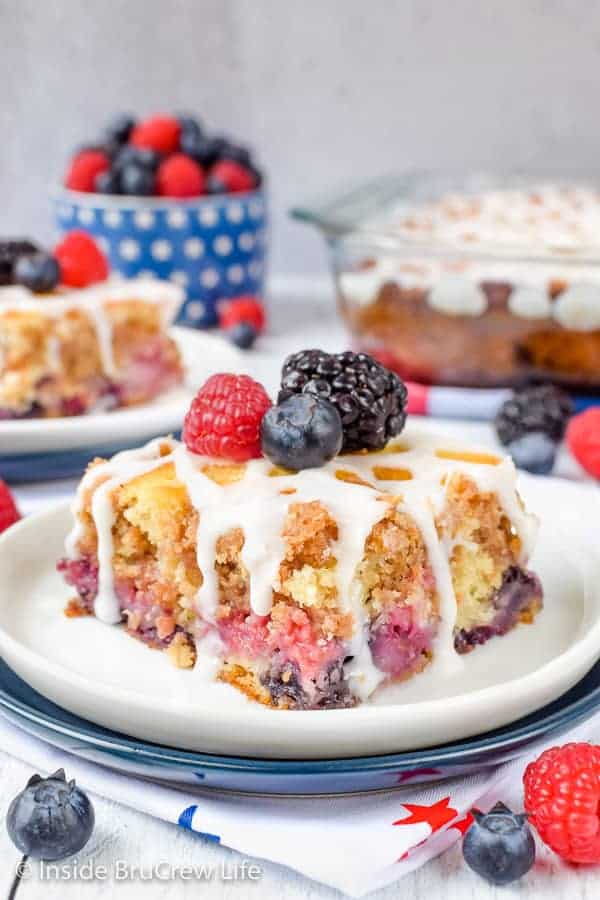 One of my favorite things about summer is all the fresh fruit that is available. Most of the time I have a hard time keeping fresh berries in the house. Now don't get me wrong.
I'm not complaining that our kids devour the fresh fruit. In fact, I'm glad they love to eat fruit over cookies and candies. Well, most of the time anyway.
They all have gotten their sweet tooth from me, and there are times that that candy tooth strikes. They all know where I hide my stash of different cookies and candies that I use for making M&M Blonde Brownies and Mocha Oreo Milkshakes.
In fact, there have been a few times lately that I have found cookie and candy packages half empty because the teenagers have been sneaking a few here and there.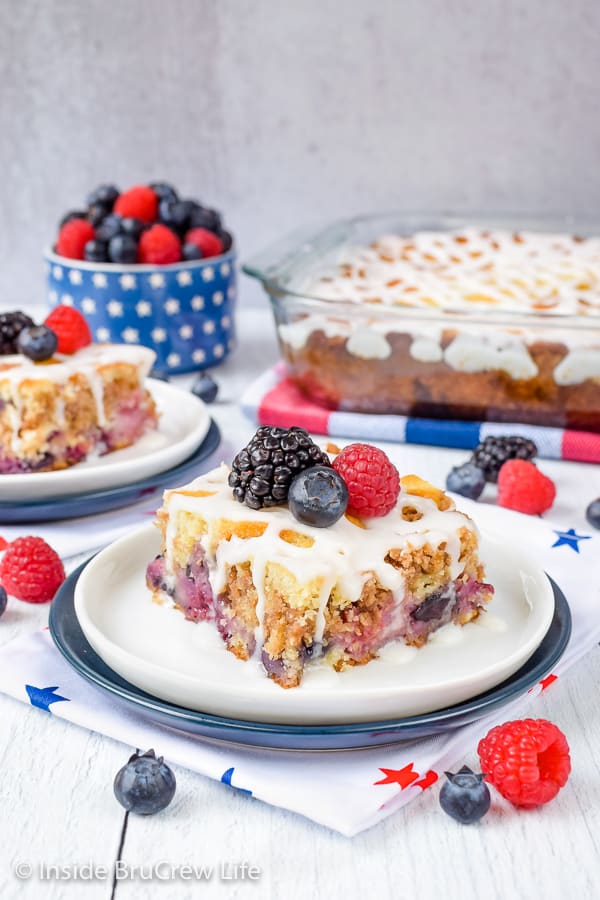 Usually when I buy fruit for a specific recipe I have to let everyone in the house know that it is off limits. Otherwise, the boxes of fruit start to disappear just like the cookies and candies.
Our youngest absolutely loves blueberries. He has been known to down an entire container in one day.
So, when I wanted to make this berry coffee cake again, I had to make sure he knew that I was using the blueberries very soon and that he couldn't eat them. Usually, I remember to buy two boxes, but this time I only grabbed one.
I actually bought the bigger box and didn't use all of them, so he was excited when I told him that the extra fruit was all his.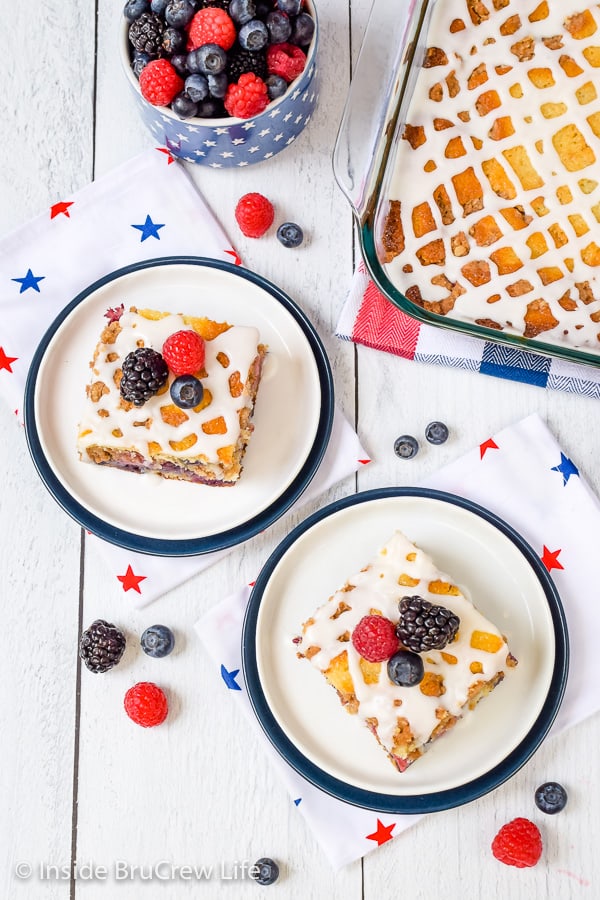 This sweet breakfast cake has layers of soft cake, buttery streusel, and fresh fruit all baked together. You can actually use any fresh fruit that you like, but we all love the combination of blueberries, blackberries, and raspberries.
Our oldest son ate most of this Triple Berry Coffee Cake. In fact, he dug into it while I was waiting for it to cool. He didn't even wait for the glaze. Just so you know, he says warm from the oven is the way to go with this breakfast cake.
And he is quite honest with me on whether a recipe is good or not. There have been a few that he told me were not blog worthy. LOL! I'm glad I'm raising such brutally honest kids.
But really, how can you go wrong with a coffee cake that has fresh berries, streusel, and a sweet glaze. You just can't!!!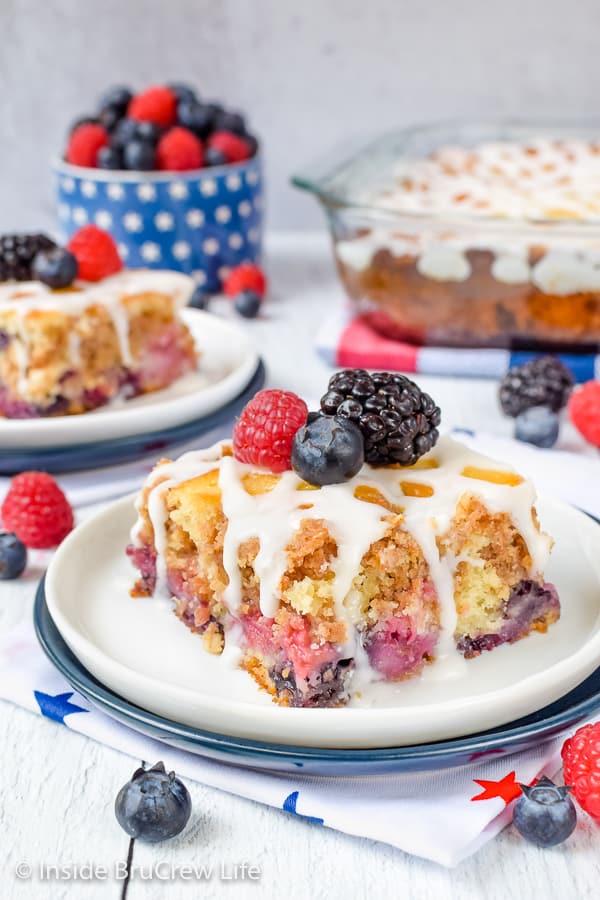 How to make a Triple Berry Coffee Cake:
Cake: Mix together the dry ingredients. Stir in the milk, eggs, and melted butter until the batter comes together. Spread the cake batter in a greased pan.
Berries: Drop an even amount of blueberries, blackberries, and raspberries on top of the cake batter. It's ok if the berries start to sink in.
Streusel: Cut the cold butter into the topping ingredients using a pastry blender. When it starts to come together, use your hands to clump the streusel into bigger pieces. Sprinkle the streusel all over the berries and cake batter.
Bake: As the coffee cake bakes, the cake layer will actually rise up around the berries and the streusel creating pockets of each inside the cake when it is finished.
Glaze: Mix together powdered sugar and milk and drizzle it in lines on top of the cooled cake.
CLICK HERE TO PIN THIS RECIPE FOR LATER!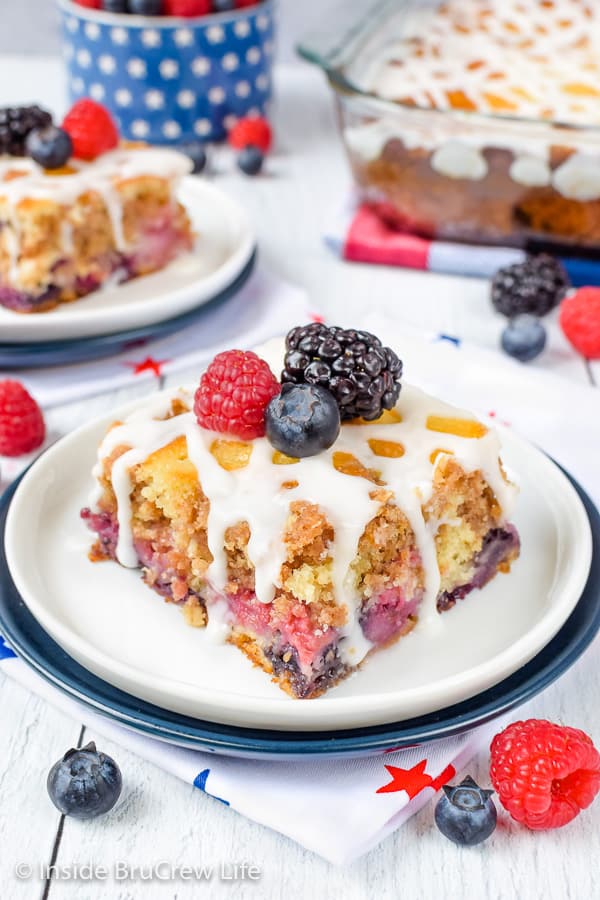 Can you use other fruit in this coffee cake?
You sure can. Any fresh berry will work in this cake. Or you could use all of one berry if you like. Using all blueberries makes the most amazing blueberry coffee cake, just so you know.
How do you store a coffee cake?
A freshly baked coffee cake will keep on the counter for 1-2 days if properly covered. If you are keeping it for longer than that, keep it in the refrigerator in a tightly sealed container.
Does coffee cake have coffee in it?
Despite the name, coffee cake does NOT have any coffee in it. Coffee cake is a soft cake usually topped with streusel that you serve with coffee for breakfast or a snack.
Other easy coffee cake recipes:
The crumb topping and glaze add so much flavor and sweetness to this Cherry Zucchini Coffee Cake.
The Best Sour Cream Coffee Cake has a delicious cinnamon sugar swirl, chocolate chips, and a sweet glaze on top.
Pockets of cheesecake and streusel make this Banana Caramel Coffee Cake so delicious. Try a piece warmed up...it's amazing!
This easy Banana Split Coffee Cake has all your favorite ice cream toppings in a delicious breakfast cake.
Double the chocolate in this Chocolate Banana Crumble Cake makes it a sweet way to start out the day!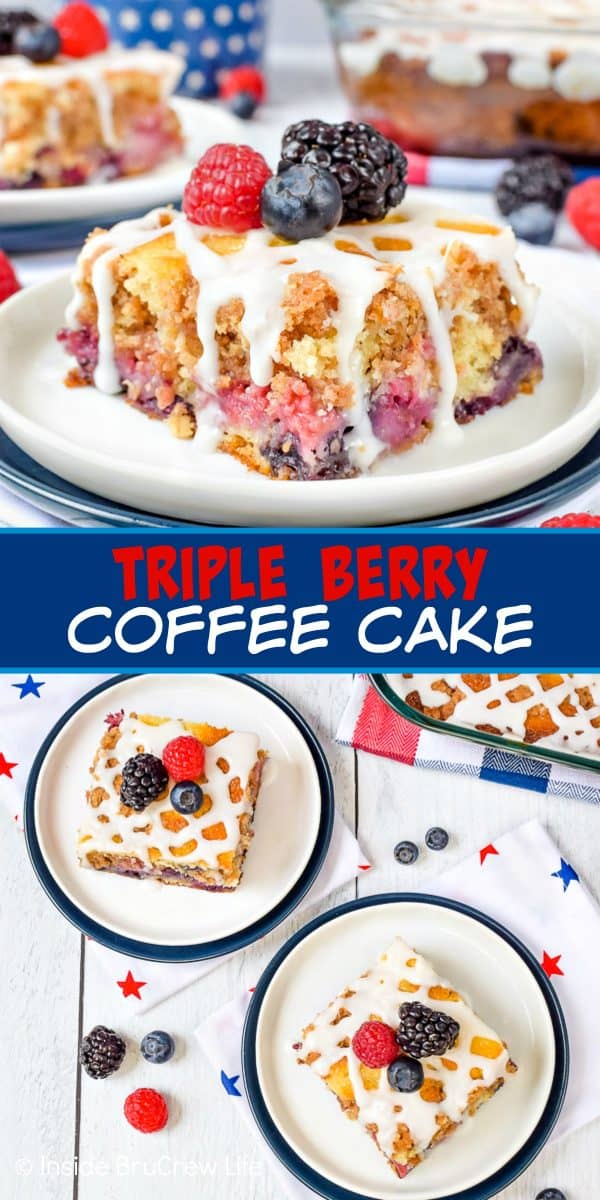 *The post for this Triple Berry Coffee Cake was first published May 12, 2013. The photos and post have been updated, and it was republished on June 21, 2019.