Today I decided to get my baking groove on with some Peanut Butter Pudding Cookies
but if you asked me what I would be baking each week,
I would probably give you a blank stare.
I could give you a list of a few ingredients that I could play around with.
(ok that just made me giggle...because my baking cupboard is full...I have more than a few.)
But I never know for sure what I am going to make
until I get the Kitchen Aid out.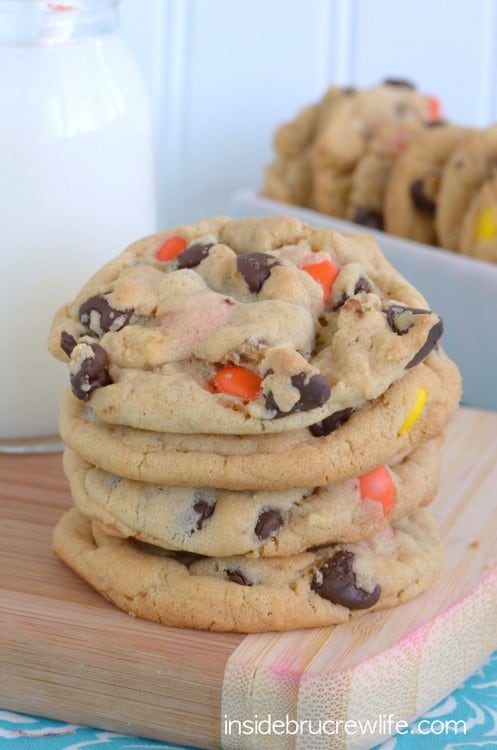 Some bloggers have a detailed plan of recipes and posts that they want to accomplish. Some of these bloggers even do themes. Then there are other bloggers who actually bake and write posts way ahead of time.
Can I just say that is way impressive???
Oh to be so dedicated and organized in that way.
Most of them have kids and work full time too.
Maybe one of these days I will get that organized.
My baking and what I choose to post each day is based on my mood.
What ingredient is speaking to me today??
Ok, now what do I want to create with it?
I guess you could call me a "fly by the seat" blogger.
I do bake enough that I have a few options ready to go at all times,
but I never know which one I am going to "feel" like sharing.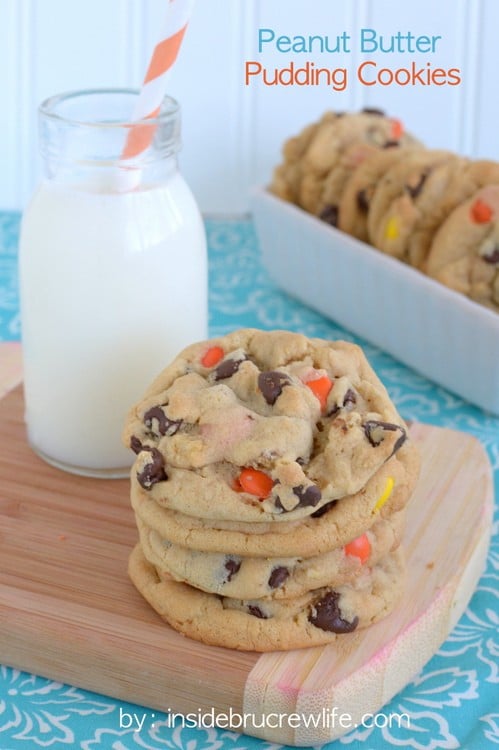 Today feels like a peanut butter pudding cookie day to me 🙂
I can't wait to make more of these cookies.
The pudding in the mix makes them so soft and chewy...
and the banana chips gave it a fun and different crunch!
(Feel free to substitute something else here or just leave it out if you don't like the banana chips)
You know it is a good recipe when the kids gobble them down!
I didn't even have a chance to freeze some for lunches.
Guess that means I need to bake some more...
but I haven't decided what kind yet 🙂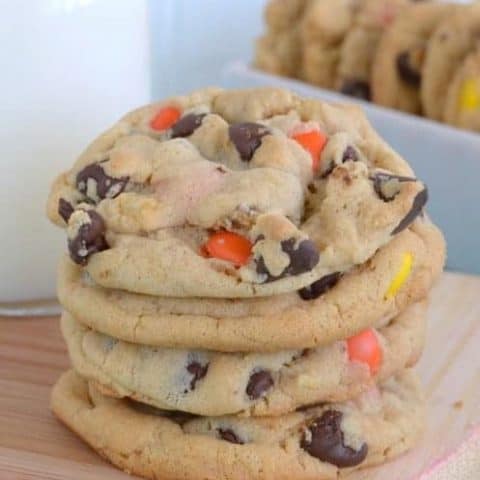 Peanut Butter Pudding Cookies
These easy Peanut Butter Pudding Cookies stay soft for days. Substitute any mix ins to change up the cookies every time you make them.
Ingredients
¾ cup butter, softened
½ cup peanut butter
½ cup sugar
½ cup brown sugar
2 eggs
1 Tablespoon honey
1 teaspoon vanilla
2 ¼ cups flour
1 teaspoon baking soda
½ teaspoon salt
1 - 3.4 ounce box instant vanilla pudding
1 cup chocolate chips
1 cup Reese's Pieces
1 cup dried banana chips, broken (optional)
Instructions
Preheat oven to 350 degrees.
In a bowl combine the flour, baking soda, salt, and pudding mix and set aside.
In a large mixing bowl cream butter, peanut butter, and sugars until fluffy. Add the eggs, vanilla, and honey and beat again.
Slowly add the dry ingredients, being careful not to over mix.
Stir in the chocolate chips, Reese's, and banana chips by hand. (you can leave out the banana chips if you don't like those, or substitute pretzels or chips)
Drop by tablespoon onto a baking sheet, leaving 2 inches in between each cookie. Bake for 10 minutes. Do not over bake.
Cool on pan for 3-4 minutes, then remove to a wire rack to cool completely. Store in a tightly covered container.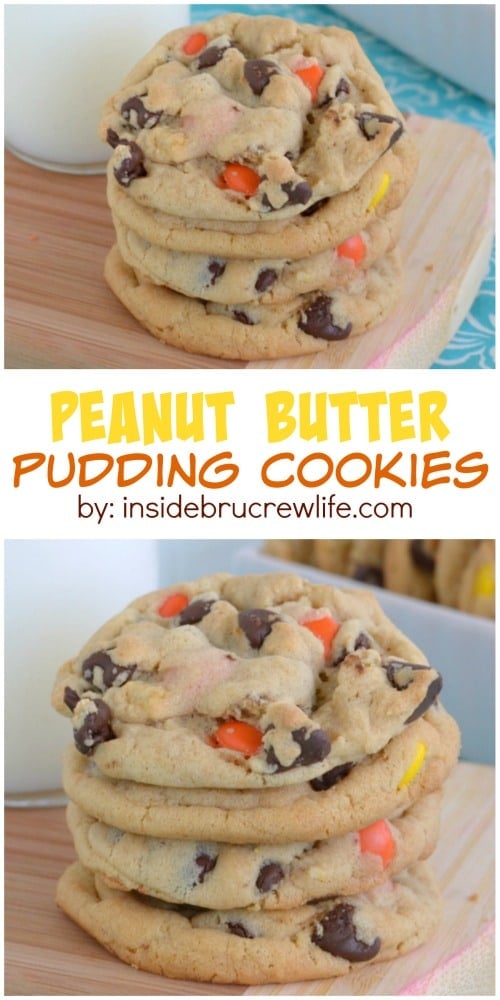 Here are a few more cookie recipes to get that baking mojo going:
Have I convinced you to make cookies today???