Layers of fresh fruit, buttery streusel, and a sweet glaze make this Peach Blackberry Coffee Cake a delicious choice for breakfast or brunch. Make sure to enjoy a big slice of this delicious homemade coffee cake with a hot cup of coffee.
*I am partnering with Dixie Crystals to bring you this coffee cake recipe. Click HERE to see the full recipe.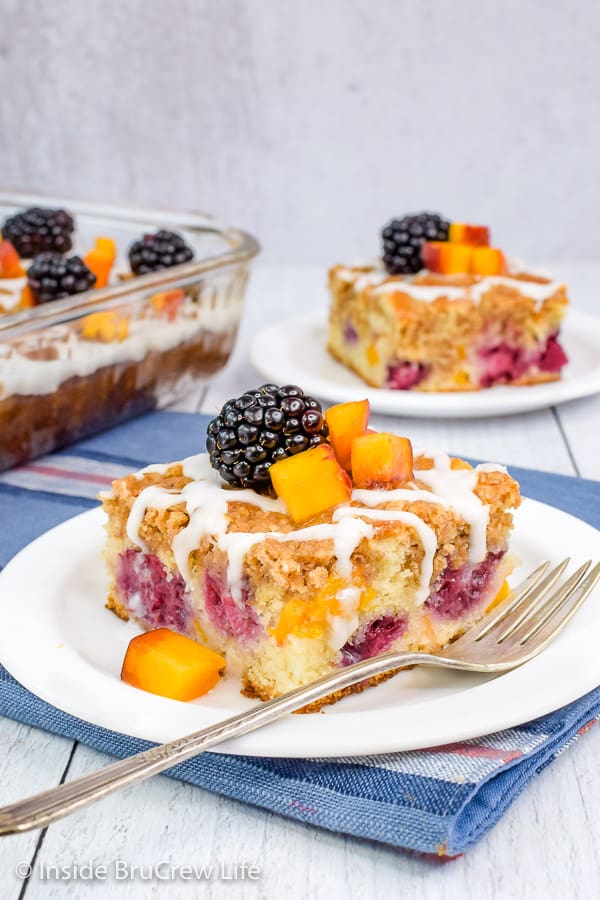 I know that once pumpkin spice drinks hit the coffee shops, it's technically fall in everyone's mind. And by technically, that just means that it is ok to share and eat pumpkin and apple recipes.
Usually by this time of year, I have started baking things like this homemade pumpkin cake. But not this year!!! I'm still enjoying the warm weather, so I am still in to berry coffee cakes with peaches!
Bonus: If you love peach desserts, then you won't want to miss out on this peach bundt cake or peach crisp!
Sunshine, beach days, cookouts, fresh produce, and berry picking are all things I do not want to come to an end.
Well, I say berry picking very loosely. When our kids were little, I would take them to all the different fruit farms each month, and we would pick whatever fruit was in season.
Nowadays, berry picking just means picking up a box of fresh fruit from the grocery store and turning it all around because no one wants to find rotten berries hiding inside. LOL!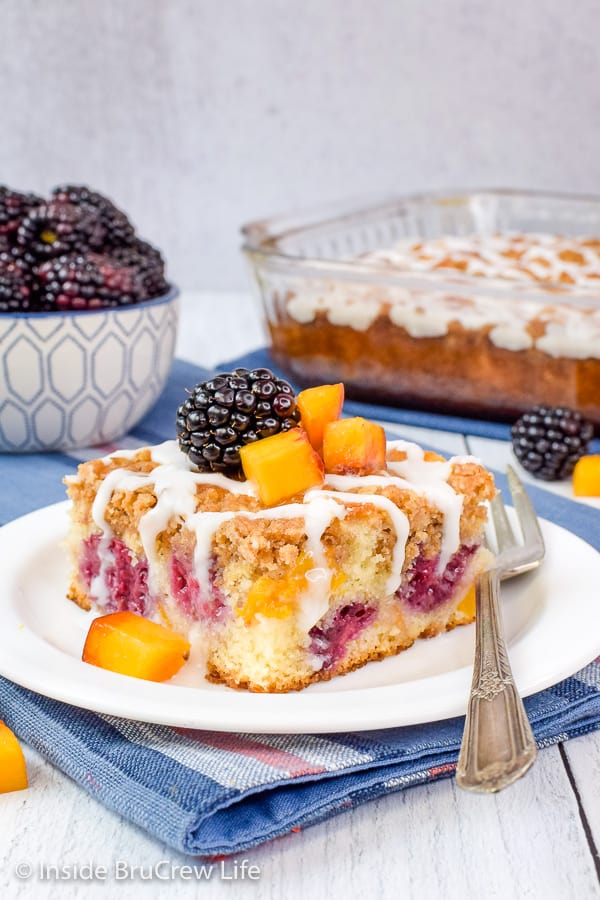 Peach Coffee Cake
Fresh fruit does not stand a chance in our house because I live with kids who are berry monsters. And I'm totally ok with it.
Well, unless I have a recipe planned, and the berries go MIA. The last time I went to make this Orange Blueberry Cake, someone had eaten most of the berries.
And when I say most, like there were only 5 blueberries in the box. Seriously, someone ate all but 5 berries, and then put the box back in the fridge.
Who does that? Apparently our youngest son, that's who.
So, when I bought blackberries for this Peach Blackberry Coffee Cake, I made sure everyone knew they had to wait. I wanted to make a peach coffee cake with the fresh berries before someone ate all the fruit.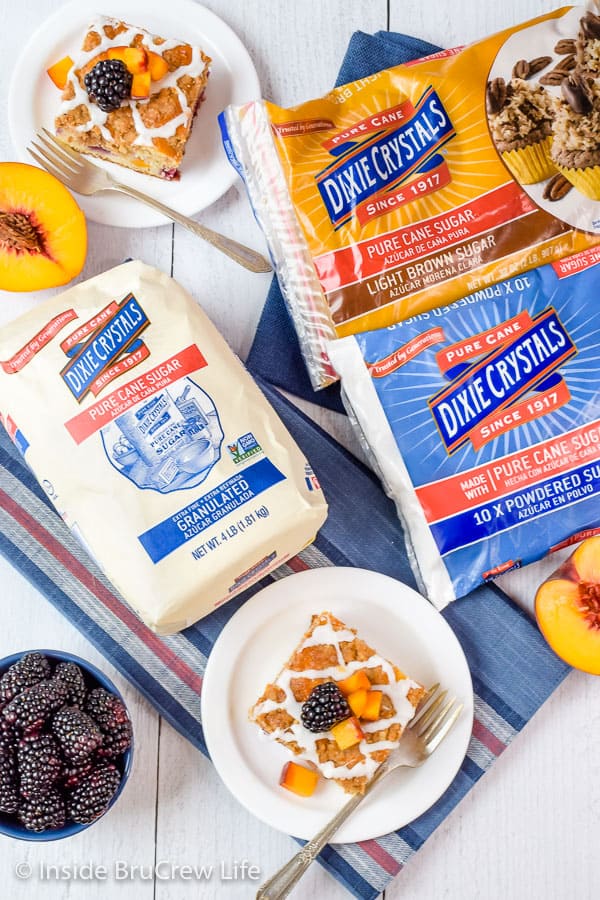 This fall I am partnering with Dixie Crystals to bring you delicious and sweet recipes each month.
As someone who bakes desserts all the time, it is the coolest thing to be working for a sugar company. It makes me smile every time I think about it.
The first recipe I decided to make was this amazing blackberry coffee cake because I was able to use granulated, brown, and powdered sugar in it.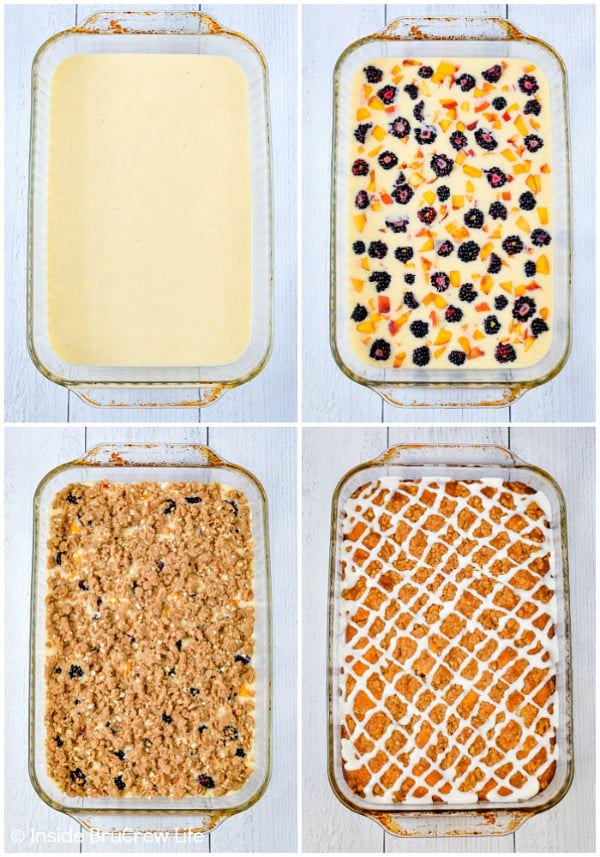 How to make a Peach Coffee Cake with Blackberries
Cake: Add the dry ingredients to a mixing bowl and stir together. Use spoon to make a hole in the center. Pour in the eggs, extract, half and half, and butter and stir or mix until the batter comes together. Spread in a greased or buttered pan.
Fruit: Cut the blackberries in half or in thirds if they are really big. Peel and dice a fresh peach. Sprinkle the fruit on top of the cake batter. Want to use a different fruit? Go for it. We have used blueberries and raspberries with great results.
Streusel: Combine the topping ingredients and mix it together until large crumbs form. Use your hands to clump the mixture together. Sprinkle the crumb topping evenly on top of the fruit. Place the pan in the oven and bake.
Glaze: Whisk together powdered sugar and milk. Drizzle over the top of the cooled coffee cake. Cut into squares and enjoy!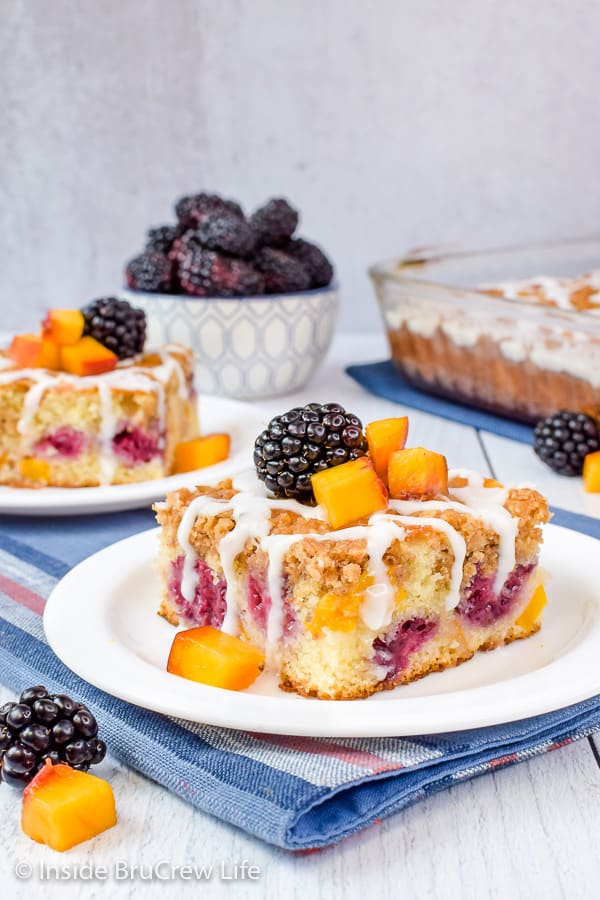 *I am sharing this recipe over at Dixie Crystals today. Click on

Peach Blackberry Coffee Cake

to see the full recipe!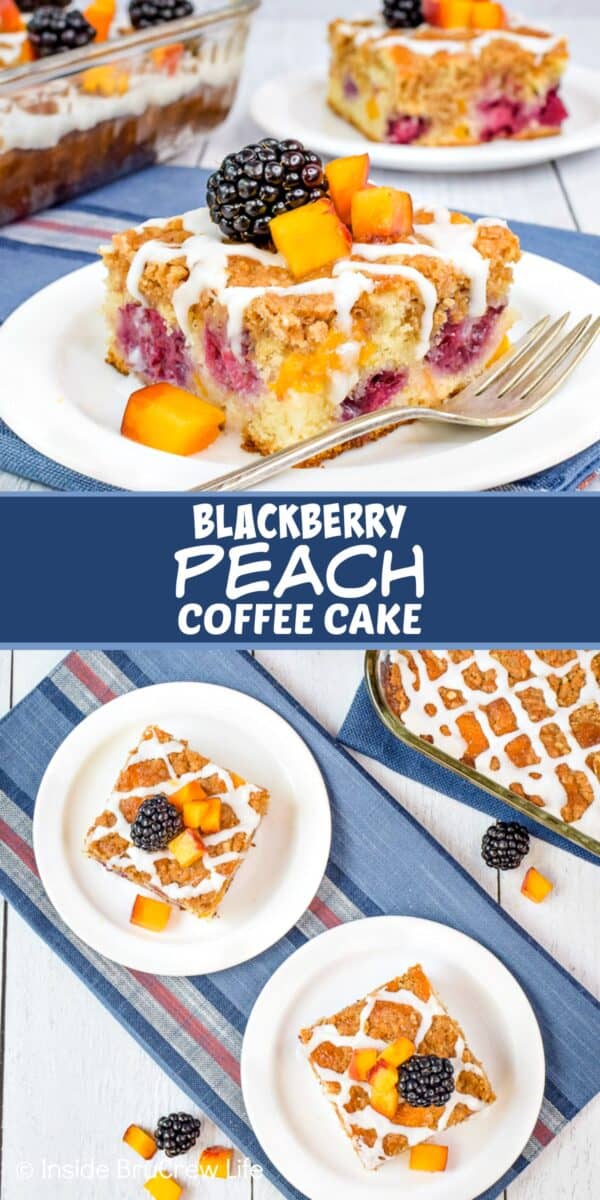 *This recipe was sponsored by Dixie Crystals. All opinions expressed are 100% my own. Thank you for letting me share products and brands I use and love. See my disclosure policy for more information.*