Cherry pie filling, oatmeal crisp, and a glaze turns this Cherry Crisp Coffee Cake into the perfect treat to start your mornings with.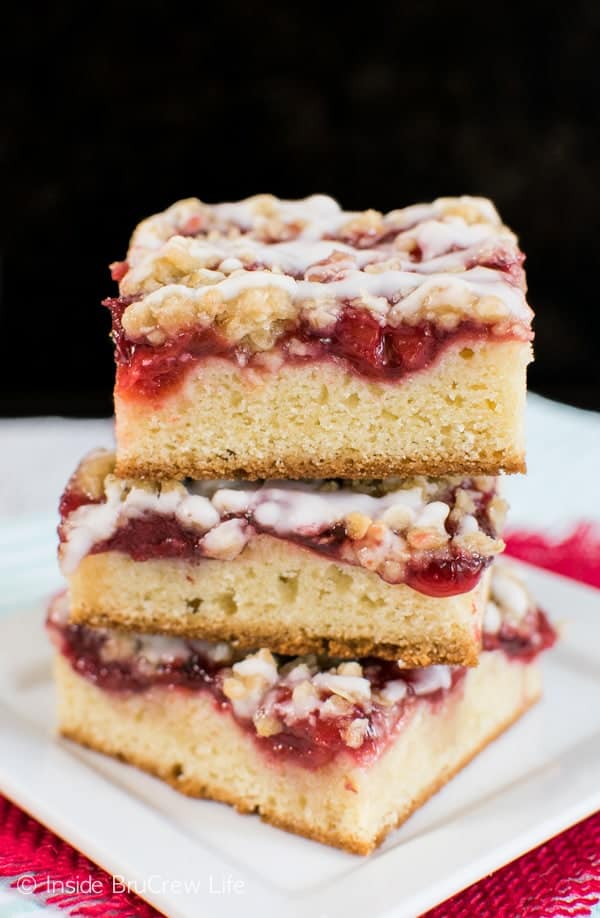 How many of you shop the clearance racks at the end of the season? It is usually the first place I check when I'm out clothes shopping. Any time I can find something cute for a fraction of the price, it's a good day.
I have always loved the thrill of trying to find clothes that fit from the clearance racks. Some days it is slim picking and other days I score big. It just depends on how many other bargain shoppers have hit the rack before me.
The other day I stopped at the store for some butter to make cake. Of course a few other things "jumped" into my cart, and the 5 minute stop quickly became an hour. Something tells me I should have just stayed with my original plan of buying butter and going home...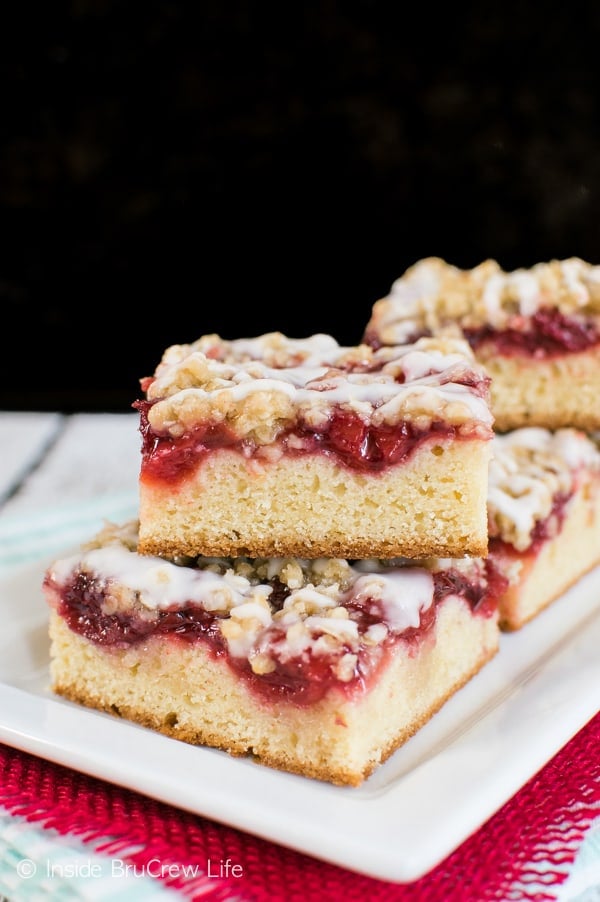 I had every intention of just getting in and out, but then I walked past the clearance racks. Our local Meijer is doing some remodeling, so everything on those racks was an addition 25% off. That got my attention right away.
The one rack had swim suits, and since I have a fun beach trip later this year, I stopped to see what they had. 6 bottoms later I decided to head to the fitting room. They had put in a new changing area, but no attendant was in sight. Since one of the doors was open, I decided to slip in fast and try the suits on.
I don't think the doors were installed correctly because as I pulled the door closed, it went past the door jam...trapping me in! Seriously!! The door would not open in EITHER direction!!! I was completely stuck in the little room without help.
My first thought was to call my hubby at home and have him call the store to come let me out. But then I realized he wouldn't be much help because he would be on the floor laughing hysterically. This was up to me to figure out a solution. As I pulled on the door backwards, I realized that I could just barely squeeze my buns and stomach in just enough to slip out the crack. I thought the door might crack and break because I was pulling on it so hard, but at that point I didn't care. This was survival of the fittest, people. I did bravely go into the next fitting room and very gingerly closed that door. No way did I want a repeat of that fiasco. That hot pink suit better be totally worth all the work that went into getting it.
See, I knew I should have just stuck to buying the butter I went in for. I learned that lesson...who am I kidding? The next "5 minute" butter run is still going to turn into a "shop for all the things" trip.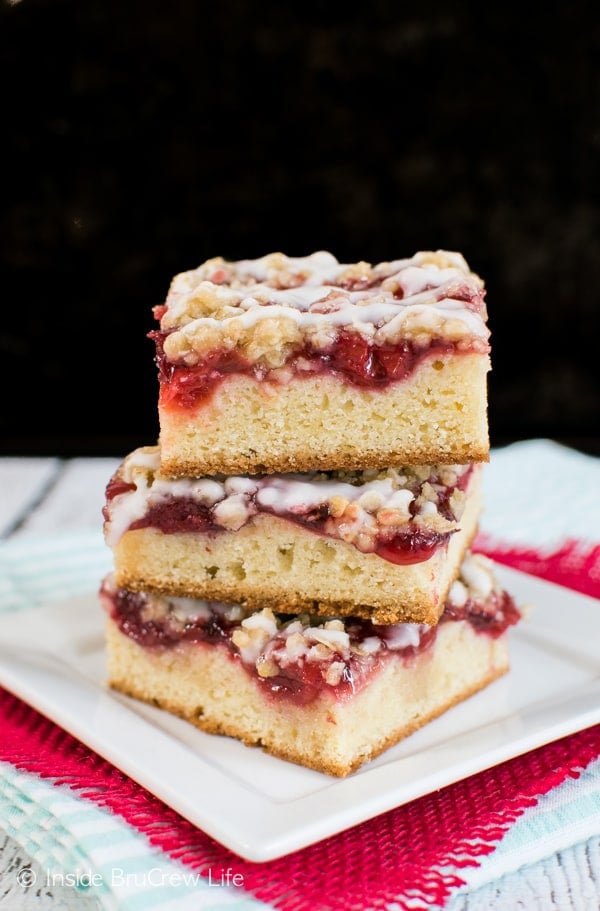 And what did all that butter and trauma end up with? Well, cake of course. Traumatic experiences always need cake to make you feel better, right?
The easy base for this cake is the same one I used for this Strawberry Lemon Snack Cake. Changing up the pie filling and adding a crumble topping is a great way to redo an old favorite. Actually, adding crumble is starting to become a reoccurring theme to breakfast cakes around here. I just realized the Banana Split Coffee Cake from this summer also has a crunchy, crisp topping.
Apparently that's my new "thing". That and getting stuck in fitting rooms...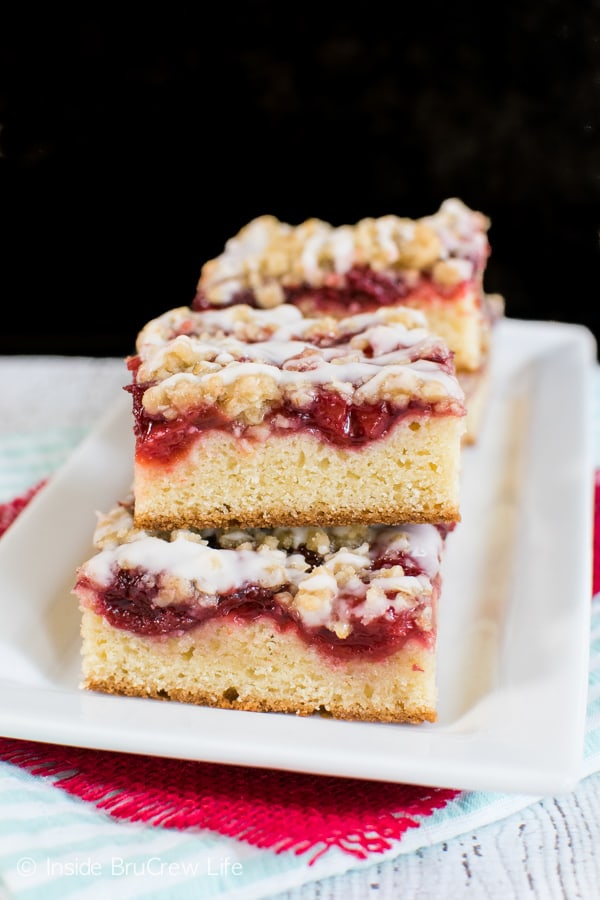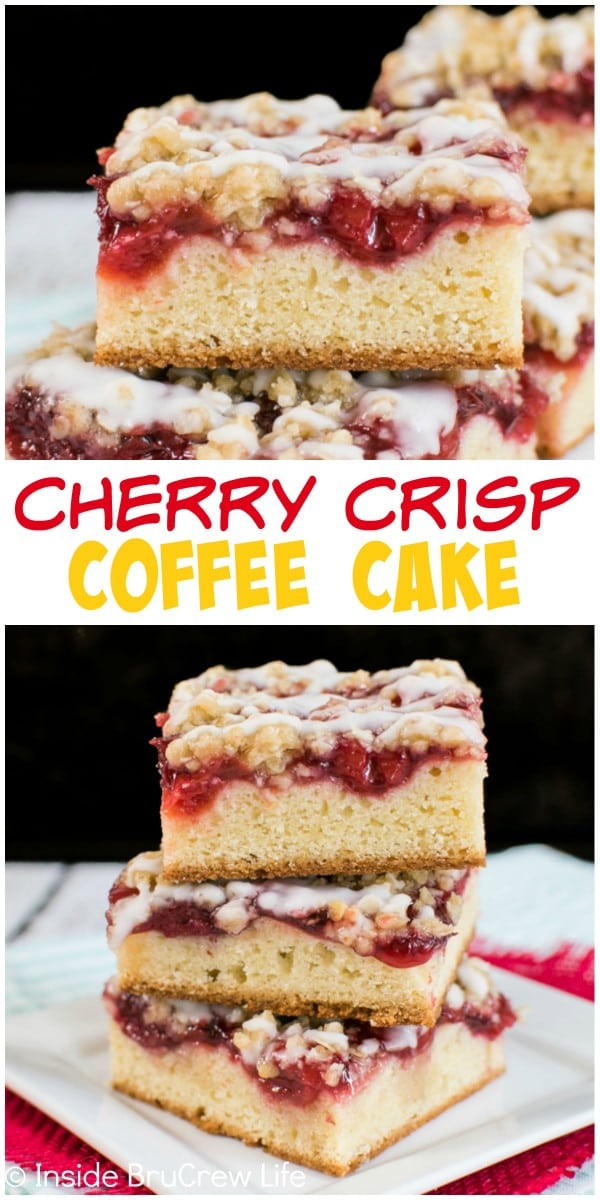 More coffee cake recipes to get your morning started off right: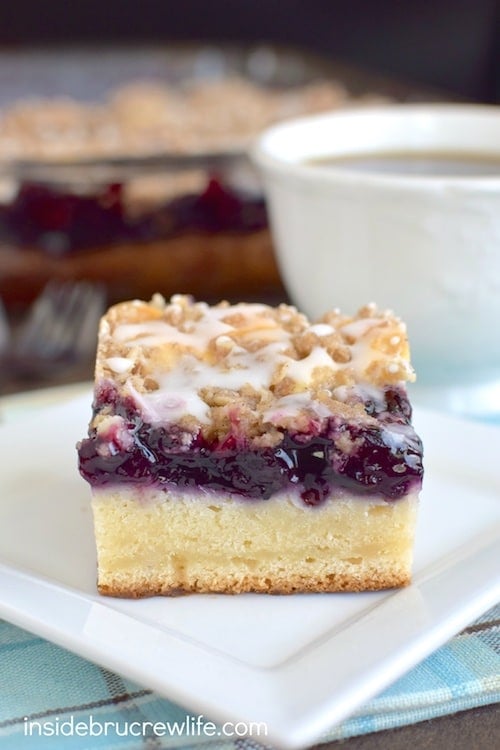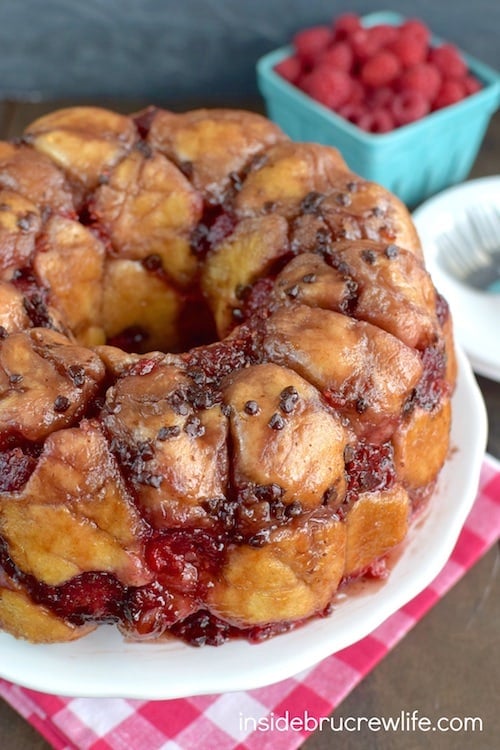 Raspberry Chocolate Chip Pull Apart Coffee Cake