Copycat Red Velvet Oreos have the flavor of red velvet cake in cream-filled sandwich cookies. These amazing red cookies are perfect for all holiday parties or bake sales.
Plus, with the homemade version you know exactly what is in them.
*I am partnering with Dixie Crystals to bring you these red velvet cookies. Click HERE to see the full recipe.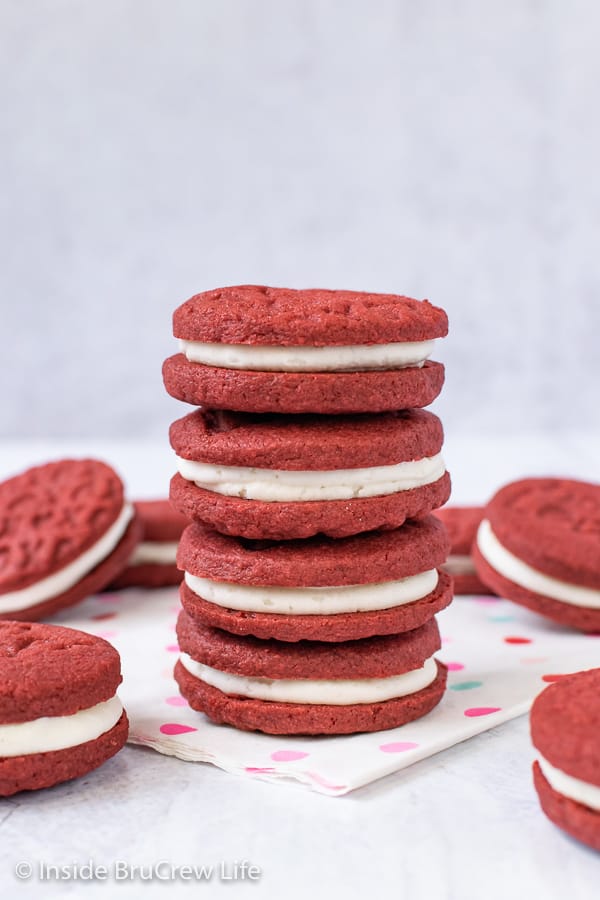 I love taste testing the new Oreo flavors that come out every season. Some of these limited editions become so popular that they become a staple on the shelves.
I keep hoping the coffee ones (not the mocha ones) from years ago will come back again. Please tell me someone else remembers them. It's been so long now that I'm starting to think I imagined them.
Red Velvet Oreos are one of those limited edition cookies that does comes back around every Valentine's Day. It's a seasonal staple because there is something satisfying about eating red food on love day.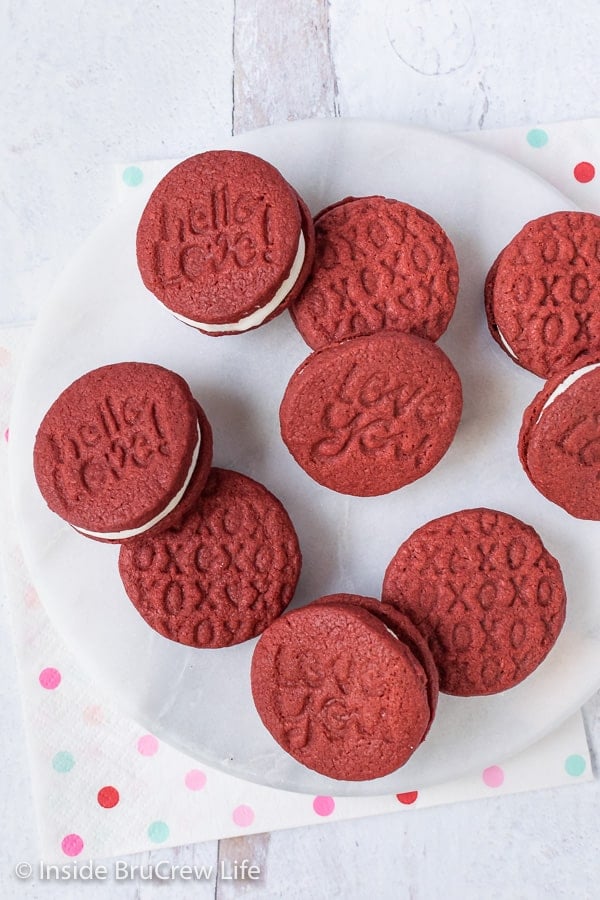 Now I have to admit that making homemade Oreos was not really on my radar. After all, I have been buying packages of Oreos to eat and bake with for years. But this month I decided to tackle copycat Oreos with a red velvet twist.
All the homemade red velvet cookies I could find looked like soft, chewy cookies. Now those recipe are probably delicious, but an Oreo cookie is crunchy. So a homemade version has to be the same.
Since an Oreo cookie is a sandwich cookie made from two wafers with a sweet cream filling, I thought it would be fun to see if I could transform these Snowball Cookies into an Oreo cookie.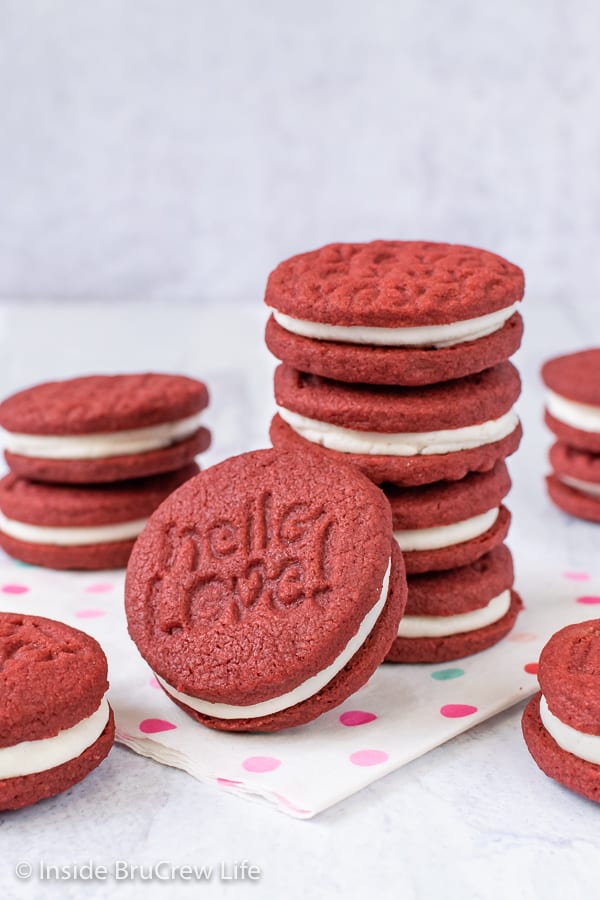 With just a few tweaks and tests to that cookie recipe, I was able to come up with a recipe for sandwich cookies that looked and tasted like an Oreo cookie.
There may or may not have been happy dancing and giggling going on in my kitchen when I tasted the last batch and declared them perfect. I definitely see more flavors coming soon.
Ingredients Needed
Butter
Powdered Sugar
Vanilla Extract
Salt
Flour
Cocoa Powder
Red Gel Food Coloring
And of course, there has to be a cream filling for these red velvet cookies. A mixture of butter, shortening, vanilla, and powdered sugar creates the perfect white frosting to sandwich between cookies.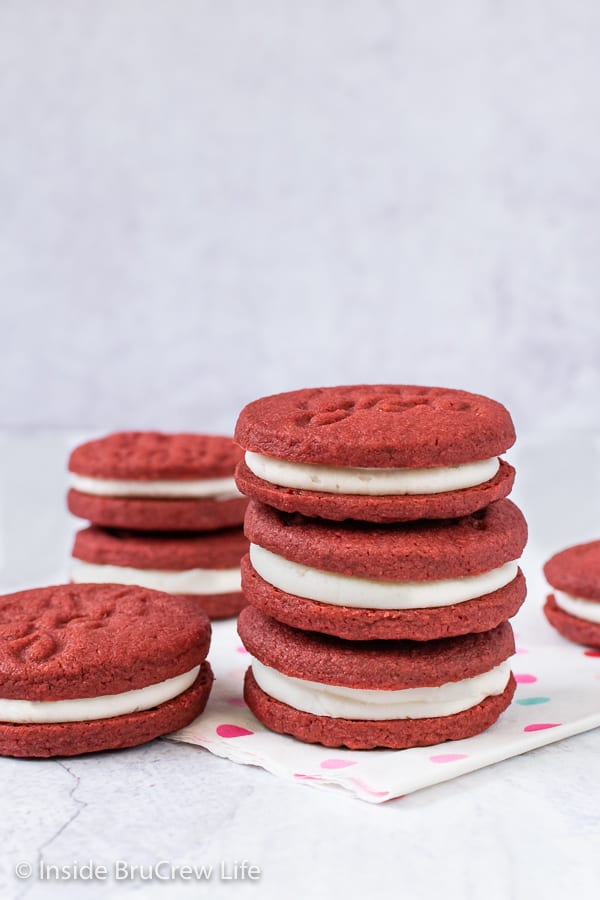 How to make Copycat Red Velvet Oreos
Beat the butter and sugar until creamy. (link to full recipe at bottom of post)
Add the vanilla and salt and beat again.
Stir together the flour and cocoa powder and slowly mix it into the butter mixture.
Add red gel coloring a little at a time and mix until you reach your desired shade of red.
Divide the dough into 2 balls, wrap in plastic wrap, and refrigerate for 30 minutes.
Place each ball between two sheets of wax paper and roll out to ¼ inch thick.
Use a 1 ½ inch round cookie cutter to cut out 15 cookies from each dough ball.
Place on cookie sheets and press a cookie stamp into the tops of the dough.
Bake for 12 minutes. Let cool on pan for 5 minutes before moving to wire rack.
Squeeze frosting on half of the cookies. Top with the remaining cookies.
If you love red velvet cake, you will definitely like these cookies. Plus, who can resist a sweet cookie that says "love you" on it.
FYI:I am sharing this recipe over at Dixie Crystals today. Click on Copycat Red Velvet Oreos to see the full recipe.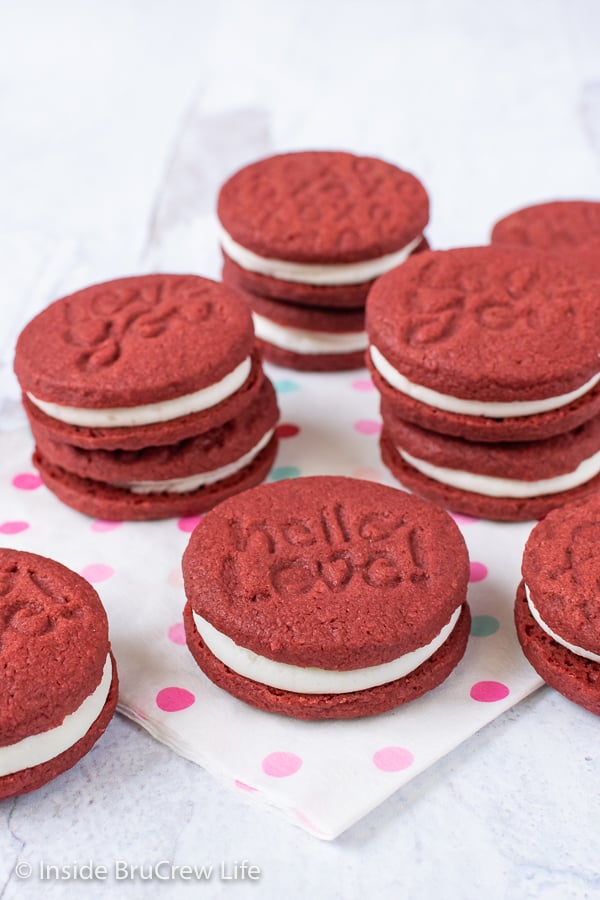 More Sandwich Cookies
Andes Mint Filled Cookies
Biscoff Whoopie Pies
Other Red Velvet recipes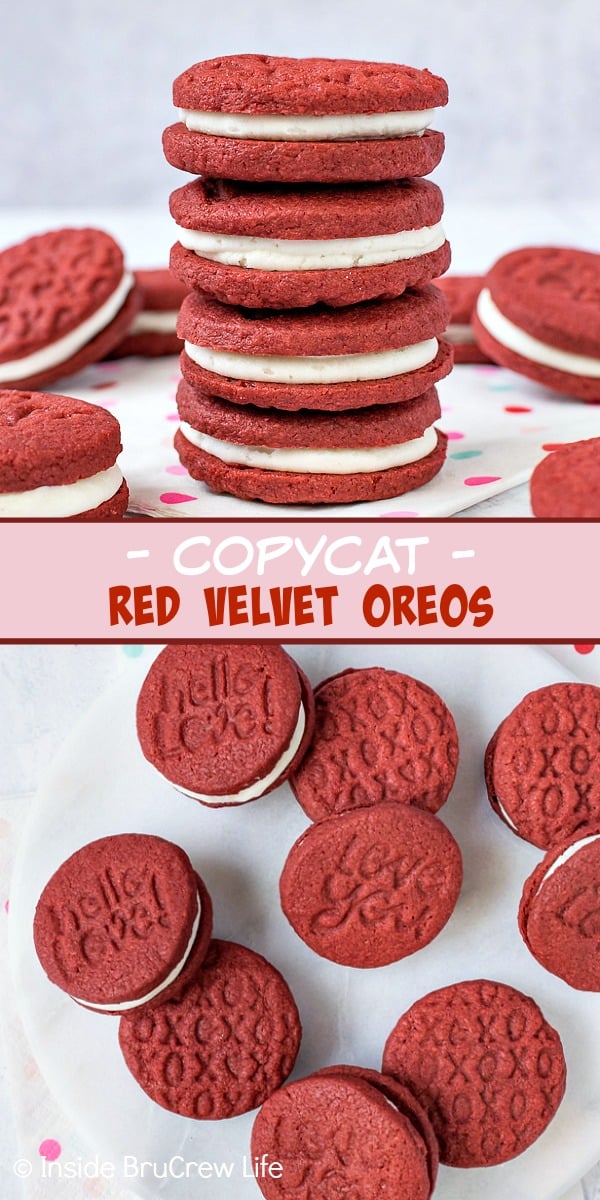 *This recipe was sponsored by Dixie Crystals. All opinions expressed are 100% my own. Thank you for letting me share products and brands I use and love. See my disclosure policy for more information.