A creamy pumpkin center and chocolate frosting adds a fun fall flair to this Chocolate Pumpkin Cheesecake Bundt Cake.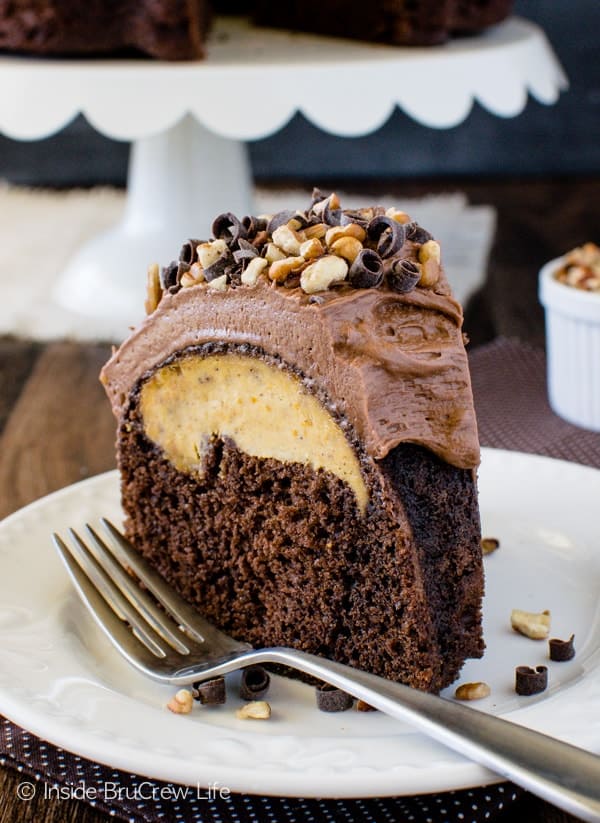 *This post was sponsored by the J.M. Smucker Company. I am partnering with them this fall as a brand ambassador creating recipes from products they send me.
Fall has kind of arrived here in west Texas. Ok, so the days are still warm, but the nights are getting cooler. That cooler night air makes it just right for sitting around a bonfire. Crackling wood, flaming logs, and s'mores are just a few of the reasons we love sitting around a good fire.
The past two nights we have sat around a fire just enjoying each other's company and talking about the things we have been learning over the past few months. It's always a good thing to reflect and share the life lessons that happen day to day because it helps us realize how much good is in our life.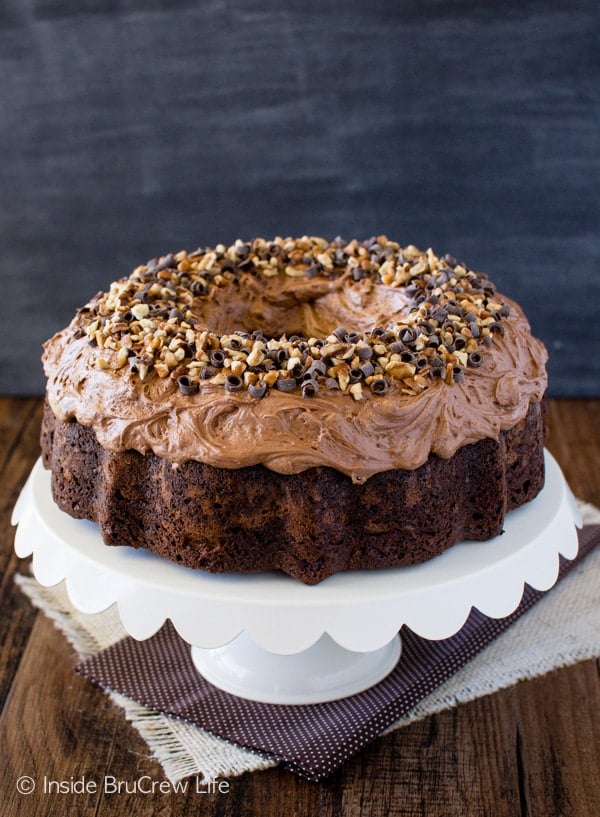 It seems that each year I decide to go all out on one flavor. Last year it was all about the apple treats, but this fall I have been all about the pumpkin goodness. I blame it all on this cinnamon roll pumpkin cake. One bite and I haven't stopped baking pumpkin treats yet!
This year I have the opportunity to create recipes for Pillsbury using a box of different products they sent to our house. As soon as I saw the chocolate cake and frosting, I knew it had to be transformed into something with pumpkin.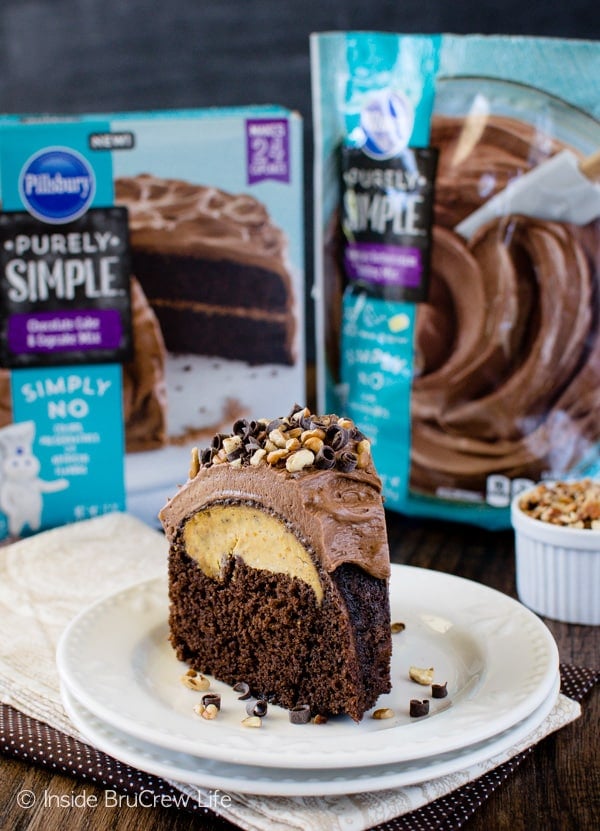 My bundt pan has been missing out on some baking action lately. It had been a little while since the last bundt cake, so I pulled it out of the storage bin and got ready to bake.
I love how easy the new line of Purely Simple products are to use. They really do have that homemade taste, even though they come in a box. The best part about these products is that they do not contain extra colors, preservatives, or artificial flavors! It really does make the end product taste like a cake made from scratch.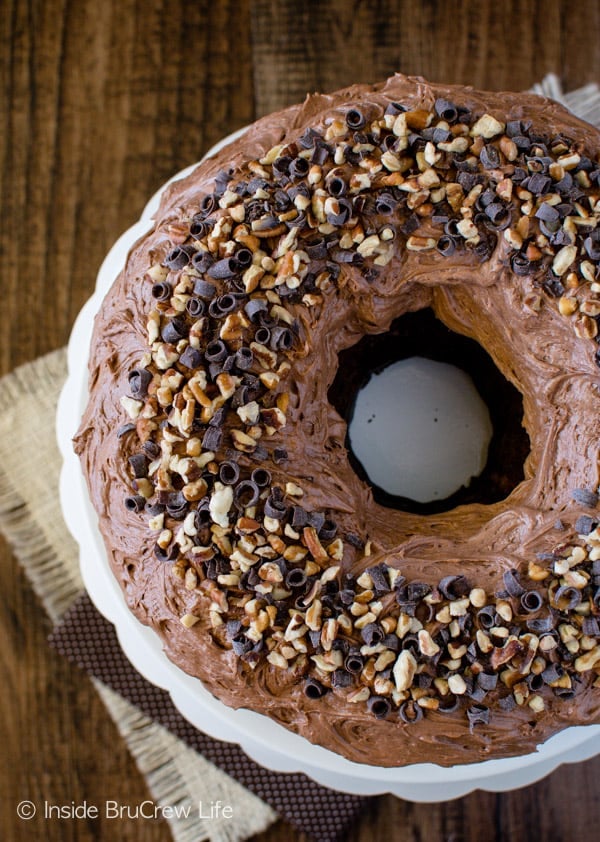 For this cake, I prepared a creamy pumpkin cheesecake filling to hide in the center of the cake. The most important thing to remember is that the cheesecake cannot touch the side of the pan.
Fill the cake pan with about half of the cake batter, and then start spooning the cheesecake onto the top gently. You can use a small spoon to slowly add cheesecake to the very center of the batter.
You will also need another small spoon to add a little bit of cake batter along the sides of the bundt pan as you go along. Just make sure you have enough cake batter left over to cover the top of the cheesecake when you are done.
A creamy chocolate frosting, nuts, and chocolate curls were the perfect way to decorate this chocolate pumpkin cheesecake bundt cake. Grab a slice of this cake and a cup of coffee and go sit around the campfire with your family tonight. It's the perfect way to relax after a long hard day!!!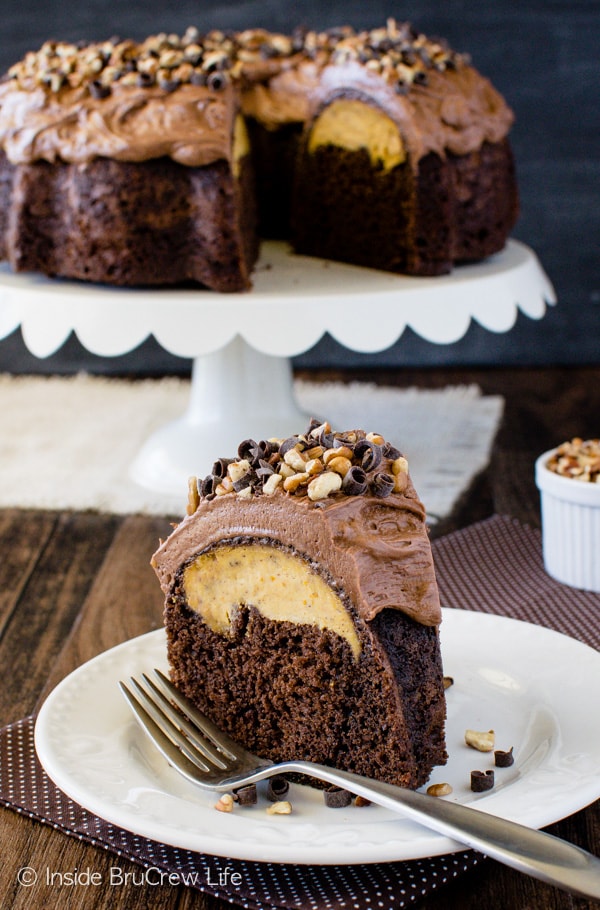 * I was compensated for my time creating this post as a brand ambassador for Pillsbury. All opinions expressed in this post are 100% my own.