Swirls of brown sugar and spices makes this soft Cinnamon Roll Pumpkin Cake a delicious breakfast cake to enjoy with a cup of coffee on a cool fall morning.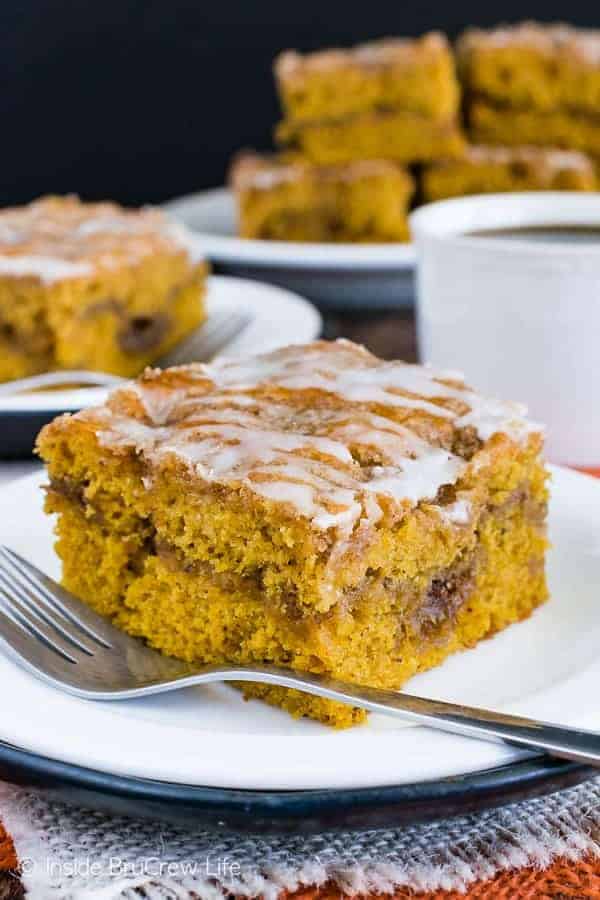 Yes, I realize that it is the beginning of August, and I'm shoving pumpkin in your face. At least I held out until the kids went back to school to start my crazy pumpkin baking fest. Now it's time to #pumpkinallthethings ! Can I get a woot woot?
You guys! This homemade coffee cake is extremely dangerous! Dangerously delicious, that is! I might even go as far as to call it the best pumpkin cake I have ever made.
It even beats out these Pumpkin S'mores Bars and these Pumpkin Nutella Muffins. And I was in love with the gooey chocolate in both of those recipes!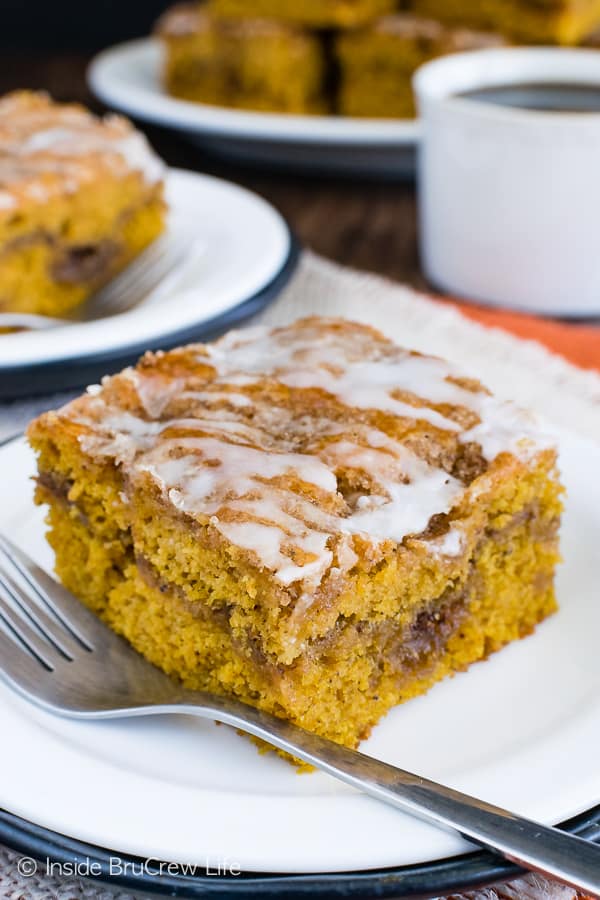 It's kind of dangerous to make a "best" claim this early in the pumpkin baking season. I get it. We all have recipes that we think are the best. But just trust me when I say this one is the best.
I mean it is a soft pumpkin cake, swirls of brown sugar, and glaze all in one amazing cake! You can see why I would say it is the best!
Another thing that is dangerous about this Cinnamon Roll Pumpkin Cake is that you will want to devour the entire pan in one sitting. Trust me! It could happen. Your jeans might hate you though, so I don't recommend it.
I cut into the pan trying to find just the right piece to share in photos with you, and all of a sudden two pieces just disappeared. Not the best thing for the healthy eating that I'm trying to do, but oh, my word!!!
It was seriously so good that I just couldn't stop myself from taking bite after bite!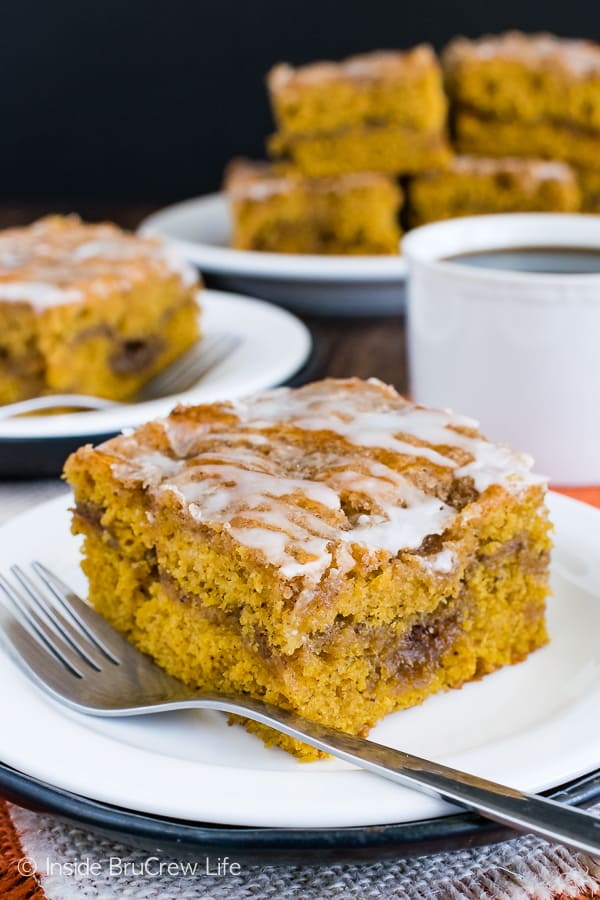 How to make a Cinnamon Roll Pumpkin Cake:
Set your butter and cream cheese out ahead of time, so that it is ready to work with later.
Beat the butter, cream cheese, and sugars until creamy. Add the eggs, vanilla, and pumpkin puree and beat it again.
Add the dry ingredients and mix it in until a soft dough forms.
Spread half the batter in a greased 9x13 pan.
Mix the filling ingredients together with a fork or a pastry blender. Sprinkle ¾ of the crumbs on top of the batter in the pan.
Drop the rest of the batter on top of the filling and spread it out very carefully. Try to not disturb the cinnamon layer if you can. Sprinkle the remaining filling on top and spread it out gently. Bake and cool.
Drizzle a glaze on top of the cake before serving.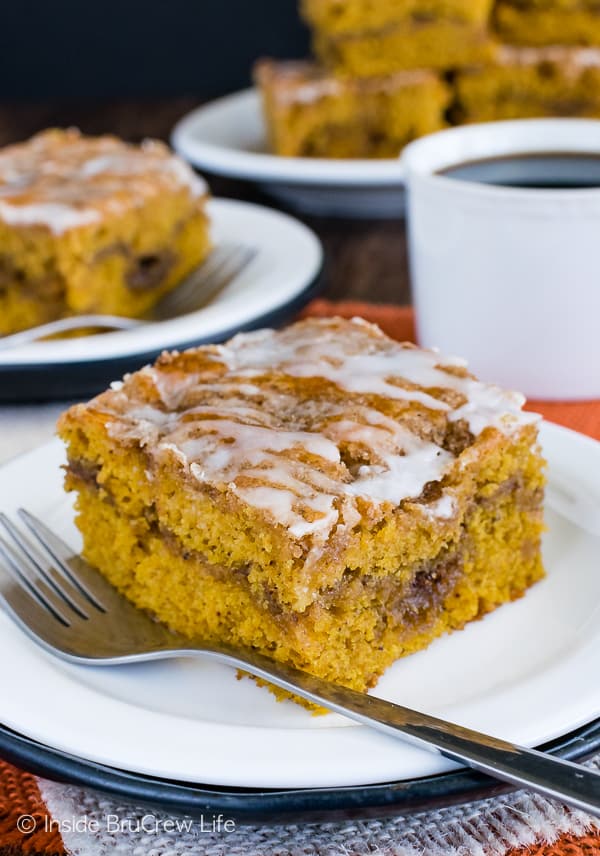 You will want to get this cake out of your house as quickly as possible. Keeping it around will not to make the jeans in your life happy.
Just put a sign on it claiming it is the best, most dangerous pumpkin cake and send it to anyone who will take it off your hands!
But then, all you will be able to think about the rest of the day is pumpkin goodness, and you will end up baking another Cinnamon Roll Pumpkin Cake AND an Easy Pumpkin Crunch Cobbler! It's a vicious but real cycle, people.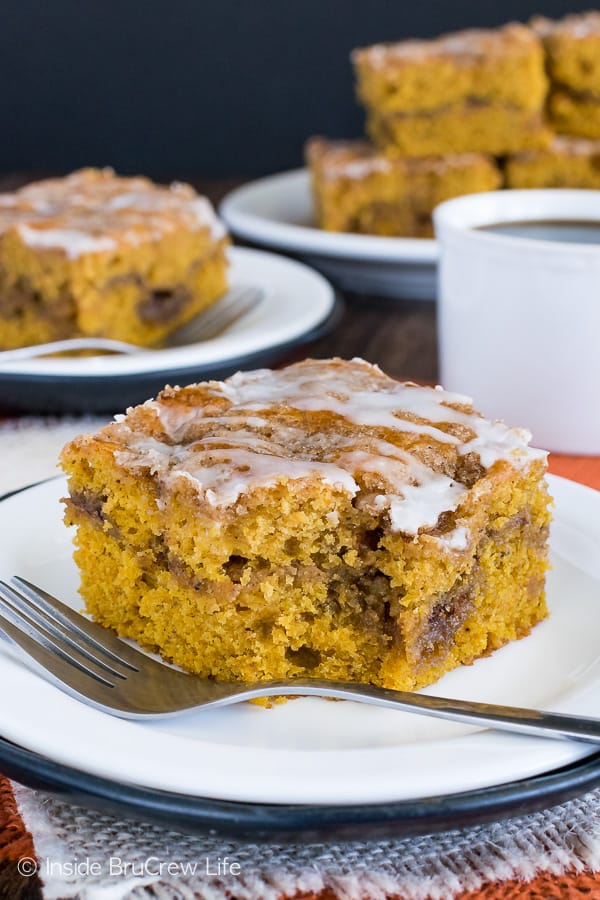 More delicious Pumpkin Breakfast Recipes you may enjoy:
Cinnamon Roll Pumpkin Cake Recipe and Video: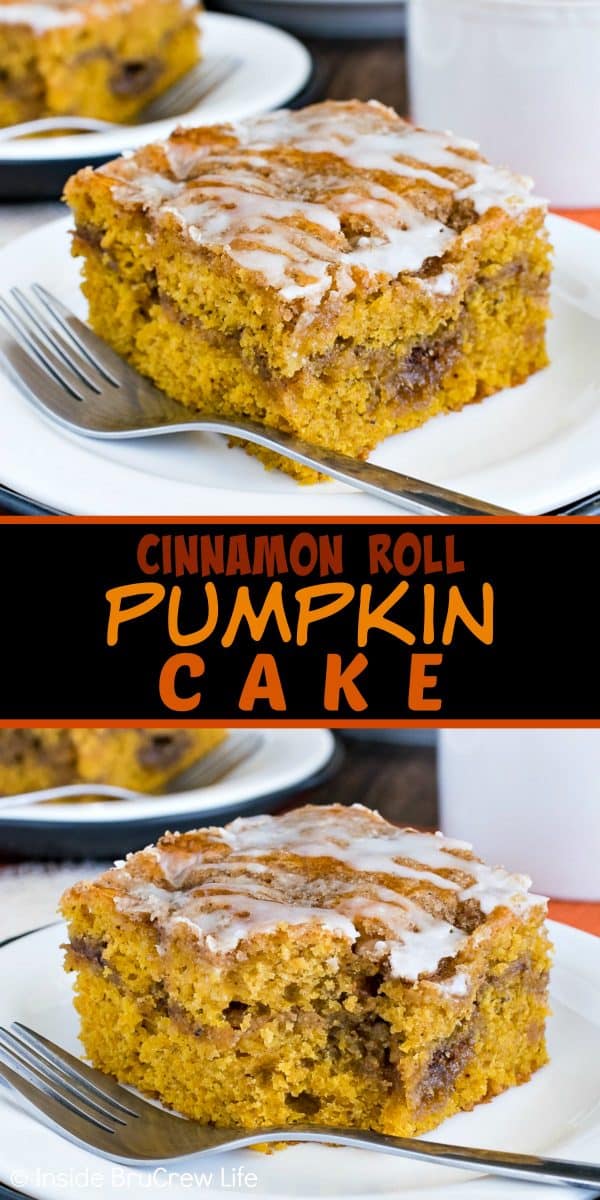 *This Cinnamon Roll Pumpkin Cake was originally posted on August 26, 2016. It has been updated and republished August 13, 2018.