This homemade Toffee Apple Bundt Cake is loaded with fresh apples and toffee bits and is covered in a delicious maple glaze.
An easy made from scratch apple cake is the perfect fall dessert. Love apples and spice cake? Try this Chai Spiced Apple Bundt Cake too.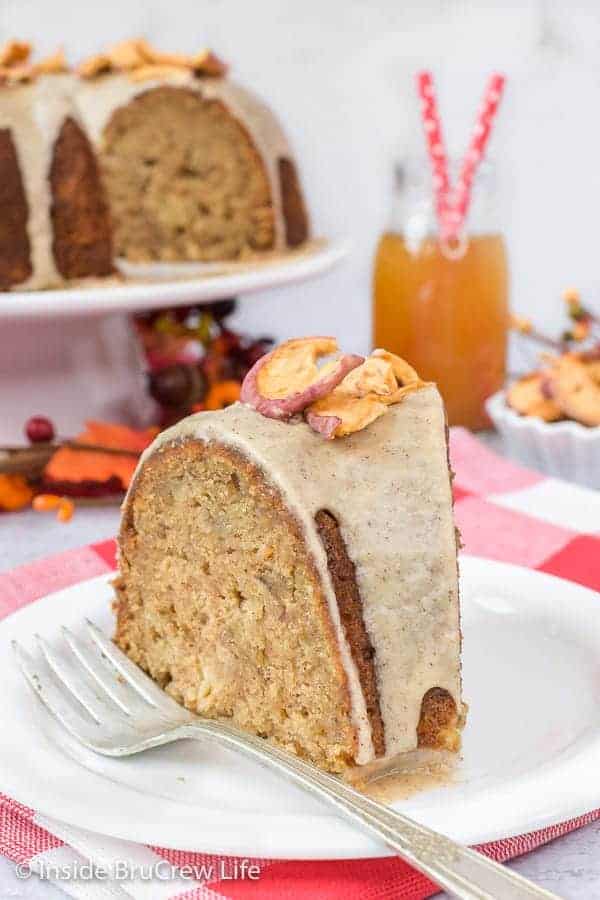 Nothing says fall to me more than a fresh apple dessert. Well, I guess a pumpkin dessert says fall too, but for the past few years I have been Team apple all the way.
I think it is because apples bring back fond memories of going to the apple orchard every fall with our kids. If I even suggested that now, I would get some strange looks from our teenagers.
For now I'll stick to baking an apple cake and remembering the days when those big kids used to get excited for apples, corn mazes, and hay rides with their parents.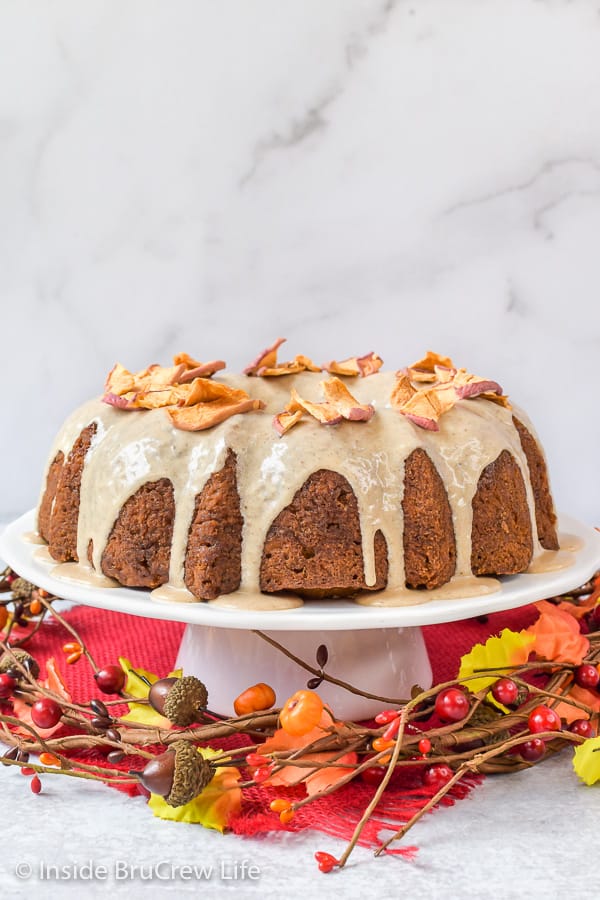 This Caramel Apple Bundt Cake has been my go to apple cake for many years. The soft moist cake with sweet caramel bits just can't be beat. Well, that's what I thought anyway.
Then I changed it up and added toffee bits and a maple glaze this year, and now I'm not sure which bundt cake I like better.
What I do know is that a slice of this homemade spice cake loaded with apples and drizzled with a sweet glaze is perfect on a cool day. Make sure to grab a big slice and a glass of this Caramel Apple Cider Iced Tea for a sweet afternoon snack.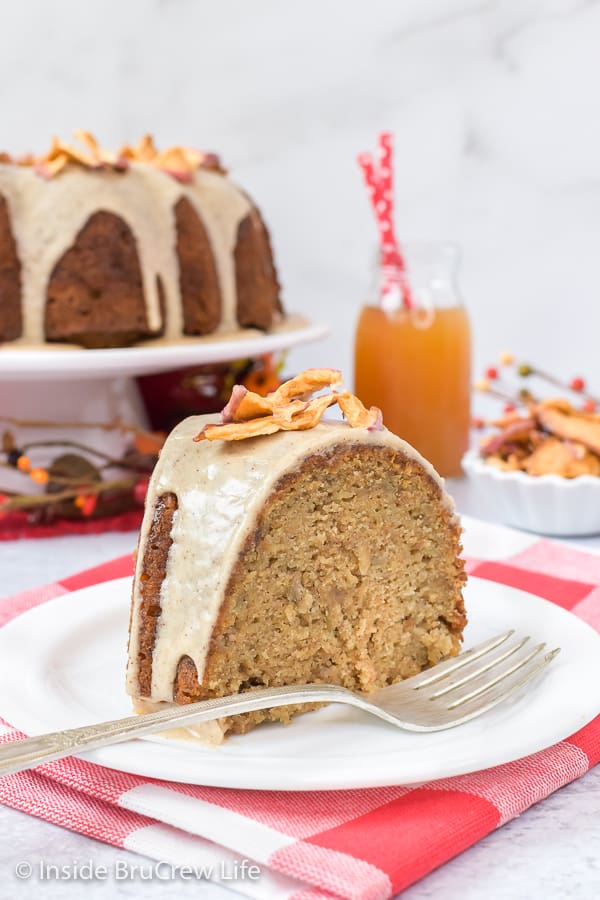 Bundt cakes have a bad reputation for being hard and difficult. But I can honestly say that they only "look" that way. If you prep your pan the correct way, they are so easy.
Bundt Cake Tips:
Nonstick Pan - Make sure your pan is free from any scratches or nicks. These can affect the nonstick surface and cause the cake to stick.
Baking Spray - Spray your bundt pan generously with a baking spray that has flour added to it. I like to use Baker's Joy. You can also grease and flour your pan if you prefer that method. Just be sure to get every surface.
Release - Remove the cake from the pan while it is still warm. This will aid in a quick and easy release. If the cake cools in the pan, the oils and butters can solidify and hold the cake to the pan. Let the cake cool for 10-15 minutes, then invert the Bundt Cake onto a plate. It should drop right out of the pan.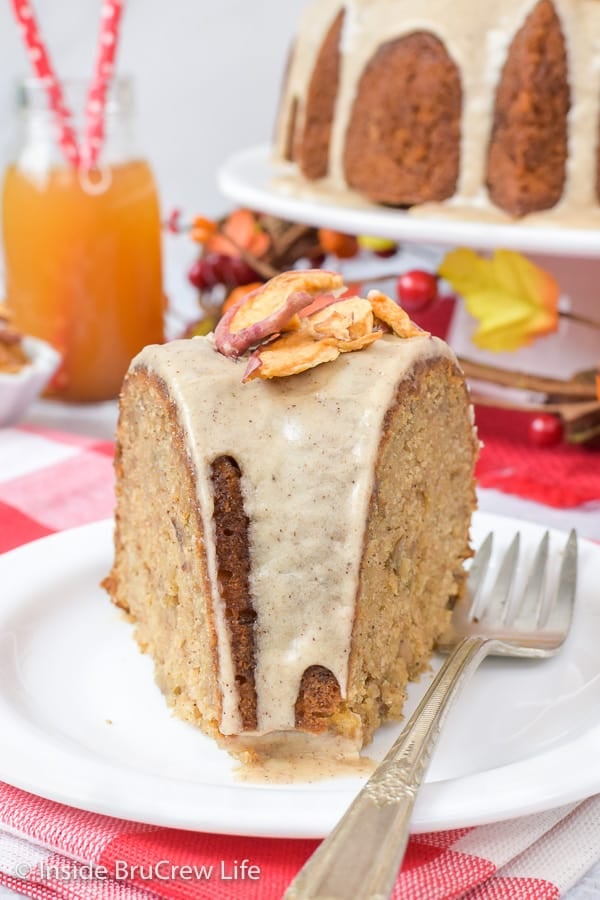 How to make a Toffee Apple Bundt Cake:
Preheat the oven and prep the pan.
Beat the butter and sugar until creamy. Add the applesauce, vanilla, and eggs and beat again.
Stir together the dry ingredients and slowly mix them in.
Add the shredded apples and toffee bits gently and spoon the batter into the pan.
Bake, release, and cool before adding the glaze. (full recipe below)
How to Ice a Bundt Cake:
Whisk together the glaze ingredients in a bowl.
Let the glaze sit for a few minutes, then stir again. This will keep the glaze from puddling too much on the plate under the cake.
Pour or spoon the maple glaze over the top of the cake making sure to get it evenly down all the sides
To keep the glaze from dripping all over the place, use strips of parchment or wax paper between the cake and cake plate. Once the glaze has set, you can easily remove the pieces of paper.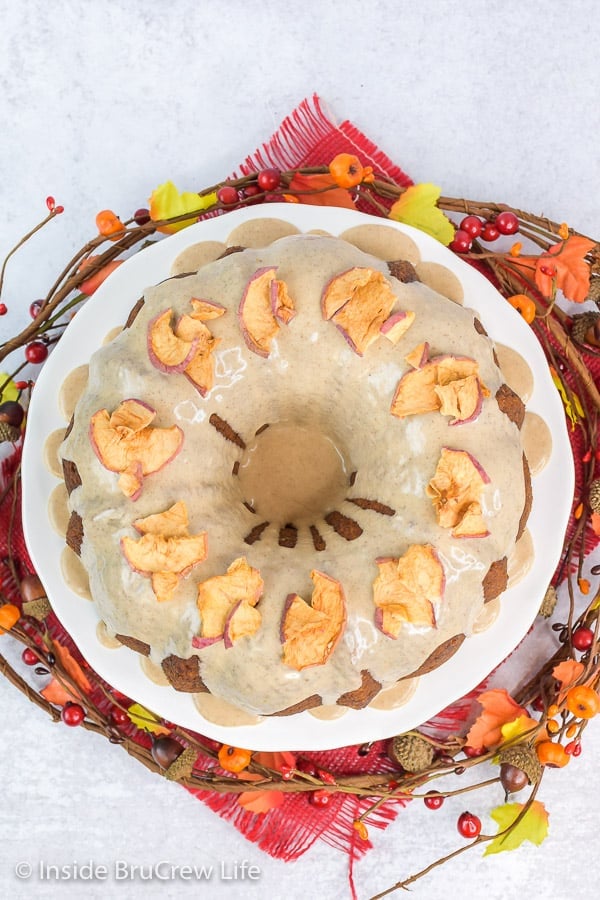 What are the best apples for baking?
The best apples for baking hold their shape in different baked goods. Some of our favorites that hold up to heat and taste great are Gala, Jonagold, Granny Smith, Honeycrisp, and Braeburn.
How do you store an apple cake?
Refrigerating a cake causes it to dry out. It is best to store it at room temperature in a sealed container.
Can you freeze this Apple Bundt Cake?
This apple cake can be frozen in an air tight container for a few months. It is best to freeze it without any glaze on top. Let it thaw and come to room temperature before adding a glaze or frosting.
How many slices do you get from a Bundt Cake?
Most bundt cakes will serve 12-16 people, depending on how small or large you cut the slices.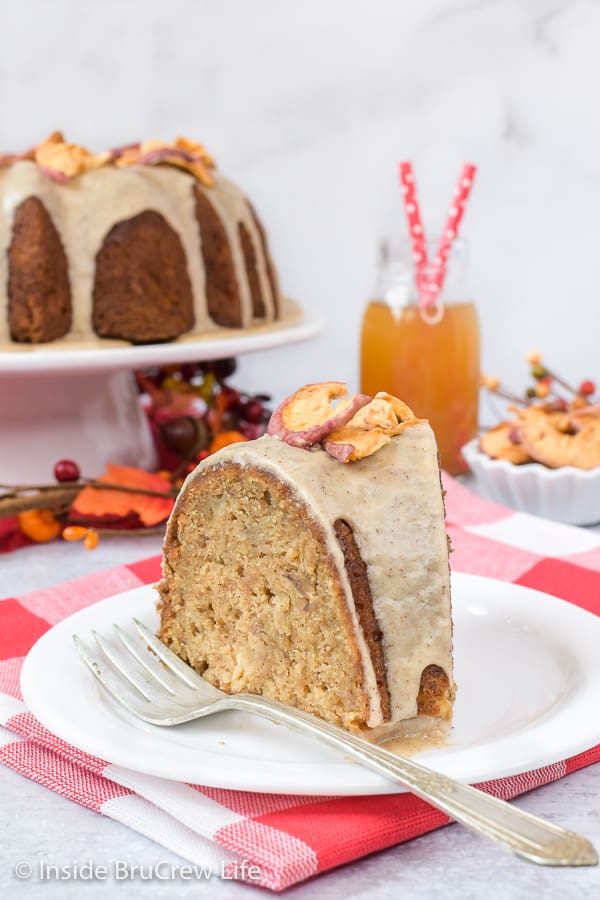 Other apple desserts you may enjoy: