Pineapple and coconut add a fun tropical flair to this delicious Pina Colada Zucchini Cake. This is a fun way to use up those green veggies this summer.
*Keep in touch with us. Subscribe to the free BruCrew email to have these recipes sent to your inbox.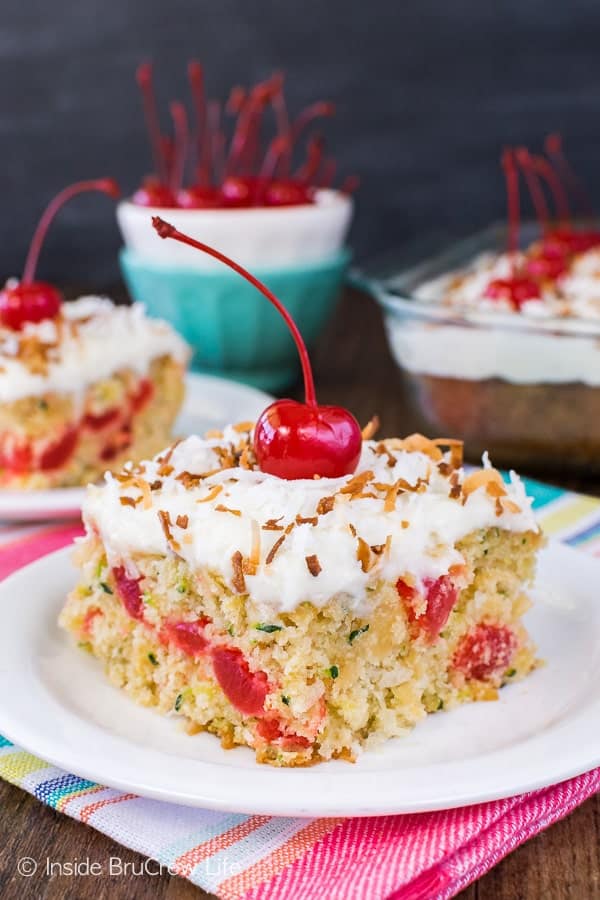 CLICK HERE TO PIN THIS RECIPE FOR LATER!
We have now lived in tropical paradise for a week. At least I think we are in a tropical place. I'm just basing that on the plant and animal life around my patio though. We spent most of last week slowly making our way out from under an entire truckload of boxes.
I'm not going to lie. The first two days were really rough for me. The stress of moving again in less than two years, my husband changing jobs, and our oldest leaving for college had me reduced to tears multiple times. My hubby wasn't sure what to do with me each time I went into an ugly cry.
Finally, I had to just give myself an attitude adjustment and realize that I was letting sadness and frustration get the best of me. So, I have been reading through some different studies in my YouVersion Bible app on fear and anxiety.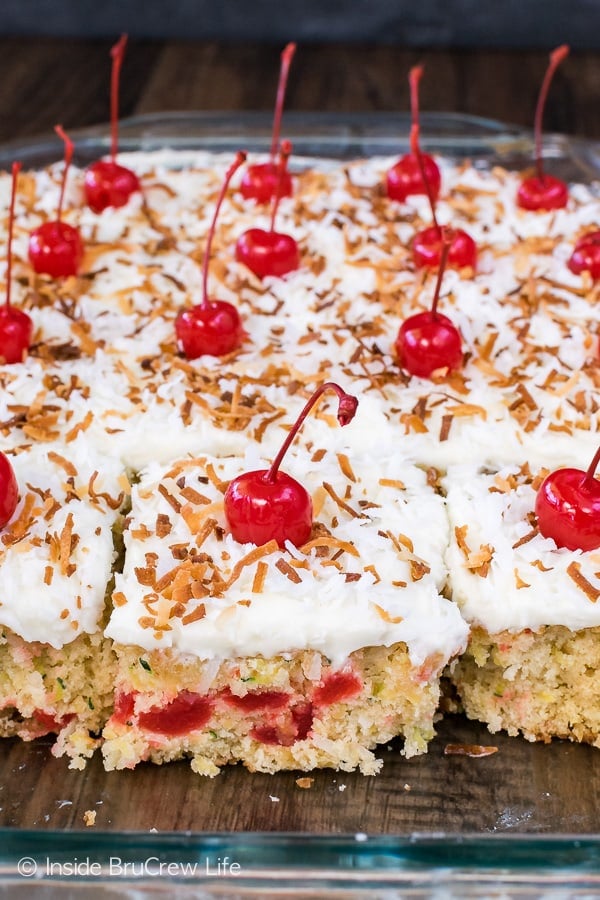 It's easy to let yourself get overwhelmed by the stress and situations of life, but God is always right there beside us and will protect us all the way. The verses in those studies reassured my heart, and I realized that God would give me the strength to get through these days. All I had to do was ask and trust.
So for now I am choosing joy and positive thinking over fear and frustration because I know God is with me. Can I get an amen?
Plus, when you live in a tropical sunny place who wants to be all mopey?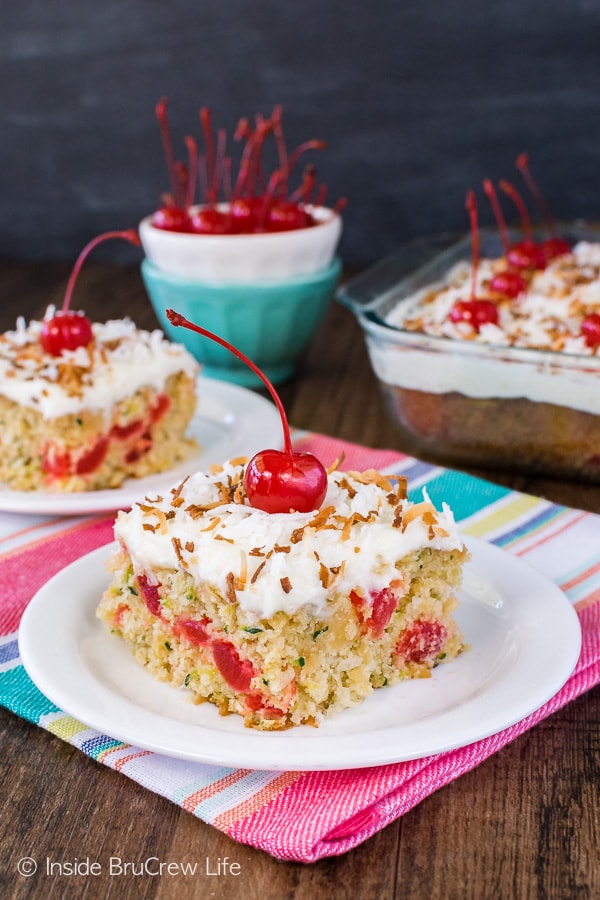 Last month I bought a few zucchinis before we moved because I wanted to make this dark chocolate zucchini cake again. After one bite I realized why that sweet cake is one of my favorite ways to eat green veggies. It's sooooo good! It's actually one of the few recipes that I make over and over and over.
Most of the time, I take my recipes and give them fun tweaks. So, I almost never make the same recipe twice. This pina colada zucchini cake happened because I was inspired by this pineapple zucchini bread from last year.
I took this loaded carrot cake recipe that I made a few months ago and tweaked it with some pineapple and zucchini. Viola this fun tropical cake happened. If you love zucchini and piña coladas, trust me and make this dessert! Your tropical oasis awaits!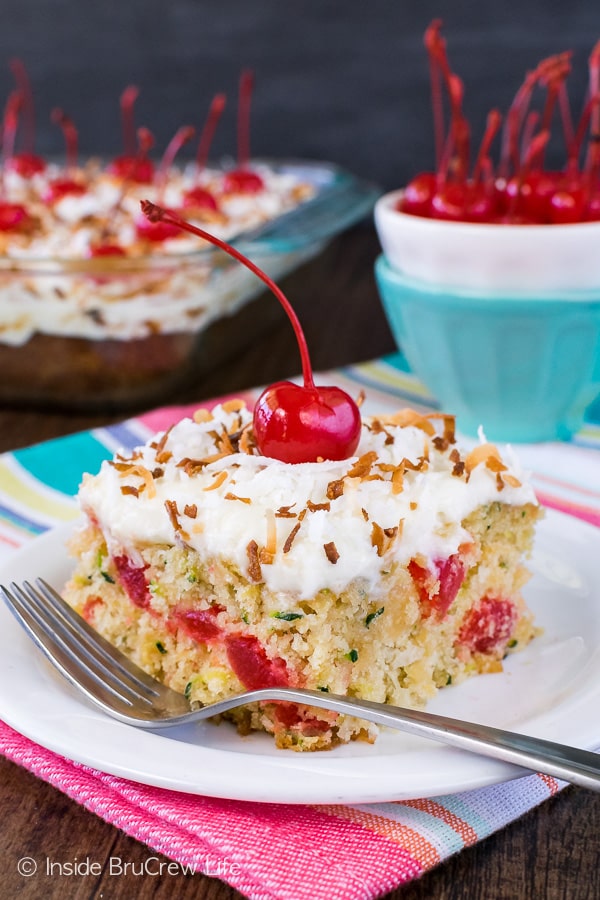 Stay up to date on all the BruCrew baking here:
FACEBOOK | PINTEREST | TWITTER | INSTAGRAM | BLOGLOVIN
Sign up to receive an email in your inbox for each new recipe:
EMAIL SUBSCRIPTION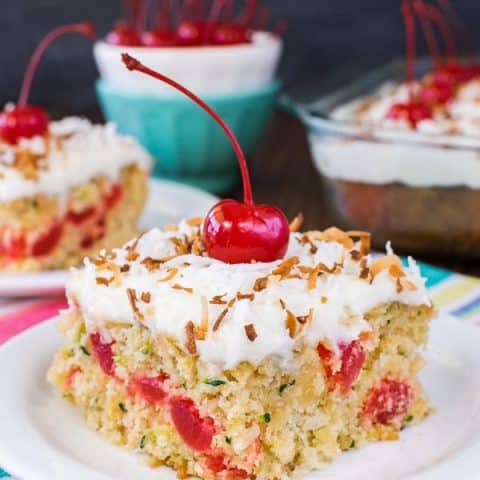 Pina Colada Zucchini Cake
Pineapple and coconut add a fun tropical flair to this delicious Pina Colada Zucchini Cake. Fun way to use up those green veggies this summer.
Ingredients
For the Cake
1/2 cup unsalted butter, softened
3/4 cup brown sugar
1/2 cup sugar
1 - 8 ounce can crushed pineapple, drained very well
1 teaspoon rum extract
1 teaspoon coconut extract
2 eggs
2 1/4 cups flour
1 teaspoon salt
1/2 teaspoon baking soda
1 teaspoon baking powder
1 teaspoon ground mace
2 cups finely shredded zucchini
1 cup sweetened shredded coconut
1 - 16 ounce jar maraschino cherries, drained & quartered
For the Frosting
1 cup sweetened shredded coconut
6 Tablespoons butter
1/3 cup marshmallow cream
3/4 teaspoon salt
3/4 teaspoon rum extract
3/4 teaspoon coconut extract
3 cups powdered sugar
1/3 cup heavy whipping cream
24 maraschino cherries with stems, drained & patted dry
Instructions
Preheat your oven to 350 degrees. Spray a 9x13 pan with nonstick spray.
Beat the butter and sugars until creamy. Add the drained pineapple, extracts, and eggs and beat again.
Stir together the flour, salt, baking soda, baking powder, and mace. Slowly beat into the butter mixture.
Add the zucchini, coconut, and cherries and stir gently. Spread in the prepared pan. Bake for 34-36 minutes or until a toothpick inserted in the center comes out mostly clean. Let cool completely.
Spread 1/2 cup coconut on a metal sheet pan and bake at 350 degrees for 4-5 minutes or until golden brown. Stir every minute. Remove and let it cool.
Beat the butter, marshmallow cream, salt, and extracts.
Slowly add the powdered sugar and heavy whipping cream and beat until light and fluffy. Spread on the cooled cake.
Sprinkle the regular and toasted coconut on top of the frosting. Top with the cherries. Store in a tightly sealed container.
Nutrition Information:
Yield:

24
Serving Size:

1
Amount Per Serving:
Calories:

296
Total Fat:

11g
Saturated Fat:

7g
Trans Fat:

0g
Unsaturated Fat:

3g
Cholesterol:

37mg
Sodium:

256mg
Carbohydrates:

49g
Fiber:

2g
Sugar:

38g
Protein:

2g
Is your garden over run with green veggies this summer? Here are a few fun zucchini recipes for you to try.