The addition of a pudding mix makes these Banana Bread Muffins one of the best breakfast choices you could make this week.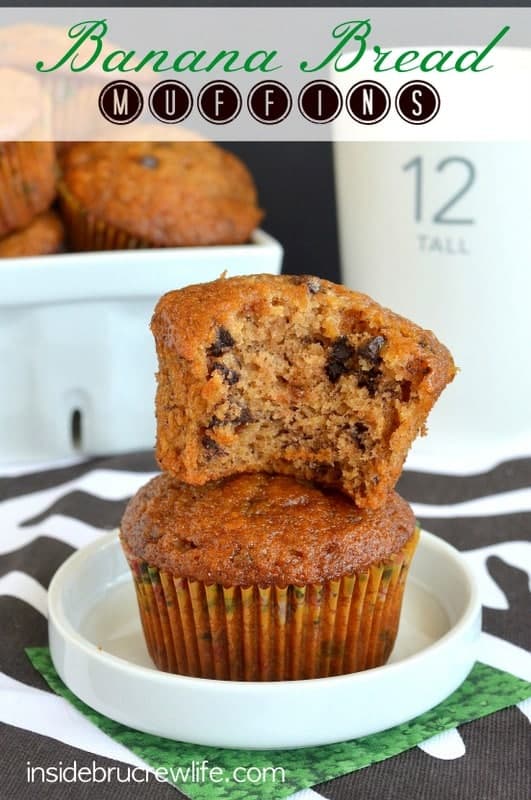 We go through quite a few bananas every week. I eat the green ones and save the brown ones for muffins or donuts.
My kids have gotten really picky about what they will eat for breakfast. They won't eat cereal, unless it is a bedtime snack. And toast and bagels are apparently not good anymore. Now I don't like when they try to go to school on an empty stomach, so I have to keep bags of frozen pancakes and fresh banana muffins on hand at all times. Those two breakfast items are the only things they will eat without a fuss.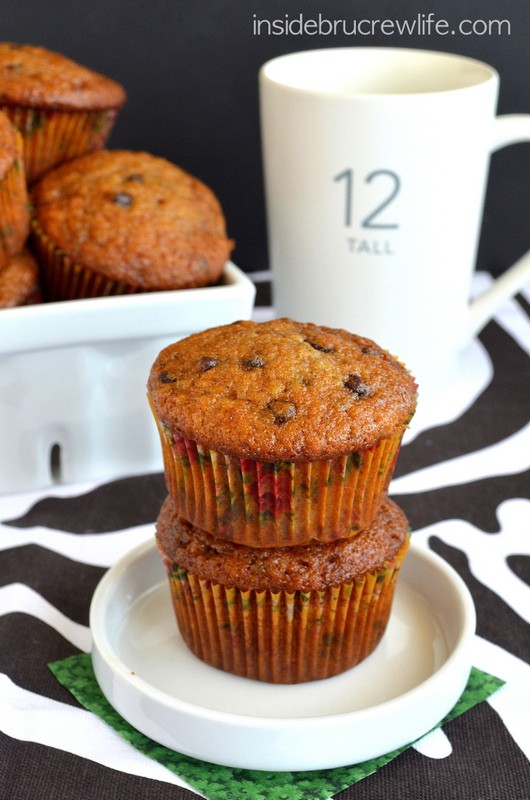 Last week I had two bunches of bananas that went from green to spotty overnight. My Facebook readers had so many great ideas on what I could make with them. While I was waiting for their answers, I decided to tweak one of my banana muffin recipes with a box of instant pudding. You will not believe how delicious these muffins turned out. They were incredibly soft, and dare I say...moist! That is not a word I like to use, but really no other word describes these Banana Bread Muffins so accurately. My kids each ate two muffins right away when they got home from school. My youngest, who is the pickiest eater all of a sudden, said they were the best ever!!!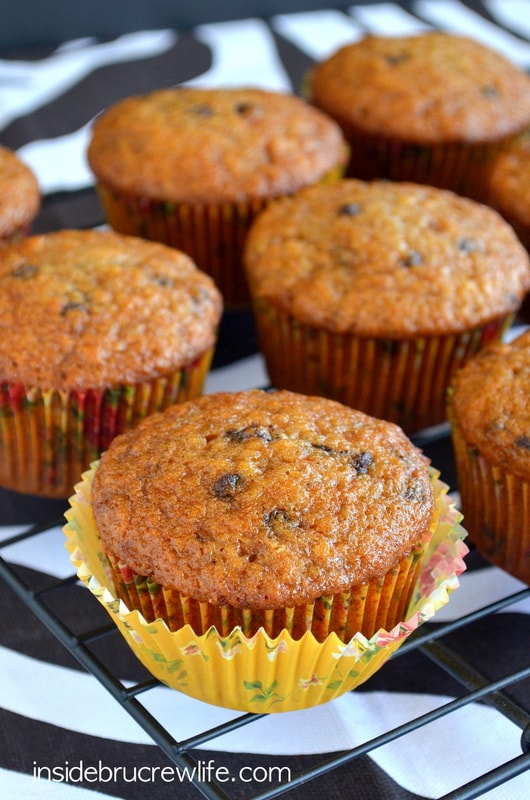 I like to think these muffins are healthy because they have banana and yogurt in them. We will just pretend the sugar, butter, and chocolate chips are healthy too 🙂 Haha! I know better, but it does make me feel just a little better knowing there are a few healthy items in my kids' breakfast. Heaven forbid that I should make a banana muffin without the chocolate chips...my kids let me know when I try to leave out the chocolate. Sadly they have the same sweet tooth that I have.
It's a good thing my kids were in love with these muffins because I don't think I could be trusted alone in the house with them. I know because there were two left, and then they just sort of disappeared. I plead the 5th...I have no idea what happened! I went for a coffee refill and the next thing I knew...empty muffin wrappers.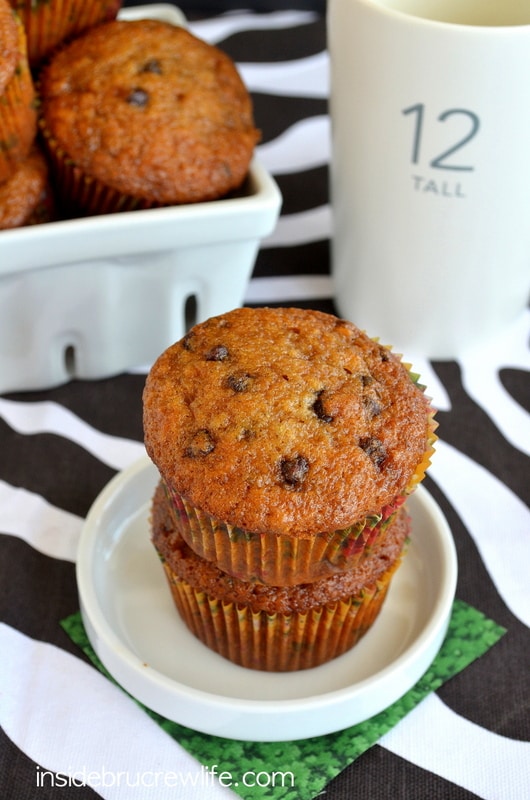 Thank goodness I always have bananas in the house...these muffins are definitely being made again. Usually I want my bananas to stay green for a while so I can eat them, but not this time. I want black bananas, so we can have these delicious banana bread muffins again. Maybe the bananas should go in a brown paper bag to speed up the ripening process.
What is the best thing you have made with your brown bananas???
Make sure you don't miss any of the crazy baking
by following the BruCrew here:
FACEBOOK | PINTEREST | GOOGLE+ | TWITTER | INSTAGRAM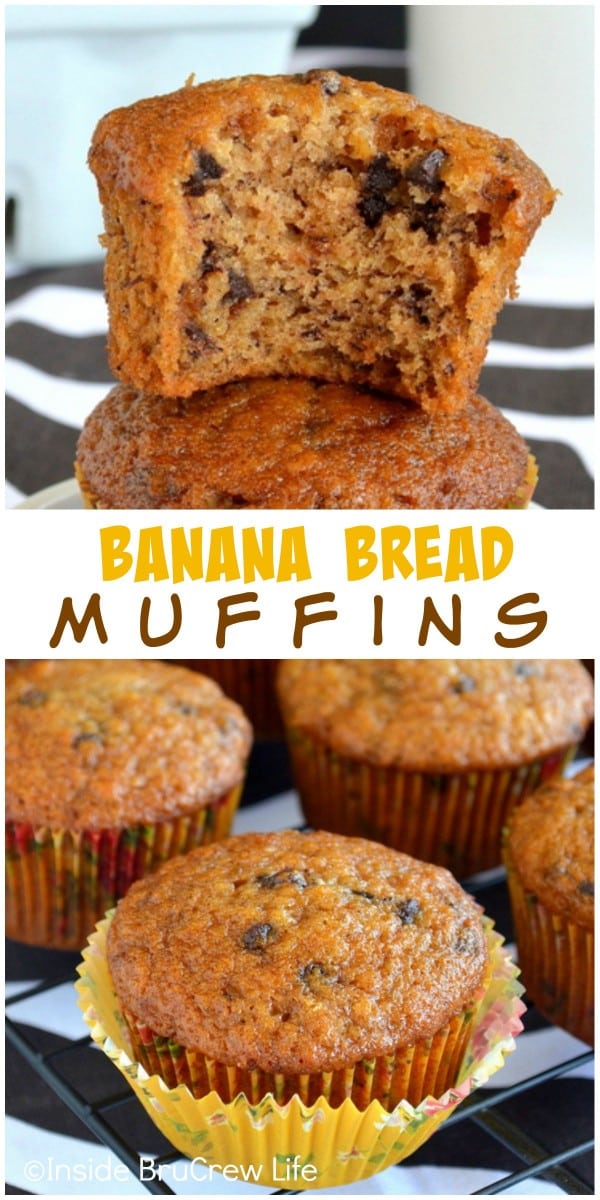 Here are some other delicious ways to use up those spotty bananas on your counter: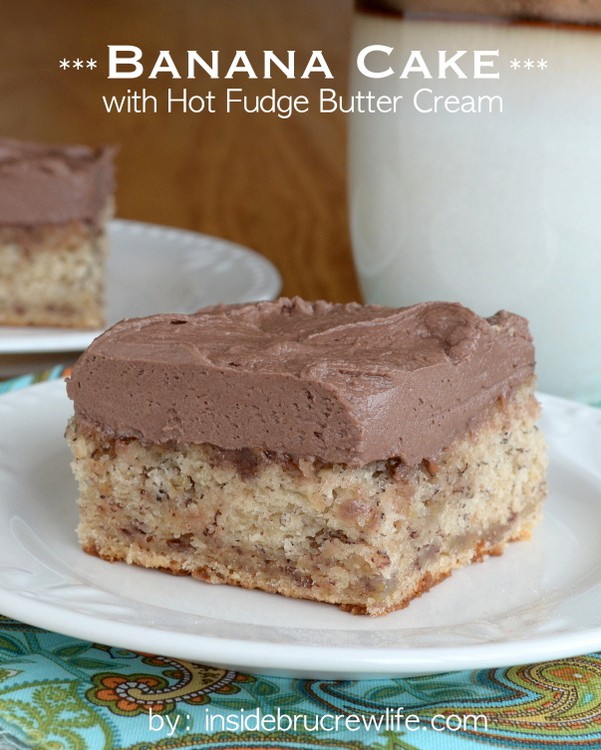 BANANA CAKE WITH HOT FUDGE BUTTER CREAM