Fried doughnuts for breakfast are as easy as 1,2,3.  Pop open a can of Pillsbury biscuits, and you can have some Dirty Berry Doughnuts for breakfast too.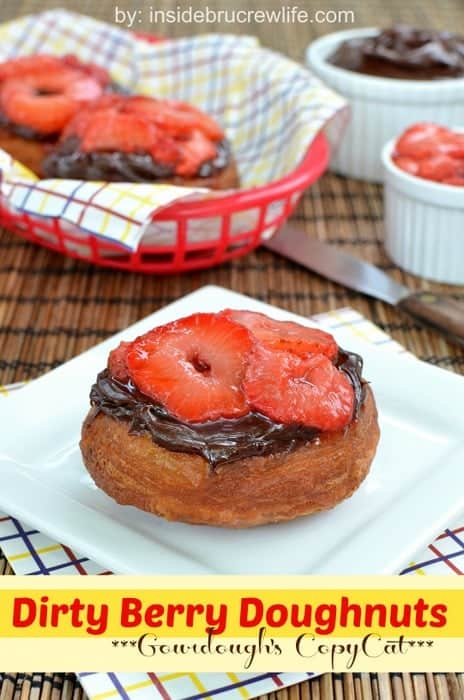 A few weeks ago, I was having fun in Austin, Texas checking out the famous food trailers. (You can see more of what we did in my BlogHer recap.)  I heard that Gourdough's was the place to go for BIG.FAT.DONUTS.
People, they don't lie!  These doughnuts are seriously the size of your face.  Delicious, fried dough topped with insane toppings…these are definitely worthy of face planting in to!  Well, ok, worthy of going with 6 other food bloggers and sharing 8 of them.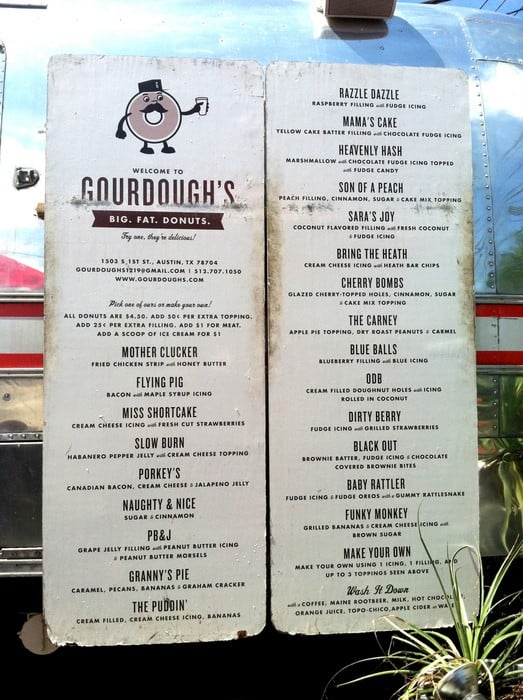 My friend Kristen had an awesome idea for a fun doughnut hop with all our blog friends who went to Gourdough's that weekend.   We all picked out a favorite (that was the hardest part of making one) and went to work recreating it in our kitchens just for you guys.  Just take a peak at the deliciousness in that next picture.
I am craving doughnuts like mad right now.  Lucky for me, I have another can of biscuits in my fridge.  So while you keep reading, I'm headed to fry some more dough!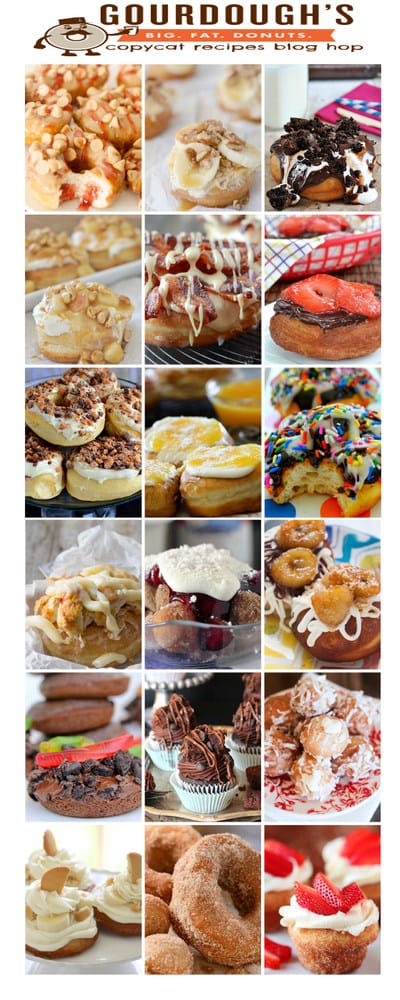 The doughnut that I recreated was called the dirty berry. It is a fried doughnut with fudge frosting and grilled strawberries.
Ok, it's supposed to have chocolate chips on top too, but I didn't realize I forgot them until AFTER taking pictures and letting the kids devour them.  So, just pretend that I'm not a crazy, forgetful person and imagine these donuts have more chocolate goodness on top.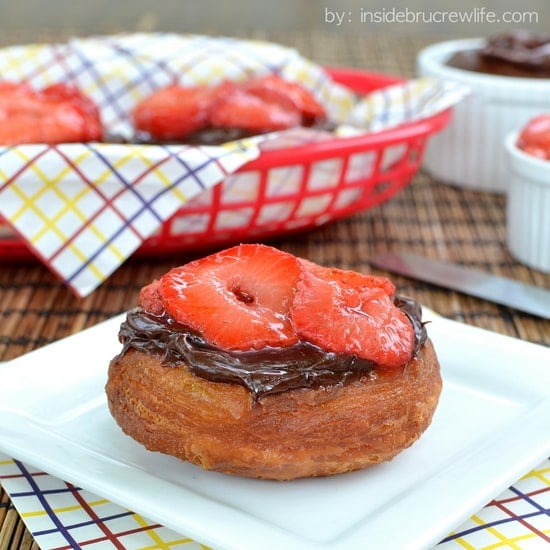 I decided to go all easy on you guys for this recipe.  You are seriously 3 ingredients away from having a Dirty Berry Doughnut feast in your house.  Ok, 4 if you count the missing chocolate chips.
Did you know that refrigerated biscuits can be fried up and will resemble a donut.  Yup, it's true.  I have done this easy donut many times over the years.  One of our favorites is just a plain fried donut rolled in powdered sugar…tastes like my favorite fair food…the funnel cake!
Open a can of biscuits and flatten each one slightly.  I did pat the edges slightly to make sure they stayed round.  You can also cut out the center of the dough with a small round object or a knife if you can cut accurately.  I did this with just 2 of them, so I could test my oil.  The rest of them I left whole because I was just covering the top with frosting and strawberries anyway.
I didn't have a thermometer to check the oil, so don't think it is an absolute need for these doughnuts.   (Put that one on the list of things we "need".)  I just put my pan on medium heat and waited for the oil to get warm.  I used the doughnut holes to test the oil.  You can also sprinkle some drops of water in and when it sizzles, the oil is ready.   I dropped a biscuit in and let it fry for about a minute, flipped it over and cooked it another minute on the other side.  Your doughnuts will be nice and golden brown.   I let the doughnuts sit on paper towels for a few minutes before putting the frosting and strawberries on top.  Then I snapped a few pictures while hungry children watched over my shoulders.  I should have learned my lesson from when I made the Mocha Chip Cinnamon Rolls.   My kids do not like to patiently wait for pictures when huge glorious breakfast treats are around.  I lost count of how many times they asked if I was finished.
But the wait was well worth it, when all the doughnuts were devoured in just a few minutes.  This Gourdough's doughnut recreation was a complete success!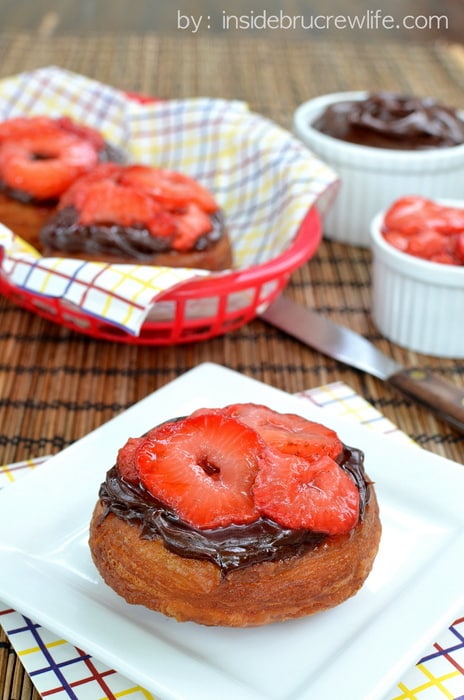 Stay up to date on the BruCrew baking:
FACEBOOK | PINTEREST | GOOGLE+ | TWITTER | INSTAGRAM | BLOGLOVIN
Fried biscuit dough becomes a decadent doughnut when topped with fudge frosting and grilled strawberries.
Ingredients
1 can refrigerated biscuits (I used Pillsbury Grands)
1/2 cup canned chocolate fudge frosting
1 cup sliced strawberries
canola oil for frying
Instructions
Place sliced strawberries in a skillet. Heat over medium heat for about 4-5 minutes. The juices from the berries will come out, and they will change color slightly. Remove from the heat and drain the excess juice. Set aside.
Heat 2 inches of oil in a large pan with high sides to around 300*. Flatten each biscuit slightly and make sure each one is rounded by patting the sides gently. Place the biscuits one at a time in the oil. Fry for 1 minute on each side. Flip over and fry the other side for another minute. Remove from the oil and place on a paper towel to remove the excess oil. Repeat with the other 7 biscuits. Let cool slightly before topping with the frosting and grilled strawberries. Makes 8 doughnuts.
https://insidebrucrewlife.com/dirty-berry-doughnut-gourdoughs-copycat/
Copyright Inside BruCrew Life
Want to check out some other Gourdough's Doughnuts?
Make sure you go see all my friends today!
PB & J by Capturing Joy
Granny's Pie by Crazy for Crust
Heavenly Hash by Something Swanky
The Carney by Shugary Sweets
The Flying Pig by The Novice Chef
Dirty Berry by Inside BruCrew Life
Bring the Heath by Mom on Timeout
Son of a Peach by Chef-in-Training
Mama's Cake by The Domestic Rebel
The Mother Clucker by Oh Sweet Basil
Cherry Bombs by My Life as a Mrs.
The Funky Monkey by The Little Kitchen
The Baby Rattler by Confessions of a Cookbook Queen
Black Out Cupcakes  by Cookies & Cups
ODB by Sweet Treats and More
The Puddin' by Lauren's Latest
Naughty & Nice by Life's Ambrosia
Miss Shortcake by Kevin & Amanda
Want more donut ideas?
These are also ones that disappear quickly in my house.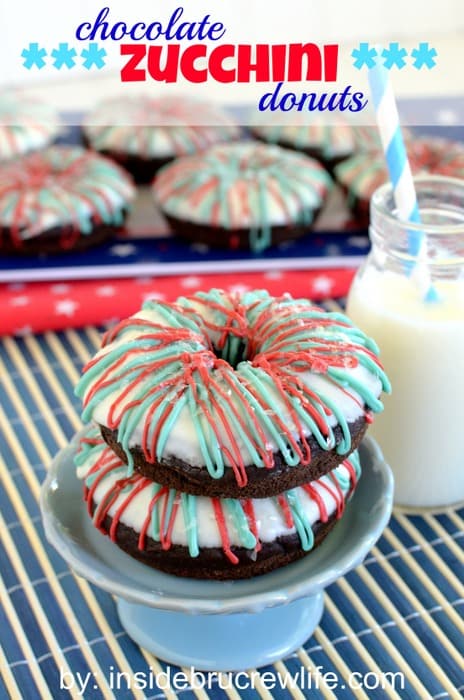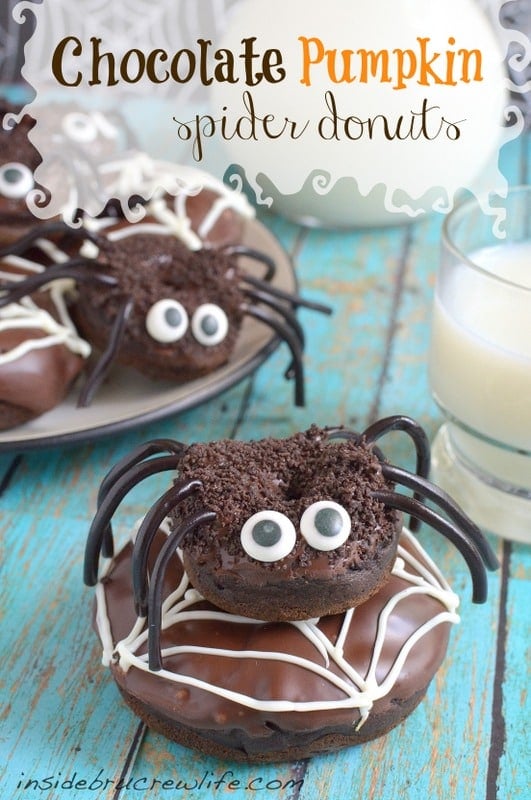 Chocolate Pumpkin Spider Donuts