Planning a game day party does not need to be hard or exhausting. These Easy Football Party Ideas will get you excited to plan a simple party where you can enjoy food, friends, and cheering on your favorite team.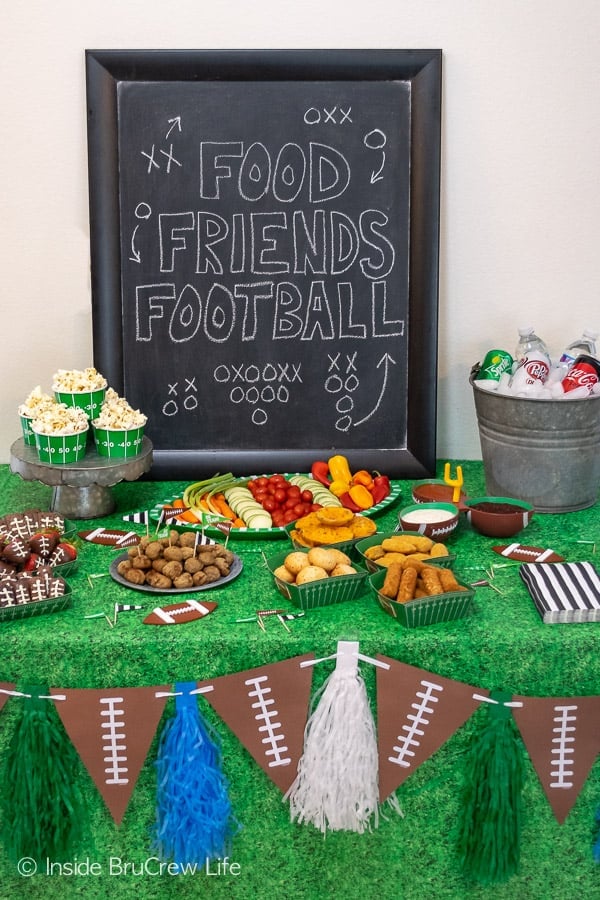 Did you know that "homegating" is the new tailgating? Please tell me I'm not the only one that didn't know this new phrase (which I'm loving BTW).
You don't need to go through the hassle of packing up your food, chairs, and drinks and driving across town to watch a game with friends anymore. Planning and hosting a party in the comfort of your own home with easy convenient snacks is the new way to do football parties.
I love putting together easy themed parties and having friends over to our house. Good food, fun decorations, loud cheering, and wonderful company is a great way to spend an afternoon or evening.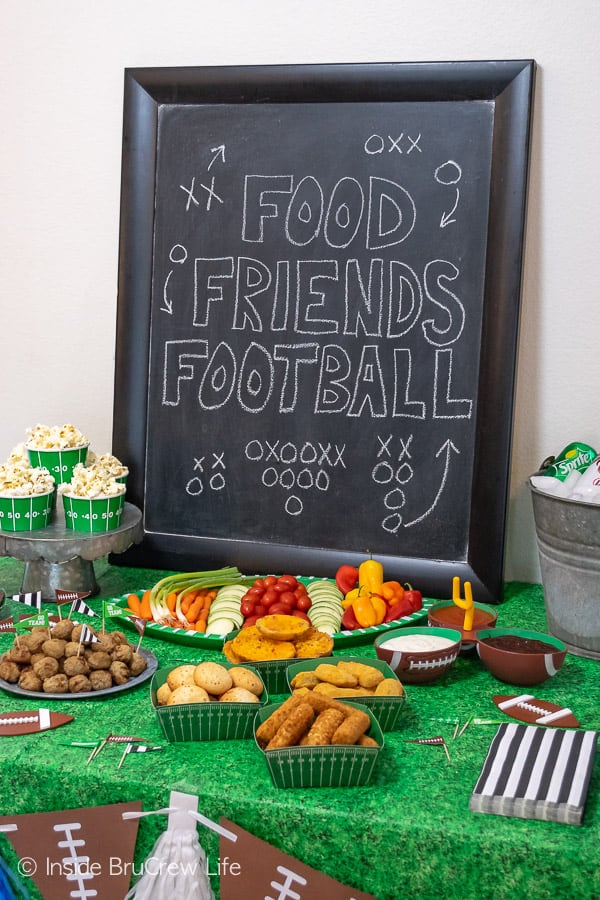 Hosting a party should not be a lot of work. I know that having a bunch of people coming into your home can be stressful. Especially if you decide last minute to host the game day party at your house.
But just remember that they are there to see you and enjoy good food and entertainment. Trust me, no one else even sees the dust and clutter that you think is so obvious.
To show you just how easy this can be, I have put together a few simple tips to help you host fun game day gatherings this fall. Once your guests arrive, you will be able to relax and enjoy their company while cheering on your favorite team with your favorite snacks.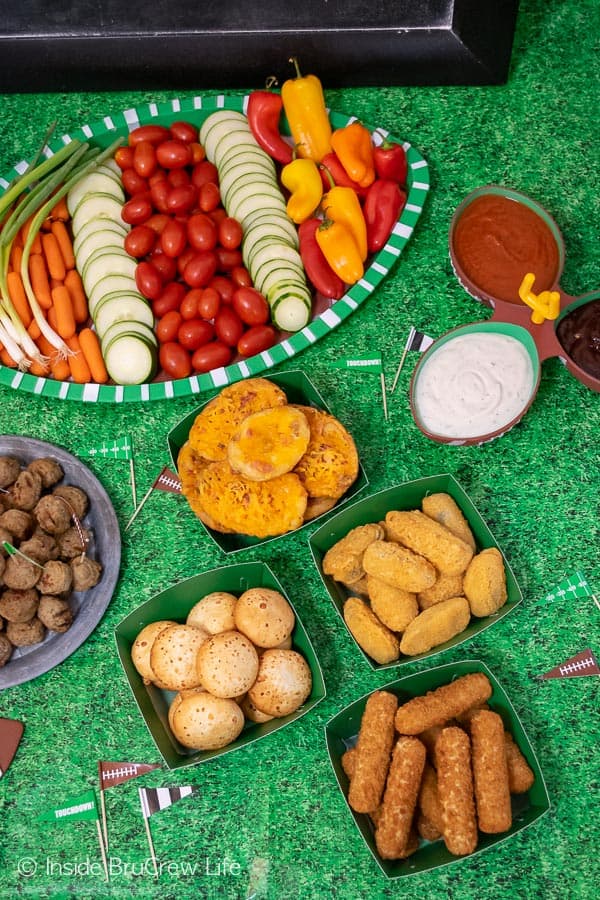 Football Party Decorations
Keep things simple by shopping at your local party store for game day decor. Buying it already made and ready to go saves you time and energy. Plus, you can buy matching plates and napkins while you are there.
I found a green tablecloth that looked like grass and a fun football banner that I taped to the front of our food table. A football platter and dip container was a great investment because they can be reused for future football parties we host. The little disposable green containers were perfect for serving the different appetizers in, and the flag picks were a great way to dress up the finger foods.
Concentrating on just a few football decorations for the food table is an easy way to be festive without going overboard. Make sure you utilize things you already own too.
By using a chalkboard, metal containers, and a metal cake stand that I already had around the house, I was able to pull off a fun decorated table without spending a fortune.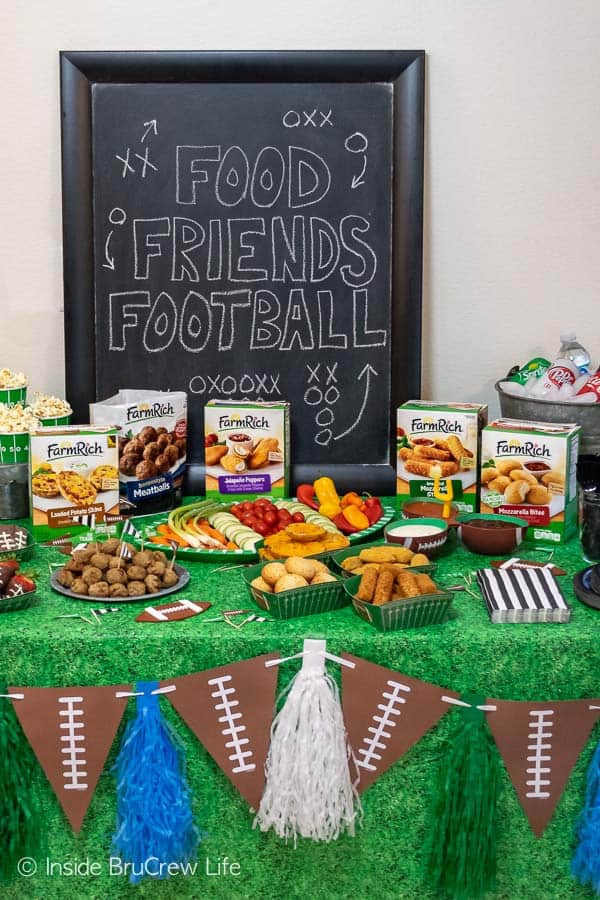 Easy Football Food
For our effortless game day party, I picked up a variety of snacks from the freezer aisle at our local grocery.
I love that these prepackaged appetizers are convenient and taste absolutely delicious.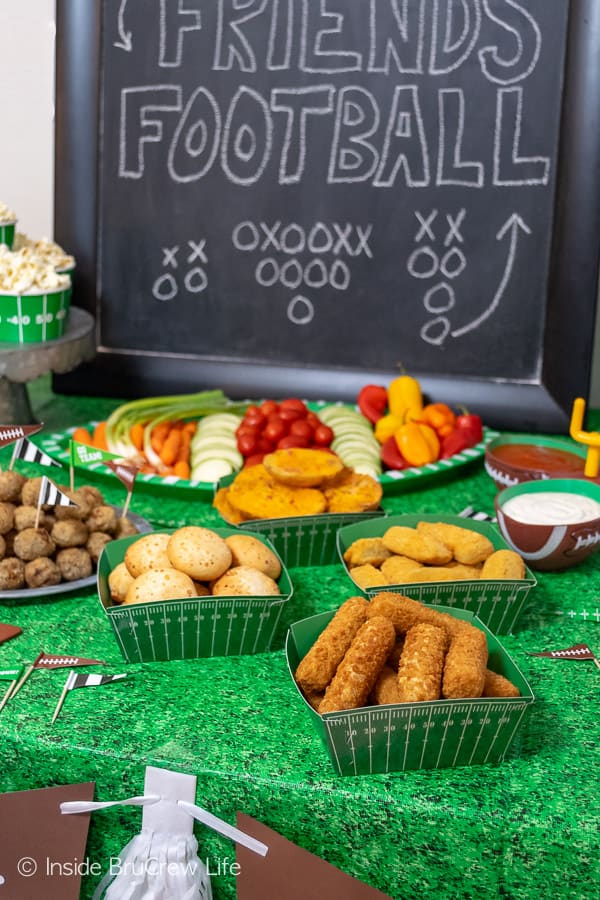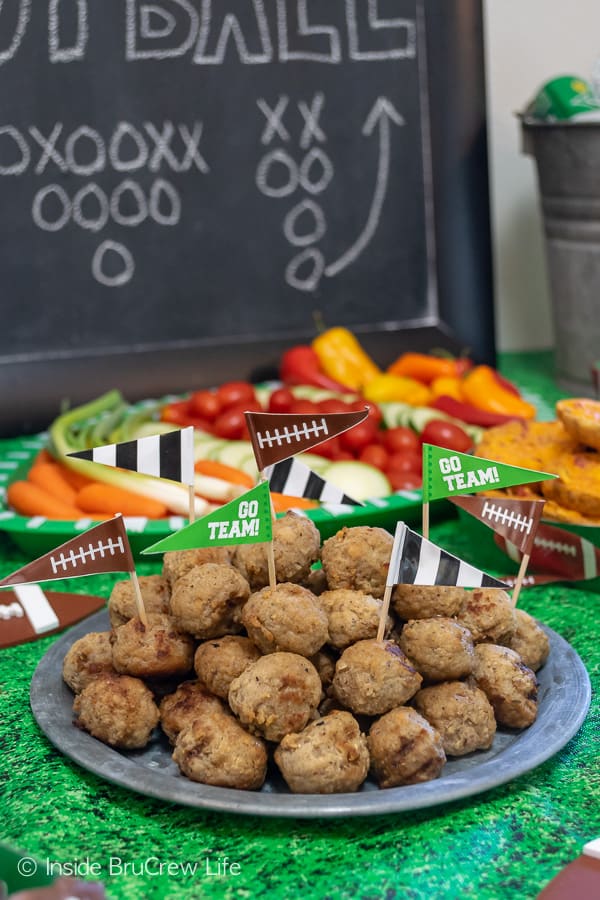 When putting together your veggie tray, choose vegetables that do not need a lot of extra prep work. I like being able to open the package, rinse the veggies, and drop them on a platter. The only veggie that requires a little extra work are cucumbers because you will need to slice them.
Ready made dips are another easy thing to pick up at the grocery store. Fill containers with ranch dip, pizza sauce, and barbecue sauce right before your guests arrive. No one will ever know that they are store bought.
For beverages, fill a cooler or large container with ice and chill mini bottles of water and a variety of mini cans of pop. The smaller size minimizes the amount of half-empty drinks you will find after the party is over.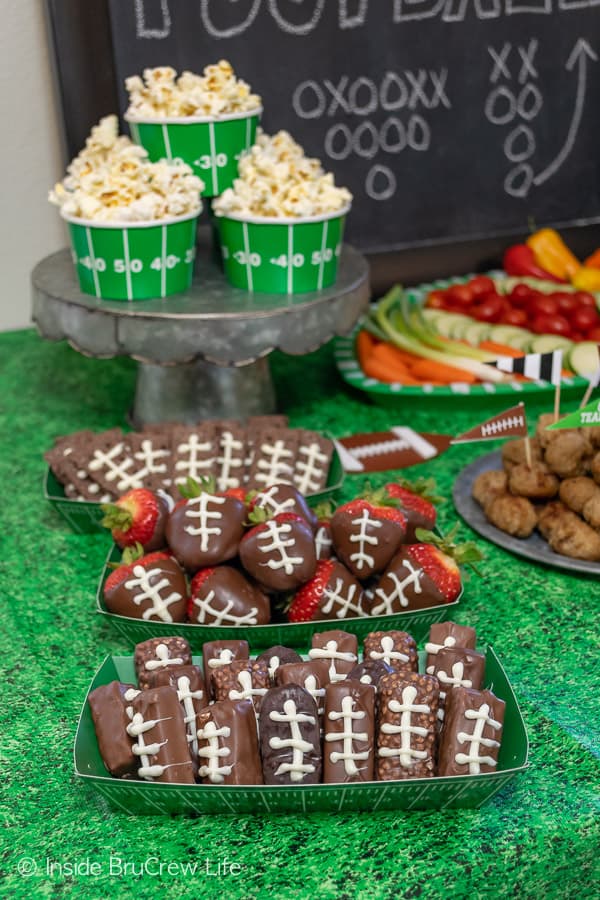 Easy Football Desserts
Minimizing time in the kitchen when you are hosting a party is important. Easy no bake desserts that can be prepared in minutes are great when you are limited on prep time and need your oven for appetizers.
Little treats that look like footballs are the perfect kind of sweets for a football party. Drizzle melted white chocolate on a variety of snack-sized candy bars to make fun little chocolate footballs. Chocolate covered strawberries can also be drizzled with the white chocolate for a fruit version.
Any cookie, fruit, or sweet cracker that can be dipped in chocolate will look cute drizzled with the white chocolate laces. If you purchase ones that are already dipped in chocolate it will save you even more time.
Drizzle the leftover white chocolate over popcorn and fill containers that your guests can grab easily to snack on. You can also add sprinkles or candies that coordinate with your team colors, if you like.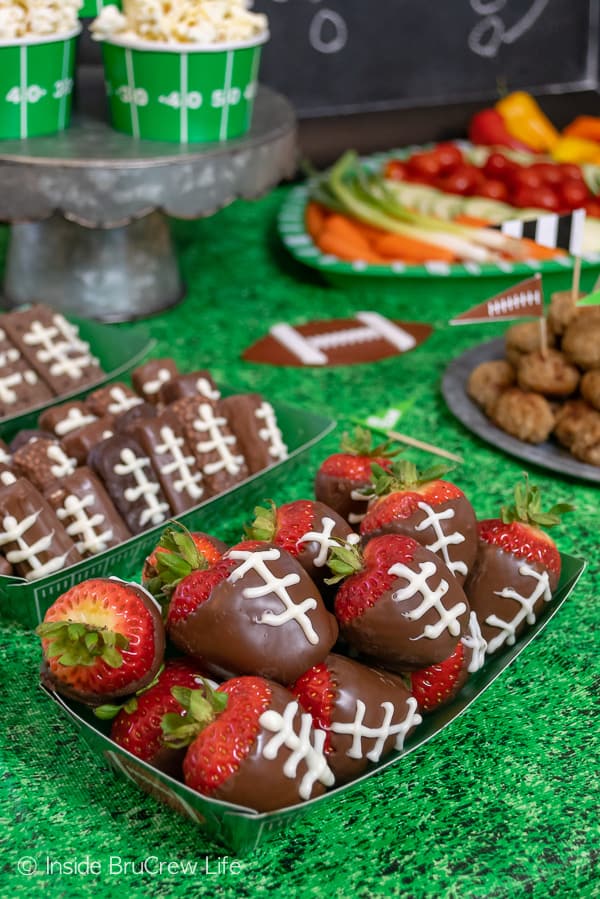 More Football Food Ideas