This Easy Pizza Soup is loaded with meat and veggies and can be on your dinner table in under 30 minutes. Great comfort food dinner for busy or cold nights.
*I am partnering with Red Gold® as a brand ambassador creating recipes using canned tomatoes. As always, all opinions are 100% my own.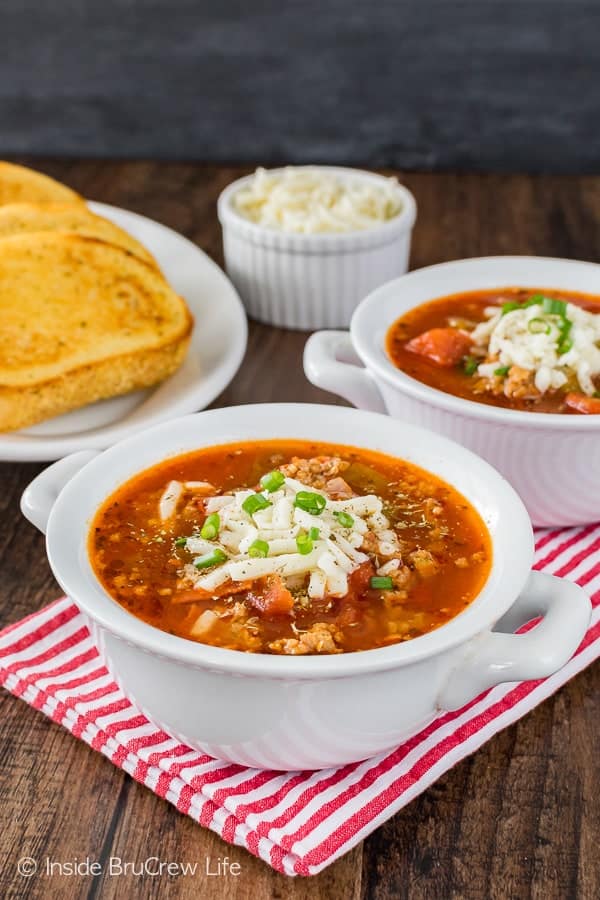 It is always so hard to get back into routine after coming home from vacation. Our family recently visited Puerto Rico over spring break, and I'm struggling to get back to work and to meal planning when I'm dreaming about being on the island.
We definitely enjoyed the warm tropical weather while we were there. The heat and humidity from the 80+ degree weather made it necessary to run the fan and small room air conditioners each night in our apartment, so we could sleep comfortably. A week later we walked out of the airport into our town and all of us were instantly cold. The thing is that it was 72 degrees that day. It is funny how quickly your body can become acclimated to warmer weather because I never thought I would say 70 degree weather was cold.
This time of year the weather at night in west Texas is all over the place. One night it may be 35 degrees, and another night it may be 62 degrees. Either way, you definitely do not need an air conditioner to stay cool while you are sleeping. I must admit I miss that balmy sticky air and the need to cool off. A part of my heart lives in palm tree paradise.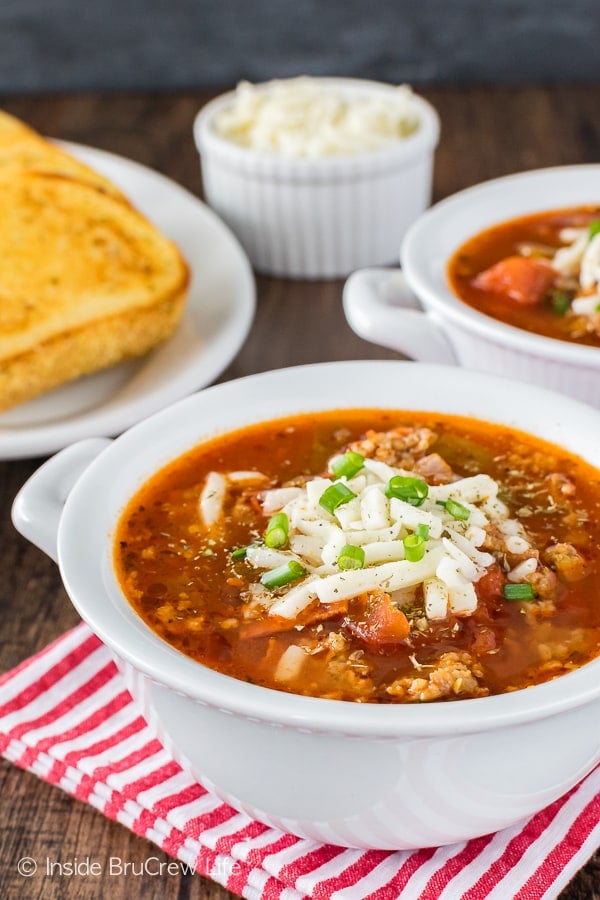 One way we like to warm up when it is cold is with a big pot of soup. Any time I can throw a bunch of ingredients into a pot and call it dinner is a good day.
Most days, I struggle with dinner. Not the eating part...I've got that one down for sure. Coming up with dinner ideas and managing my time so that food is ready at a reasonable time is my kryptonite. Although, I must say that these chicken alfredo calzones and these cheesy chicken sliders were two of my dinner creations. So, I'm doing better...some days anyway.
Usually I let my hubby come up with the food plan for the week, and I just make sure we have the ingredients in the kitchen when we need them. We work well together.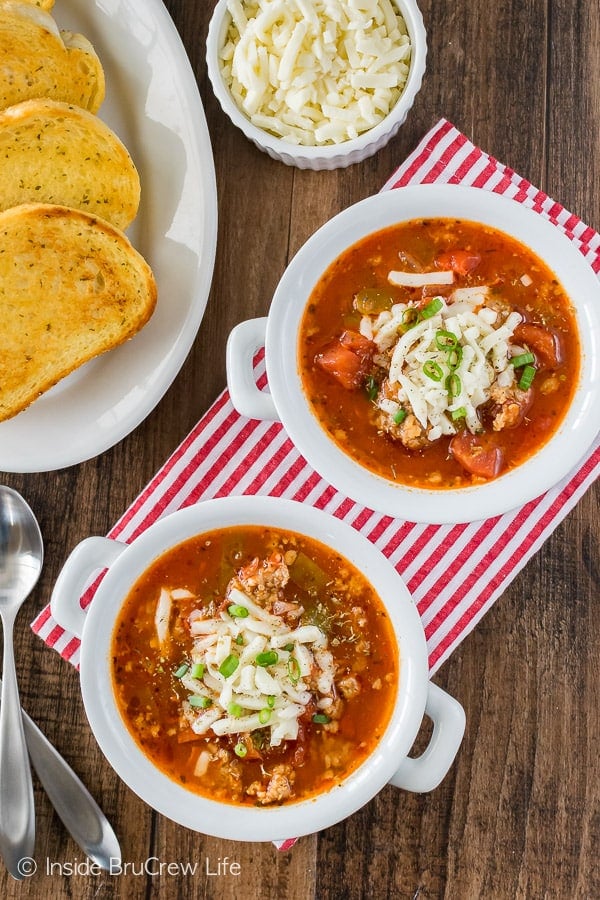 This year I am partnering with Red Gold® tomatoes to share easy dinner recipes with you using their canned tomatoes. Every time I open their cans I am impressed with the quality of tomatoes I see.
The farmers that work for Red Gold take pride in growing quality tomatoes that will be packaged for their consumers. I have compared different brands of tomatoes against Red Gold, and I am always impressed at how firm and smooth looking their whole tomatoes are right out of the can. They also taste better too.
Every tomato is packaged in a non BPA lined can because Red Gold is committed to their customer's health. It's one of the many reasons I always reach for that yellow label.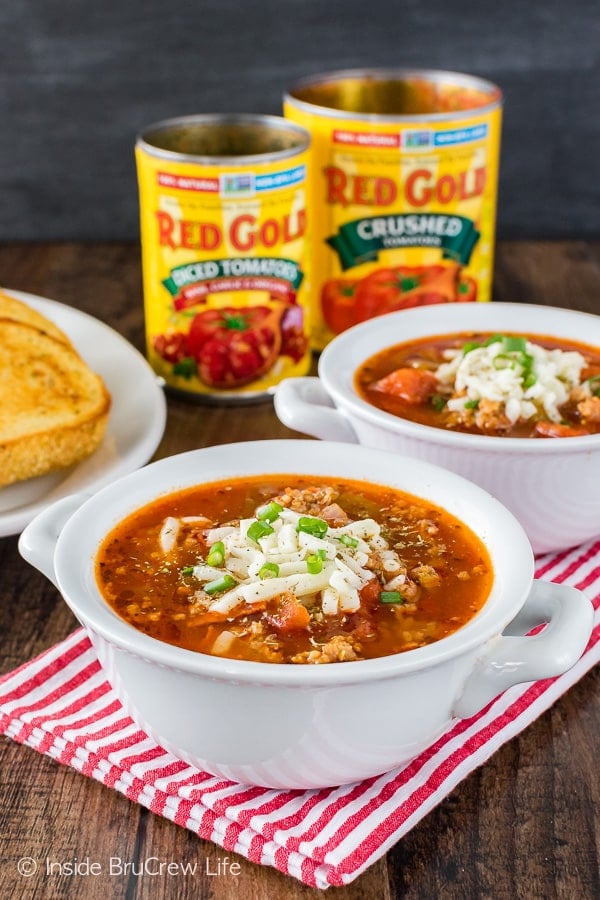 Over the years, we have made this soup countless times during the cold months. Most of the time we do not even measure the ingredients. It really is as easy as throw it all in a pot and bring it to a boil.
Recently, we made another big pot of this easy pizza soup for dinner. Usually my husband just chops and tosses things into the pot, but this time I stopped him and measured what went into the soup. He calls that "messing with his dinner mojo", but I did it anyway. You are welcome.
He says I should just tell you a little of this and a little of that. That might work for him, but I knew you would prefer the measurements. He also says no cheese on top, but we both know that anything with the word pizza in it needs cheese in it. Am I right???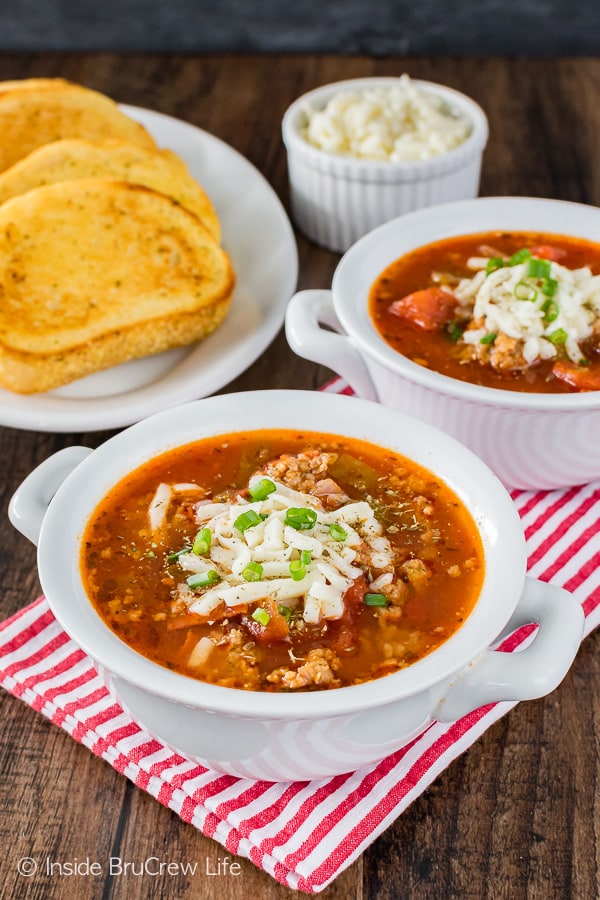 *Red Gold compensated me for my time in creating this recipe and post. All opinions expressed in this post are 100% my own. Thank you for letting me share the brands and products we use and love.