Getting your servings of dairy is a little bit easier when you eat Broccoli Cheese Soup for dinner.  Serve it with a fun bread bowl for something different at dinner.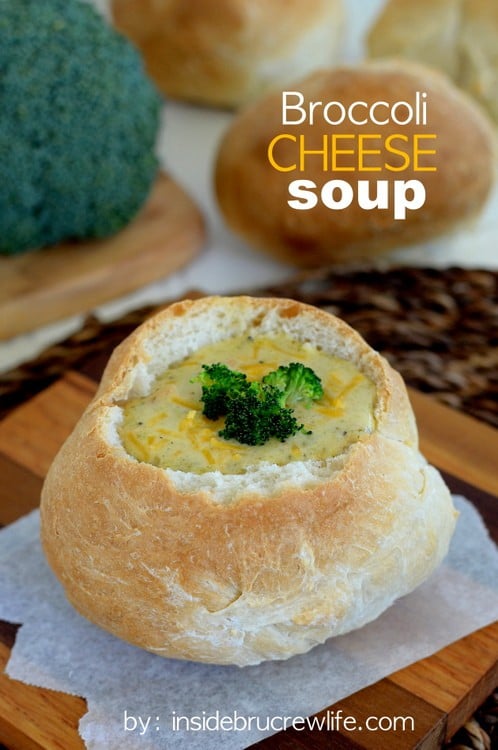 Can I just tell you that I have the coolest job ever?  It might seem a little strange to you.  I mean I do start busting out the pumpkin in early August, start on the peppermint by October, and then I'm ready for coconut in January.
Oh, and I get to go visit cow farms and see how cheese is made.  Definitely a strange job!  But I seriously love every minute of it.
A few weeks ago I joined a team from the American Dairy Association Mideast in Cleveland, Ohio for a whirlwind trip of farms, food, and fun.  The first night we had dinner at The Lakehouse Inn & Winery on Geneva-on-the-Lake where we learned how to pair the right wine with different cheeses from Marianne Frantz, the founder of American Wine School.
I hope you are ready for some pictures…you are going on the virtual tour with me now.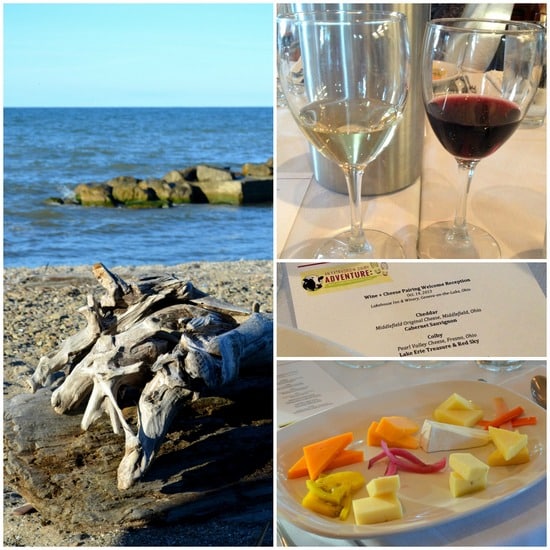 The next morning we were up bright and early with the cows.  We arrived at Richman Farms where we met the Indoe family for their morning milking routine.  They own 80 dairy cows that they milk and show regularly.   I learned that skinny, bony cows actually produce the best milk, and that a happy cow also produces better milk.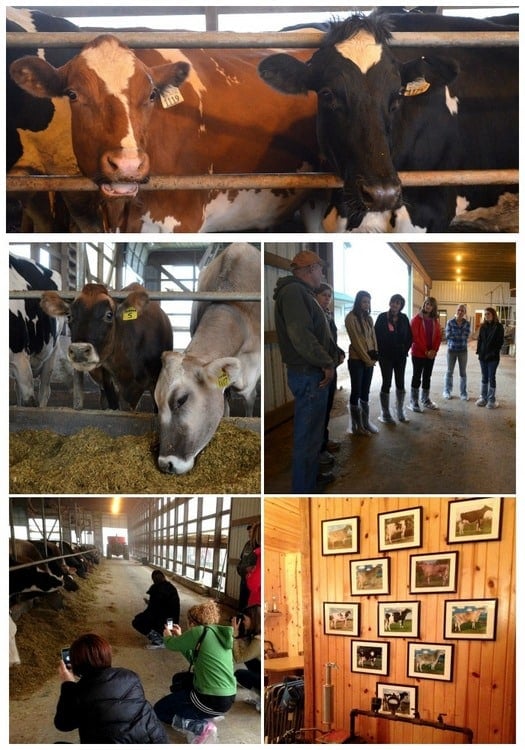 The Indoe family loves their cows, and it shows in the facility.  They have heated floors for the cows in the winter, and fans in the freestall barn for the summer.  The milking parlor was quite the experience for this city girl.  We learned to move quickly when the cows lifted their tails.
I also bravely joined the "I milked a cow club".  This was not something I ever expected to cross off my bucket list, but hey, I can now!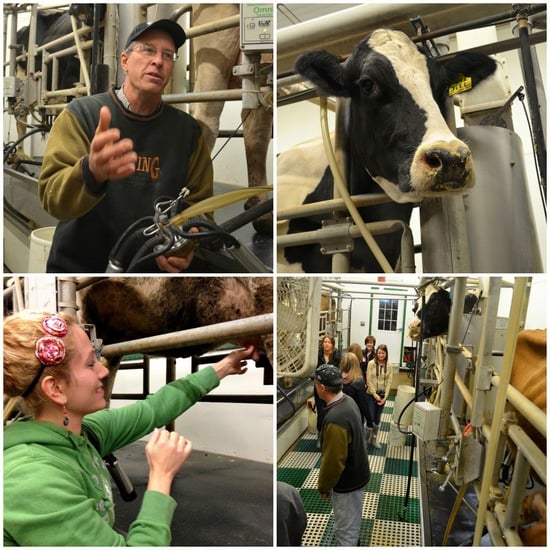 From there we headed on to Pearl Valley Cheese.  This family owned business is known for their high quality cheeses and affordable prices.  We were able to go through the factory and see the cheese making process in action.  Check out those marble cheese cubes there.  We learned that everything from the water and whey is used in their cheese making process.  Oh, and yes, hair nets are the cool new fashion statement.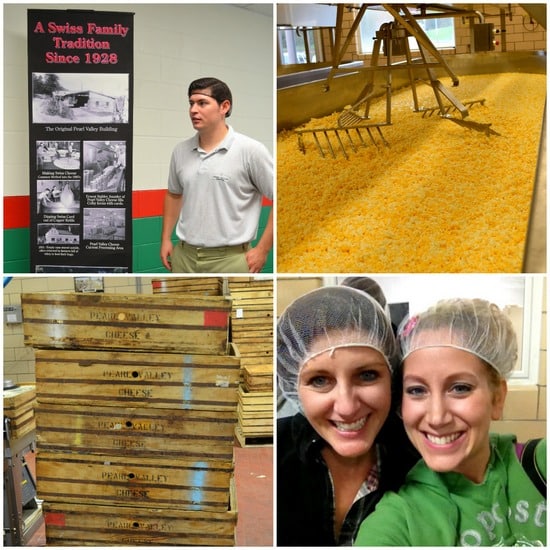 We stopped for lunch at a local amish family farm.   This was some hearty home cooking.  There was homemade bread and amish peanut butter spread, fried chicken, buttery mashed potatoes and gravy, creamed buttered corn,  noodles, and tons of pie.  The plates just kept coming, and it was absolutely amazing!  I wasn't sure I could walk after that meal, but I managed to keep up with everyone else.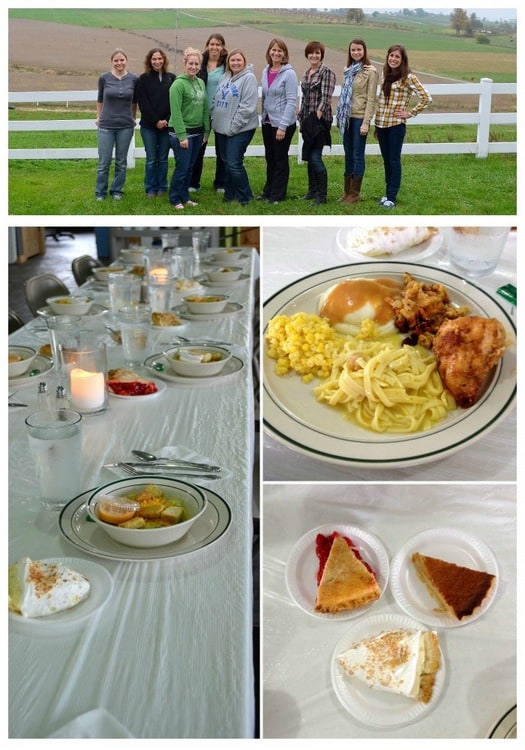 Our journey took us to the Andreas Dairy Farm next.    Here we were taken on a farm tour by Dan and Matt Andreas.  This father and son team manages 1,300 cows and 35 employees.  Again, I was impressed with the care of the facilities and how the cows are managed.  The cows comfort and health is so important to this family.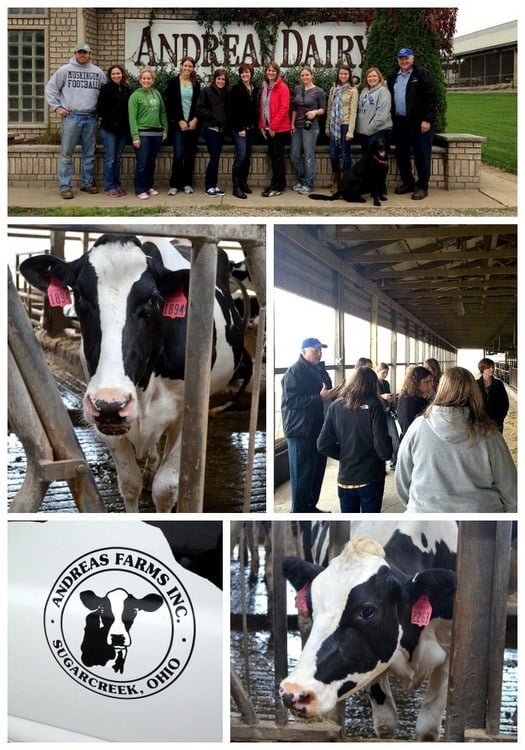 We learned that it takes 7 minutes to milk a cow, the cow barns are flushed out 3 times a day, and they welcome at least 4 little calves each day.  These little guys below are only 1 day old.  It was so fun to get the chance to feed one baby a bottle of milk.  It was definitely the biggest baby bottle I have ever held, but my little guy sucked it down in no time at all.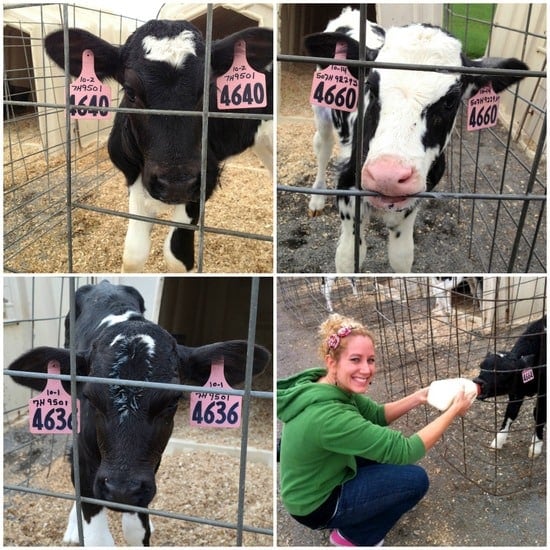 Our day wasn't over yet.  We cleaned up quickly and headed to the Cleveland Browns stadium for dinner with Joe Thomas and his wife Annie.  They were so sweet, and we had a great dinner discussing parenting tips with them at our table.    We each got our picture with Joe and a signed football.  Man!  Did I ever feel short next to him!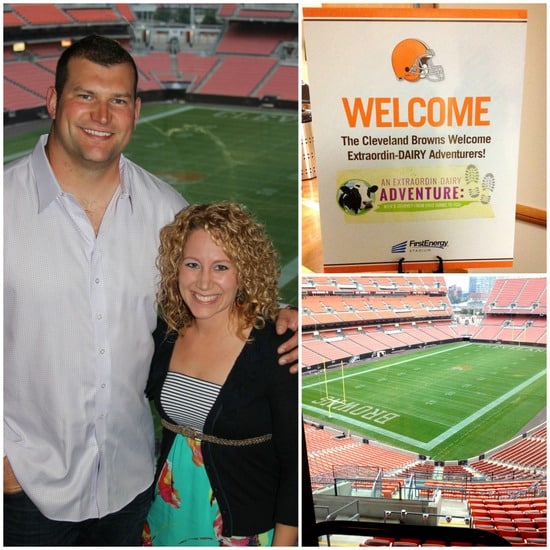 Joe Thomas is part of the Fuel Up to Play 60 program that the NFL partners with the American Dairy Association Mideast on.  This program encourages students to eat healthy and to be active for at least 60 minutes a day.  I think this is a lesson for everyone to take to heart.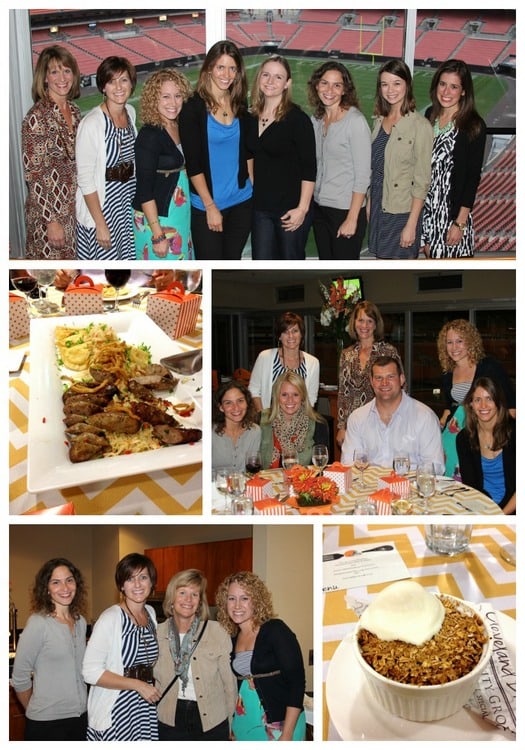 Our next morning wasn't quite so early.  We had breakfast at a local school to eat with the students and to learn about the school breakfast program.  Each morning these students receive milk and a nutritious breakfast that they are not able to have at home.  This particular school just had a makeover on their cafeteria with some help from some of the Brown's football team.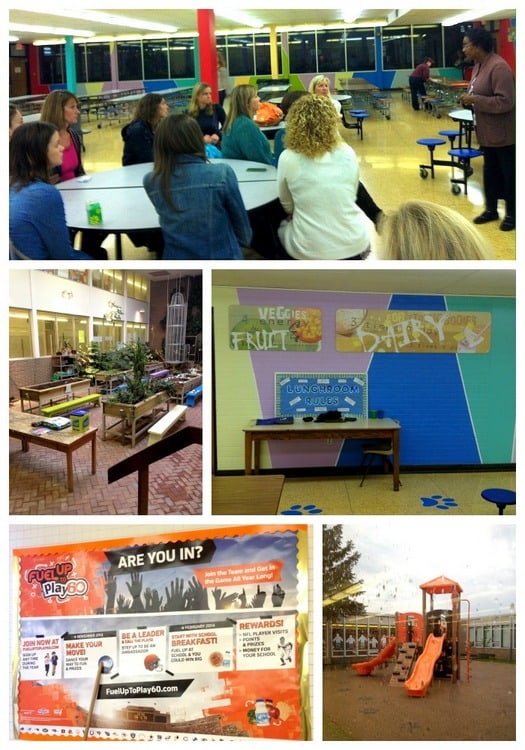 The next stop was Westside Market.  This is one of the oldest publicly owned markets in Cleveland.  It began as an open air market, but has transitioned to a building for convenience.  There over 100 vendors that sell to the many locals and tourists that visit.  We bought quite a few blocks of cheese that we took over to Crop Bar & Bistro for lunch.  This top restaurant is located in an old bank building.  We had lunch in the bottom bank vault…another first to cross off that list.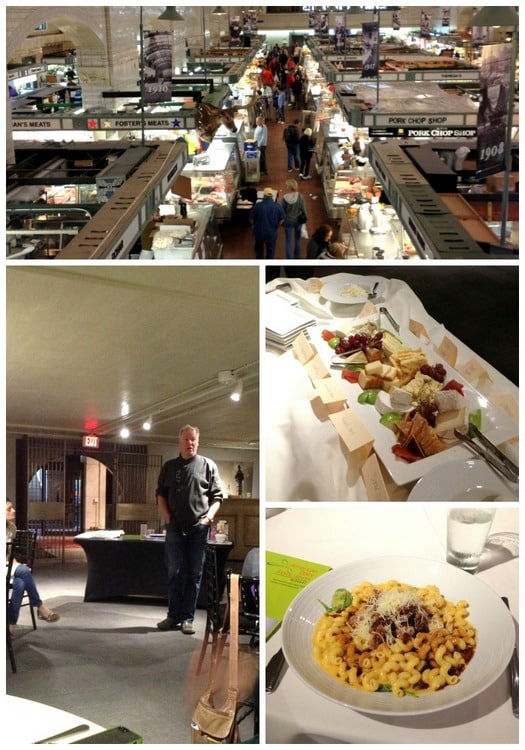 This whirlwind adventure following the path of milk from the farm to the glass was so fun and informative.  I'm not so sure that even my family gets the required servings of dairy in our diet.  Dairy is important for strong bones and teeth, healthy muscles, and strong eyesight.  Milk is one of the most vitamin rich beverages you can consume.  Time to make sure you get those 3 servings that is recommended for dairy consumption.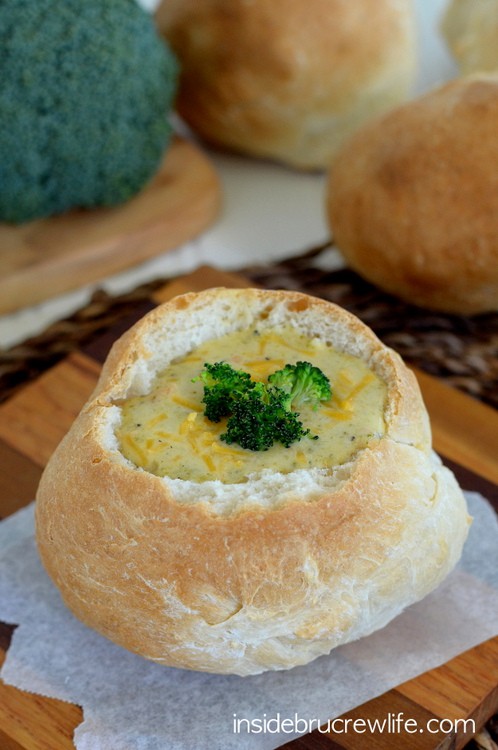 With all this information swirling through my head, I knew that I wanted to make sure my family was getting those dairy requirements.  Plus, it was cold out and hot soup is just the perfect choice for days like that.  I made up a big pot of this Broccoli Cheese Soup for my family to enjoy.  This soup reheats so well, and is great for my kids to take for school lunch.  Win, win all around!
Stay up to date on all the BruCrew baking here:
FACEBOOK | PINTEREST | GOOGLE+ | TWITTER | INSTAGRAM | BLOGLOVIN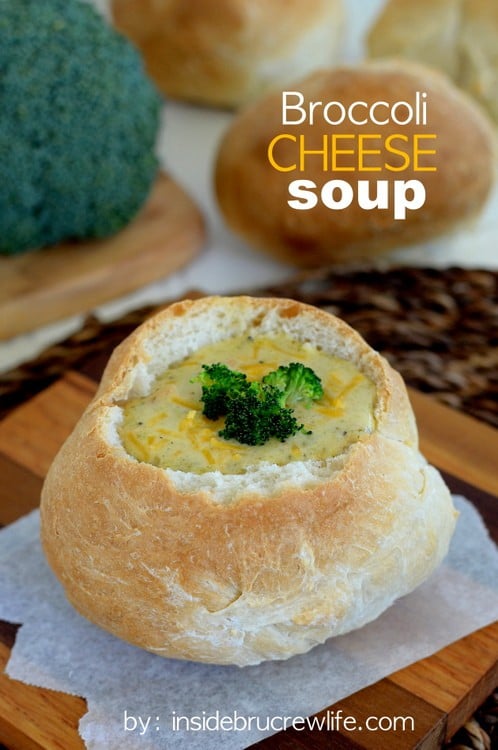 Broccoli cheese soup is a vitamin and dairy rich dinner. It is perfect for those chilly nights.
Ingredients
1 Tablespoon butter
1 teaspoon minced garlic
1/2 cup diced onion
1/4 cup flour
1/4 cup melted butter
2 cups half and half
3 cups chicken broth
4 cups finely diced broccoli
1 cup finely chopped carrot sticks
2 cups sharp cheddar cheese
salt and pepper
2 rolls Pillsbury Crusty French Loaf
Instructions
Saute the onion and garlic in the Tablespoon of butter. Set aside. Whisk the melted butter and flour over medium heat for 3-4 minutes. Slowly add the half and half while continuing to whisk. Add the broth and simmer for 20 minutes.
Stir in the broccoli, carrots, and onions. Simmer on low heat for about 20 minutes or until the vegetables are tender.
While the soup is cooking, bake the bread bowls. Remove the loaf from the packaging and cut into 3 sections. Fold and roll each section into a ball. Twist all the seams underneath the ball and place on a greased baking sheet. Bake at 350* for 25 minutes. Let cool. Use a knife to remove the top center section. Press the inside down to make room for the soup.
Add any salt and pepper that you need now to the soup. Use an immersion blender to puree the soup. Or remove half of it to a blender and pulse until creamy. Stir into the rest of the soup.
Stir in the cheese until melted. Serve warm in the bread bowls.
Notes
*I chopped my broccoli finer by using a food processor before adding it to the hot soup.
https://insidebrucrewlife.com/broccoli-cheese-soup/
Copyright Inside BruCrew Life
 *The American Dairy Association Mideast provided BruCrew Life with a trip to the farms to learn about dairy, plus cheese samples.  All opinions are 100% my own.