Enjoy a big bowl of this Easy Low Carb Keto Chili for dinner tonight. The spicy broth and veggies will give you tons of flavor and will keep your health goals on track.
*I am partnering with Red Gold® as a brand ambassador this year creating recipes using canned tomatoes. As always, all opinions are 100% my own.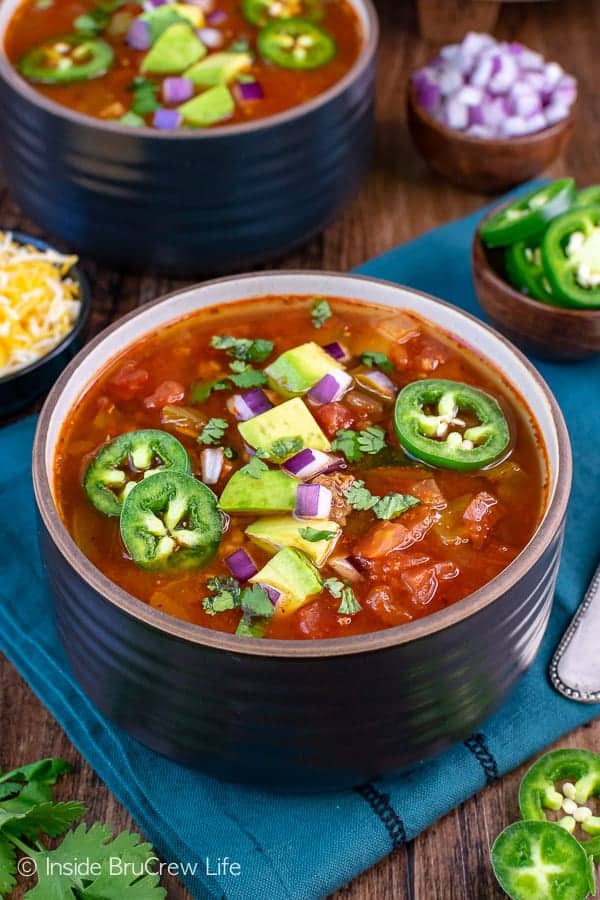 CLICK HERE TO PIN THIS RECIPE FOR LATER!
We are officially in soup season now. Well, most of the country is anyway.
Here in Florida, soup probably isn't the meal of choice for most people. But hey, if you keep your air conditioner running, it's almost like fall weather. Indoors, anyway!
Now that fall sports have started, we are looking for easy dinners that we can have on the table in a short amount of time after picking up kids from practices and games. We also want those meals to be comforting, yet healthy and nutritious.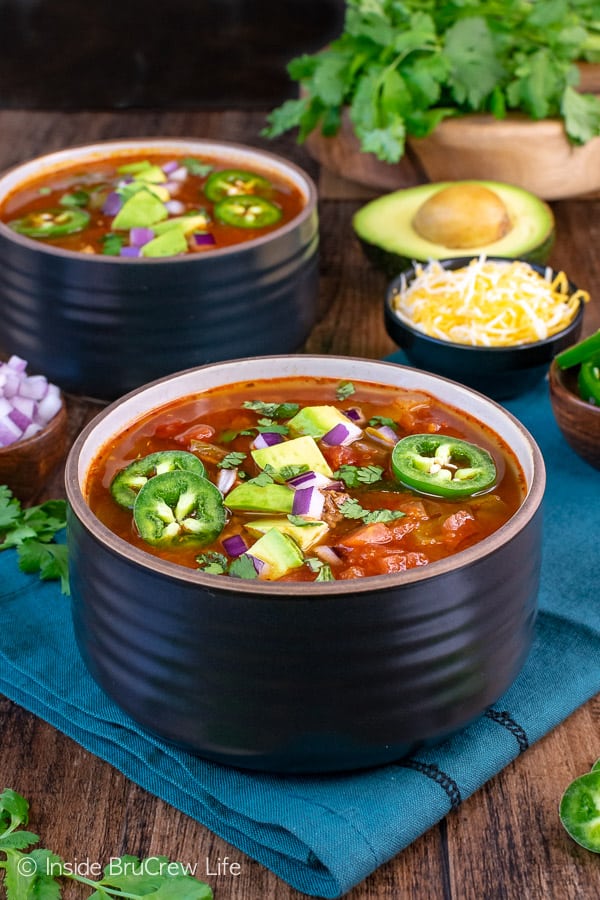 Most days we eat mostly low carb or keto-friendly. That means that most comfort food dinners like pasta and rice are limited to every once in a while.
We usually keep big containers of dark leafy greens and containers of chopped veggies on hand for easy dinner salads.
Then we grill chicken and burgers at the beginning of the week and keep those in the fridge for easy to grab proteins.
After a while though, salad gets old. So, this fall I have been trying to come up with some different warm and delicious soup and chili recipes that still follow our lean and green eating habits, while giving me that comfort food fix.
There is something so comforting about a steamy bowl of chili when you are cold. Even if it's cold from your air conditioner...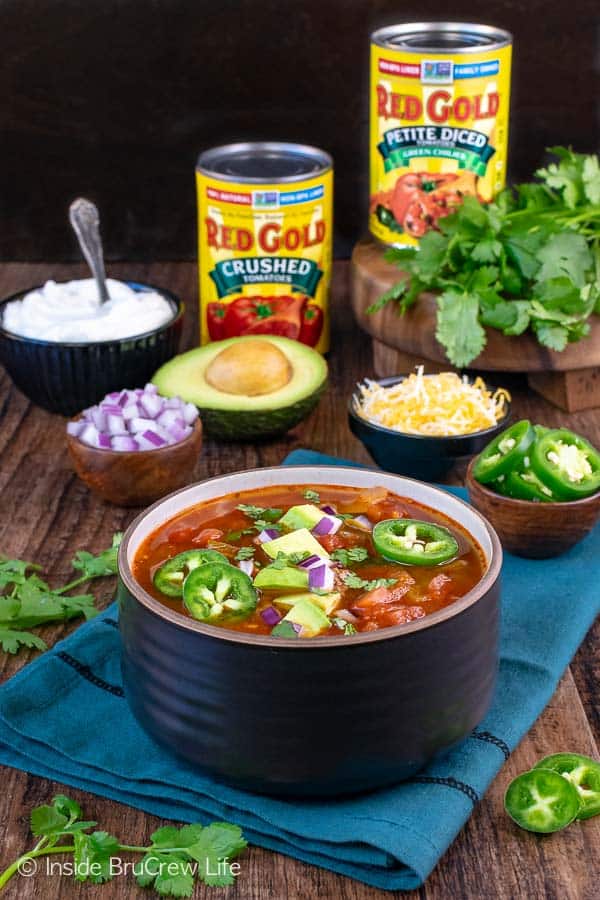 One of my favorite brands to work with is Red Gold Tomatoes. I love that these family grown tomatoes are high-quality, always fresh, and taste delicious.
Red Gold farmers and their families are passionate about providing quality tomatoes that you can use in easy every day meals. I'm also passionate about feeding my family fresh ingredients, so I always reach for the yellow label first.
A few weeks ago, we had a few days that were cooler than normal, so I set out to make a quick keto chili that the entire family would love.
One of my requirements was that this homemade meal could be prepped and cooked in under 30 minutes. Because after running kids around, the last thing I want to do is stand in the kitchen for hours making dinner.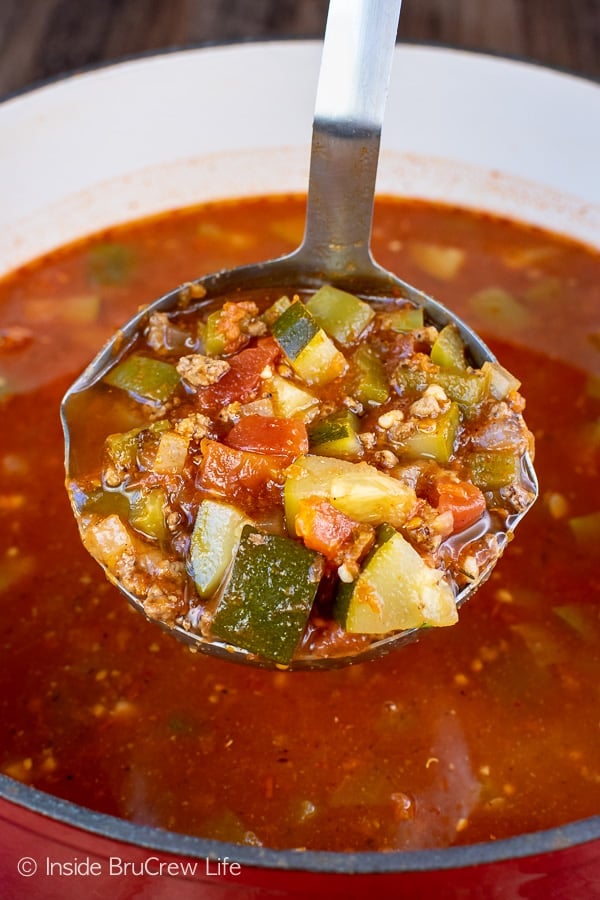 What is a Keto Diet?
The ketogenic diet is a low carb, high fat diet that offers many health benefits.
It involves drastically reducing your carb intake and replacing it with more healthy fats.
As your body goes into ketosis or fat burn, your body becomes quite efficient at burning excess fat for fuel.
There are certain foods that you should avoid while on a keto diet. Pasta, rice, beans, starchy root vegetables, most fruits, sugars, and alcohol are a few of the major ones.
Basically, stick to proteins, veggies, cheese, and healthy fats and you will be fine.
Keto Chili without Beans (No Bean Chili)
Since beans are not on our approved meal list right now, I had to come up with a way to make a pot of chili that was still comforting, delicious, and full of flavor.
Instead of using beans, I added green bell peppers and zucchinis to the tomato-based broth along with some diced tomatoes and spices.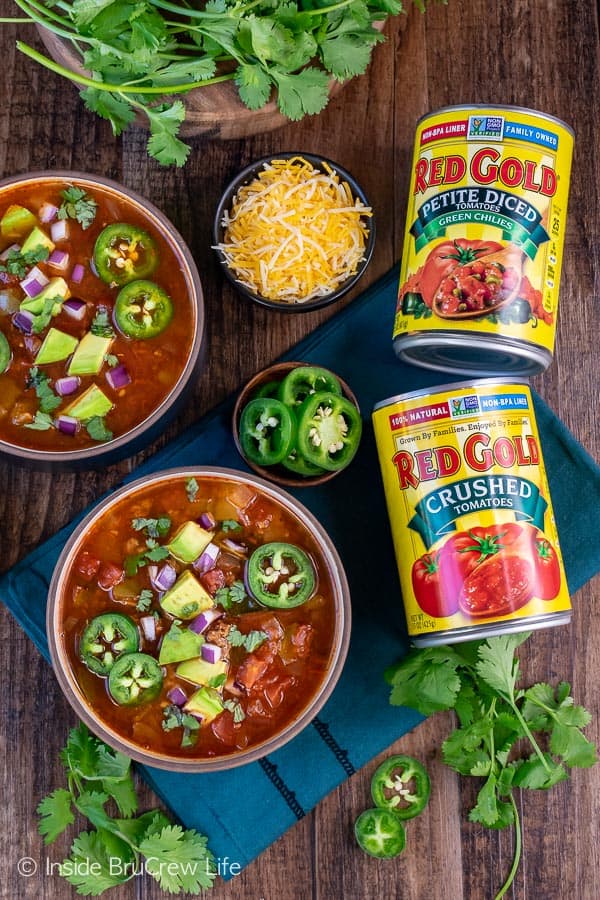 How to make an Easy Low Carb Keto Chili:
Cook your hamburger and onions in a large pot. Once it is cooked most of the way, stir in some garlic. I like to cook a five-pound log of hamburger like this and then freeze it in one-pound bags for faster meal prep on really busy nights.
While the meat is cooking, dice your peppers and zucchinis.
Add two cans of Red Gold crushed tomatoes, one can of Red Gold petite diced tomatoes with green chilis, the diced veggies, spices, and broth. Feel free to use chicken, veggie, beef, or bone broth for this homemade chili. You can also reduce the amount of broth, if you like your chili less brothy.
Bring the chili to a boil, then reduce the heat and simmer it for 10 minutes. Just long enough to heat everything up and soften the vegetables.
Serve the hot chili with a variety of healthy toppings.
What toppings are good on Keto Chili:
Diced onions
Jalapeño slices
Cheese
Cilantro
Avocado chunks
Greek yogurt
All the above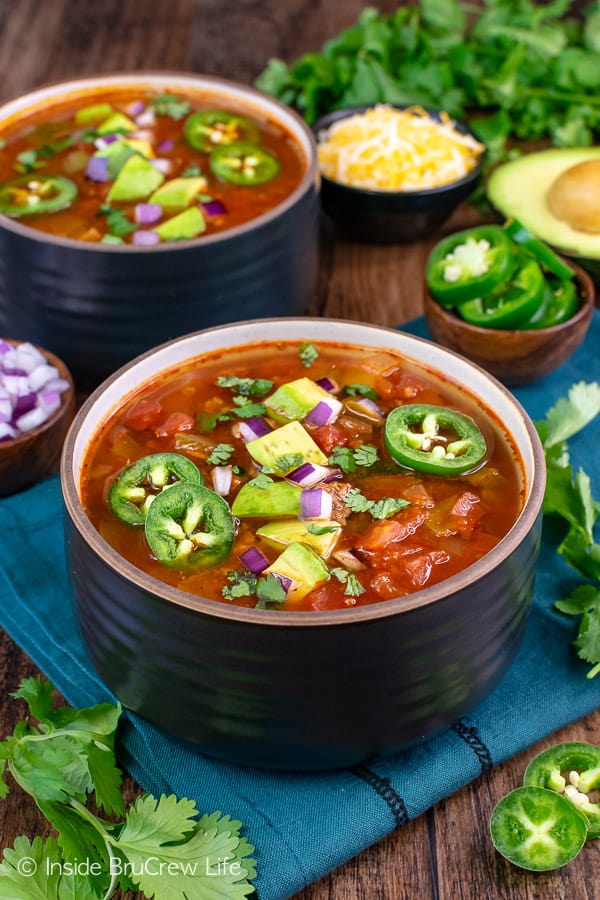 Other healthy recipes made with tomatoes that you may like:
Connect more with Red Gold Tomatoes®:
Facebook | Twitter | Pinterest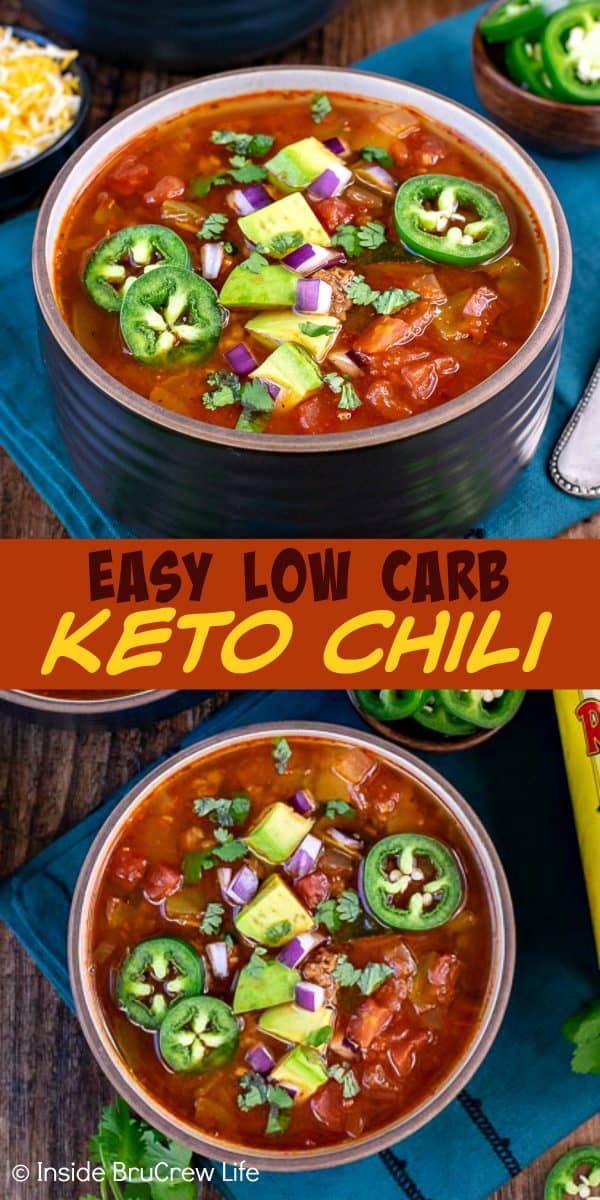 *Red Gold compensated me for my time in creating this recipe and post. All opinions expressed in this post are 100% my own. Thank you for letting me share the brands and products we use and love.