These easy Chicken Alfredo Calzones are loaded with meat, vegetables, and cheese.  Little hand-held biscuits are perfect for game day or at dinner time with kids.
*I am partnering with Red Gold® as a brand ambassador this spring creating recipes using tomatoes.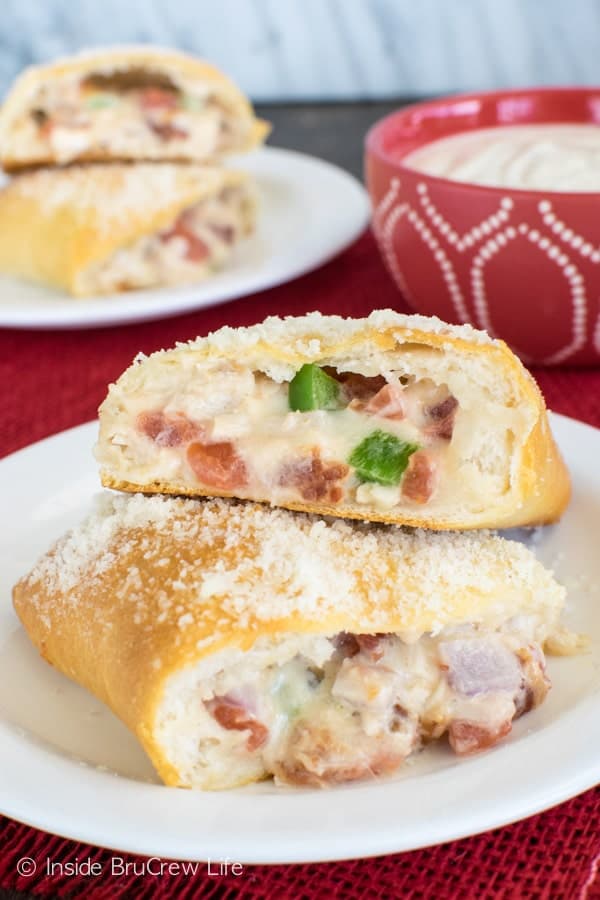 I hear there is this big game coming up soon.  Something to do with guys in tight pants running around after a little brown ball and hitting each other as hard as they can.  I don't know much about it…I just show up for the food.
Just point me toward the tables loaded down with appetizers, sweet and spicy Dr. Pepper chili, and sweet treats.  As long as my plate stays full of good food, I can sit and watch as much football as anyone else. Ok, fine…I'm probably sitting there scrolling through Pinterest or Facebook part of the time.
My family loves pizza night.  We usually have some sort of pizza every Friday night.  There are a few Fridays that we change it up some, but for the most part we do the 'za.  Since pizza is always a winner, I knew my kiddos and hubby would love these little hand-held Chicken Alfredo Calzones in the middle of the week.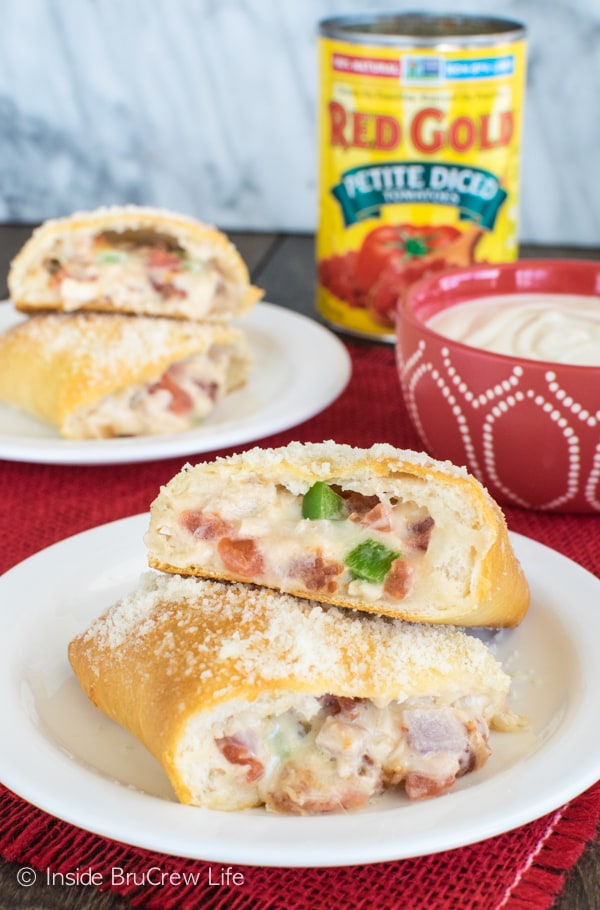 Last fall I had the awesome opportunity to visit the Red Gold® headquarters in Indiana. Since we use Red Gold tomatoes quite often in our cooking, I was really excited to learn more about the company. Seeing how the tomatoes went from the farm to the can was really fun to watch. I also learned that they are now non-GMO verified, and their cans have non-BPA/BPS liners.
While we were there, they showed up how Red Gold compared to other leading tomato brands.  This month Red Gold sent me a package of tomatoes to compare in my own home.
The first thing I noticed when I poured both varieties into the dishes, was that Red Gold tomatoes are smooth and firm looking.  Can you see the differences in the tomatoes too?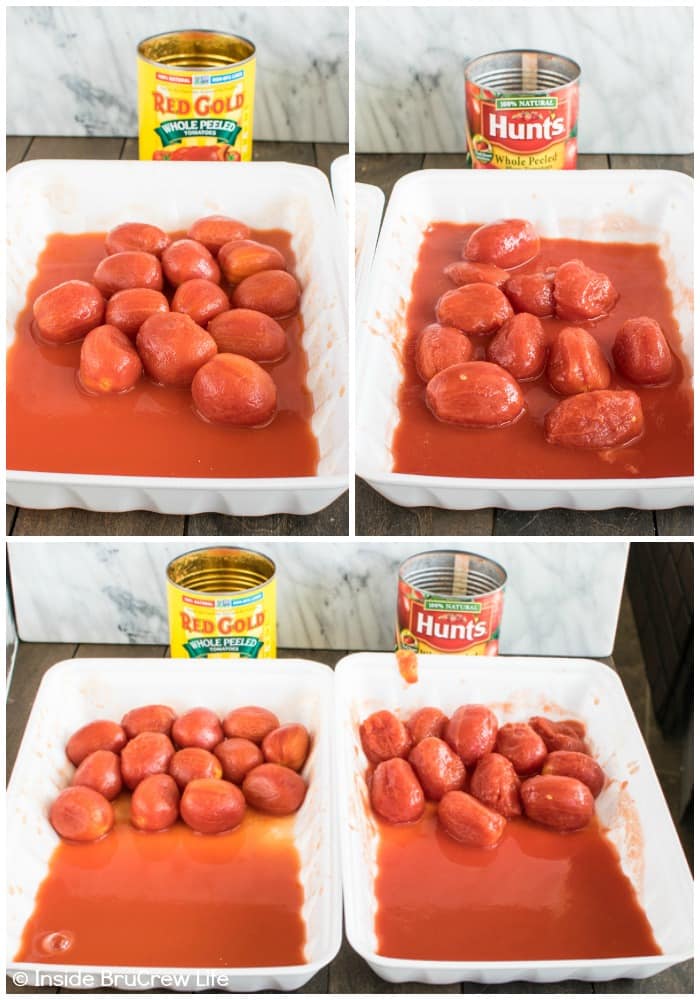 My next step was to cut them in half and do a taste test.  Again, Red Gold held up better to being cut with a plastic knife.
I enjoyed the texture of the Red Gold tomatoes much better.  It had a very good tomato flavor, without being too mushy.  The other brand was a little too mushy and had a slightly strange flavor to me.
Then I gently strained and washed the tomatoes to see how they would hold up. As you can see the Red Gold tomatoes kept their uniform shape, even when poured and strained with water.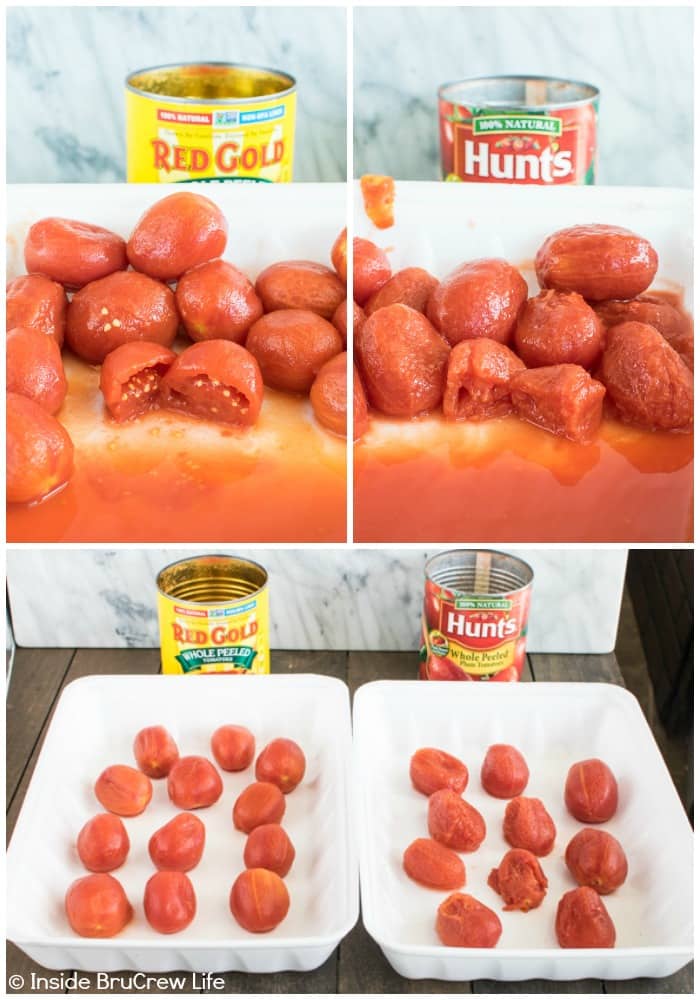 I knew I loved using these tomatoes for a reason in my kitchen.  It was fun to compare them to another brand and understand a little better why I always reach for the Red Gold label first.
One thing that I have been really doing a much better job at this year is having dinner on the table at 5:30.  My husband changed jobs this year.  Now he gets home a little later, so I had to step up my dinner game.  Not to brag on myself, but most nights I have had dinner ready to go when he walks through the door.  Boom!
This week I had some leftover chicken that needed to be used up, so I mixed up some vegetables, sauce, and cheese and folded it into biscuits.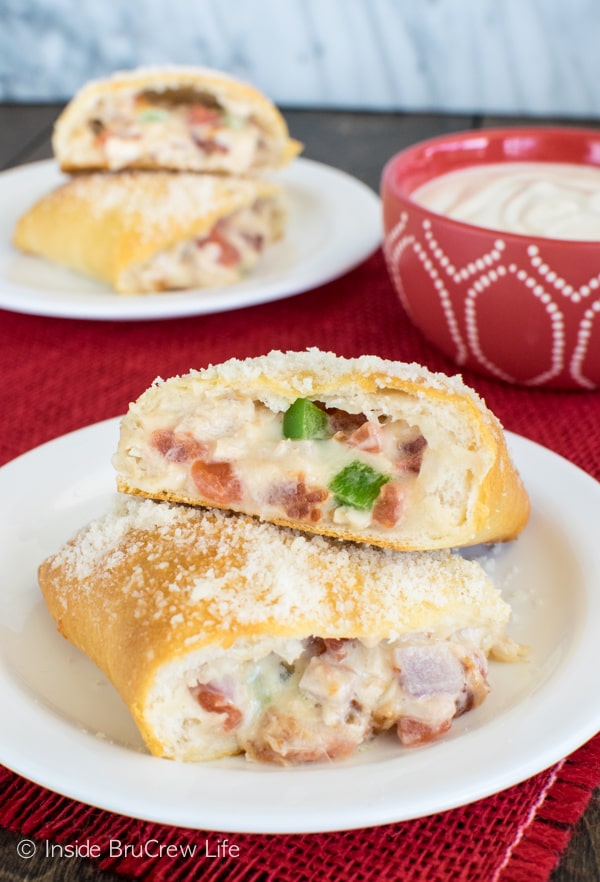 Refrigerated biscuits are a life saver sometimes.  I usually have a few different ones floating around in the fridge for quick and easy meals.
Flatten each biscuit out to 5 inches.
Put 1/2 cup of the chicken and tomato mixture on one half of the dough.
Stretch the dough over the chicken and use a fork to press the dough together.
Pop them in the oven for about 14 minutes. To finish them off, brush them with a light coat of melted butter and sprinkle on some grated parmesan cheese.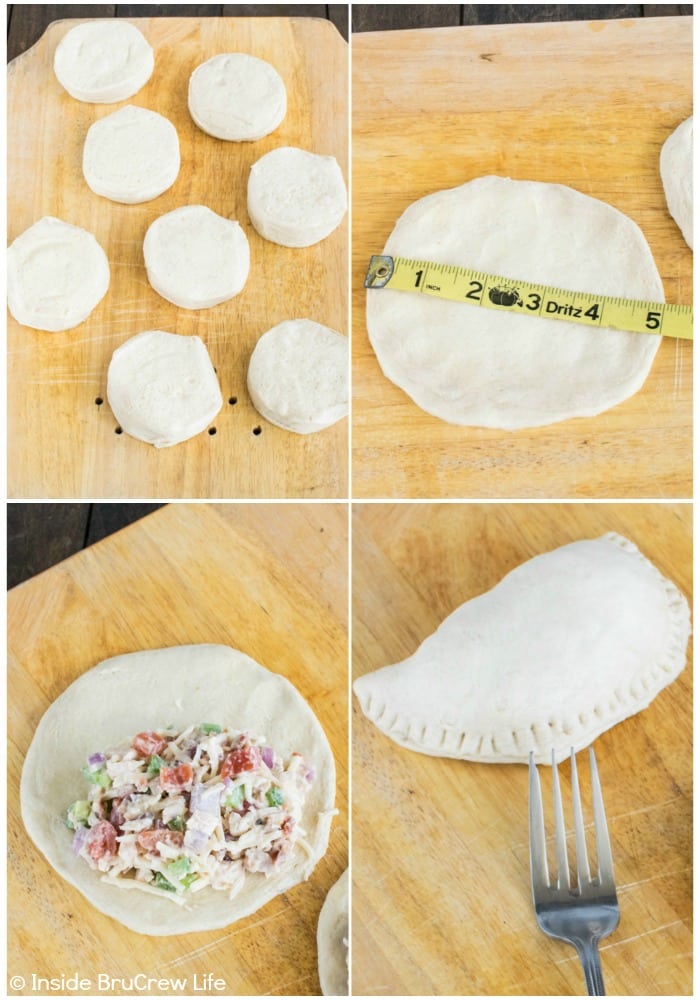 If you are serving these as your main meal or as game day snacks, you might want to double the recipe. 8 biscuits don't go very far when hungry hoards attack them.
We enjoyed these chicken alfredo calzones with a pan of this pizza minestrone soup.  This time I left out the pasta and used chicken instead of sausage.  Your family will gobble this fun dinner down in no time!  Mine sure did!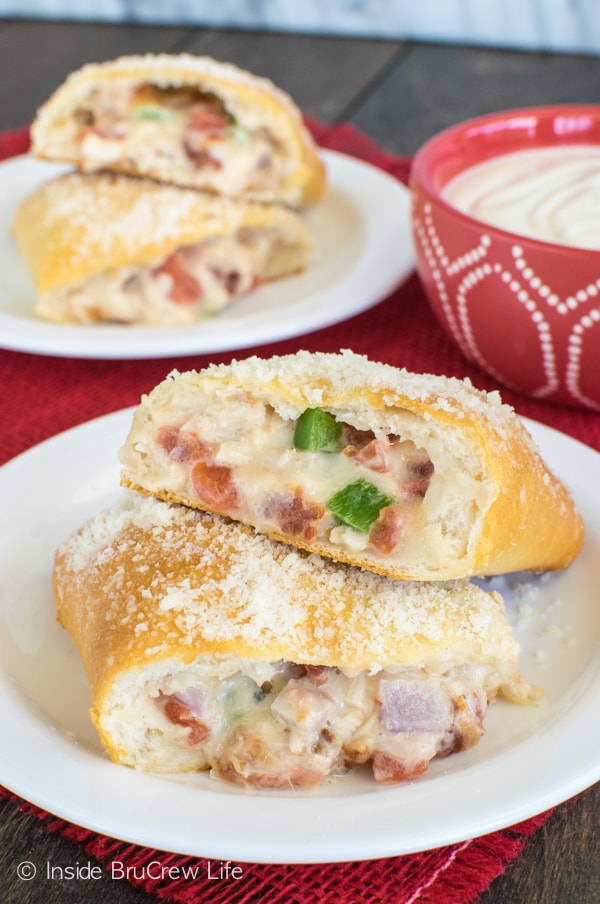 Stay up to date on all the BruCrew baking here:
FACEBOOK | PINTEREST | GOOGLE+ | TWITTER | INSTAGRAM | BLOGLOVIN
 Sign up to receive an email in your inbox for each new recipe:
EMAIL SUBSCRIPTION
These easy Chicken Alfredo Calzones are great for dinner time with soup or for snacking on during the big game.
Ingredients
1 cup shredded cooked chicken
1/2 cup crumbled cooked bacon
1/2 cup petite diced Red Gold tomatoes, drained well
1/2 cup diced green pepper
1/4 cup diced red onion
1 teaspoon minced garlic
1 cup mozzarella cheese
1/2 cup jarred Alfredo sauce
1 package refrigerated Grands biscuits (8 count)
2 Tablespoons melted butter
grated Parmesan cheese
Instructions
Mix together the chicken, bacon, tomatoes, green pepper, onion, garlic, cheese, and Alfredo sauce.
Open the biscuits and flatten each one to 5 inches. Place about 1/2 cup of the chicken mixture on half of each biscuit.
Fold the dough over the top and use a fork to firmly press the edges of the dough together.
Bake at 375 degrees for 12-14 minutes. Remove and brush with melted butter. Sprinkle with grated Parmesan cheese and serve immediately. Makes 8 calzones.
https://insidebrucrewlife.com/chicken-alfredo-calzones/
Copyright Inside BruCrew Life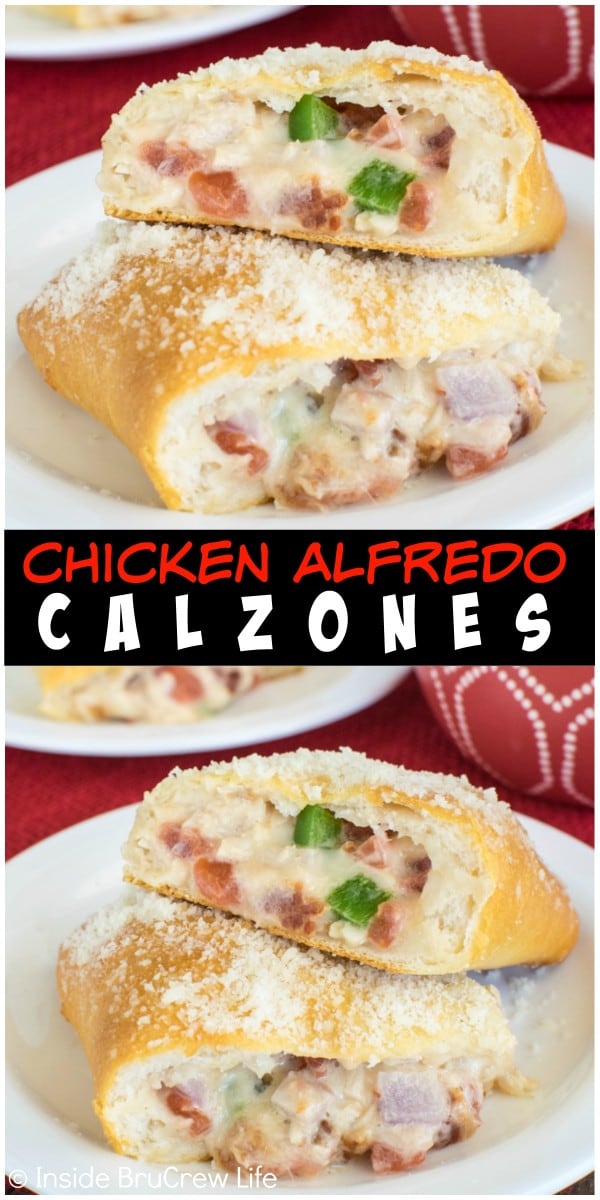 *I was compensated for my time reviewing Red Gold Tomatoes and creating this recipe as a brand ambassador. All opinions expressed in this post are 100% my own.  Thank you for letting me share the brands and products we use and love.