Two times the eggnog makes these Eggnog Bars the perfect sweet treat for the eggnog lover in your life. Plus, sugar cookie bars are so much easier to make than regular sugar cookies making them perfect for these next few busy weeks.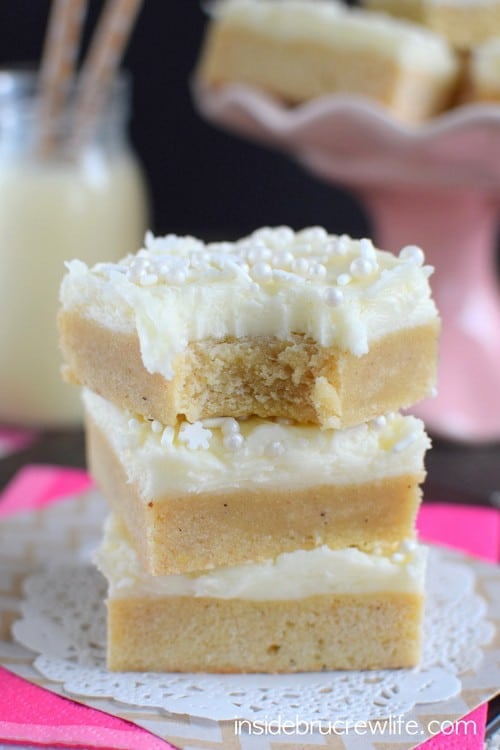 Eggnog is one thing that you either love or hate.
I am definitely team love for eggnog. Each winter I look forward to having a glass of the good stuff. Up until this year, it was just my oldest and I who loved eggnog. I would buy it and bake a few things, and he would finish off the rest. Well, except for the times I beat him to the left overs. It always became a race to see who would get it first.
Then just last week the other two munchkins decided to try it again...and they decided that they have been missing out on some eggnog goodness because now they love it too.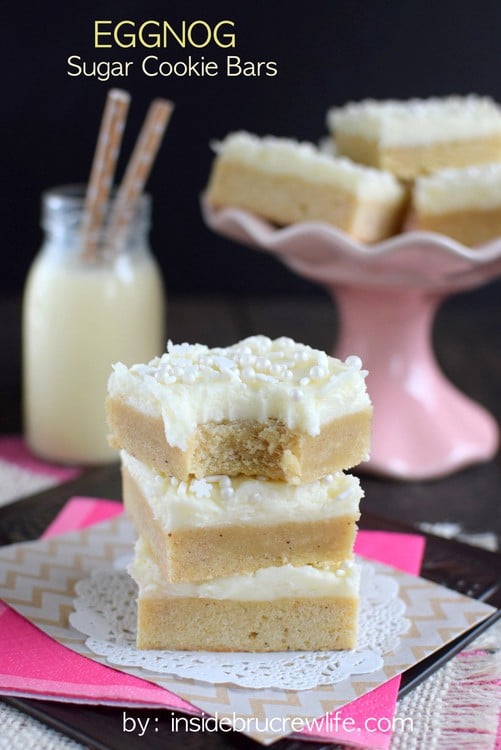 Of course now with 3 kids who want to drink all the eggnog, I have to be smart and buy 2 half gallons. One for baking, one for drinking! And with three of them guzzling the sweet stuff, that half gallon does not last long at all. I have to make sure the second one is hidden in the back of the fridge, or that would probably disappear too!
As much I love eggnog, I can only drink a small glass of it at a time. The boys on the other hand would drink a large glassful if I let them. You should have seen the cup that our youngest was trying to drink before bed time last night. We had to go over some eggnog drinking rules right away. I know it's good, but chugging that much would give anyone a stomach ache.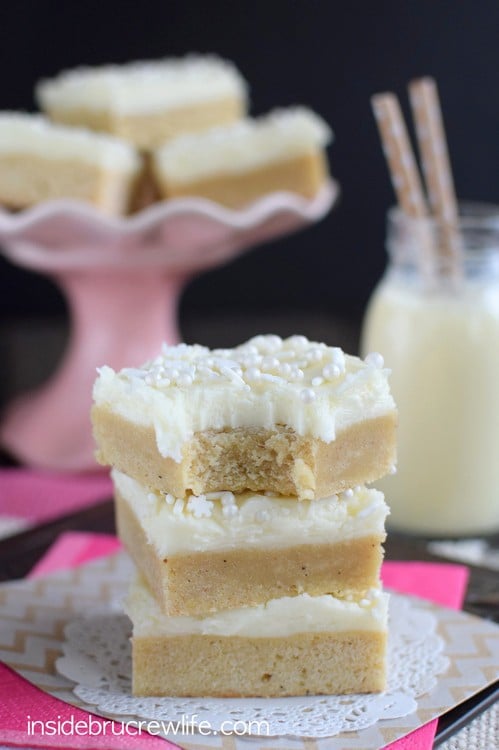 Ok, I am going to go ahead and say this is my favorite holiday dessert! Yes, I know it is early to be claiming favorites already. And yes, I do realize that I say that about just about everything I make. What can I say? I am biased about my baking!
But seriously, these Eggnog Sugar Cookie Bar have jumped into the number one spot...for now that is. Who knows what I'll think next week. But for now these are the favorite dessert of the 2014 holiday season!
We make sugar cookies every year, but after a while rolling and cutting the dough becomes old. Not to mention all the frosting that has to happen. I don't know why it has taken me this long to make sugar cookies into bars. But I don't think I ever want to go back to rolled cookies. Seriously! Making them in a pan was the easiest thing ever!
And with twice the eggnog in these cookies, the flavor was totally spot on. I got so many compliments on these delicious bars. Even my hubby was impressed with them. I've told you this before...if he says it's good, it is big stuff. Although he did say the sprinkles on top were unnecessary! What? Sprinkles are always a good thing!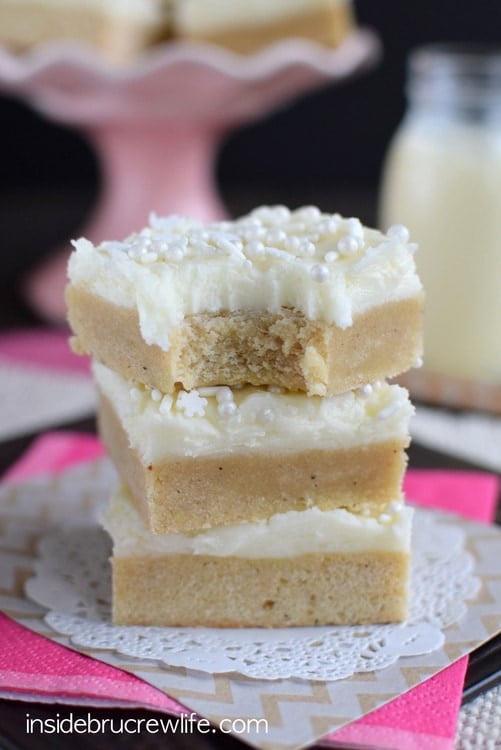 More Ways to Use Eggnog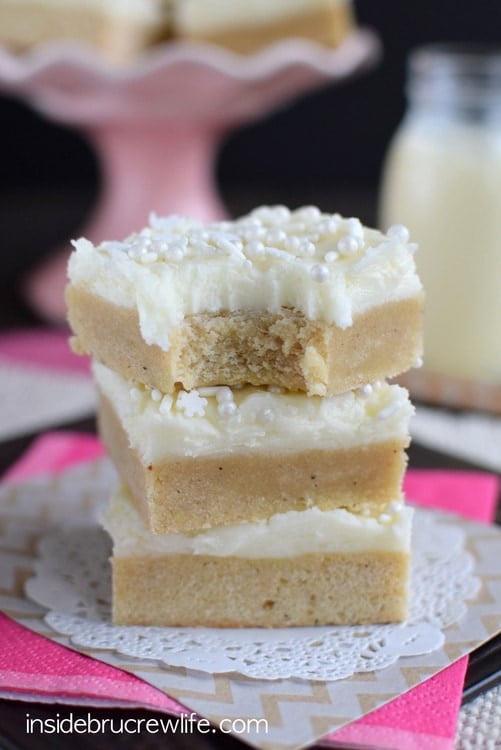 Eggnog Cookie Bars Recipe
Eggnog Sugar Cookie Bars: two times the eggnog makes these an awesome holiday treat for the eggnog lover in your life. Sugar cookie bars are so much easier to make than rolling out individual cookies.
Ingredients
For the Cookie Bars
½ cup unsalted butter, softened
½ cup packed brown sugar
½ cup granulated sugar
1 large egg
¼ cup eggnog
1 teaspoon rum extract
3 cups all purpose flour
1 teaspoon baking powder
½ teaspoon table salt
½ teaspoon nutmeg
For the Eggnog Frosting
½ cup unsalted butter, softened
½ teaspoon rum extract
¼ cup eggnog
¼ teaspoon table salt
3 ½ cups powdered sugar
sprinkles
Instructions
Preheat oven to 375 degrees. Spray a 9x13 pan with nonstick baking spray.
Beat the butter and sugars until creamy. Add the egg, eggnog, and rum extract and beat again.
Stir together the flour, baking powder, salt, and nutmeg. Slowly add it to the butter mixture until everything is mixed in.
Press it into prepared pan. Bake 15 minutes. Do not over bake. Let cool.
Beat the butter until creamy. Add the rum extract, eggnog, and salt and beat again.
Slowly add the powdered sugar until everything is creamy. Spread over the cooled bars. Top with sprinkles.
Nutrition Information:
Yield:

24
Serving Size:

1
Amount Per Serving:
Calories:

227
Total Fat:

8g
Saturated Fat:

5g
Trans Fat:

0g
Unsaturated Fat:

3g
Cholesterol:

31mg
Sodium:

95mg
Carbohydrates:

36g
Fiber:

0g
Sugar:

24g
Protein:

2g
Nutrition facts are an estimate and are not guaranteed to be accurate. If you need special diet advice, please see a registered dietician.