This Eggnog Bundt Cake is for the extreme eggnog lover in your life. Eggnog in the cake and in the glaze makes it one cake you will remember.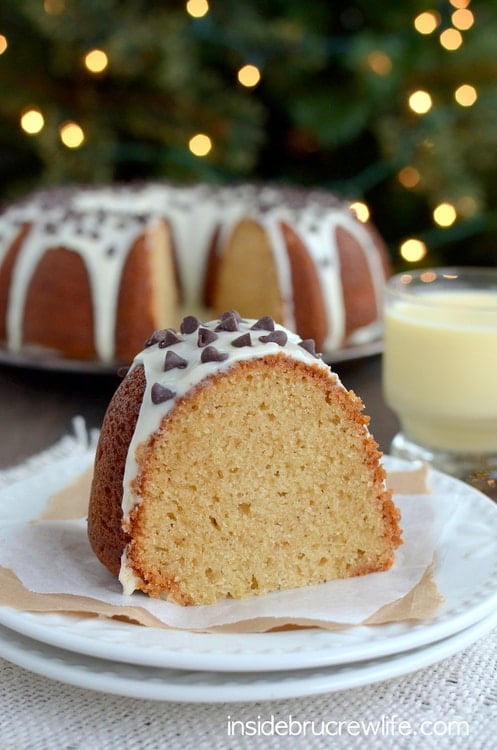 Clearly all the veggies I have been eating lately has affected my brain. I can't stop thinking about desserts. I usually have a running list of desserts that I want to make, create, blog, EAT!!!
And these past few weeks have been no exception. My husband and I decided to do a 24 day challenge from the gym that he has been going to.
I think eating veggies makes me want sugar even more than usual.
24 days of eating healthy and cleansing. Sounds like a definite challenge for this dessert baking girl. I have to admit that I did not make it 100% without some sort of sweets, but I did completely change the way I eat now.
And I have completely changed how I work out too. The gym that my husband goes to is all free weights…that was a big change from the easy treadmill routine my cupcake butt was used too.
It has been challenging lifting, but I am seeing great results, and I am excited to keep going. No pain, no gain right?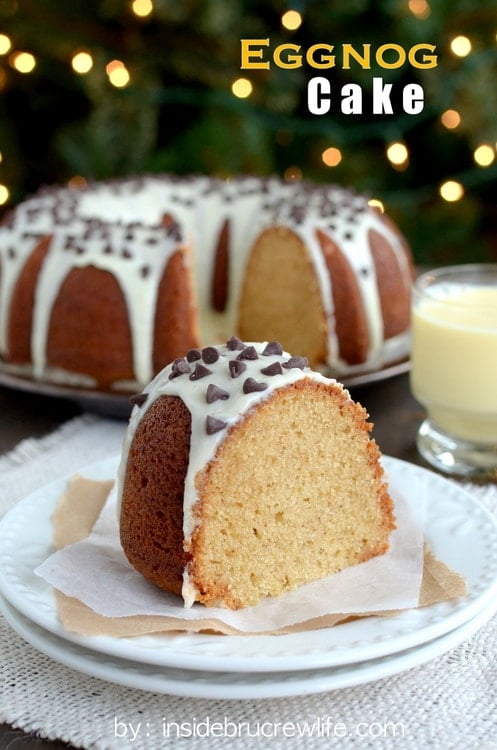 But even all that healthy food and working out just can't stop the baker in me.
Can I just tell you how hard it is to bake amazing looking treats and not be able to devour them? I had to rely on my taste testers for full feedback on the ones I only tasted one bite from.
My oldest son and I are the only eggnog drinkers in our house. He gets so excited when he sees a jug of the creamy goodness in our refrigerator…until he realized that mom has a baking plan for that eggnog.
But he also knows that he will get to finish off any of the leftovers when I am finished.
This Eggnog Bundt Cake tasted just like a glass of eggnog. It should since it has eggnog in the batter AND in the glaze!!
My son had a big piece and then washed it down with a glass of Christmas in a glass as he calls it. He would be so happy if eggnog was available year round. He gave this cake a big thumbs up!
I'm thinking I should make another one of these cakes today to celebrate making it through 24 days of almost no sweets.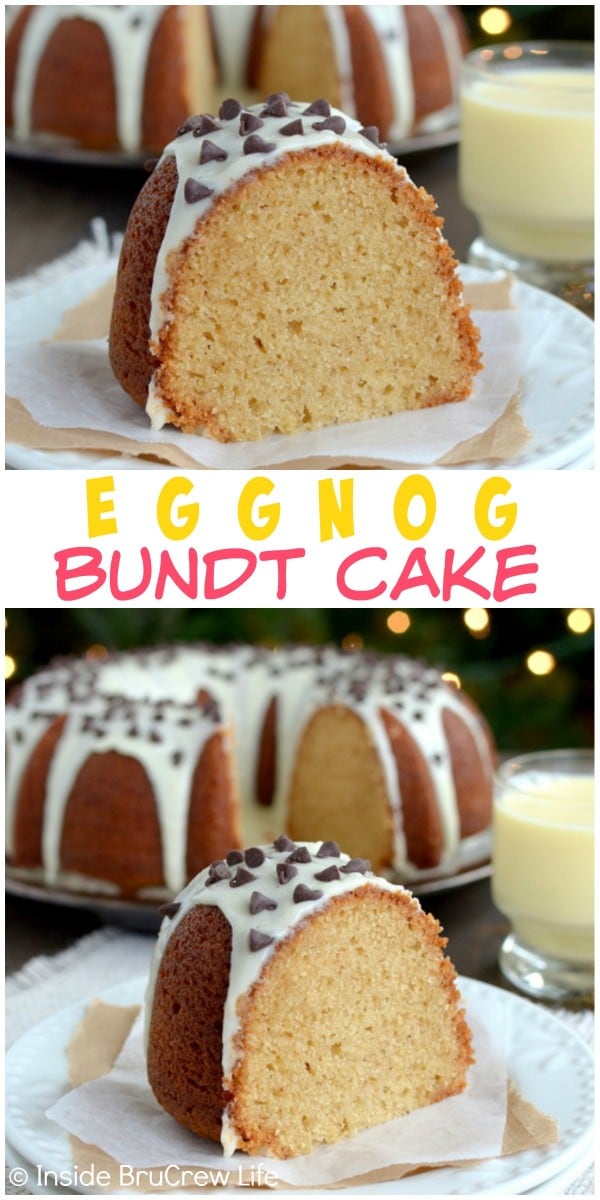 Stay up to date on all the BruCrew baking here:
FACEBOOK | PINTEREST | GOOGLE+ | TWITTER | INSTAGRAM | BLOGLOVIN
Yield: 14 cake slices
Eggnog Cake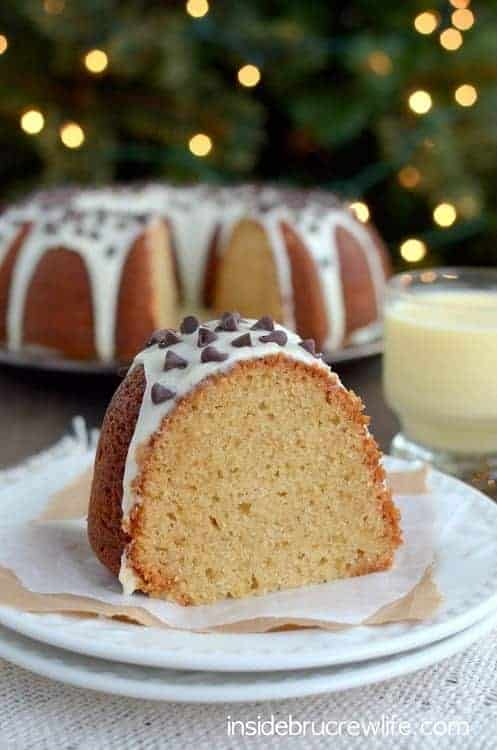 Two times the eggnog make this Eggnog Cake a favorite treat for those eggnog lovers in your life.
Total Time
1 hour
15 minutes
Ingredients
1/2 cup sugar
1 cup brown sugar
1 cup canola oil
1 cup eggnog
3 eggs
1 Tablespoon rum extract
1 1/2 teaspoon baking powder
1/2 teaspoon baking soda
1 teaspoon salt
1/2 teaspoon nutmeg
1/4 teaspoon ground cloves
2 1/2 cups flour
For the glaze
1 1/4 cups powdered sugar
3 Tablespoons eggnog
dash of nutmeg
mini chocolate chips for garnish, if desired
Instructions
Preheat the oven to 325 degrees. Spray a 10 inch bundt pan with nonstick baking spray.
In a large mixing bowl, beat the sugars, oil, eggnog, eggs, and extract until well combined.
Stir together the baking powder, baking soda, salt, nutmeg, cloves, and flour. Slowly beat the flour mixture into the egg mixture. Do not over beat.
Gently spoon the batter into the prepared pan. Bake for 55 minutes.
Cool in the pan for 10-15 minutes before flipping the cake out onto another plate. If needed, level the bottom of the cake with a sharp knife before placing on a serving tray.
Stir together the glaze ingredients. Spoon over the top slowly. Let set for a few minutes. Top with mini chocolate chips if desired. Cut into 14 slices.
Recommended Products
As an Amazon Associate and member of other affiliate programs, I earn from qualifying purchases.
Other fun desserts using Eggnog: