This Eggnog Bundt Cake is the perfect dessert for the eggnog lover in your life. Eggnog in the cake and in the glaze makes this a holiday cake recipe that everyone will remember.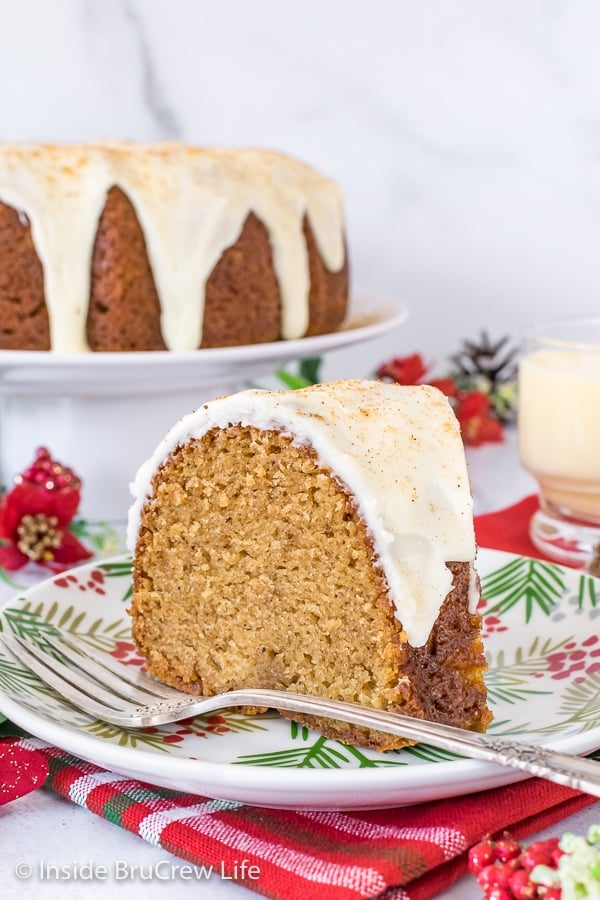 Our two sons and I are the only eggnog drinkers in our house. They get so excited when they see a jug of the creamy goodness in our refrigerator, until they realized that I have a baking plan for that particular eggnog.
But they also know that they get to finish off any of the leftovers when I am finished baking things like these Eggnog Scones or Eggnog Latte Cupcakes.
Over the years, I have gotten smarter and have started buying two cartons of eggnog. One for them to drink right away, and one for me to bake with. It's a win, win for everyone.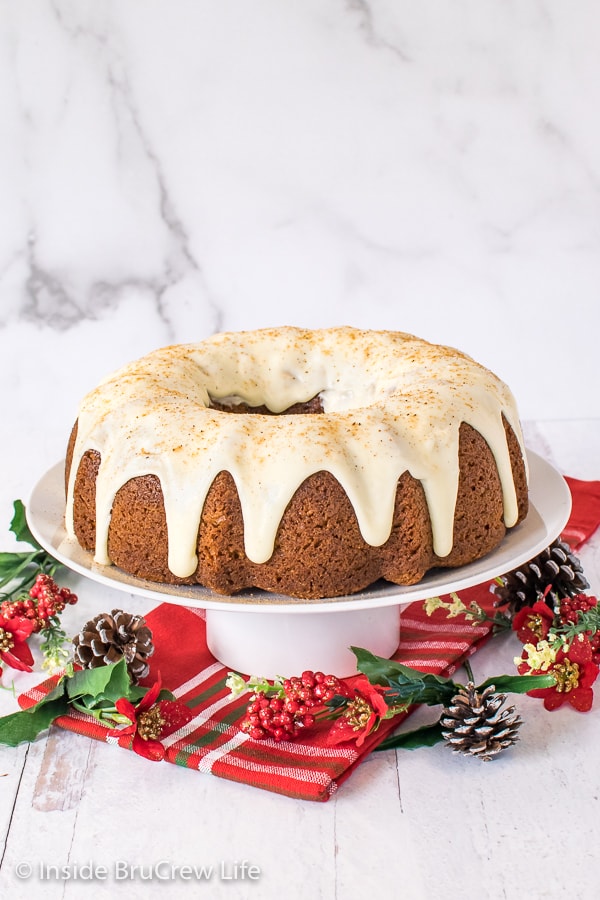 This Eggnog Bundt Cake tasted just like a glass of eggnog. It should since it has eggnog in the batter AND in the glaze!!
Our oldest son had a big slice along with a glass of "Christmas in a glass"...aka eggnog...and gave this homemade bundt cake a big thumbs up!
He would be so happy if eggnog was available year round. Maybe I should try freezing a few cartons. Has anyone tried doing that? Does it thaw out the same?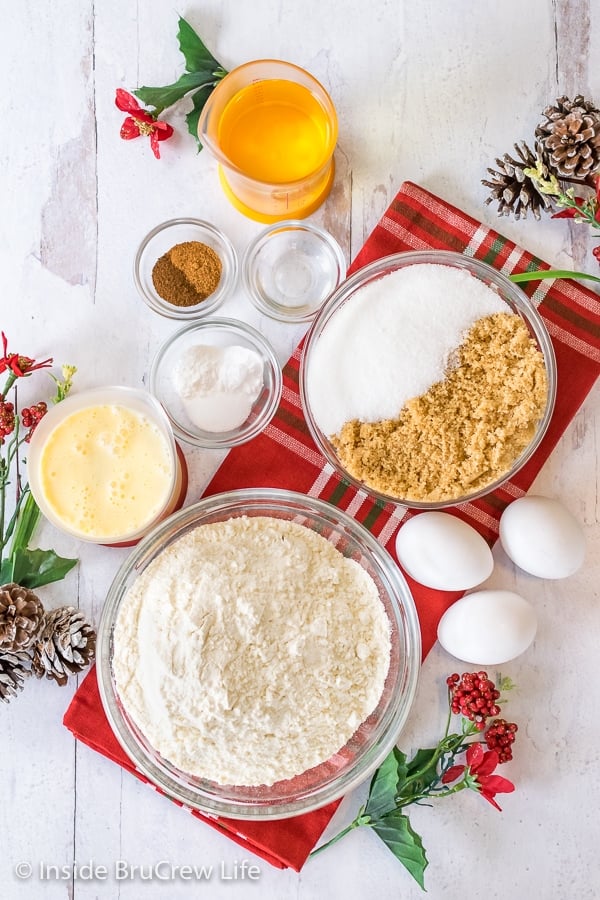 This homemade eggnog cake is so easy to make using ingredients that you should already have on hand. The only extra ingredient is the eggnog, so make sure to pick up your favorite brand before your baking day.
Ingredients:
Sugar - Use a mixture of granulated and brown sugar to make it sweet and soft
Oil - Using oil in cakes gives them a better crumb texture, and they will stay moist and tender for longer.
Eggs - They bind with other ingredients to help the cake rise, and they also provide moisture.Make sure to use large eggs for this homemade cake.
Baking Powder and Baking Soda - Reacts with the other ingredients in the cake to help the cake rise as it bakes.
Salt - Balances and adds flavor to cakes.
Rum Extract - Infuses more flavor and also brings out the flavors of other ingredients
Nutmeg and Cloves - Adds flavor and enhances the extract and eggnog
Eggnog - Can be used 1:1 in place of milk, buttermilk, or water for baked goods. This will give the cake a stronger eggnog flavor. Feel free to use store bought or homemade eggnog for this recipe.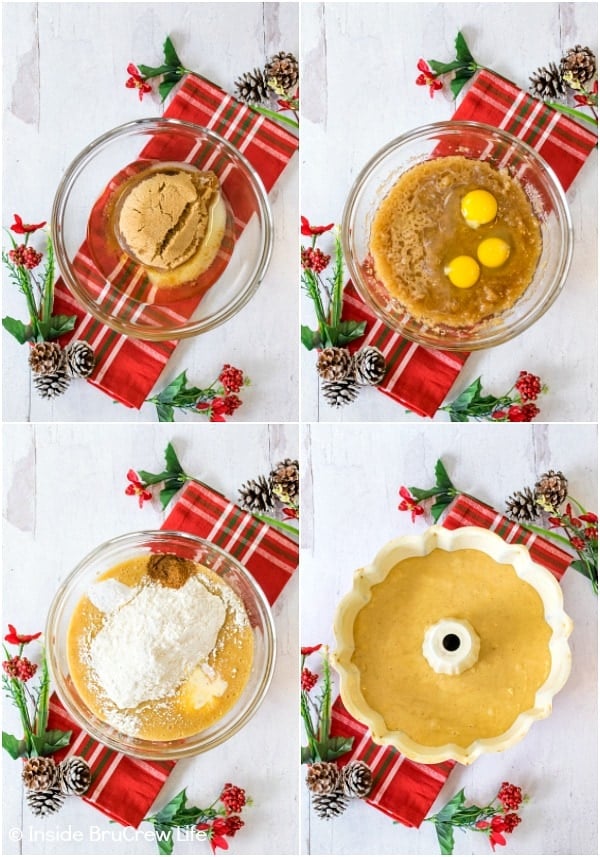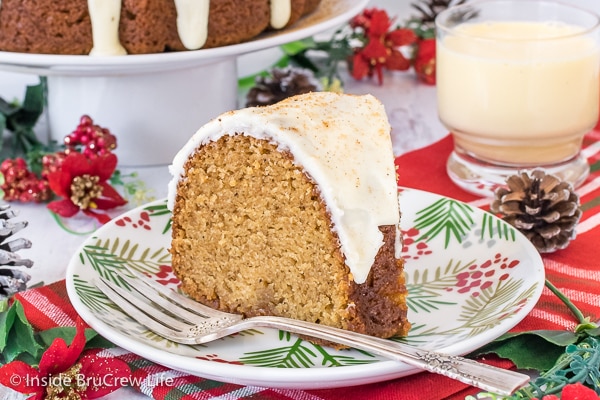 Bundt pans are very versatile. You can bake pound cake, coffee cake, or other desserts in them.
Denser cake batters do the best in this type of pan. Some of our favorites are this Coconut Cream Bundt Cake and this Salted Caramel Mocha Bundt Cake.
How to make Eggnog Bundt Cake:
Spray the bundt cake pan with a nonstick baking spray to keep the cake from sticking.
Beat the sugars and oil together. Add the eggs and extract and beat again.
Add the dry ingredients and eggnog alternately to the sugar mixture until a batter forms.
Spoon the cake batter into the prepared cake pan and bake.
Cool in pan for 10-12 minutes, then flip out onto a plate and let cool completely.
Stir together the eggnog glaze ingredients and spoon over the top of the cooled cake.
Sprinkle with nutmeg and serve.
Tips for Baking Bundt Cakes:
Bundt Pan Size - Different bundt pans have different sizes and volume capacities. It is important to choose the right size for the amount of batter you will be baking. Using the right size prevents the cake from overflowing and ensures better even baking. If you do not know the size of your pan, fill it with water 1 cup at a time, until it is filled to the top. The number of cups of water used to fill the pan will tell you the volume capacity of your pan.
Greasing the Pan - The most important part of making a bundt cake is getting it to release after it is done baking. Most bundt pans have nooks and crannies that a cake can stick to when you try to flip it out. There are two main ways to grease and flour your pan.
Brush melted butter or shortening over the entire surface of the pan, then sprinkle flour over everything. Flip the pan over and tap out the excess.
Spray the pan with a nonstick baking spray that contains flour, like Baker's Joy or Pam Baking. Make sure to spray the pan right before adding the cake batter, so it doesn't settle to the bottom.
Knowing when it is Done - Insert a long skewer or cake tester into the middle or center of the cake. The cake is done when it comes out mostly clean or with just a few crumbs. If there is batter on it, continue cooking the cake for a few more minutes.
Removing the Bundt Cake from the Pan - After the cake is done baking, place the pan on a wire rack and let it cool 10-15 minutes. Place a plate over the top of the pan and flip the cake and plate over. Shake very gently until you feel or hear the cake drop onto the plate. Remove the pan and let the cake cool. If the cake does not come out, flip it back over and run a knife or spatula around the edges of the pan and try again.
CLICK HERE TO PIN THIS RECIPE FOR LATER!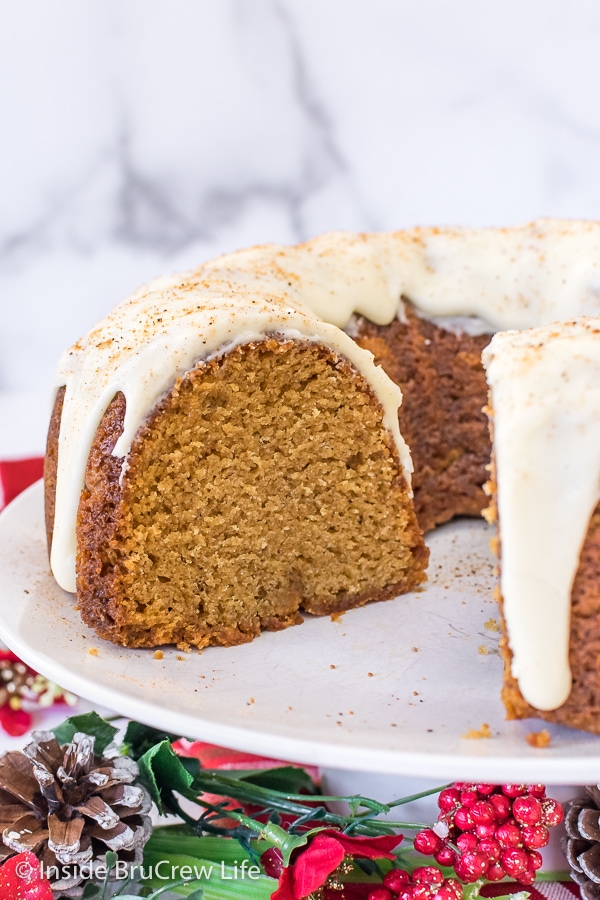 More easy desserts using eggnog: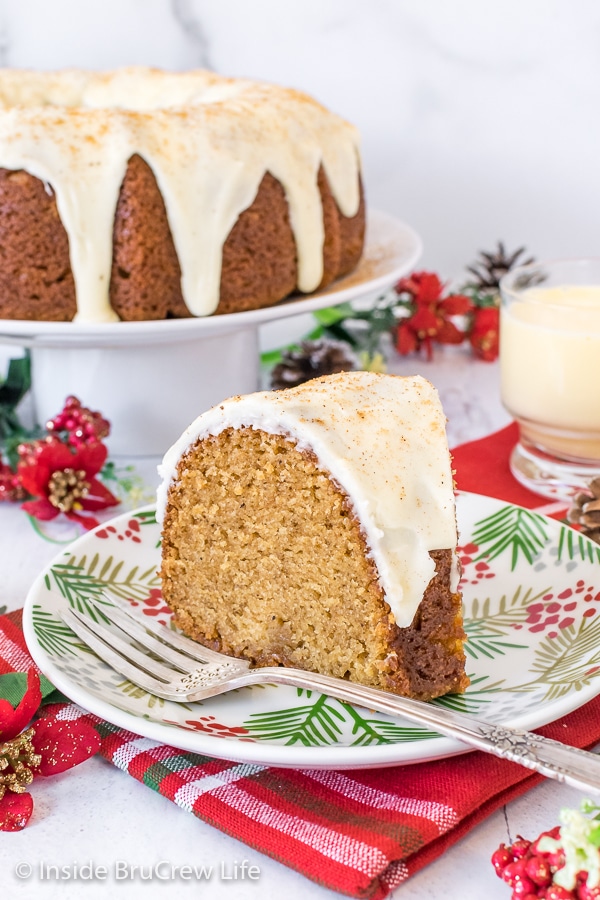 Connect with Inside BruCrew Life! Follow us on social media, so you never miss a post.
Email Subscription | Facebook | Pinterest | Twitter | Instagram | Bloglovin
I also created a Facebook group, and I would love for you to join. It's a group where you can share your favorite recipes, ask questions, share photos, and see what's new with the BruCrew. If you would like to check it out, you can request to join HERE.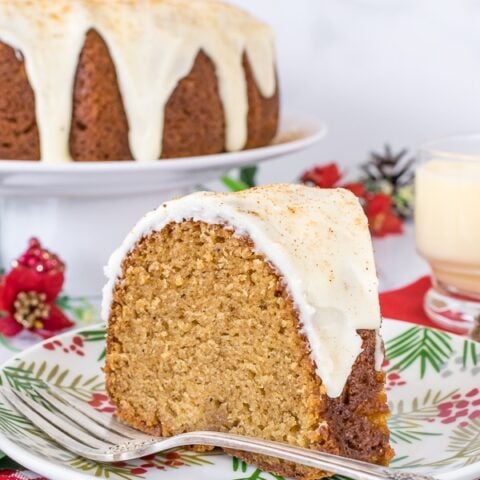 Eggnog BuCake
Total Time:
1 hour
15 minutes
This Eggnog Bundt Cake is for the extreme eggnog lover in your life. Eggnog in the cake and in the glaze makes this a holiday cake recipe that you will remember.
Ingredients
For the Cake
½ cup granulated sugar
1 cup packed brown sugar
1 cup canola oil
1 cup eggnog
3 large eggs
1 Tablespoon rum extract
1 ½ teaspoon baking powder
½ teaspoon baking soda
1 teaspoon salt
½ teaspoon nutmeg
¼ teaspoon ground cloves
2 ½ cups all purpose flour
For the Glaze
1 ¼ cups powdered sugar
2-3 Tablespoons eggnog
dash of nutmeg
Instructions
Preheat the oven to 325 degrees. Spray a 12 cup bundt pan with nonstick baking spray.
In a large mixing bowl, beat the sugars and oil. Add the eggs and extract until well combined.
Stir together the baking powder, baking soda, salt, nutmeg, cloves, and flour. Alternately add the the flour mixture into the egg mixture with the eggnog until combined. Do not over beat the batter.
Gently spoon the batter into the prepared pan. Bake for 55-60 minutes or until a toothpick inserted in the center comes out mostly clean.
Cool in pan for 10-15 minutes before flipping the cake out onto another plate. Let the cake cool completely.
Stir together the glaze ingredients. Spoon over the top slowly. Let set for a few minutes. Sprinkle with nutmeg.
Recommended Products
As an Amazon Associate and member of other affiliate programs, I earn from qualifying purchases.
Nutrition Information:
Yield:

14
Serving Size:

1
Amount Per Serving:
Calories:

371
Total Fat:

18g
Saturated Fat:

2g
Trans Fat:

0g
Unsaturated Fat:

15g
Cholesterol:

53mg
Sodium:

280mg
Carbohydrates:

49g
Fiber:

1g
Sugar:

31g
Protein:

5g
Nutrition facts are an estimate and are not guaranteed to be accurate. If you need special diet advice, please see a registered dietician.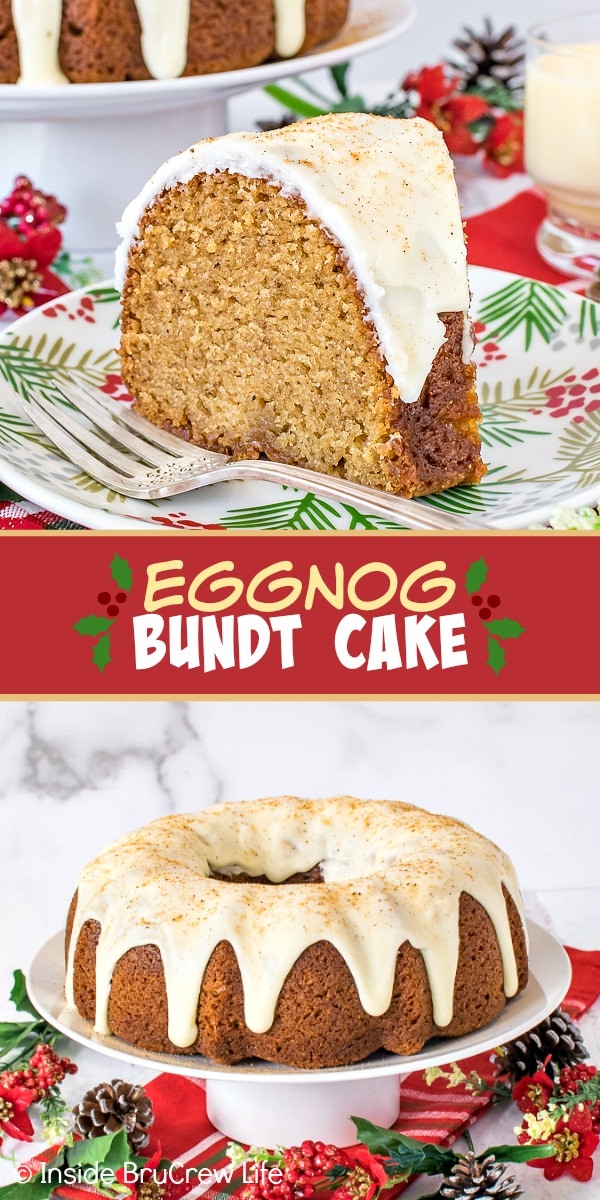 *The post for Eggnog Bundt Cake was first published December 1, 2013. The photos and post were updated and republished December 18, 2020.