These Eggnog Cheesecake Brownies have layers of decadent brownies and a creamy eggnog cheesecake on top. It's a flavor combo that just needs to be experienced.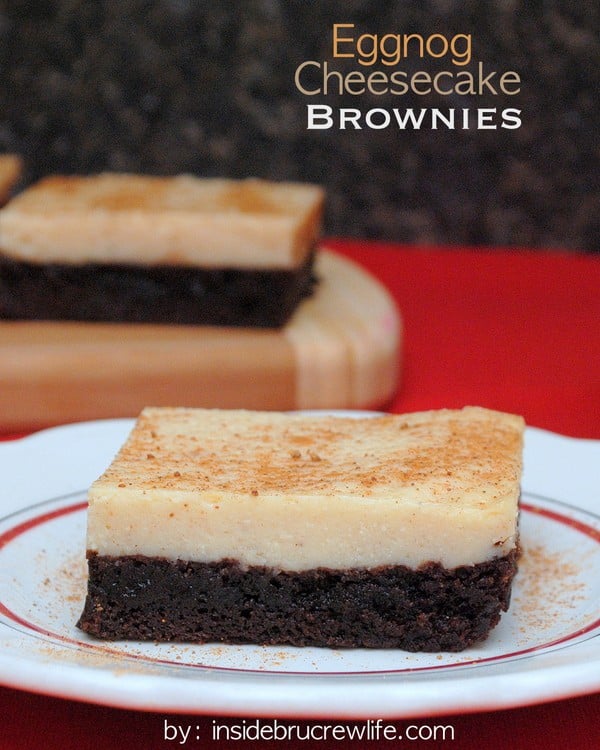 Did you know that making desserts for real people is stressful? I mean seriously when I am at home during the week baking for my internet peeps in my sweats it is super easy.
I can just make what I want because you really aren't there eating it and judging me for all the sugar in my house. Well you might be judging me, but I don't know about it.
But when I have to make food for people that are living, breathing, standing right in front of me, I freeze.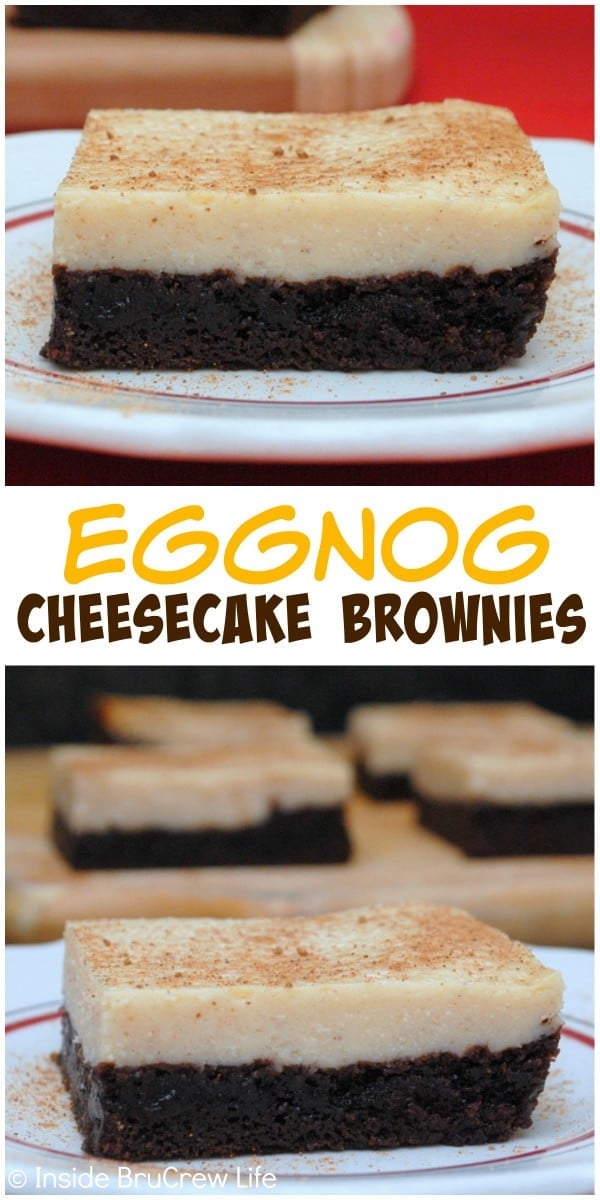 This weekend we were asked to be the dessert stop for our youth group and their annual progressive dinner. Should be easy enough. I am like a dessert queen around these parts.
I keep a running list of desserts that I want to try or make, not a problem. Or so I thought…
The dessert list brought out the crazy neurotic part of me. I seriously was sweating bullets trying to decide what to make. They are just teenagers who will eat anything I throw at them. Why was it so hard to decide?
I blame it on having way too many options. Now usually I am super fond of having a lot of options for me to choose between.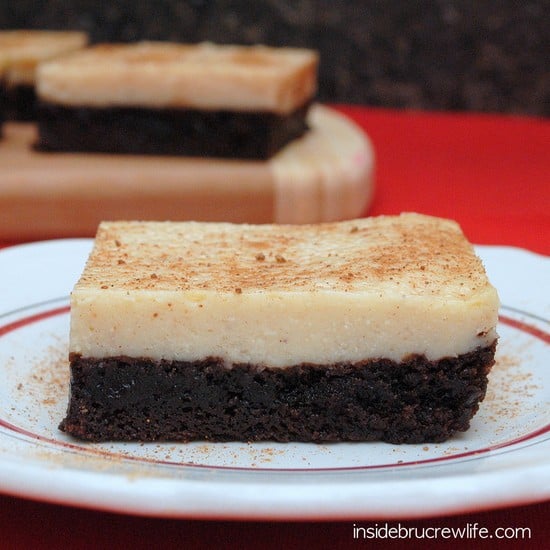 Scrapbook stores…tons of paper to decide between. Thrift store…tons of old clothes to go through. Online stamp store…plethora of stamps to choose from.
But give me 25 teenagers and a list of 10 food items, and I shake like a fool!!!
Honestly I couldn't decide what would be better to make for them. I finally settled on M&M Blonde Brownies…jazzed up for the holidays of course. Should be easy. I make these ALL the time.
Finished up the batter and tossed it in the oven. 25 minutes later, and it still looked like I could pour it out of the pan!!! WHAT THE HECK IS GOING ON????
I was still so stressed over baking that I totally messed up and threw an extra stick of butter into the batter. (Just so you know an extra 1/2 c. of butter will totally throw off your baking)
So that disaster went into the garbage can. Back to square one. Finally I calmed my nerves enough to make some fudge, cookies, these Eggnog Cheesecake Brownies, and cake trifles.
Enough of this real life people baking. Take me back to computer screen baking!!!
Eggnog Cheesecake Brownies recipe: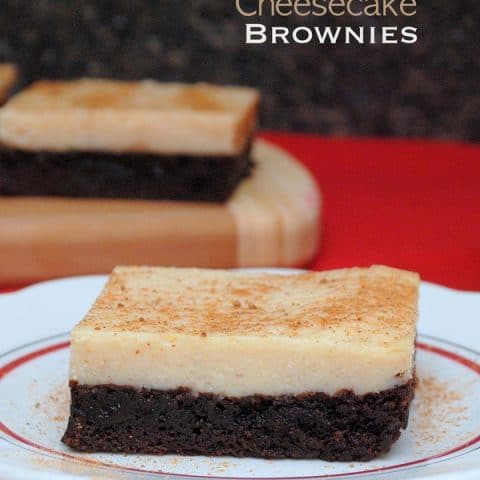 Eggnog Cheesecake Brownies
Eggnog cheesecake baked on fudge brownies is a delicious holiday dessert.
Ingredients
1 - 9x13 box brownie mix + ingredients from back of box
1 - 8 ounce package cream cheese, softened
1 - 14 ounce can sweetened condensed milk
1/4 cup eggnog
1 Tablespoon cornstarch
1 egg
1 Tablespoon flour
1 teaspoon rum extract
1 1/2 teaspoons nutmeg, divided
Instructions
Preheat oven to 350 degrees. Spray a 9x13 pan with nonstick spray.
Mix brownies according to the directions on the back of the box. Spread in pan. Set aside.
In a large mixing bowl, beat cream cheese, eggnog, and cornstarch until creamy.
Add the sweetened condensed milk, flour, egg, rum extract and 1 teaspoon nutmeg and beat until incorporated.
Pour slowly over the brownie batter. Bake for 35 - 40 minutes. Let cool on wire rack for 1-2 hours, then refrigerate until completely chilled.
Sprinkle with remaining nutmeg before serving. Cut into 24 squares. Keep refrigerated.