One thing that you may not know about me is that I love to shop. In fact, I think I love shopping as much as I love baking. Today I thought it would be fun to share a few of my fall fashion finds and how I like to wear them.
I know that not everyone enjoys going to stores, trying on clothes, and finding the right pieces, but I love the thrill of the hunt to find just the right outfit. It's all about looking for just the right accessories and shoes to go with those outfits.
This fall I picked up a few new pieces to incorporate with the rest of my clothes. My tip for adding a few things to your wardrobe is to watch for sales and try to get things that you can wear a couple different ways or that work with what you already have.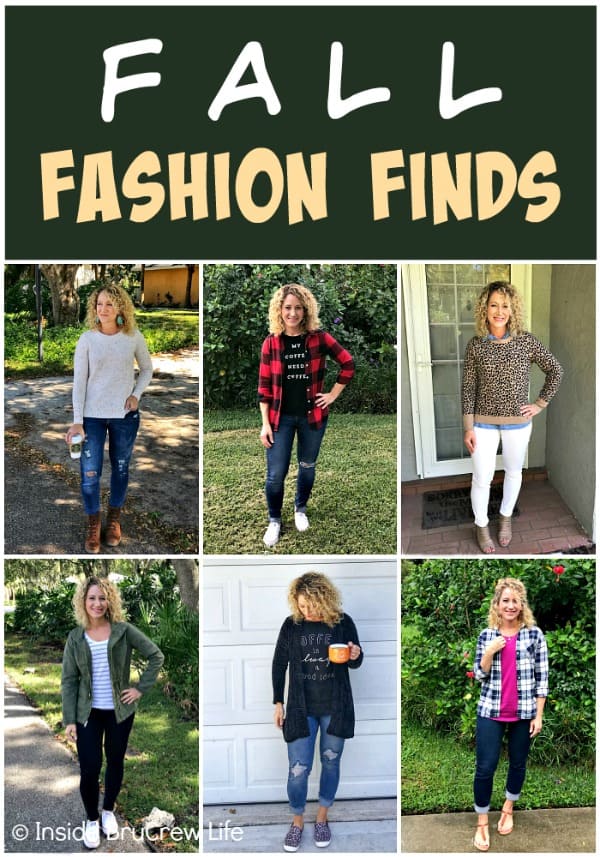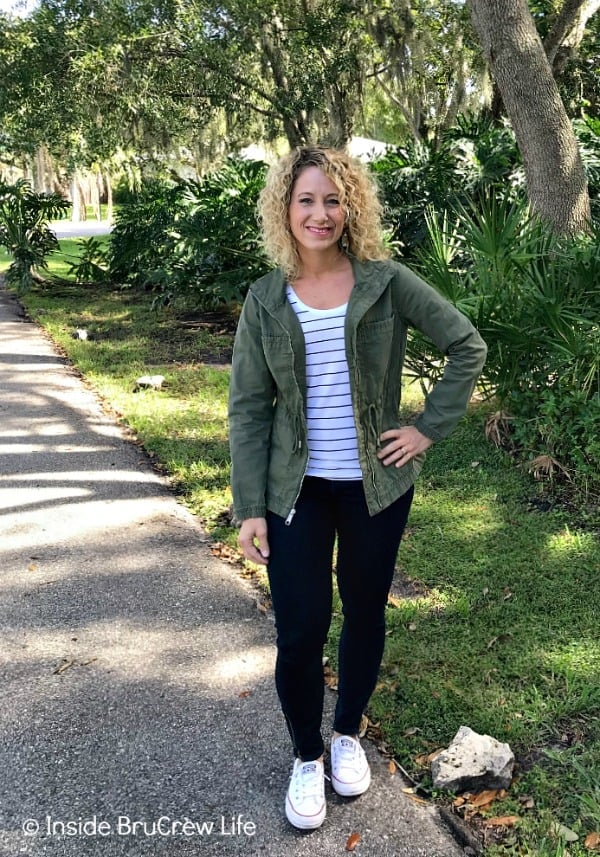 This green jacket is from Old Navy is probably one of my favorite pieces that I added to my closet this fall. This color and the camo one are super popular this year.
My first thought was to get the camo jacket. I don't know why because I don't hunt and I don't hide in the woods. It just looked really cute.
Our teenage daughter and I both wear the same size in clothes, so I asked her opinion, and she liked the green better. Since we will both be wearing it, I grabbed the green.
We happened to be at Old Navy one day when these jackets were on sale, so I was able to pick it up for around $30. Not bad for something that two people will be wearing with a bunch of different outfits.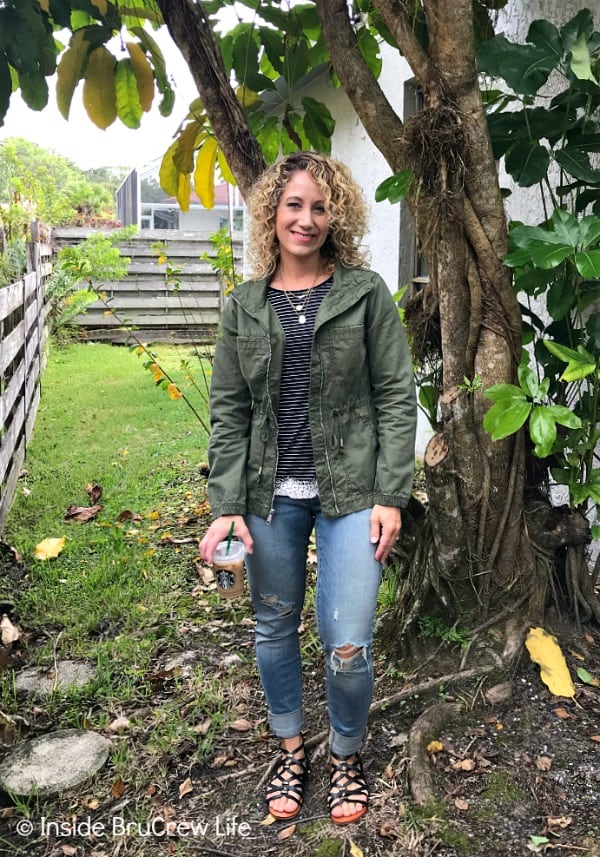 I do think the camo one would go with pretty much everything too, if you can find it. Every time we stopped in Old Navy, they were out of that particular one.
You can wear so many different things with this green jacket though. I paired it with a white striped shirt, dark jeans, and white Converse one day, and then with light jeans, a dark striped shirt, and black sandals on another day.
This jacket would also be super cute with black leggings, a graphic tee, and black boots.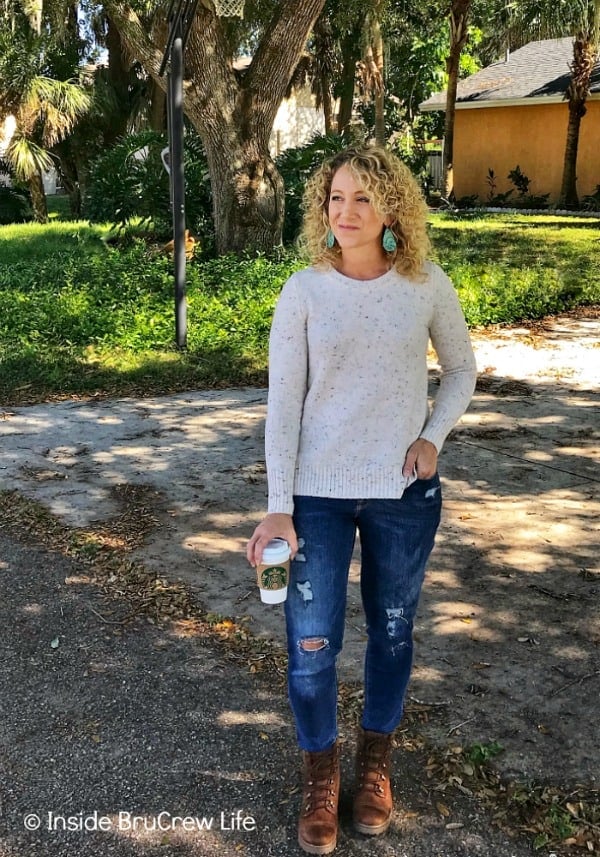 It does get cooler here in Florida, so I decided to update some of my sweaters this year. I cleaned out my closet and got rid of the cardigans that I have been wearing for years.
As soon as I saw this sweater from Old Navy, it made me think of sprinkles. It is a soft sweater with a bunch of different colored flecks in it. I love that the cream color is neutral enough to wear with pretty much anything.
I found these hiking boots at Target this year, and picked up a pair. I'm still debating on whether or not I can pull off this over the jeans style. I actually haven't worn them yet, other than for these pictures.
So, I am deciding if they need to be returned. Can a fashion forward mother of three in her forties make this work?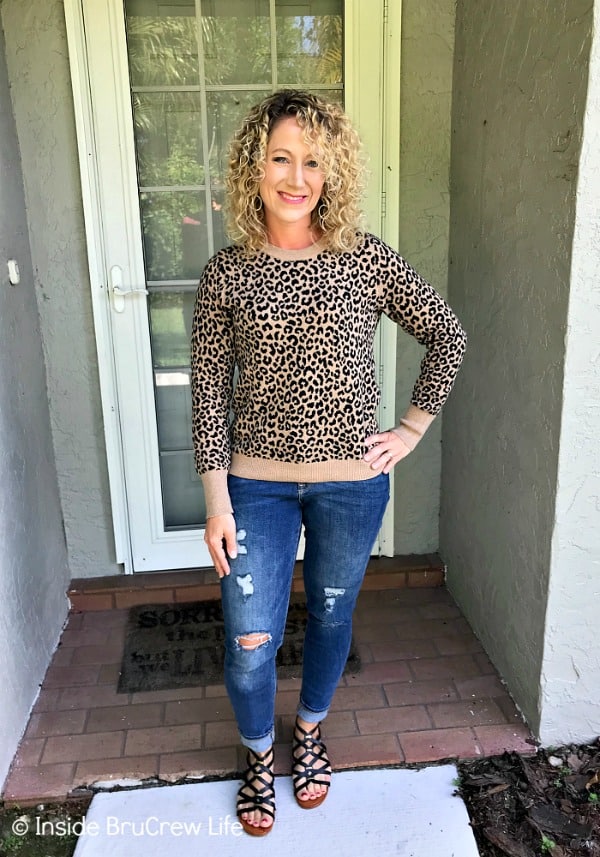 This leopard sweater from Target is probably one of my favorites too. Target had sweaters on sale a few weeks ago for buy one, get one 50% off, so I picked up this one and a black one.
It is super cute and easy to wear a few different ways. I did find that this one ran a little bit smaller than other sweaters though. Usually I wear an extra small in tops, but the arms were just a little bit too tight for me to be comfortable. It must be all that working out. LOL!
The extra room makes it great to layer with other shirts though. It looks great with any color jean, and it is light weight enough to keep you warm, but not bulky at all so it will be great under that green jacket.
My favorite way to wear it though was layered with a denim shirt from Old Navy and with these white jeans from Target. I had the denim shirt from a few years ago, but they still carry these.
Let's talk about these white jeans. I have been looking for a long time for a pair that was comfortable and that looked ok. Most white jeans that I have tried on made me look short, stumpy, and gave the appearance of sausage legs. Not quite the look I was looking for.
The Universal Threads line at Target is extremely cute. I love just about everything they have brought out, so when I saw these white jeans I had to try them on. It was love at first sight in the dressing room mirror. The fit was just perfect.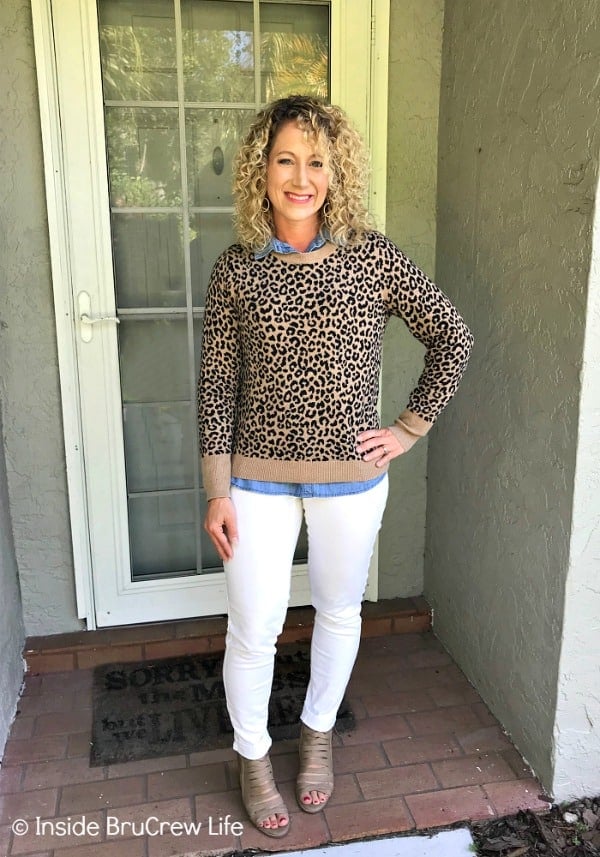 Flannel shirts layered with t-shirts underneath is a fun look. Old Navy has some of the cutest and softest flannel shirts.
Again watch for things to go on sale to get the best deals.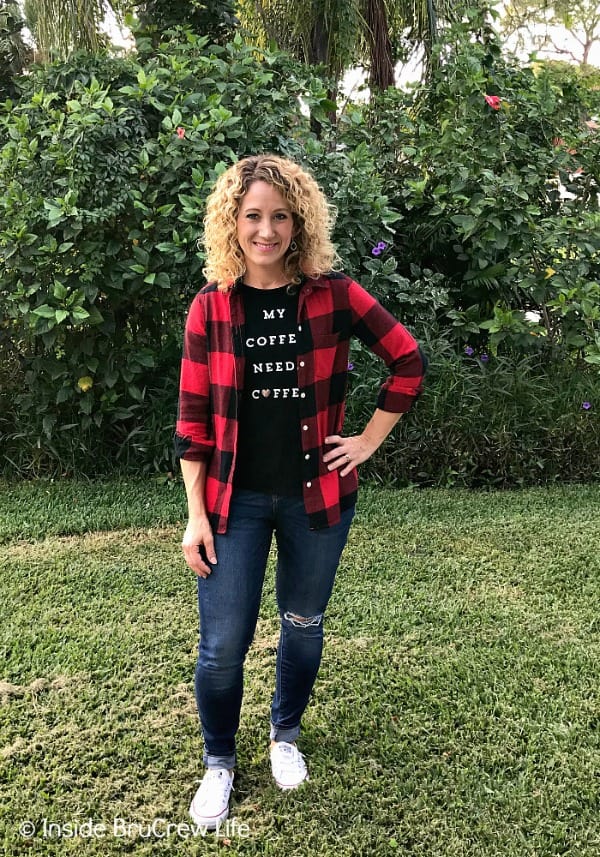 I got the red and black checkered flannel because I am obsessed with the buffalo check right now.
I also got the blue and white flannel because I had so many t-shirts and tank tops that would work with both of them.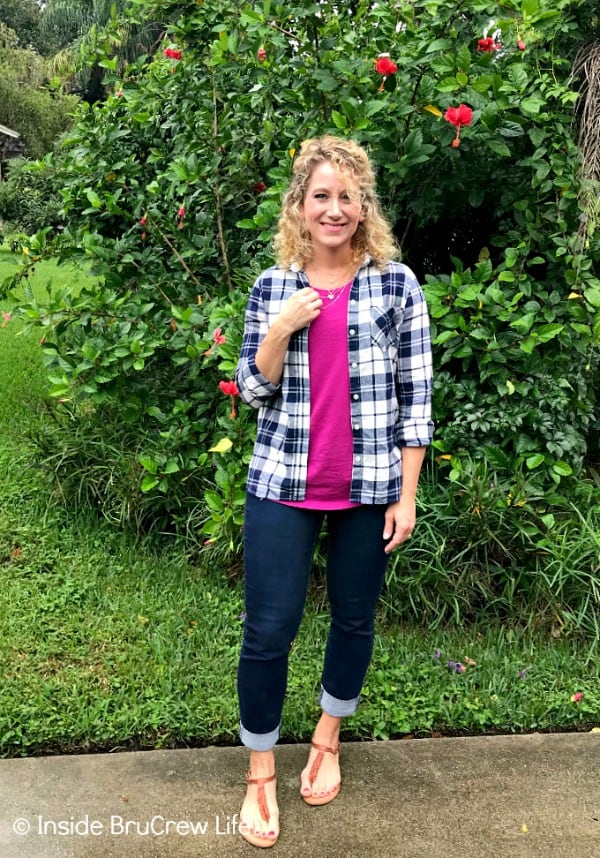 The last two pieces that I picked up this fall was this black sweater and these cute leopard sneakers. The black sweater is one of the ones that I got when sweaters were on sale at Target.
It is seriously the softest and coziest sweater ever. I like to run my hands over sweaters in the stores to see if I like the feel of the fabric. As soon as my hands felt this sweater, I just had to try it on.
Long sweaters are not usually something I gravitate toward because the length tends to make me look shorter and hugs the wrong curves.
What I love about this sweater is that it hangs just right without clinging to the bottom half. I think the side slits in it help with that. And did I mention that is is seriously the softest sweater ever??? I pretty much want to live in it all the time!
It's adorable with a fun t-shirt and jeans, but I think it will be super cute with black and gray leggings too.
I'm a sucker for cute shoes, so I couldn't resist picking up these leopard shoes. I'm picky with how shoes fit my wide feet, so I did go up just a little bit. They are super cute with every outfit that I have worn them with so far.
Of course, my husband thinks any leopard shoe is goofy, but that's ok. I like them!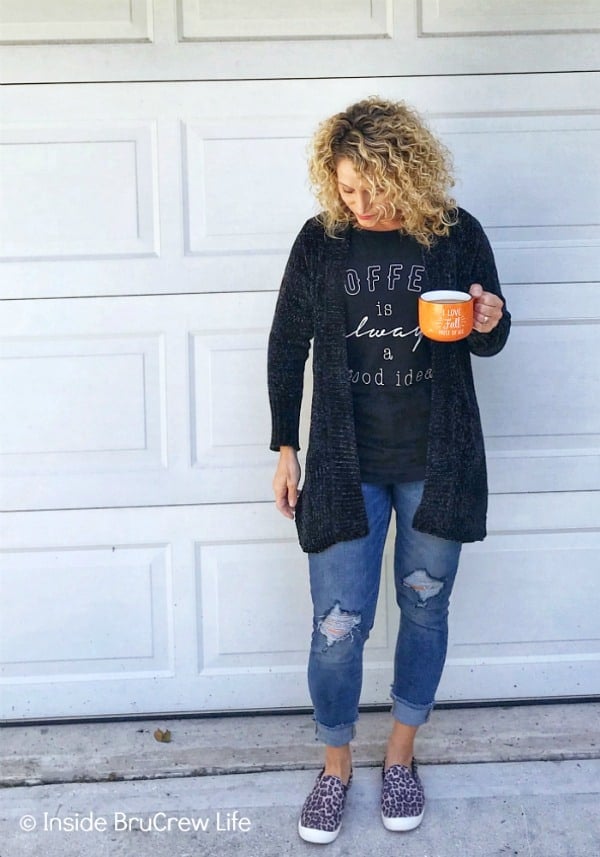 Have you noticed a theme in most of the jeans that I own? I'm kind of digging the torn, distressed look right now.
All of the jeans that I have in these pictures are from Old Navy or Target. Those two stores are my top two places to shop for fall fashion finds this year. Who am I kidding? They are my favorites for every season.
No this isn't a sponsored post at all. I just really like the clothes from these stores.
Remember shopping for new clothes doesn't have to be stressful or expensive. Watch the store ads and pick up a few new pieces when they go on sale. Try to get things that go with things you already own or that can be worn a few different ways.
Another clothing tip I have for you is to purge an item from your existing clothing when you buy a new piece. I usually go through my closet and donate one item that I don't wear or that I haven't worn in a long time each time I buy something new.
This tip will help keep your closet from becoming packed with lots of unnecessary items.