These easy Frosted Mocha Shortbread Cookie Sticks are a pretty treat to add to your holiday trays this year. Lots of fun sprinkles make them stand out and disappear first.
*Stevia In The Raw® sponsored this post. I am partnering with them to create recipes for the fall season. All opinions expressed are 100% my own.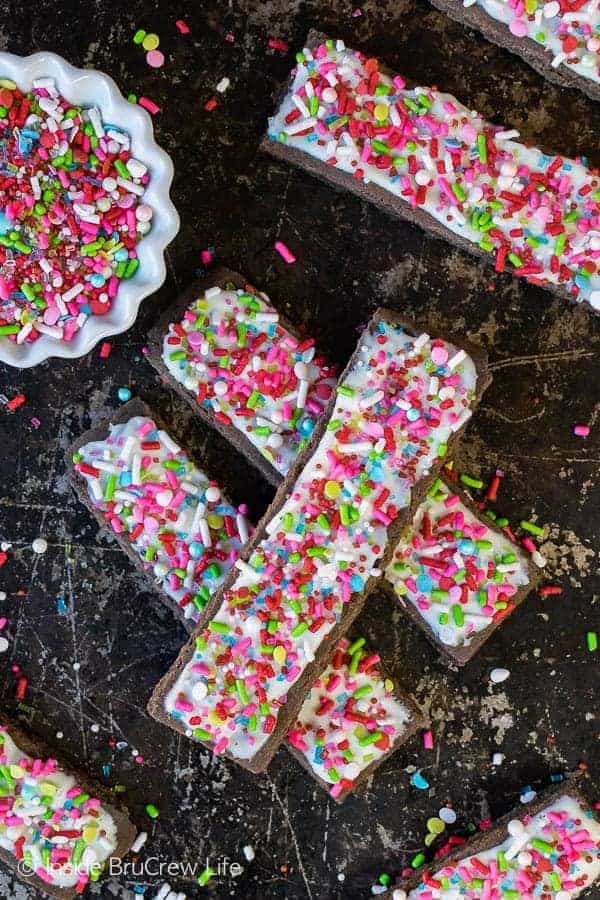 CLICK HERE TO PIN THIS RECIPE FOR LATER!
Every year, right before the holidays get busy, I like to make a few lists of treats and sweets that I want to make for the holidays. Some of these desserts get made ahead of time because I like to test each recipe a few times to see if they will make the final list.
Right now I have a list that includes fudge, cheesecake, popcorn, pie, cookies, and a tart. I have a feeling I better get a move on testing recipes because the holidays will be here before I know it.
This past week I decided to test a few cookie recipes. Shortbread cookies always make the final list of treats that we make, and these peppermint snowball cookies are one of my all time favorite cookies for Christmas. They are always on the trays of cookies that we make and give away.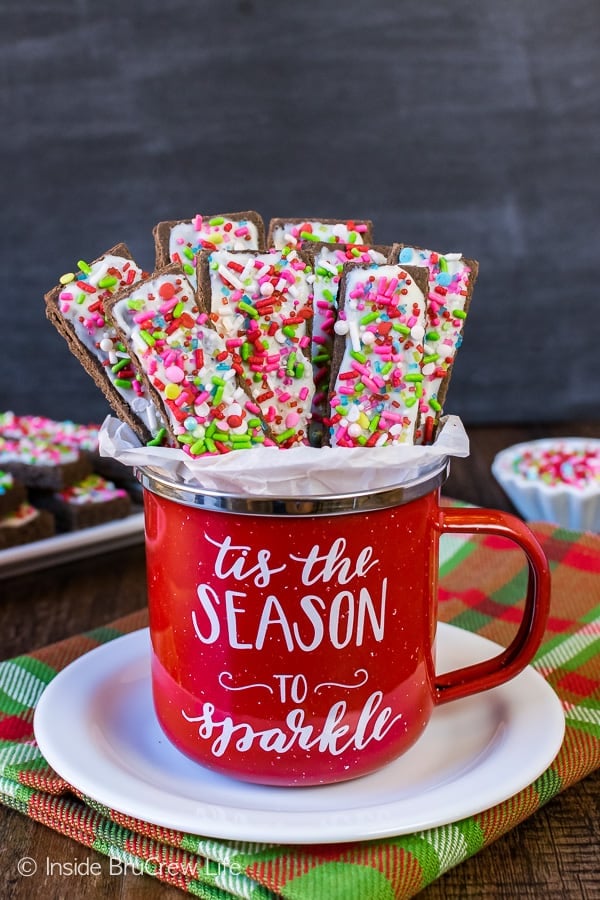 This year I decided to give these "must make cookies" another fun twist. For the past few years I have taken the base recipe and made these glazed apple butter shortbread bars and these chocolate mint truffle snowball cookies. This time I wanted to include a mocha and sprinkle twist.
What I love the most about these cookies is that you can create so many different shapes with the dough. Try making balls, ropes, bars, or even pretzels with the dough. For this fun cookie, I pressed the dough into a large rectangle and baked it before cutting it into sticks.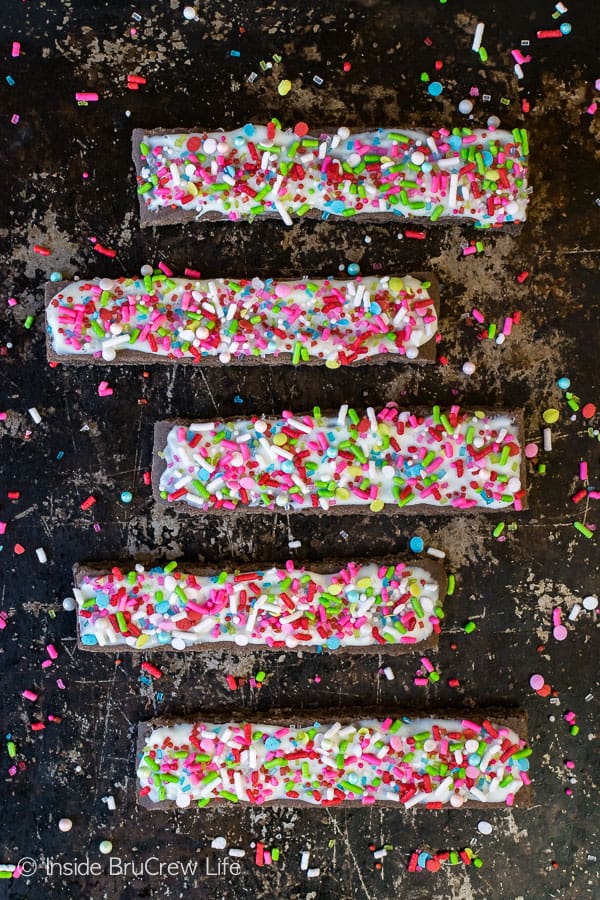 Not only did I put a different spin on these cookies this year, but I also lightened them up. I am excited to be partnering with Stevia In the Raw® this fall to create easy recipes for you to make this holiday season. The recipes will show you how you can save up to 700 calories for every cup of sugar that you replace with Stevia In the Raw® Bakers Bag. Look for the big green bag in the baking aisle at your local grocery stores.
Since I'm on a baking spree right now, I am definitely trying to find ways to cut calories in some of the treats that we will be eating. This zero-calorie sweetener, made with an extract from the sweet leaves of the stevia plant, is a great choice for all your fall baking needs. One cup of Stevia In the Raw® Bakers Bag has the same sweetness as one cup of regular sugar, so you can measure it one for one in your recipes.
Please remember that when you are baking with it, that you should only replace half the sugar in your recipe. Baked goods need some sugar in order to rise, brown, and caramelize properly.
If you're looking for more sweet treat inspiration that allows you to "Half Your Cake and Eat It Too," check out this new, FREE cookbook from Stevia In The Raw®!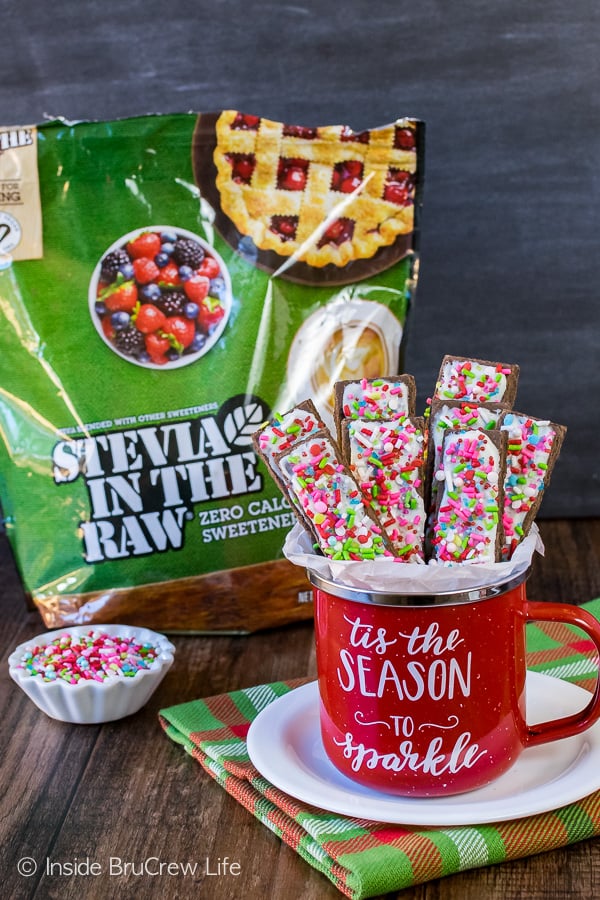 Here are a few tips to remember as you make these frosted mocha shortbread cookie sticks:
Line an 11x15 pan with foil and spray it with non-stick spray.
Mix together your butter, sugar, and Stevia In the Raw® until creamy. Add in the egg, extract, and salt and mix again.
Slowly beat in the dark cocoa powder and flour. It will seem like you have too much of the dry ingredients, but continue to mix it. Using a stand mixer is much easier for this dough.
Roll the dough into a ball and use your hands to mix in any remaining dry ingredients.
Place the dough onto the prepared pan and gently press it evenly into a 9x11 rectangle. Make sure your edges are the same thickness as your center.
Bake. Immediately cut the large warm cookie into 20 sticks using a pizza cutter and let them cool.
Spread the tops with a little bit of melted white chocolate and add sprinkles.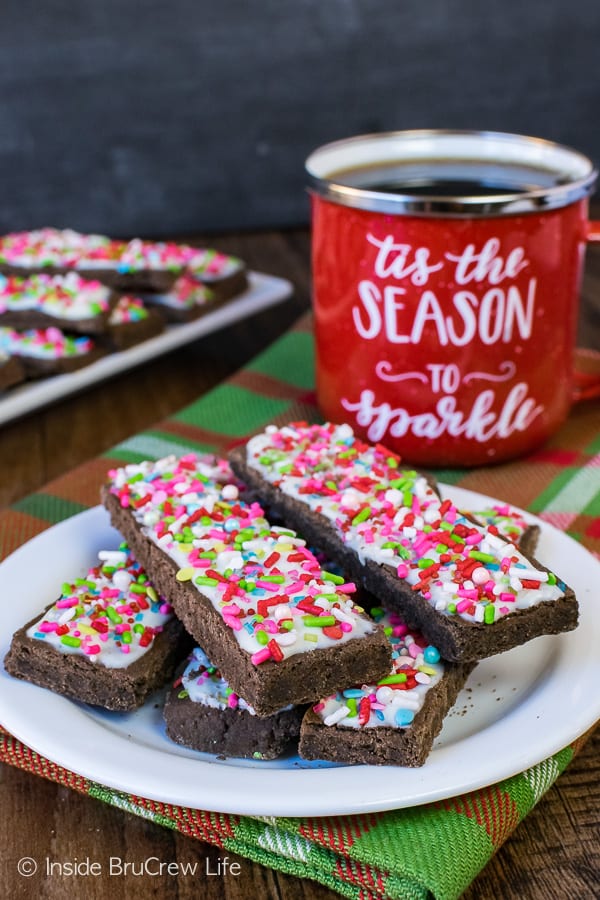 Connect more with In The Raw® Sweeteners:
Facebook | Instagram | Pinterest