Enjoy a magical Harry Potter Tea Party that includes a pitcher of homemade Butter Beer and other food inspired from the movies. Harry Potter fan's will love this fun themed party.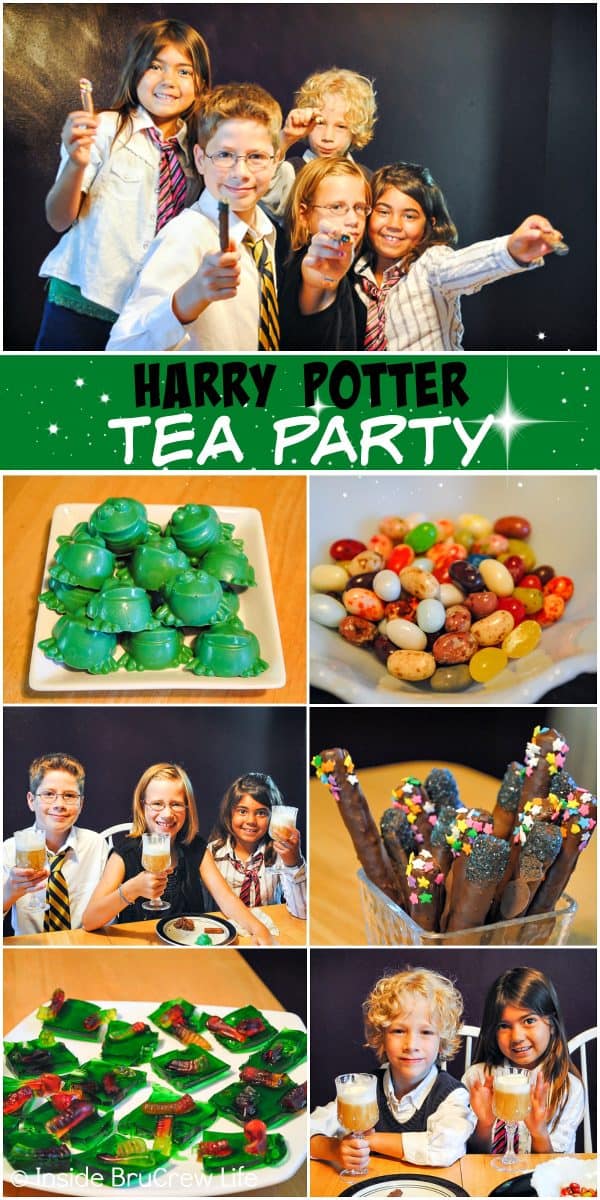 One of the things on our summer to do list this year was a tea party. Since the boys wanted to be included in this, I had to think outside the box and come up with something that was cool enough for girls and boys.
What better than a Harry Potter tea party?
All three of our kids love these movies and can't wait for the next installment. They keep asking when the next one is coming out.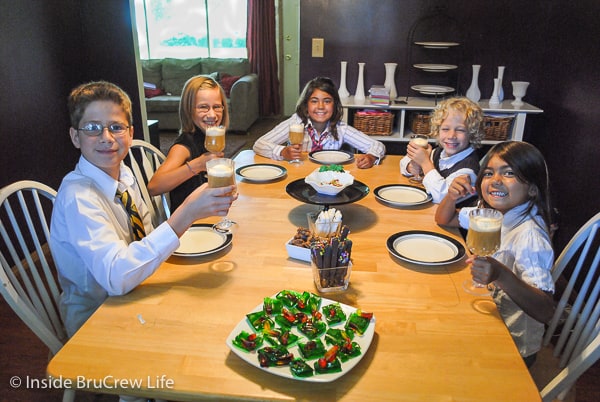 So one night I made a bunch of Harry Potter inspired food, and we invited some friends to come dine with us the next day.
And yes, Hogwarts costumes were a required part of the party.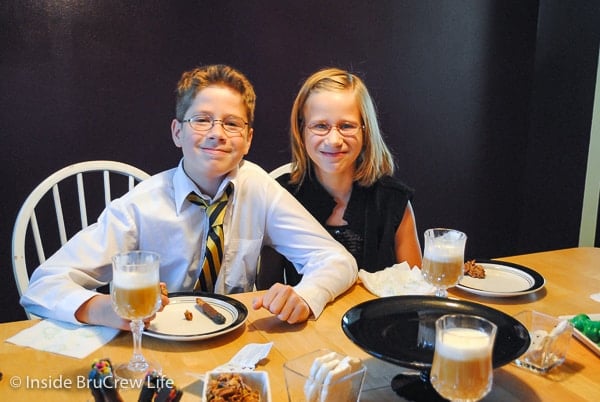 Food for a Harry Potter Tea Party
Butter Beer
Gillywater
Peanut Butter Frogs
Chocolate Covered Pretzel Wands
Eat Slug Jello Jigglers
Owl Sugar Cookies
Roach Clusters
Bertie Bott's Every Flavour Beans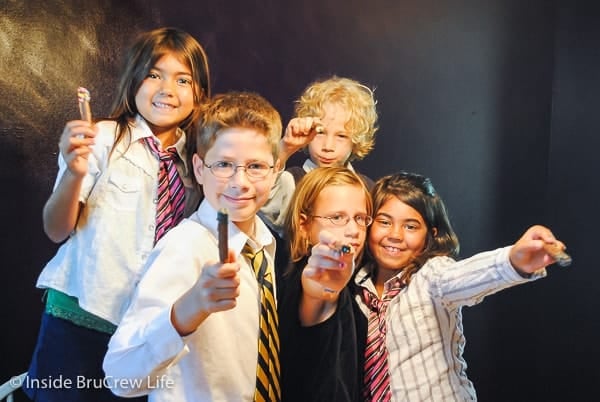 We made Butter Beer and served it in the glass goblets that we got at our wedding shower years and years ago.
The kids loved using these glass cups because they looked so fancy and just like something from the movies.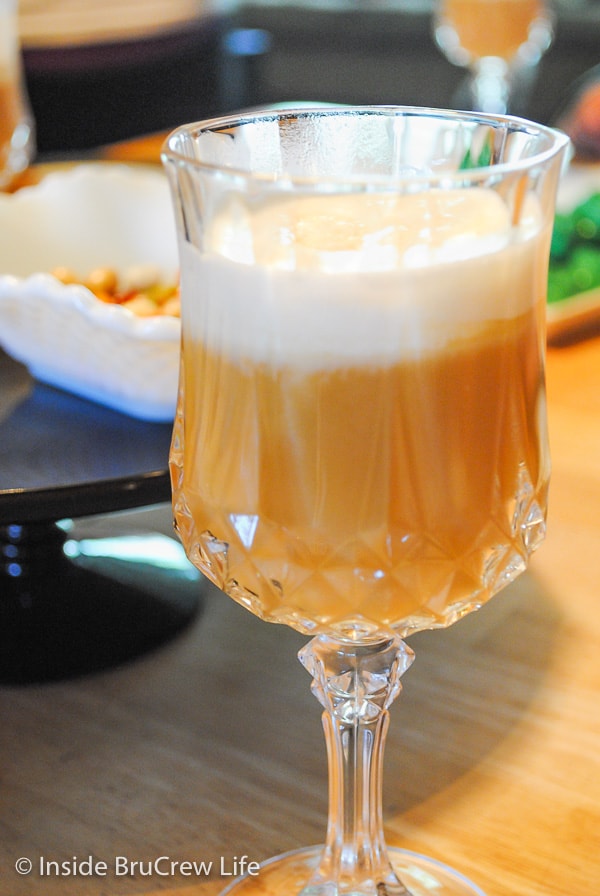 We also had a pitcher of Gillywater to wash down all the sweets. Ok, so it was just regular ice water, but don't tell the kids that.
If you have more time to plan the party, you could also make cute labels and put them on water bottles for everyone.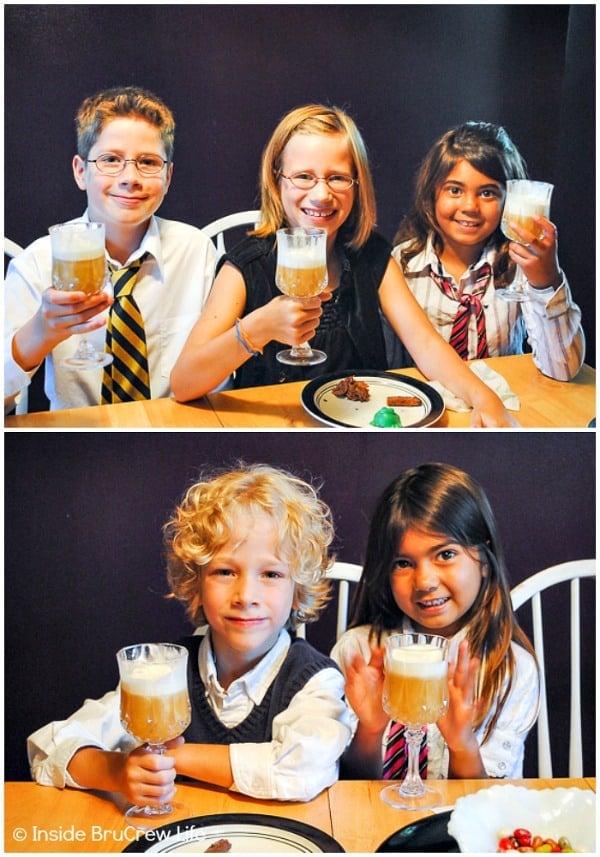 Instead of chocolate frogs we jazzed them up and made Peanut Butter Filled Frogs.
I painted a frog candy mold with green chocolate and then filled them with our favorite Peanut Butter Balls.
These candies are our kids favorite, so they were excited for the filled frogs.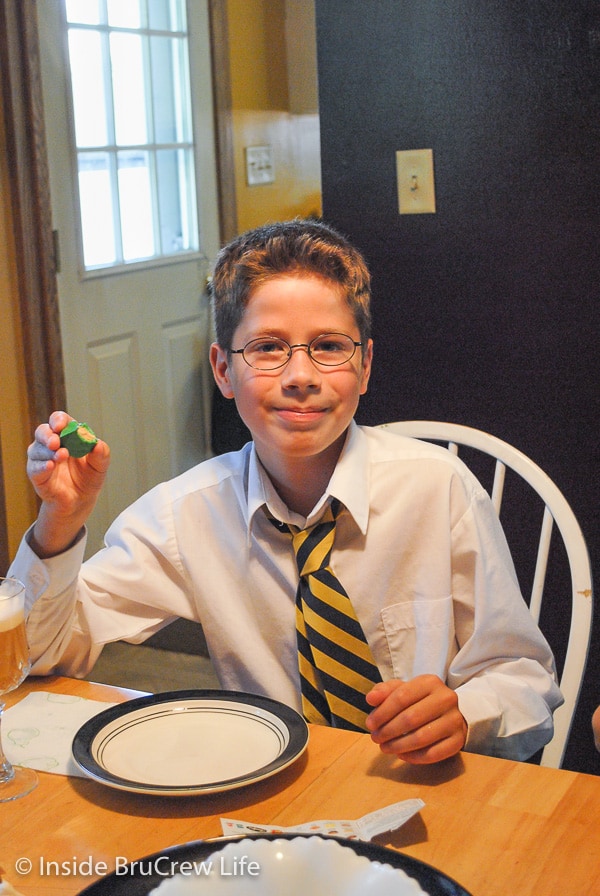 Green Jello and pieces of gummy worms made up the "Eat Slugs" Jello Jigglers.
Black sugars and star sprinkles gave these Chocolate Covered Pretzel Wands a fun flair.
I used the recipe for these Cinnabon Sugar Cookies and an owl cookie cutter to make Owl Sugar Cookies. We dipped them in white chocolate, so they looked like Harry Potter's owl Hedwig.
No bake cornflake cookies with peanut butter and chocolate melts became some tasty little Roach Clusters as well.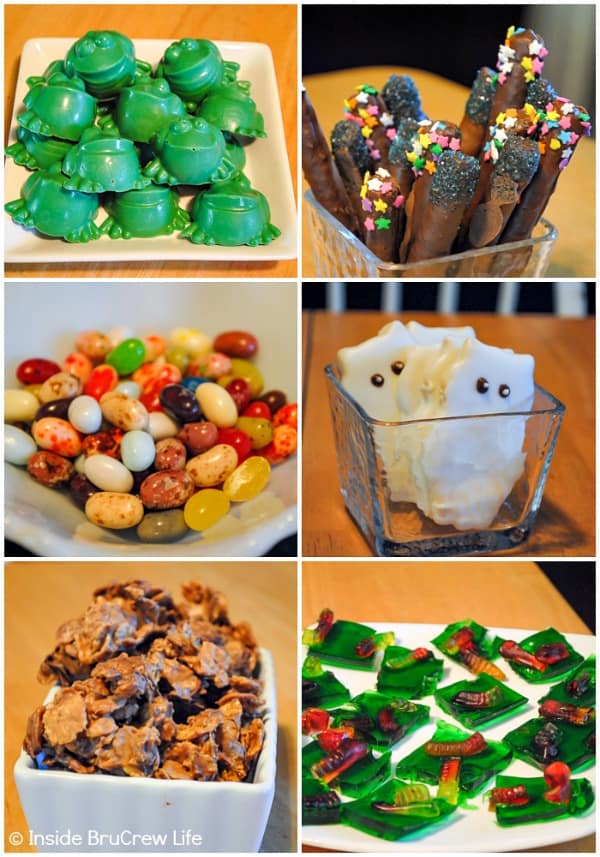 And of course, we had to have a bowl of Bertie Bott's Every Flavour Beans for the tea party.
I poured all of the beans into one bowl and gave the kids the paper that came with them, so they could try to figure out which one each one was.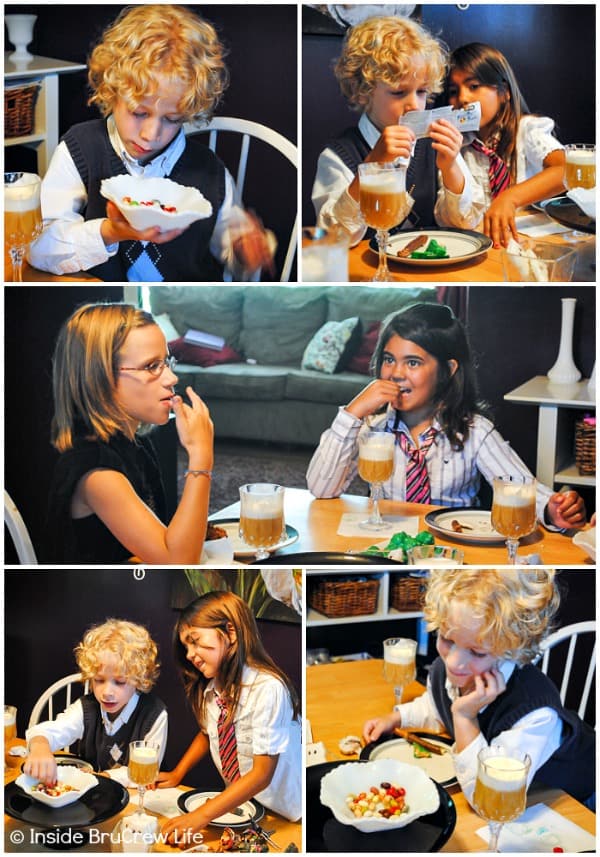 It was so funny to watch their expressions when they got a bad bean flavor.
I'm pretty sure he got a booger bean! Hahahaha!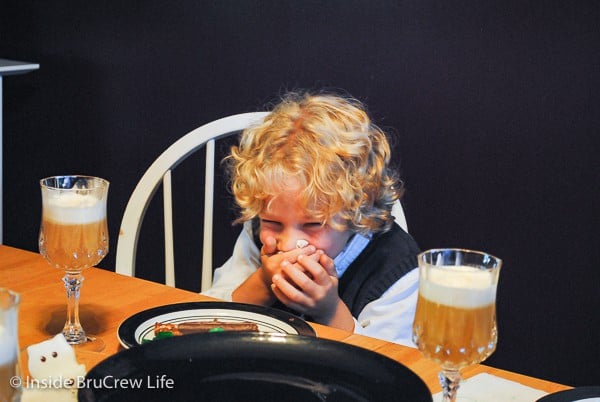 And to finish off the day, we let the kids watch a few Harry Potter movies after the tea party while the mommas did some scrapbooking and made some cards. Cheers!
If you ever visit Universal Studios, here are my favorite Tips for Enjoying The Wizarding World of Harry Potter.