These Cinnabon Sugar Cookies are the perfect cookie to fill your cookie jar with.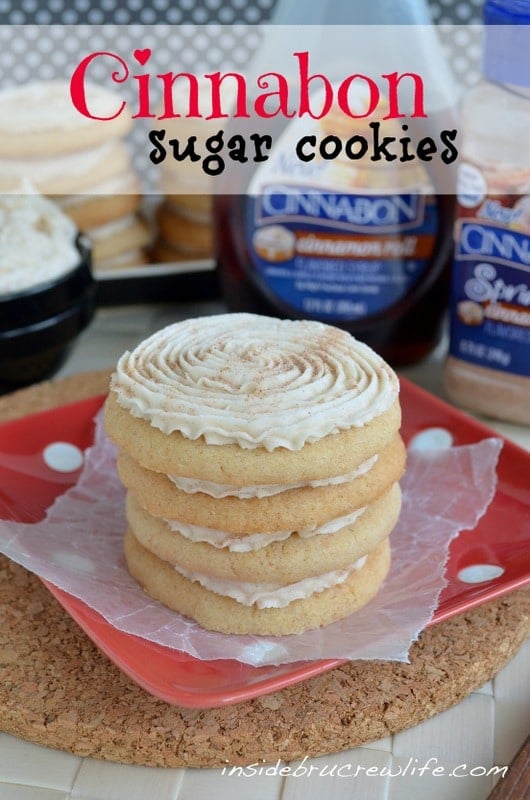 This week I had someone order 10 dozen sugar cookies for an open house at a local hospital. Ten dozen sugar cookies is a lot of cookies. Mixing and baking is actually the easy part. But after frosting 120 cookies, my hand was tired of holding that frosting bag. It is always a great feeling when I box up an order, and know that I am done. Then I can move on to making goodies for all of you 🙂
There was half a batch of sugar dough leftover when I got done with my order. Now you would think that I wouldn't want to see another sugar cookie for at least a week or two. But no, I have had this Cinnabon syrup and sugar topping just waiting for the right time to bust it out. These sugar cookies were the right time. I couldn't wait to finish them up and taste them. They were everything I wanted them to be 🙂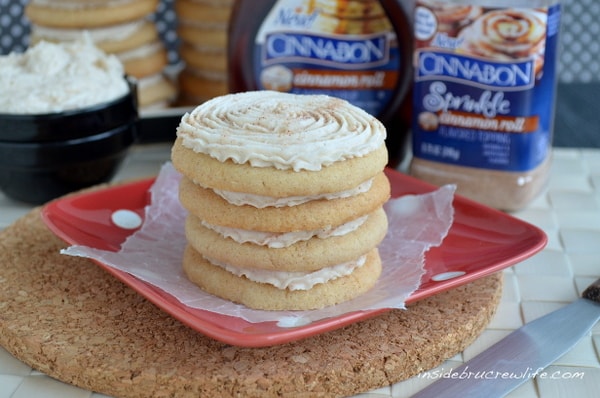 Are you ready for the holidays? This weekend I had my first of many Eggnog Latte's. I probably need to google a recipe for making these at home…I like them a little too much!
I sure hope you are ready for all the holiday goodies that I have up my sleeves. Well, really they are all swirling around in my brain right now. This cookie was one of those that has been swirling for a while, and I couldn't wait to make them up and share them with you. They are really easy to mix up and roll out.
I like to roll mine about 1/4 " thick and bake them for 6-7 minutes. These aren't not the extreme super soft sugar cookies, but wait for it…swirl on a butter cream frosting and after a day, these cookies will soften right up. And the best part is that they actually keep for about a week. Well, I think they do. We have actually never had any last that long around here.
Have you seen the Cinnabon syrup and topping? I found mine at our local Payless (Kroger) grocery store! It truly has the best cinnamon flavor I have ever tasted. I added a little bit of both to the dough and to the frosting! Talk about a Cinnabon explosion going on in your mouth! These were the best sugar cookies I have had…and I don't know if I will or if I want to go back to regular cookies and frosting. Cinnabon frosting can be other colors, right? I'm thinking Cinnabon reindeer and Santa hats.
*As of today (December 4, 2014) I have not been able to find the Cinnabon products in my store or online. I recommend using a cinnamon maple syrup and a cinnamon sugar mixture in this recipe.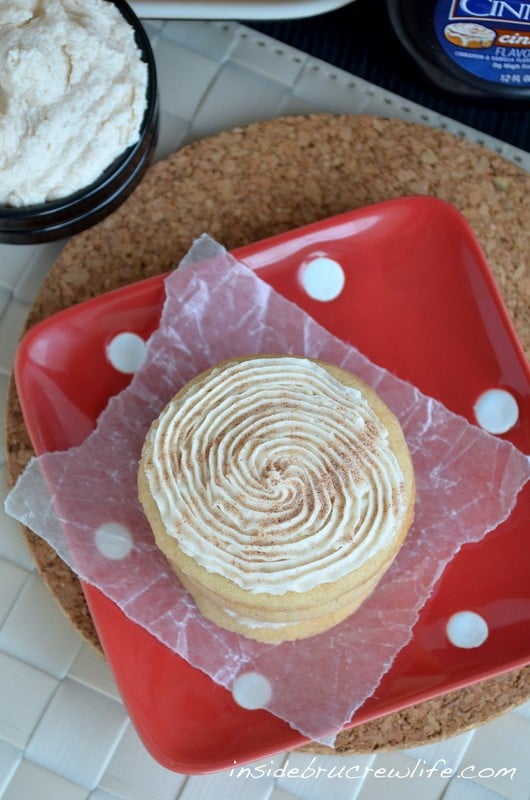 How do you like your cookies and frosting. I like a good cookie to frosting ratio. Actually I prefer my frosting to be a little bit on the thicker side, but that is just my sweet tooth talking. The good thing about these cookies is that you can put as little or as much frosting on them as you like. Spread it thin with a spatula or pipe it thick with a decorator's bag. The choice is up to you.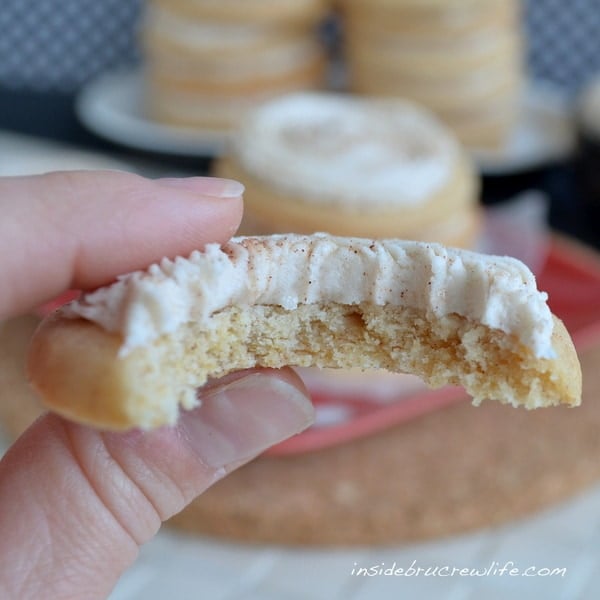 You know you want a bite 🙂
Stay up to date on all the BruCrew baking here:
FACEBOOK | PINTEREST | GOOGLE+ | TWITTER | INSTAGRAM | BLOGLOVIN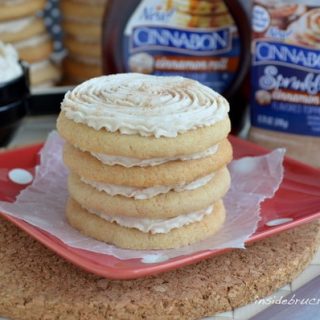 Cinnabon Sugar Cookies
Yield:
48 cookies (3 inch round)
These sugar cookies have a delicious cinnamon flavor in the cookie and in the frosting on top. They never last long in our house.
Ingredients
For the Cookies
1 cup butter, softened
1 cup sugar
1 egg
2 teaspoons baking powder
3 cups flour
2 Tablespoons Cinnabon cinnamon roll syrup (or any cinnamon maple syrup)
6 Tablespoons Cinnabon cinnamon roll sprinkle topping (cinnamon sugar mixture)
For the Frosting
1/2 cup shortening
1/2 cup butter, softened
4 Tablespoons Cinnabon cinnamon roll syrup (or any cinnamon maple syrup)
1 Tablespoon Cinnabon cinnamon roll sprinkle topping (cinnamon sugar mixture)
pinch of salt
4 cups powdered sugar
Instructions
For the Cookies
Preheat oven to 400 degrees.
Cream the butter and sugar until light and fluffy. Add the egg and syrup and beat again. Sift together the flour, baking powder, and cinnamon roll sprinkle topping. Slowly add the flour and mix it all in.
Divide the dough in half. Place on a floured surface and roll out to 1/4" thick. Cut out circles or whatever shape you have. Remove cut outs.
Pat the dough back together into a round disc and roll again. Repeat with all remaining dough.
Place cut out cookies on a baking sheet and bake for 6-7 minutes. Let cool completely before frosting. Store in a sealed container.
For the Frosting
Cream the butter and shortening until light.
Add the salt, sprinkle topping, and syrup and beat until fluffy. Slowly add the powdered sugar until all is mixed in.
Spread the cookies with as much or as little frosting. Sprinkle the tops of the cookies with cinnamon sugar, if desired.
Notes
*UPDATED: The Cinnabon products are not available now. Substitutions are suggested in the recipe.