Do you have any family traditions? One thing that we try to do with our kids each week is Friday movie night with pizza and popcorn. Last week I created this Key Lime Pie Popcorn for our night together.
*Make sure to sign up for the BruCrew email to receive new recipes in your inbox.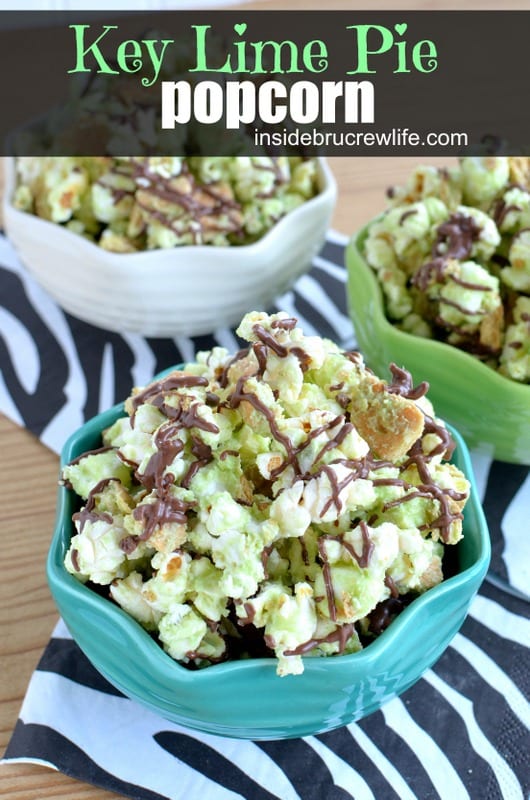 It's that time of year when Spring is just around the corner teasing us here in the Midwest.
We had a few mild days, and then a winter storm came through and dumped about 9 inches of wet, cold snow on us. The good thing is that it is supposed to be warming up again, and that snow should melt. I am starting to get anxious for warm weather, although I shouldn't complain because we have had the mildest winter ever. This is the first real snow storm all year.
But it still has me dreaming of warm beach weather.All the fun new spring flavors at the stores are really putting me into that warm weather mode too. Citrus must be the flavor for the spring season. I have seen so many different products using key lime, orange, and lemonade. It has me craving these Key Lime Cheesecake Cookie Bars too!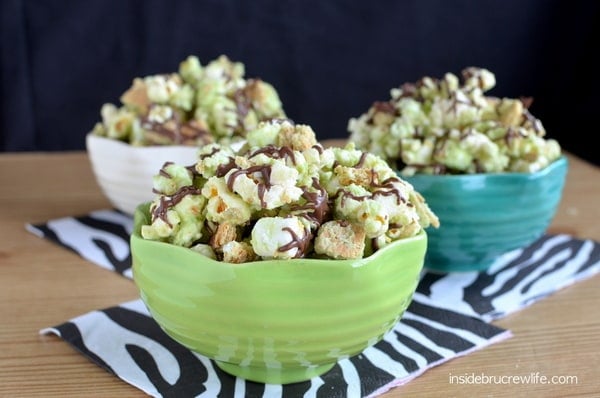 Duncan Hines has a new frosting creations packet in the key lime flavor. I grabbed a few of those when I saw them at Walmart. Key lime makes me think about Key West every single time.
My hubby and I went to Key West for our honeymoon, and then we also stopped there on one of the cruises that we went on a few years later. Both times we were there, we had the Key Lime cheesecake at Kermit's cheesecake shop. I love the chocolate covered Key Lime pie on a stick. So, immediately my mind went to key lime pie when I bought the flavor packet.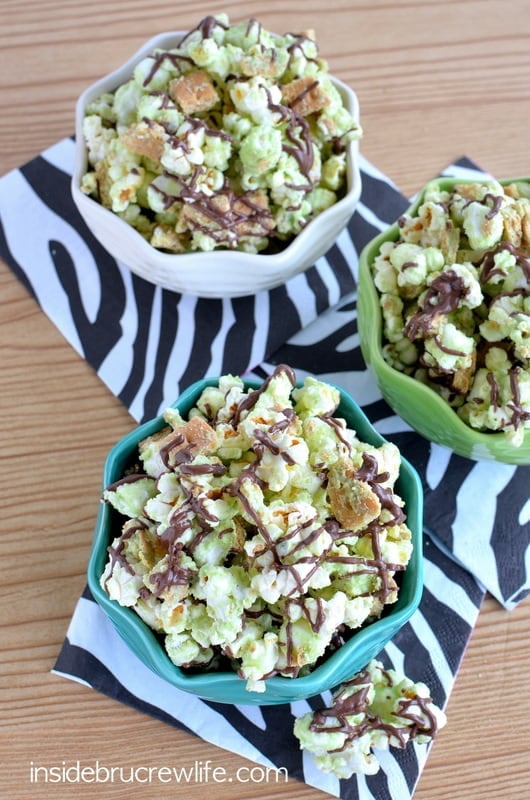 And because we have popcorn all the time, I decided to try another fun flavor. How does Key Lime Pie Popcorn sound? I added graham cracker chunks to mimic the pie crust and marshmallows...well, the marshmallows just because I love them in chocolate covered popcorn 🙂
Then I added the key lime flavor packet to the melted chocolate before pouring it on the popcorn. Put the popcorn on a tray and let it set up before breaking it into chunks.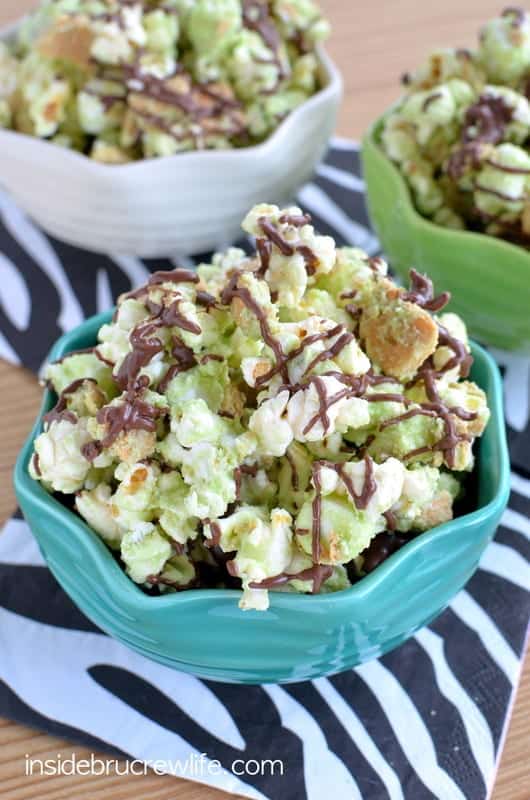 Chocolate drizzle over all the chunks was the perfect extra touch. Eating handfuls of this totally transported me back to the beach on Key West.
Stay up to date on all the BruCrew baking
by following here:
FACEBOOK | PINTEREST | GOOGLE+ | TWITTER | INSTAGRAM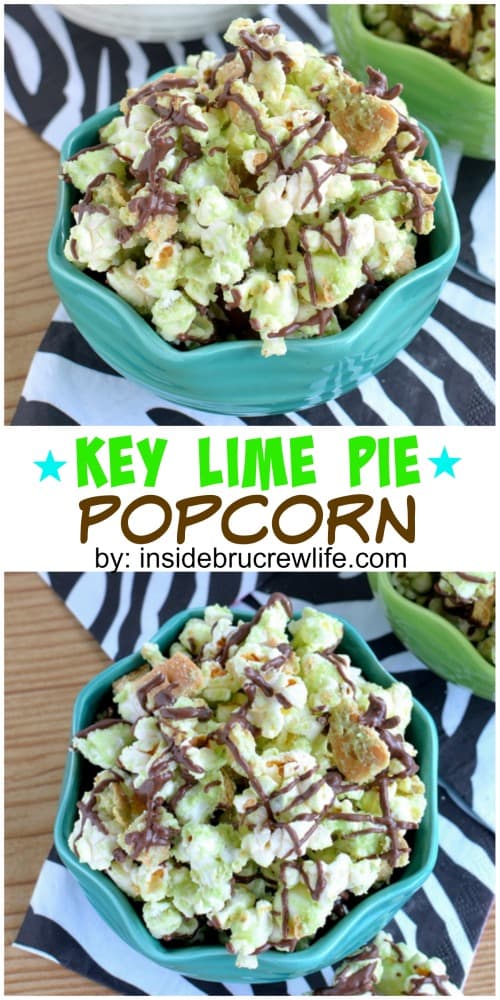 Here a few of my favorite desserts that get me thinking about the beach with their tropical flavors: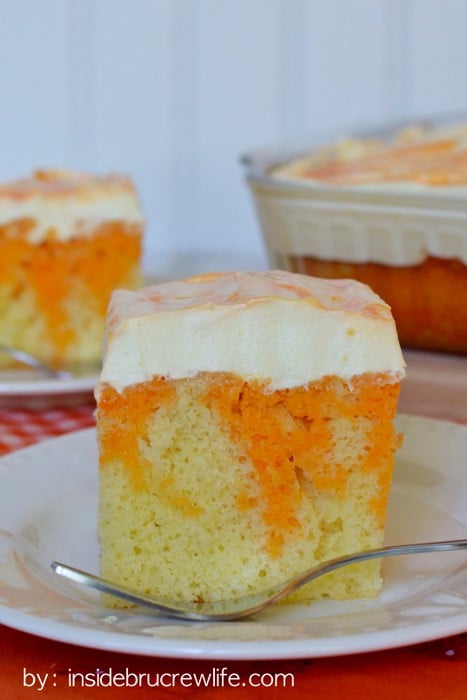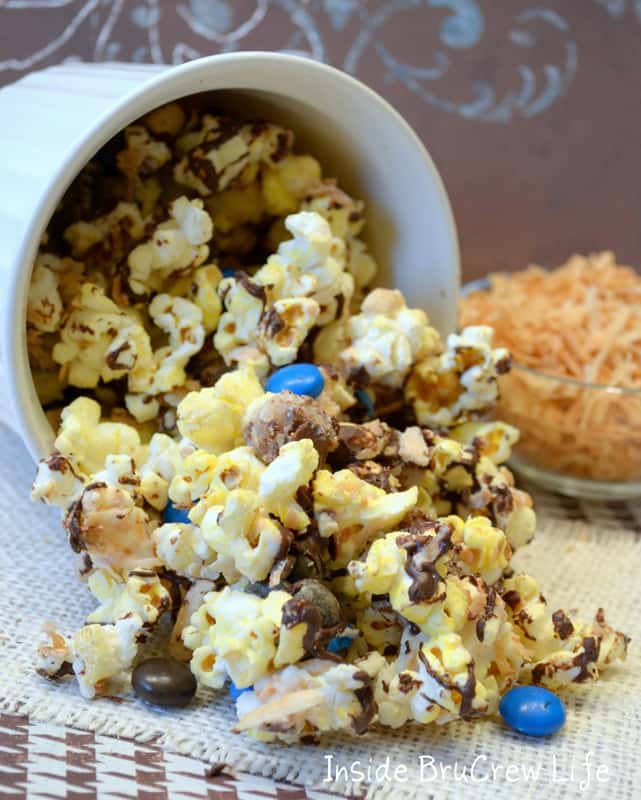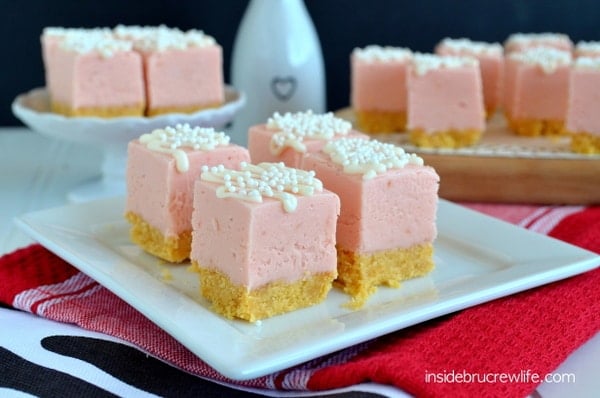 Tropical desserts from around the web:
Lemon Tart from Shugary Sweets
Key Lime Pie Rice Krispie Treats from Mallow and Co.