It's cold outside and I am dreaming about summer and sunshine. What is it about lemon bars that make you feel all warm and happy inside? Apparently I am not the only one who bakes up lemon bars during the dreary month of January.
I have seen quite a few versions floating around blog land this week. And here I thought I was being all sneaky like last Sunday when I threw these lemon cake bars in my oven. I think all food bloggers think alike...for the most part that is.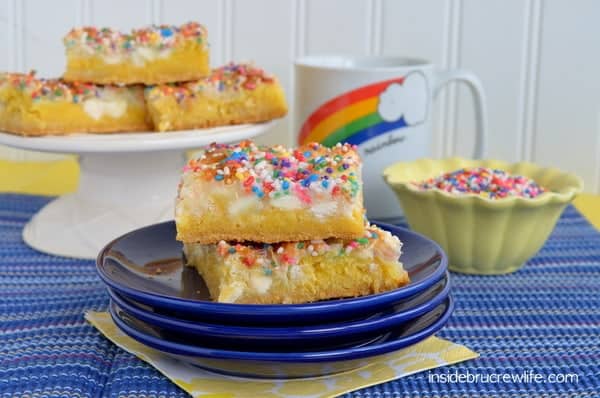 So supposedly there is a flu epidemic going around the country. My kids have been fairly healthy...just a few colds here and there. I hope everyone in your households have been staying healthy too.
The other day my husband and I went to visit a lady from our church in the hospital. We stopped at the front desk to find out what room she was in. The girl looked us over really good, and then proceeded to tell us the hospital was closed to anyone but close family due to the flu restrictions. Lucky for us, clergy is also allowed in the building. I think that might have stunned her for a minute. But then she kept going and telling us that children were not allowed under ANY circumstance in the building. We just shook our heads and agreed with her.
As we walked away, we both just started to laugh. Did she know something we did't because the last time I checked no one else was with us. Nope, no kids at all. I stopped and look around because I was SURE some child had wandered into the building and must be standing near us. I mean why else would she lecture us about children coming in? As we waited for the elevator I did my scan of the room again...nope, still no children anywhere near us. I'm thinking she thought we were suspicious looking and had a child hidden under our coat or in my giant purse.
Either that, or my make up was doing an extremely good job that day, and I looked like I was under the age of 18. My husband just kind of snorted when I said that. Fine...just burst this 36 year old's dreams of still looking young.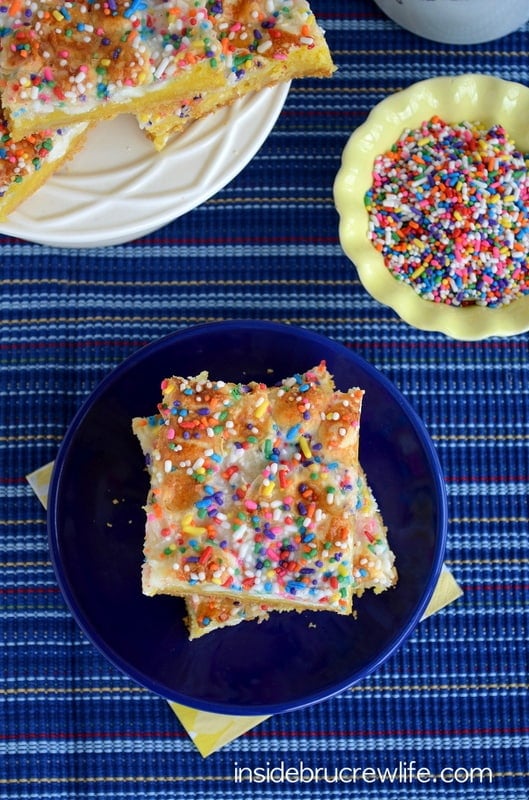 As we rode up the elevator, my husband asked me what I thought would happen if you really would try to sneak a child into a hospital room. I'm pretty sure there would be alarms, bells, and whistles screaming through the hallways. Then the metal gates would probably drop from the ceiling cutting off all hopes of escape. Bottom line..don't even mention the word "kid" in the building. That could get you under surveillance pretty quickly!
In all seriousness, I do understand the need to be very careful when the flu is going around. We just got a good laugh at the lady at the front desk and how insistent she was about no children when we didn't have any with us.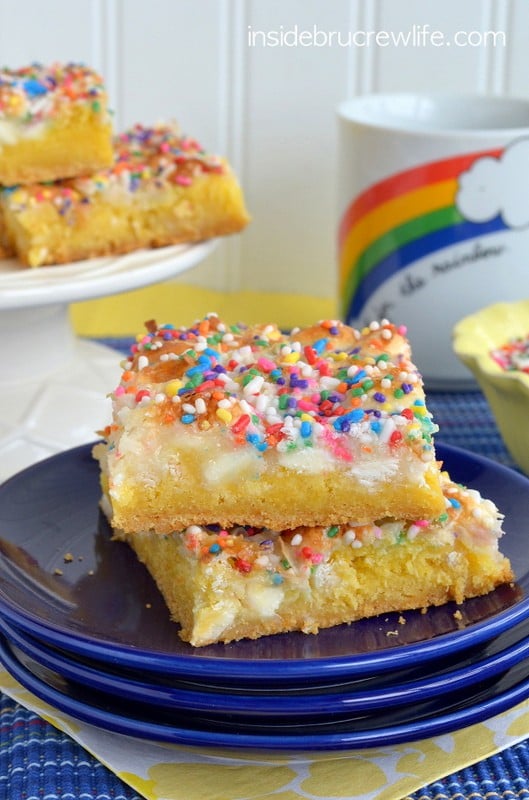 Maybe if this lady had some super sweet lemon cake bars with sprinkles for her lunch break, she would have been in a happier mood.
These magic bars start with a lemon cake mix dough that is pressed into a pan. Then in true magic bar fashion there are five layers of ingredients baked into the cake mix crust. I think my favorite layer is the sprinkle coating. Sprinkles just make me so happy, and I try to use them any chance I get. If you are looking for a quick and easy dessert to satisfy that sweet tooth, this bar is for you. Using a lemon cake mix keeps it from being a tart and citrus bar. It has a very subtle lemon flavor that pairs very well with the white chocolate and coconut layers.
And as with all magic bars, these are very sweet. I seriously could eat the sweetest and richest dessert without batting an eyelash. My sweet tooth has had years of experience. My husband on the other hand declared these bars too sweet for his liking. Just thought you might like to know they rate high on the sweet chart. They also rate very high in the cheery happy dessert chart.
Make sure you don't miss any of the crazy baking by following the BruCrew here:
FACEBOOK | PINTEREST | GOOGLE+ | TWITTER | INSTAGRAM
Here are some more easy recipes using cake mixes...
click on the picture to go to the recipe.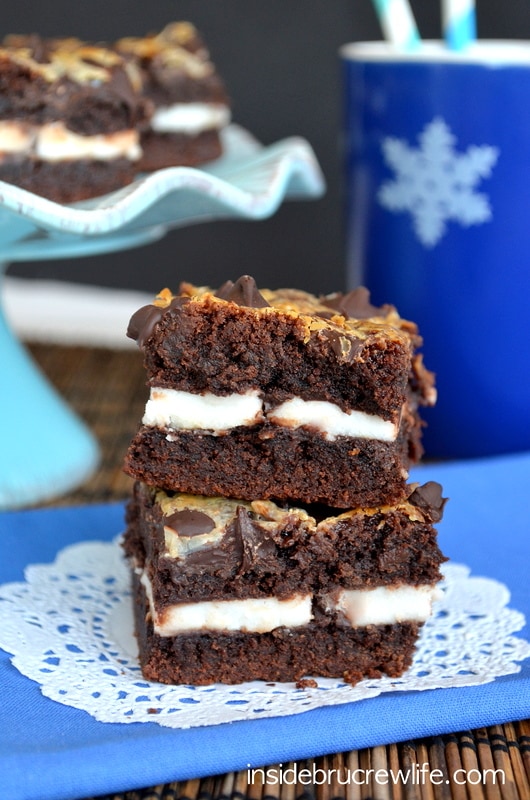 PEPPERMINT PATTY GOOEY CAKE BARS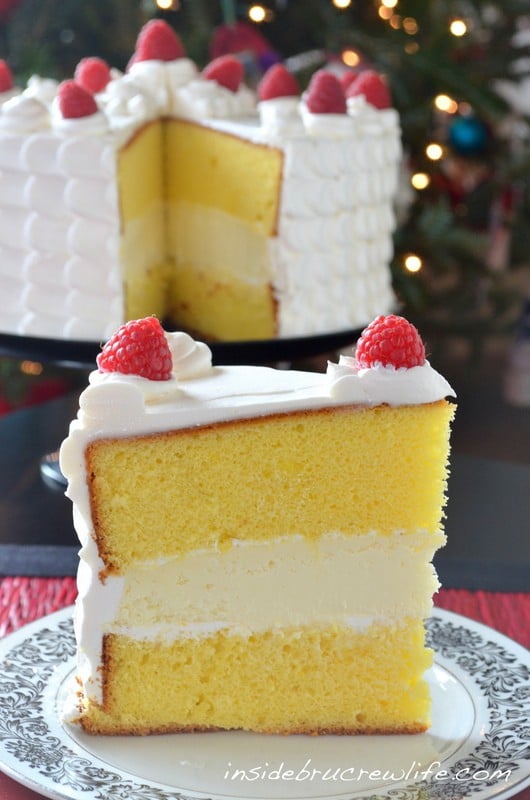 LEMON CHEESECAKE CAKE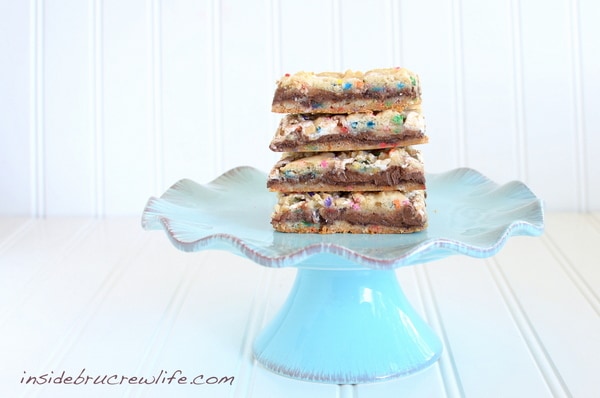 NUTELLA MARSHMALLOW BARS