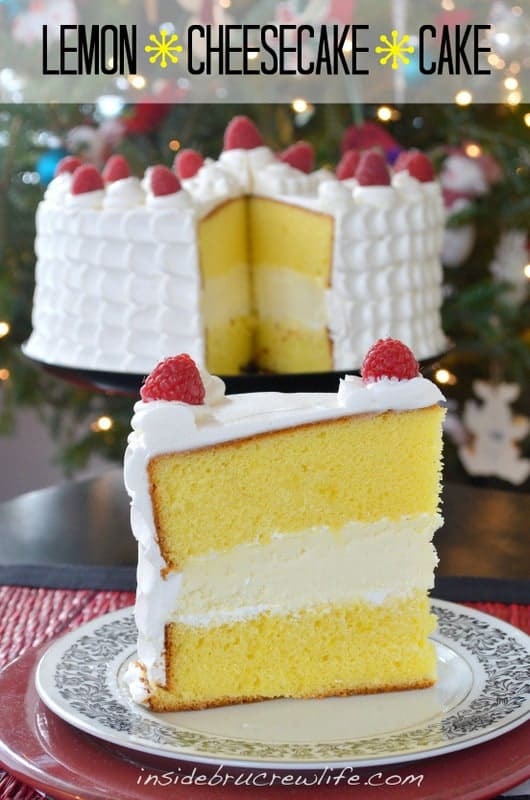 My husband likes to push my buttons and get me all worked up.  And he usually succeeds before I realize that he is just joking.  This weekend we hosted a dinner for our church's praise team.  While we discussed our dinner menu, my dear hubby made a comment about buying dessert.  That just got me going because I already had plans to make this lemon cheesecake cake.
 "WHAT?  Are you kidding me?  I love to make dessert and there is no way I can show my face if we buy a store dessert."
Then I looked at him and realized he was grinning.  He knows I will never let him buy dessert because I have way too much fun playing in the kitchen with sugar.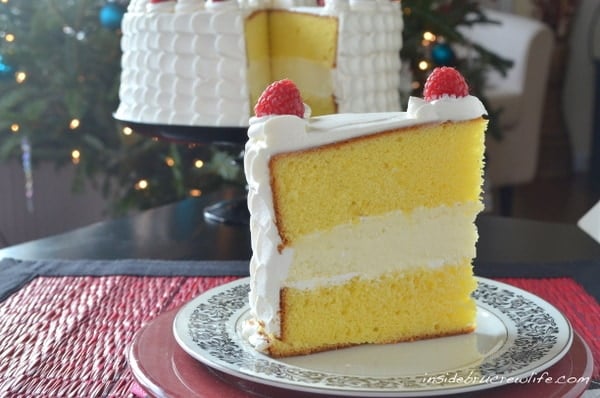 Last week I was talking to Aimee and telling her about the lasagna dinner we were hosting.  I knew that I wanted to make some sort of cheesecake, but I just wasn't sure which one to try next.  She convinced me that I needed to try my hand at a cheesecake cake instead.  We talked some more about different flavors, and then she suggested Lemon.  For some reason I never make lemon desserts.  Not that I don't like them, I just never think to make them.  This blog needs some more lemon I think.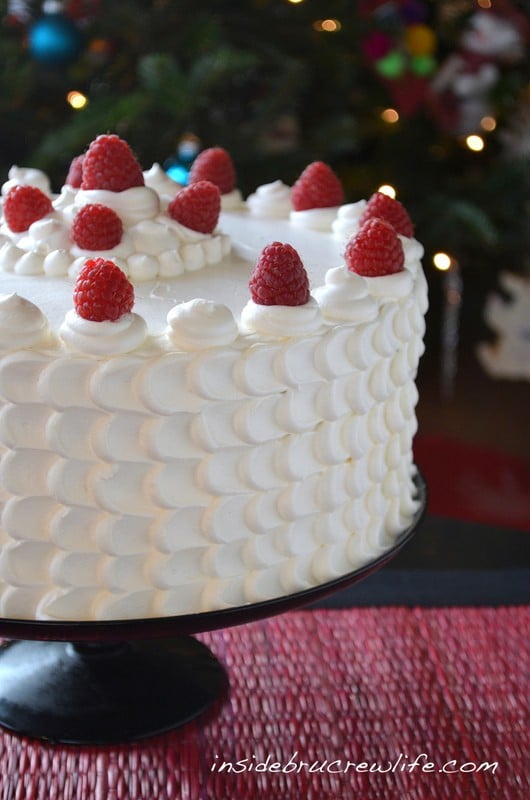 This cake was such a show stopper!    Gotta love that new Cool Whip frosting.  It was the perfect light frosting for the lemon flavor.
This cake was so easy to decorate too.  I used a decorating bag and metal tip #12 to pipe on circles of frosting from top to bottom.  Then I used the back of a spoon to spread the frosting out.  You will need to do this one row at a time.  After you spread out one row, then you can pipe the next row of circles.  Repeat until you have covered the entire cake.  Pipe more circles on the top of the cake and add fresh raspberries for some color.  (you could also use blueberries, if you like those better.)  For more information on this decorating style, visit here.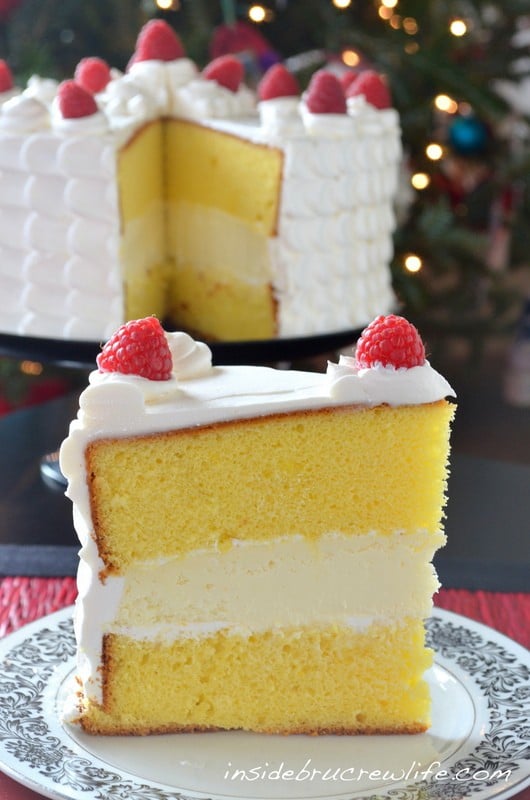 I totally recommend making a cheesecake cake for your next big dinner party.  It's so fun to watch it disappear 🙂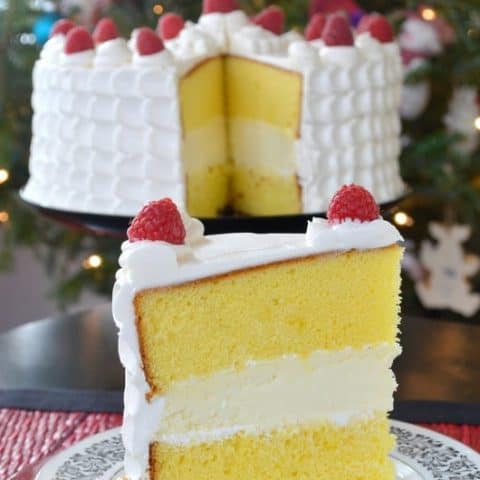 Lemon Cheesecake Cake
Cook Time:
2 hours
15 minutes
Total Time:
3 hours
15 minutes
Lemon cake layers filled with a vanilla cheesecake and topped with Cool Whip frosting
Ingredients
For the Cheesecake
3 - 8 ounce packages cream cheese, softened
1 cup sugar
1 cup sour cream
3 eggs
1 Tablespoon vanilla
For the Lemon Cake
2 lemon supreme cake mixes
8 eggs
2 cups buttermilk
2/3 cup lemon juice
2 - 3.4 ounce instant lemon pudding mixes
2/3 cup oil
For the Frosting
2 - 3.4 ounce instant vanilla pudding mixes
2 cups milk
2 - 8 ounce containers Cool Whip, thawed
Instructions
For the Cheesecake layer
Preheat oven to 350 degrees. Place a large sheet pan on the very bottom rack and fill halfway with water.
Line a 10 inch springform pan with parchment paper.
Beat the cream cheese and sugar until fluffy. Add in the sour cream, eggs, and vanilla and beat until creamy.
Pour into pan. Bake for 45 minutes. Cool on a wire rack for 5 minutes, then run a knife around the edges. Leave in pan and cool for 1 hour, then refrigerate and chill for 4-6 hours.
For the Cake
Preheat oven to 350 degrees. Grease and flour 2 - 10"x2" round cake pans.
In a mixing bowl combine cake mix, eggs, buttermilk, lemon juice, pudding, and oil. Beat for 1 minute on low, and then 2 minutes on medium.
Pour evenly into prepared pans. Bake for 42-44 minutes. Cool in the pan for 15 minutes and then flip onto a wire rack to cool completely.
Whisk together the pudding and milk. Refrigerate 5 minutes. Fold in Cool Whip. Stir until creamy.
To assemble the cake, level both lemon cakes. Place one cake on a plate and smooth on a thin layer of frosting.
Place the cheesecake on top. If the layers don't match up you can use a knife to very carefully remove the sides of the cheesecake to fit. Smooth a thin layer of cool whip frosting on top of the cheesecake.
Place the last cake layer on top of the cheesecake. Smooth the Cool Whip frosting over the top and sides of the cake. Decorate with fresh raspberries if desired. Keep refrigerated.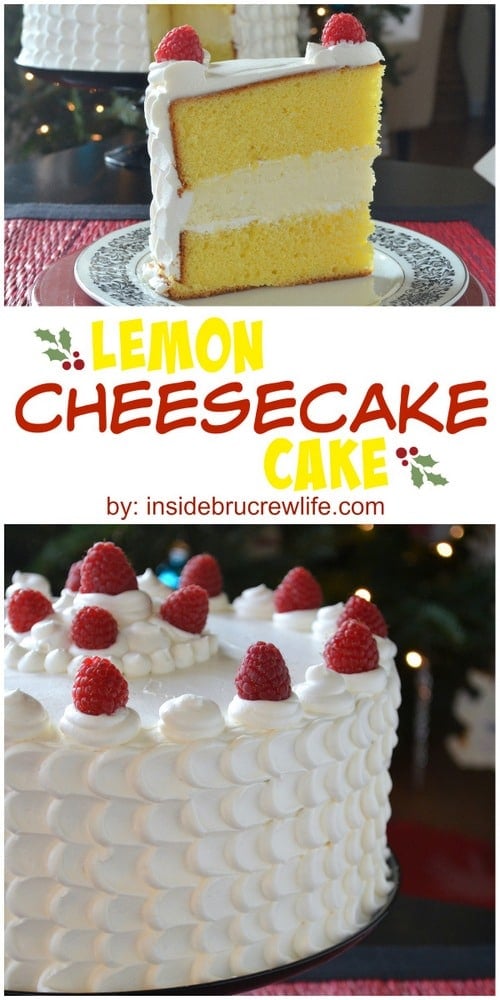 Want more fun Cheesecake ideas?  Check out these links:
Key Lime Cheesecake Cookie Bars from BruCrew Life
Chocolate Peppermint Cheesecake Cake from Shugary Sweets
Cheesecake Caramel Pumpkin Cups from Something Swanky
Butterfinger Mousse Cheesecake Cups from BruCrew Life