Layers of chocolate and mint candies make these Peppermint Patty Gooey Cake Bars a fun and easy dessert treat.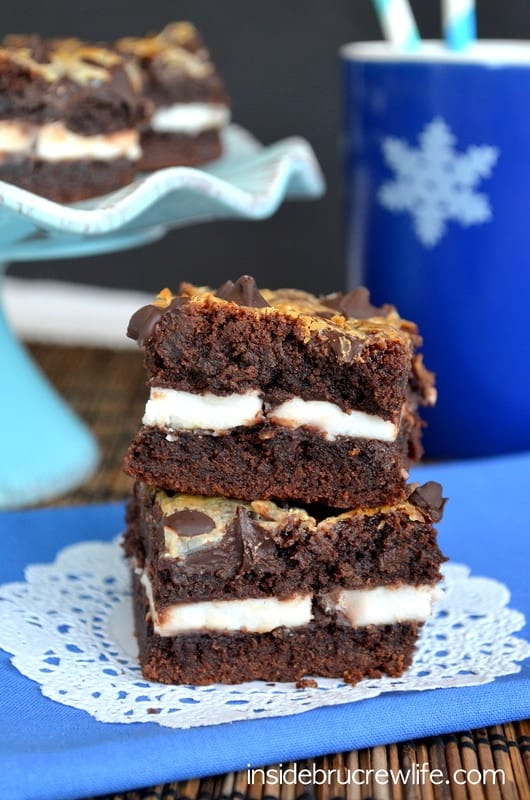 The other day I wanted chocolate. I had to have something right away!
There is always some sort of candy in my baking cupboard, but I wanted something more than just a chocolate bar. I kept thinking about these Gooey Butterfinger Brownie Bars and how good they were.
As I dug through the cupboard, I pulled out a bag of York peppermint patties. Right away I knew another gooey bar needed to happen!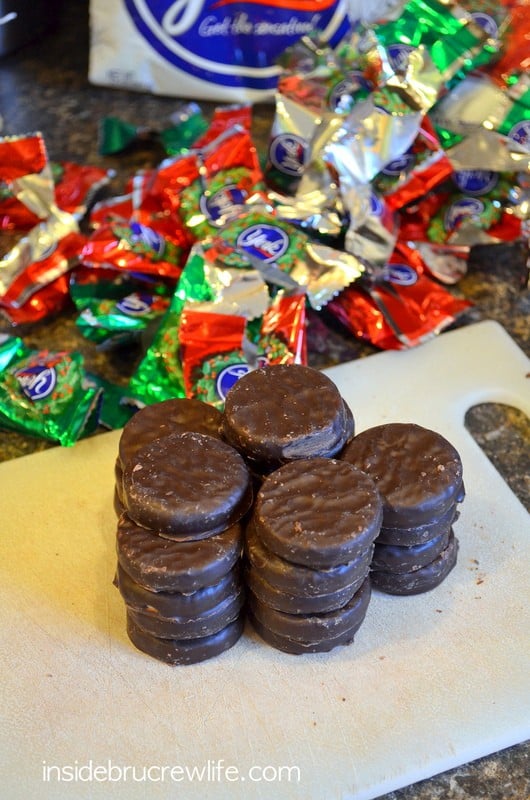 These bars are so easy to throw together. There is really no limit to the flavor combinations.
When I have made them before, I have put cookies, coconut, and candies in with the cake mix. But this time I wanted a simple gooey chocolate bar that said, "hello, winter"!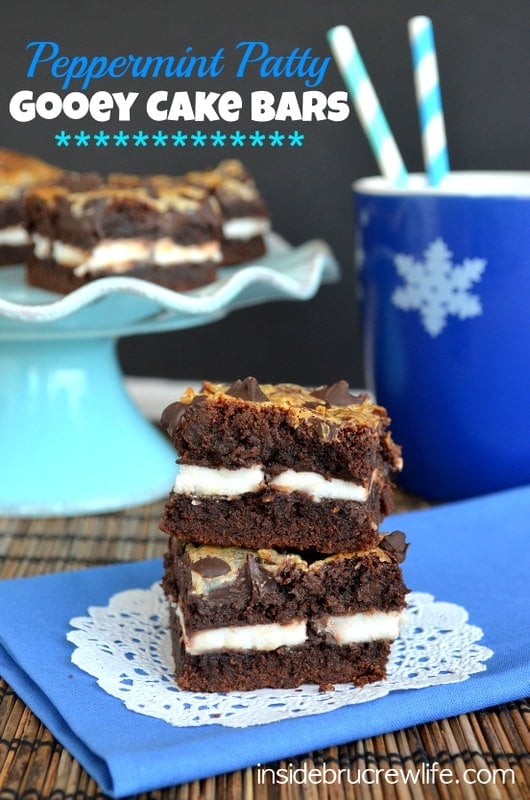 How to make Peppermint Patty Gooey Cake Bars:
Make a soft dough from the cake mix and press half of it in the pan.
Layer the unwrapped candies on top, then press the remaining dough over the candies.
Drizzle the sweetened condensed milk on the top and then sprinkle the chocolate chips over the top of that.
The bars are going to look underdone when you pull them out of the oven. TRUST ME! Do not bake them longer.
Just let them cool on your counter for at least 4 hours. I actually recommend waiting until the next day to cut into them. But I know how hard that is going to be.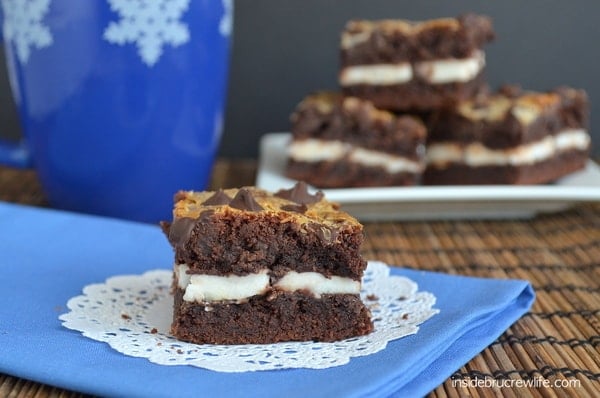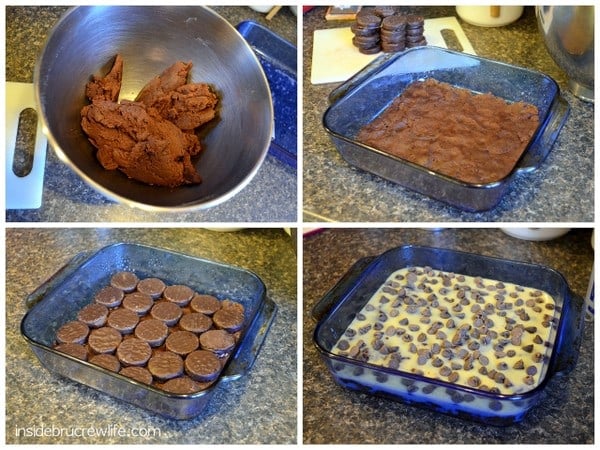 Although, I should have said, "Hello fat pants", because I couldn't stop eating little pieces of these bad boys.
These Peppermint Patty Gooey Cake Bars are the perfect dessert to satisfy your chocolate cravings!
Chocolatey, gooey, minty…it is a good thing I sent the rest of these bars to work with my husband because I would have eaten the entire pan before dinner.
What? You've never done that before? I guess that's just me!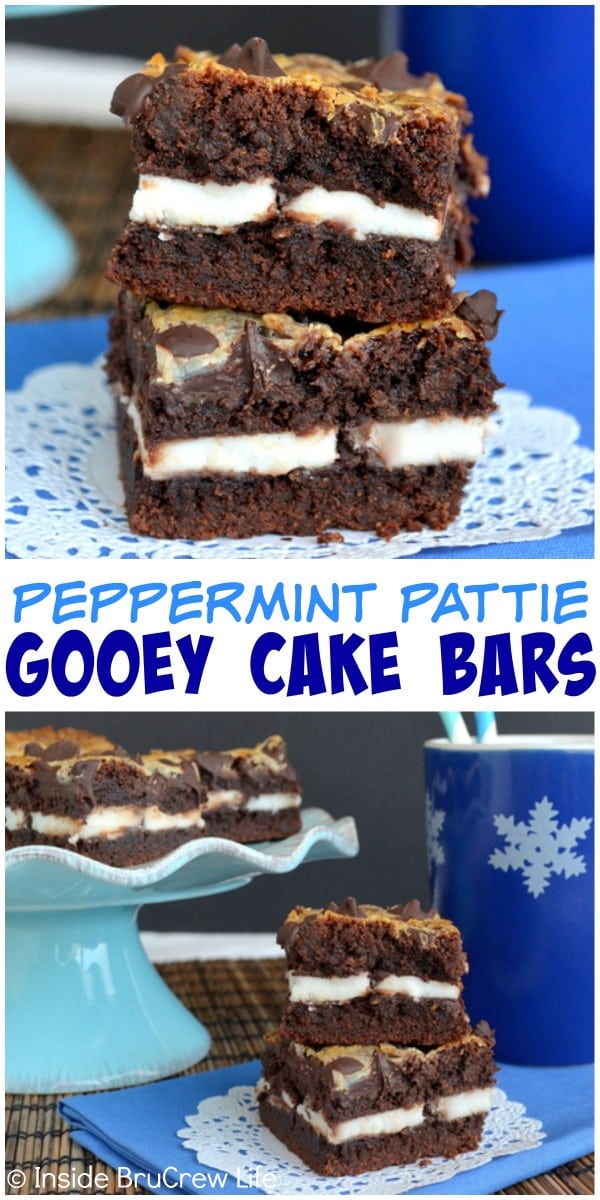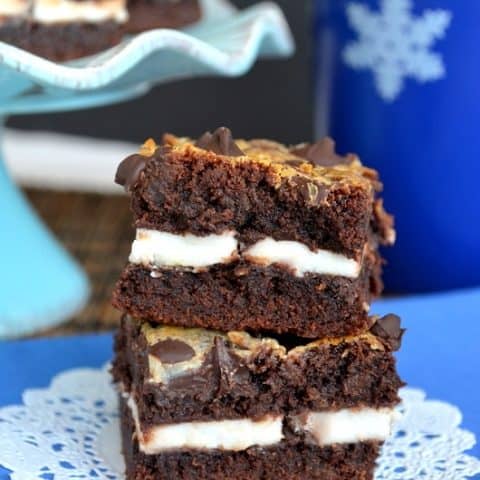 Peppermint Patty Gooey Cake Bars
Layers of chocolate and mint candies make these Peppermint Patty Gooey Cake Bars a fun and easy dessert treat.
Ingredients
1 chocolate cake mix
1 egg
1/2 cup butter, softened
1 teaspoon vanilla extract
20 small peppermint patties, unwrapped (11 oz. bag)
1/2 cup sweetened condensed milk
1/2 cup chocolate chips
Instructions
Preheat the oven to 350 degrees. Spray an 8x8 pan with nonstick spray.
Combine the cake mix, butter, egg, and vanilla in a bowl and mix until a soft dough forms.
Press 1/2 the dough into the prepared pan.
Place 16 unwrapped peppermint patties on top of the cake dough. Cut the remaining patties in half and place around the edges.
Press the rest of the cake dough on top by flatten small pieces of the dough in your hand, then press over the peppermint patties.
Drizzle the milk over the top and sprinkle with chocolate chips. Bake for 35 minutes. Do not over bake!!
Let the bars cool completely before cutting. Store in a tightly sealed container. Makes 16 bars.