A plate of pretzels and this Loaded Pizza Cheese Ball is the perfect snack to munch on during game days. It is so easy to customize this easy appetizer with your favorite pizza toppings!
*I am partnering with Red Gold® as a brand ambassador this year creating recipes using canned tomatoes. As always, all opinions are 100% my own.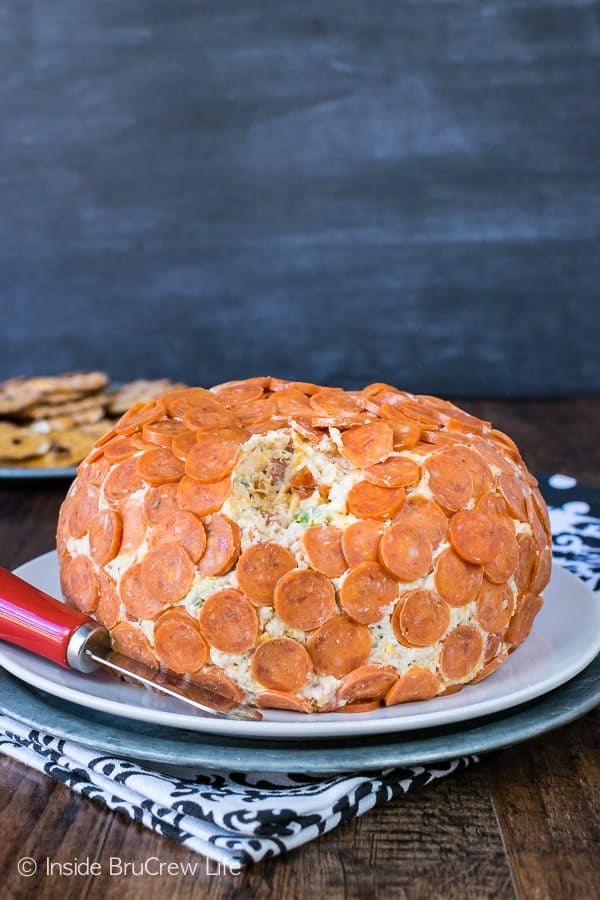 CLICK HERE TO PIN THIS RECIPE FOR LATER!
It has been absolutely frigid here the past few days. Ok, so maybe frigid isn't the word I should be using when I live in sunny Florida. We went back home to Indiana over the holidays, and it was definitely a whole lot colder there.
The other day I was snuggling under the warm covers scrolling through Instagram, and I saw quite a few people braving the -degree weather to enjoy things like running and football games. I am definitely a fair weather fan. If it's cold outside, I'm not leaving my house. For anything. Well, maybe for a quick run to the grocery store, then it's back to my blanket and cup of hot coffee.
During the cold winter months, my favorite way to watch any kind of game is on my couch wrapped in a big fuzzy blanket with a table of food just within in arms reach. Game days are a whole lot more fun when I can feel my fingers and stuff my face with appetizers. I mean veggies...
This year I am partnering with Red Gold® to bring you some awesome recipes using their canned tomatoes. This family-owned company understands the value of doing things the right way. Each can is packed with high quality, fresh tomatoes that are grown on Midwest family farms. It's the reason I continue to reach for the yellow label every time I'm in the grocery store.
One of our all time favorite things to eat in this house is pizza. Our kids don't care if we make homemade pizza dough or buy it from the store. As long as it has pepperoni and cheese on it, they will eat it.
Since pizza is a main staple in our house, I knew incorporating some pizza toppings into a fun game day appetizer would go over huge in our house.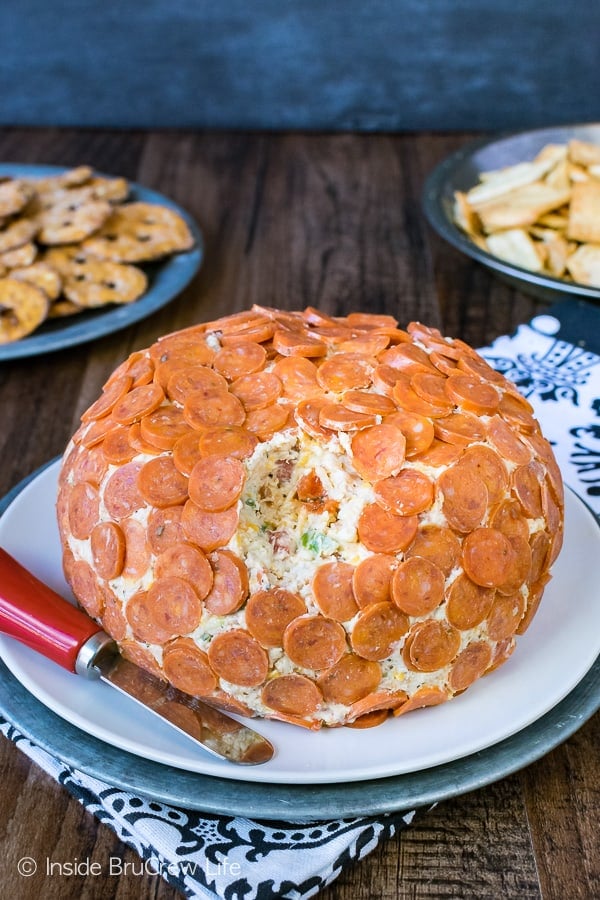 If I'm being honest with you, the only reason I show up for game day parties is for the food. I can cheer along with the best of them, but in my heart it is not for the men with the ball. I'm cheering for the table loaded with appetizers, loaded hot corn dip, and desserts. Who's with me?
Over the years we have attended many football parties. Usually we play board games with our kids and friends as the football game plays on the tv in the background. The men are usually a little distracted this way, so there is a better chance for the girls to win.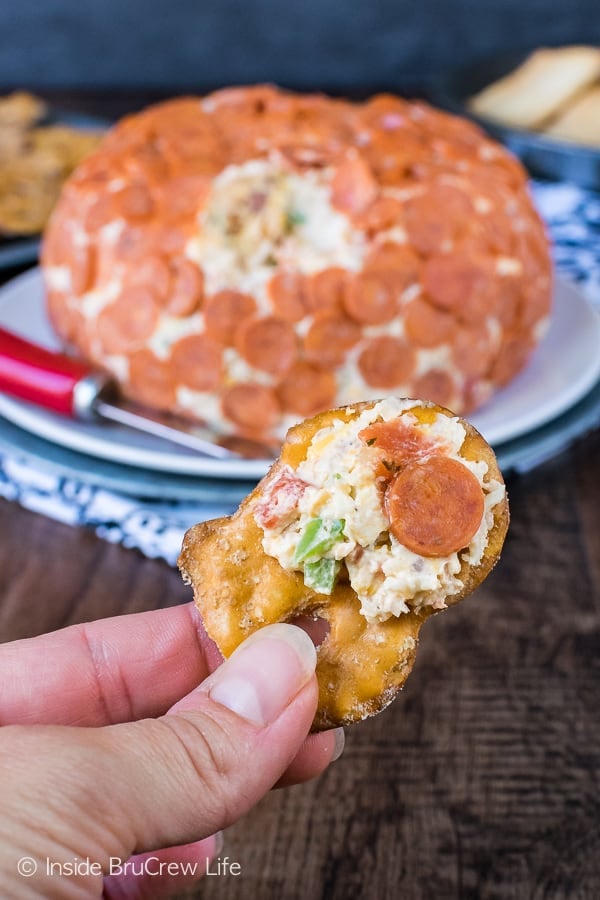 Quick Tips for this Cheeseball Appetizer
Set out the cream cheese ahead of time because it is easier to stir in the ingredients when it is warmer. But if you do forget, no worries. Just take off the foil wrapper and microwave for 20 seconds.
Drain the canned tomatoes very well. I like to use a wire mesh strainer to remove as much liquid as possible to keep the cheese ball from getting soggy.
Make sure your veggies and cheese are finely diced and shredded.
Use a rubber spatula to fold together the cream cheese, garlic, red pepper, and oregano. Feel free to add more red pepper flakes if you like a little more kick in your food.
Dump in the rest of the ingredients and gently stir everything together. Try not to smash the tomatoes as you stir.
Place the mixture on a piece of saran wrap and mold it into a ball. Refrigerate the cheese ball for 1-2 hours or until firm.
Unwrap the cheese ball and cover it with mini pepperonis. Just make sure you have extras because kids like to steal the pepperonis from the outside of the cheese ball.
Serve with an assortment of crackers and pretzels and watch it disappear.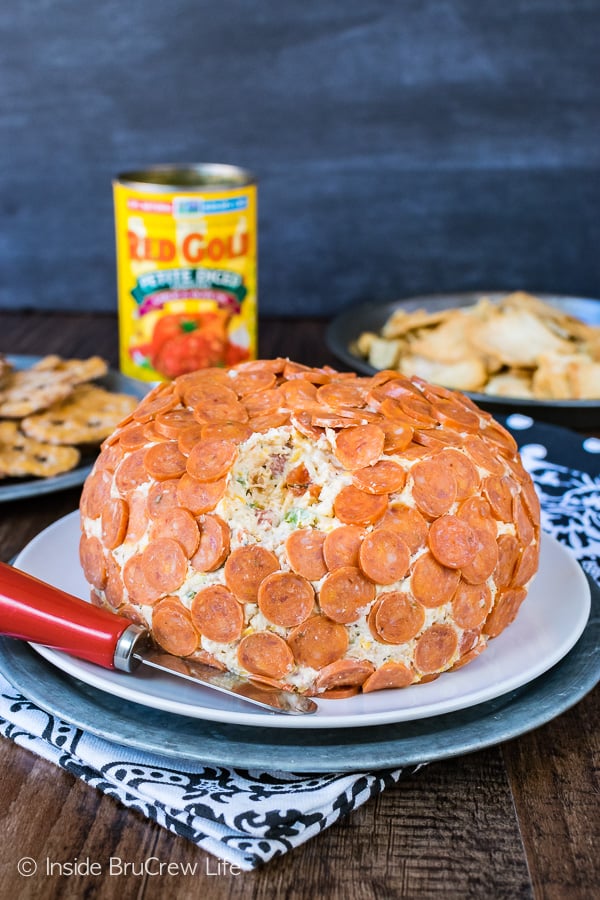 More tomato filled recipes to add to your game day parties:
CLICK HERE TO PIN THIS RECIPE FOR LATER!

*I was compensated for my time creating this recipe as a brand ambassador for Red Gold. All opinions expressed in this post are 100% my own. Thank you for letting me share the brands and products we use and love.