As summer quickly approaches, I love how easy it is to make ice cream to snack on. This Marshmallow Kit Kat Ice Cream is a must have for a hot summer day.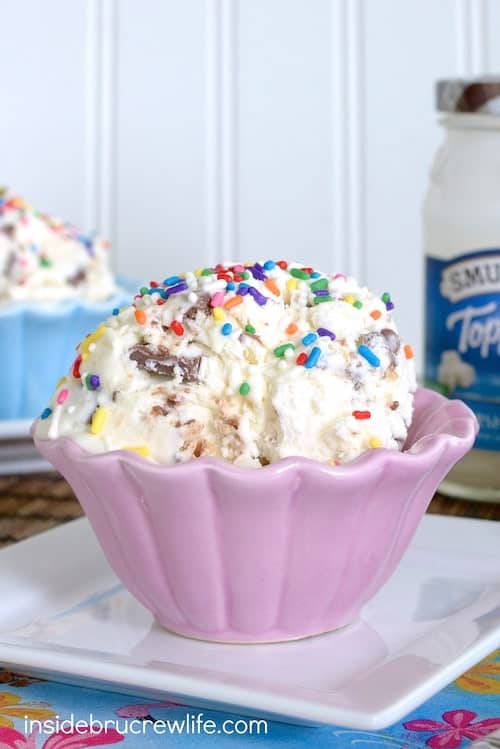 I have been wanting to make some sort of 2 ingredient ice cream
ever since I saw it.
Well, I finally decided with it being summer and 90+ degrees outside,
that it was time to make some ice cream.
Gotta love a cold creamy ice cream cone
after being outside in the hot sun!
This ice cream is so easy to make.
I almost love it more than the store bought stuff.
It is so rich and creamy!
And it only takes about 7 minutes to make
and you don't have to heat up your oven at all for this!
Bonus when it is too sticky outside for baking!
Now obviously I had to find some thing to stir into my ice cream,
so I dug through my baking cupboard...
and pulled out some Kit Kat's and some marshmallow ice cream topping.
Now that sounds like a tasty combo, doesn't it?
The answer to that...YES!
We ate the entire bowl of ice cream in one day!
Now remember that if you are going to make it and eat it the same day,
you need to plan ahead better than I did.
I made it at night.
Bad idea when it has to freeze for like 6 hours before consuming.
Not easy to tell the kids that you are making ice cream,
and that they have to wait until tomorrow to try it out.
I think the wait was worth it though...they loved it!
Now my son keeps asking when I am going to make more.
I have the whipping cream and condensed milk
and an entire cupboard full of mix ins...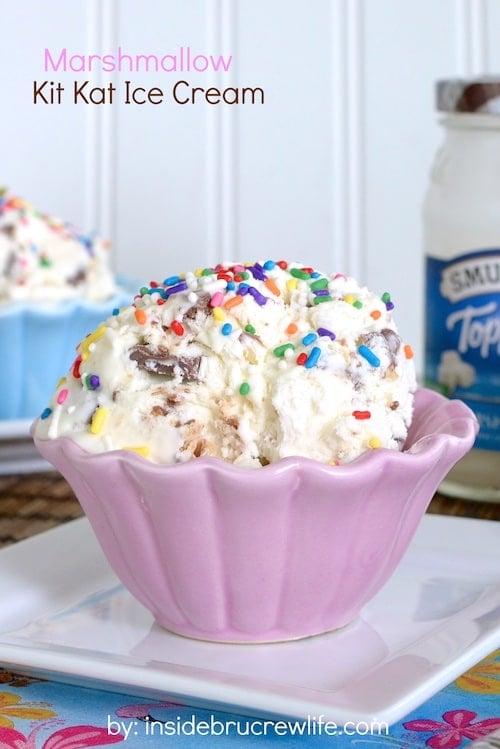 so what flavor combo sounds good to you???
(there is a very good chance I have what you are thinking of)