Celebrate the holiday season with homemade Peppermint Stick Ice Cream. This festive pink treat is blended with crushed candy cane pieces and has a delicious peppermint flavor.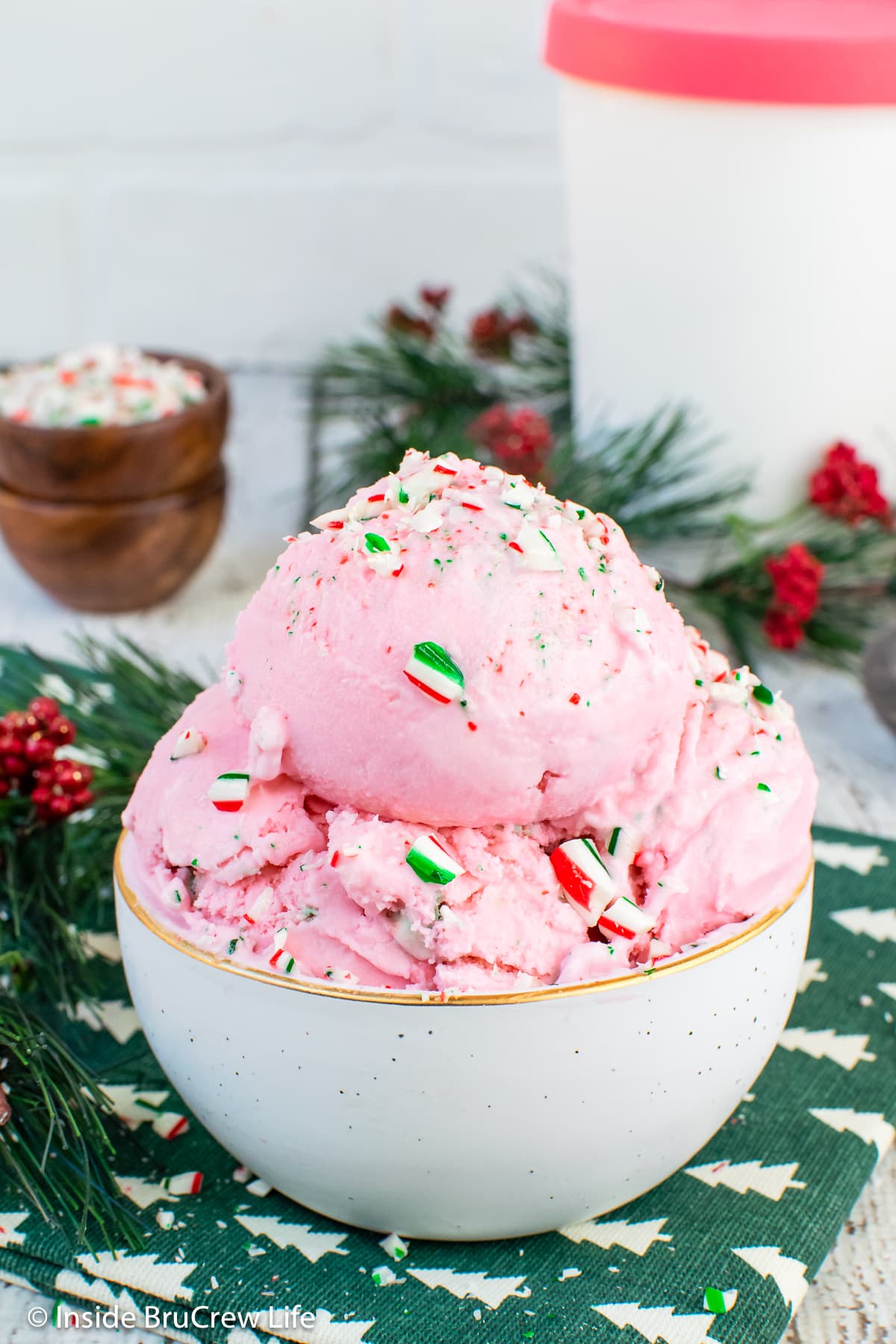 Winter has arrived. It's the perfect time to snuggle up with a warm blanket and watch your favorite holiday movie. However, don't forget to treat yourself to some pink peppermint ice cream.
It isn't Christmas without a few cartons of this candy cane ice cream in your freezer. Grocery stores typically carry this seasonal flavor for only a few months each year.
Since it's difficult to find this frozen treat after the holiday season, I made a homemade peppermint ice cream to enjoy year-round. The hardest part is waiting for it to churn and freeze.
Jump to:
Why You Will Love This Peppermint Stick Ice Cream
This homemade peppermint ice cream is made with peppermint extract and crushed candy, making it a fun dessert for Christmas.
However, you don't have to wait for the holidays to enjoy this special treat. It's easy to make so you can indulge in it all year round.
Smooth and creamy texture. Combining heavy cream, whole milk, and melted white chocolate creates the perfect creaminess. It's important not to skimp on the ingredients as the fat content is crucial.
Loaded with candy canes. Using crushed candy bits gives the ice cream a more intense flavor and satisfying crunch.
Pretty pink color. More or less food coloring can be added to get your desired shade of pink. However, you can skip that step and enjoy white ice cream with candy canes. Either way, it's sure to become a holiday favorite!
Key Ingredients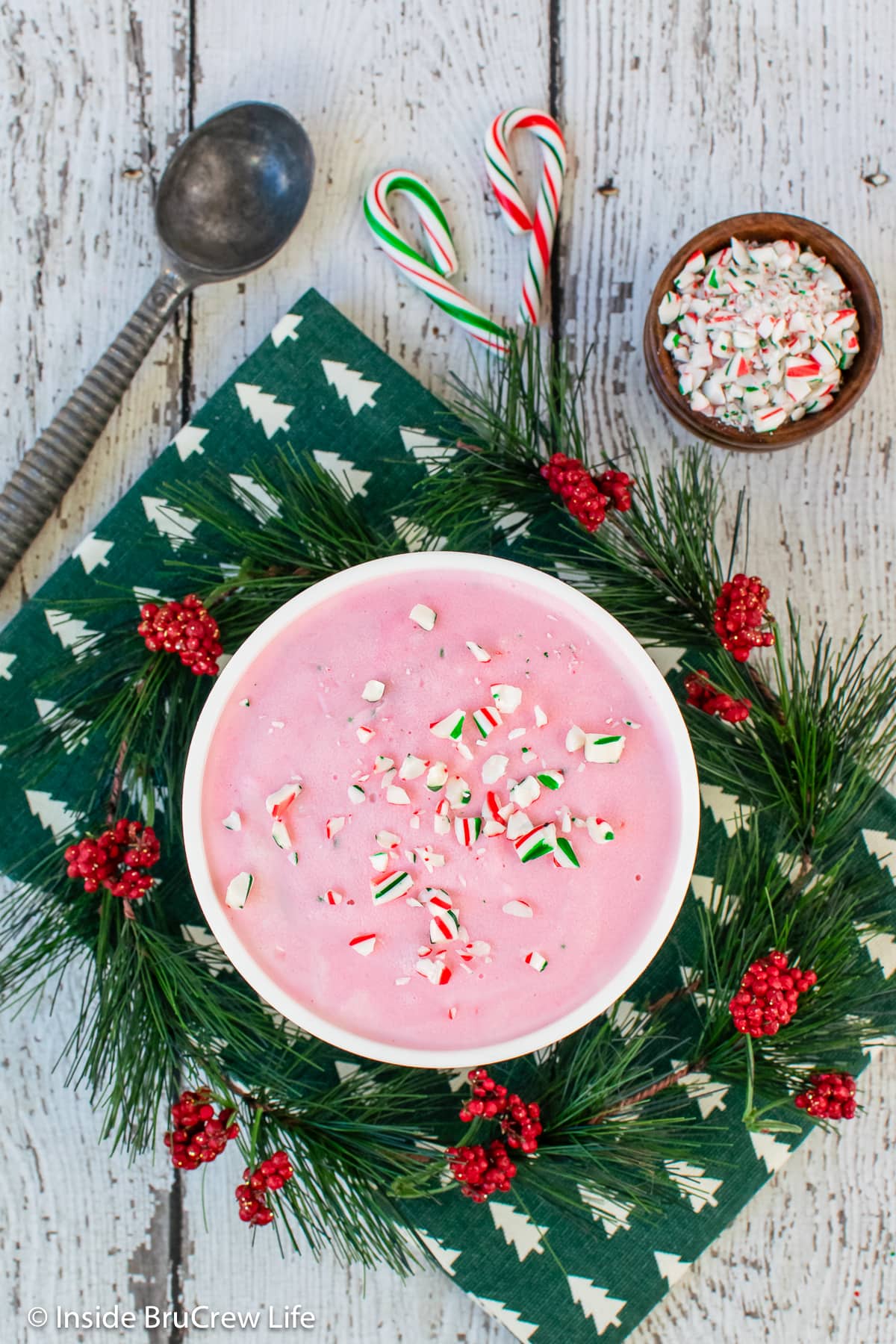 You only need a few ingredients to make this peppermint ice cream recipe.
Milk - A mixture of whole milk and heavy cream creates the ice cream base.
White Chocolate - Choose a good quality chocolate for the best taste. I like using Ghirardelli white chocolate chips.
Flavoring - I used vanilla extract and peppermint extract to add a delicious flavor.
Candy Canes - Use most of the crushed candies in the ice cream, but save some for garnish. Feel free to use any other peppermints or buy a bag of pre-crushed peppermint candies.
Optional - A pinch of sea salt balances the sweetness, and pink or red food coloring adds a bright or pale pink color.
How To Make Peppermint Ice Cream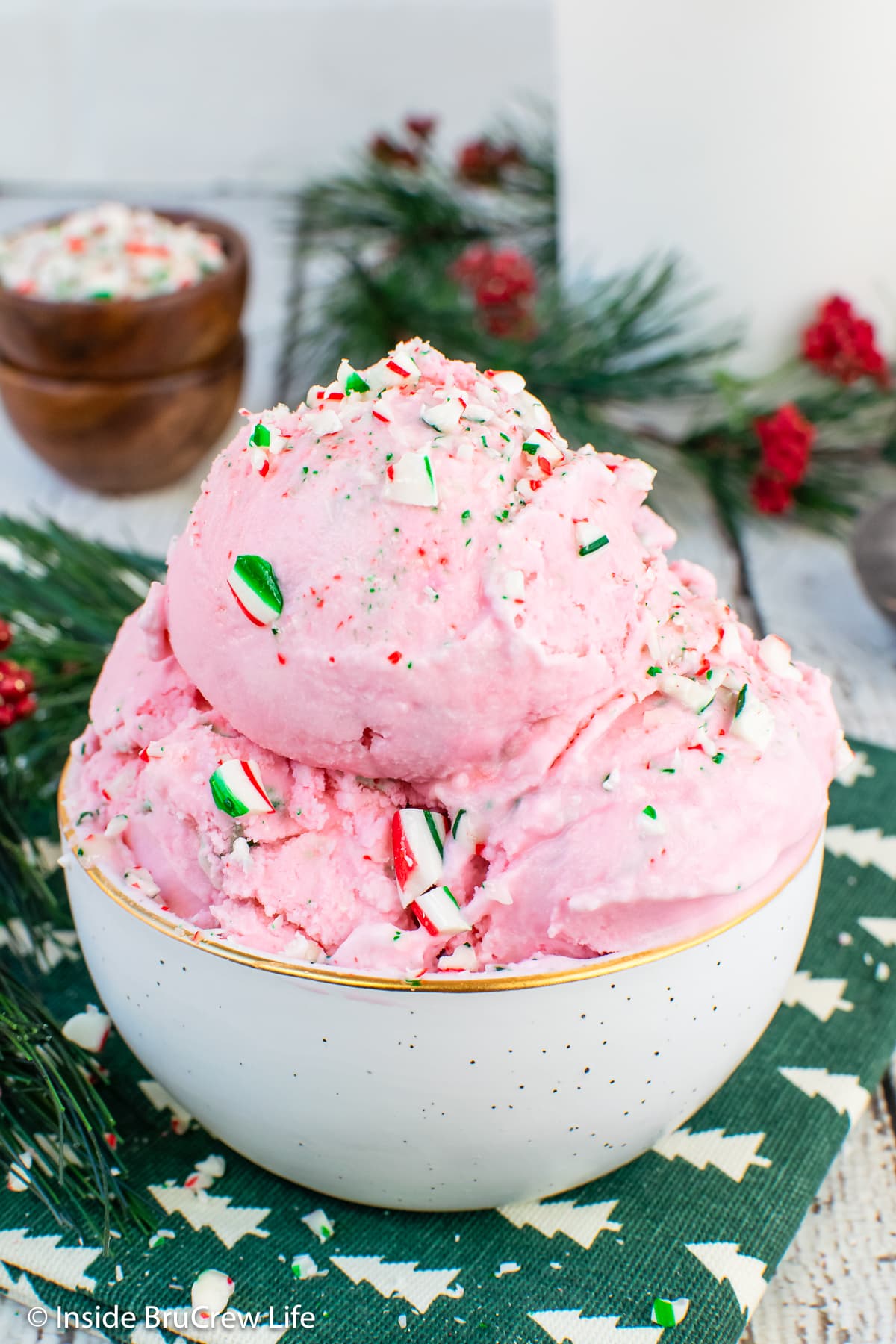 This candy cane ice cream is easy to make because your machine does all the hard work while you wait.
Place the milk and white chocolate in a medium saucepan. Heat the mixture over low heat until the chocolate is completely melted, whisking constantly.
Add ice cubes to a large bowl, then place the hot pan on top. This ice bath will help to cool the mixture quickly. You can also add more ice around the outside of the pan as the ice cubes melt.
Once the milk is cooled, stir in the heavy cream and extracts. Tint your milk with food coloring if desired, then chill the mixture in the refrigerator.
Pour the cold milk mixture into a prepared ice cream machine and churn until thick and creamy. When it thickens, gradually add the crushed candy canes.
Serve the soft-serve ice cream immediately, or freeze the ice cream mixture until it becomes solid.
Storage Recommendations
In the Freezer - Scoop the pink peppermint ice cream into a container suitable for freezing, such as a lined loaf pan. Place wax paper or plastic wrap directly on the ice cream to prevent ice crystals from forming on top. This homemade ice cream can be stored for up to 5-6 days while maintaining its freshness.
To Serve - Let the container sit at room temperature for 5-10 minutes before scooping.
How to Crush Candy Canes
Crushing candy canes is a simple process. You can choose from a few methods, depending on your desired texture. Here are three common ways to crush them.
Food Processor or Blender
Break the candy into smaller pieces, removing all the plastic wrapping. Place them in a food processor or blender.
Pulse in short bursts until you achieve the desired texture. Be careful not to over-process, as you will end up with powder instead of chunks.
Plastic Bag and Rolling Pin
Place the candy canes in a sturdy plastic bag, sealing the top tightly. Place an old dishtowel over the bag.
Use a rolling pin to crush the candy through the plastic bag gently. Roll over the candies until you reach the desired size of the pieces.
Kitchen Mallet or Wooden Spoon
Place the candy in a resealable plastic bag and close it securely. Cover the bag with a towel.
Use a kitchen mallet, a wooden spoon, the bottom of a heavy pan, or even a hammer to crush the candies. Tap them gently until you achieve the desired size.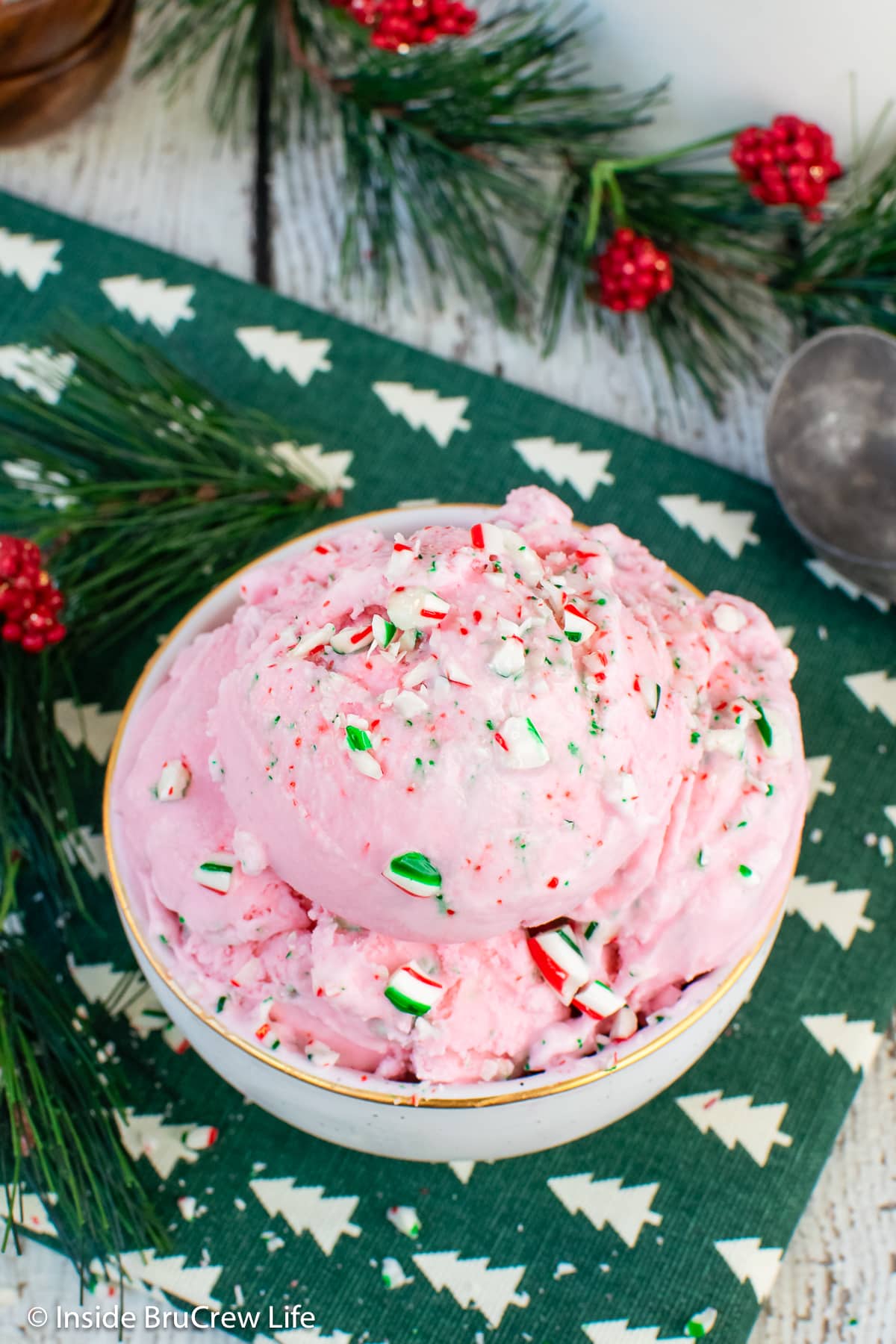 Tips and Tricks
Prep your machine. If you are using an ice cream maker that comes with a freezer bowl, you will need to freeze the bowl at least 24 hours ahead of time. If you use a compressor ice cream maker, chill the bowl for 15 minutes before churning.
Use pure peppermint extract. Peppermint and mint are two distinct flavors. Using mint in your ice cream will make it taste like gum or toothpaste.
Crush the candy canes. Place the candies in a plastic bag, then cover it with a towel. Use a wooden spoon or mallet to crush them into small bite-sized pieces.
Add candies for garnish. Save some of the crushed candies to sprinkle on top of each scoop.
Add extra mix-ins. Sprinkles, chocolate chips, chopped Oreos, and hot fudge sauce are all great ideas.
How to Serve Peppermint Stick Ice Cream
Here are a few of our favorite ways we enjoy eating this seasonal dessert.
Brownie Sundae - Enjoy a scoop with chocolate chip brownies and a swirl of peppermint whipped cream. Add a few pieces of peppermint Oreo bark for a fun topping.
Ice Cream Sandwiches - Sandwich a scoop between two brownie cookies. Roll the edges in candy canes, then wrap them in plastic wrap and place them in the freezer.
Milkshake - Blend a few scoops with milk, candy canes, and mini chocolate chips to make a copycat Chick-fil-A peppermint shake.
Ice Cream Pie - Fill an Oreo cookie crust with the frozen treat. Swirl hot fudge on top, then freeze it again.
Hot Chocolate Float - Add a scoop to your hot chocolate or hot coffee for a delicious winter drink.
Ice Cream Cake - Make a brownie crust in a springform pan, then layer peppermint and vanilla ice cream.
FAQs
What is peppermint stick ice cream?
It is a peppermint-flavored ice cream with crushed candy canes added to it.
Can I make this recipe without an ice cream maker?
While having an ice cream maker makes the process easier, it's not a strict requirement. You can still make homemade ice cream without one. Place your mixture in a shallow container in the freezer, then stir every 30 minutes to prevent ice crystals from forming.
What other candies can you use if candy canes are not in season?
The classic choice is traditional red-and-white striped peppermint candies. But you can experiment with different types, such as starlight mints, peppermint bark, or Andes peppermint crunch chips.
​How long do you churn ice cream?
This depends on what ice cream maker you are using. Some models will be done in 20-30 minutes, while others may take as long as 30-45 minutes. Keep churning until it reaches a soft-serve consistency.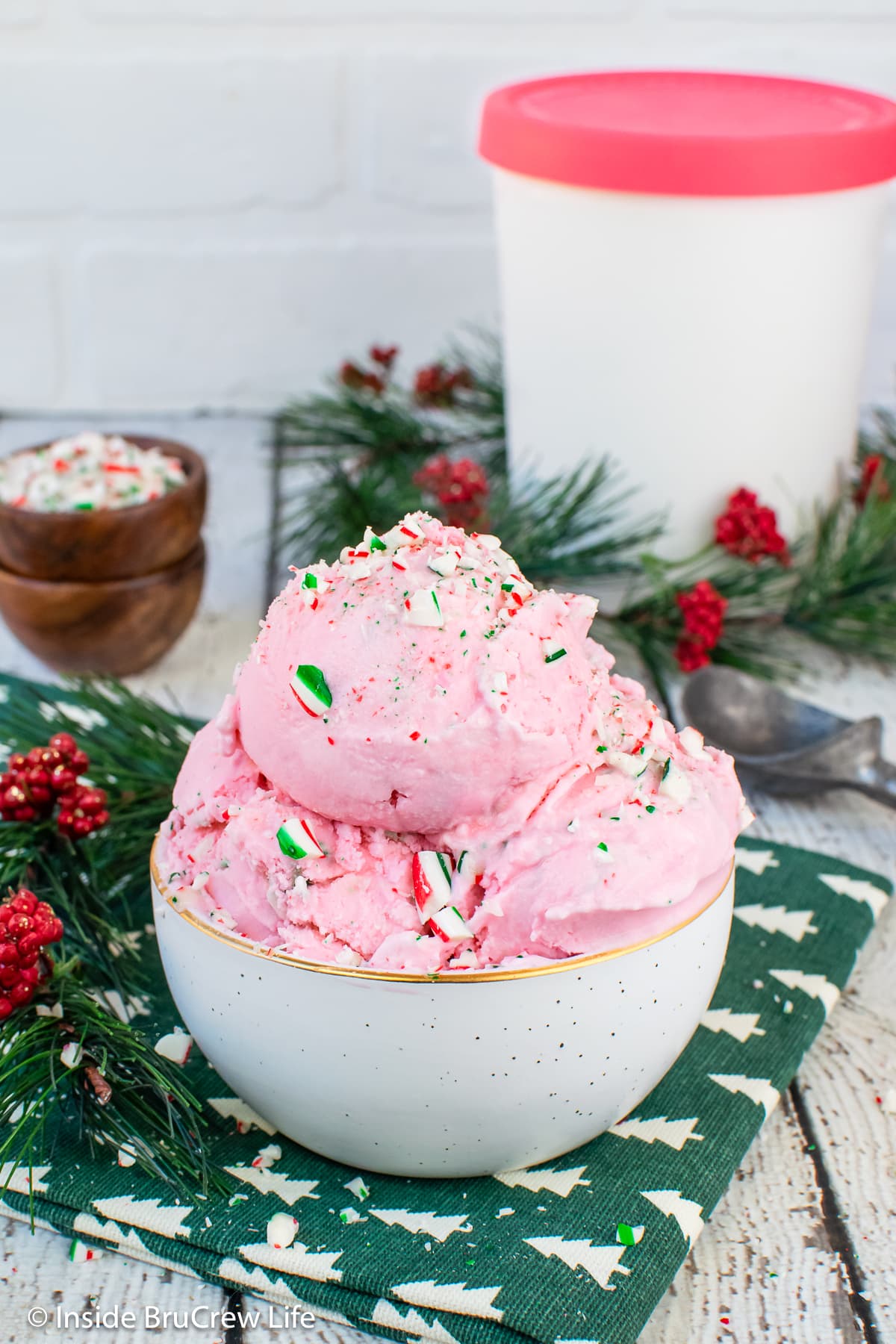 More Peppermint Treats
Do you love a recipe you tried from Inside BruCrew Life?
Please leave a 5-star ⭐️ rating and a review in the comments section below.
*This post was first published in December 2018. It was updated and then republished in December 2023.