Wrap up in a blanket and enjoy a big bowl of this Peppermint Stick Ice Cream. This festive pink ice cream is blended with crushed candy canes and is perfect for the holiday!
Enjoy a scoop of peppermint ice cream on top of warm Homemade Chocolate Chip Brownies for an awesome winter dessert! Add a swirl of Peppermint Whipped Cream for a double dose of peppermint goodness.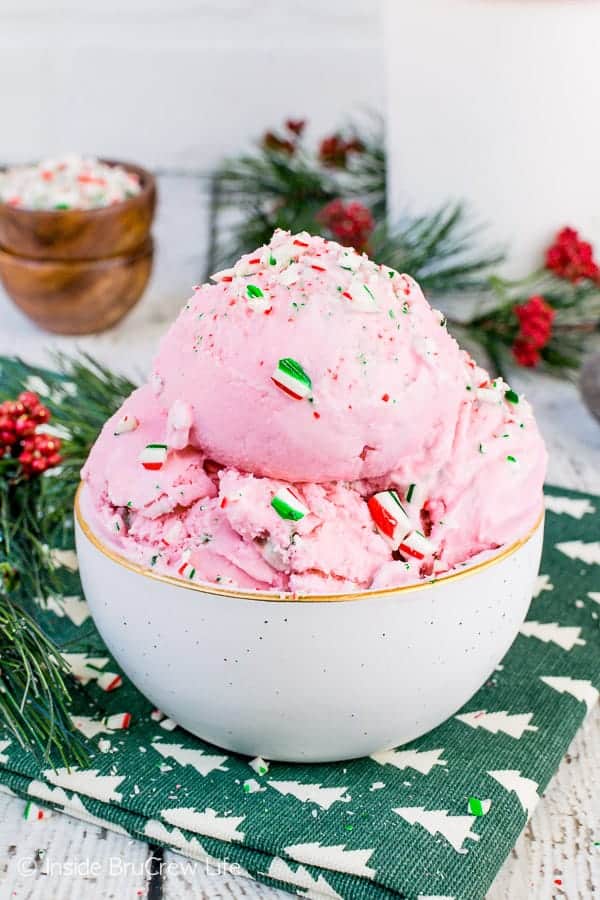 It's officially December, so we can peppermint all the things now. Not that I wait for December to get here to do that. No way, josé. Peppermint treats have been happening in our kitchen for about a month now.
Life of a food blogger. We are always ahead of the seasonal flavors here!
At least I'm not six months ahead like magazine publishers. I don't know if I could get into the holiday spirit in the middle of summer to photograph winter food.
Although, here I am in winter photographing summer food, so I guess it isn't that much different, is it?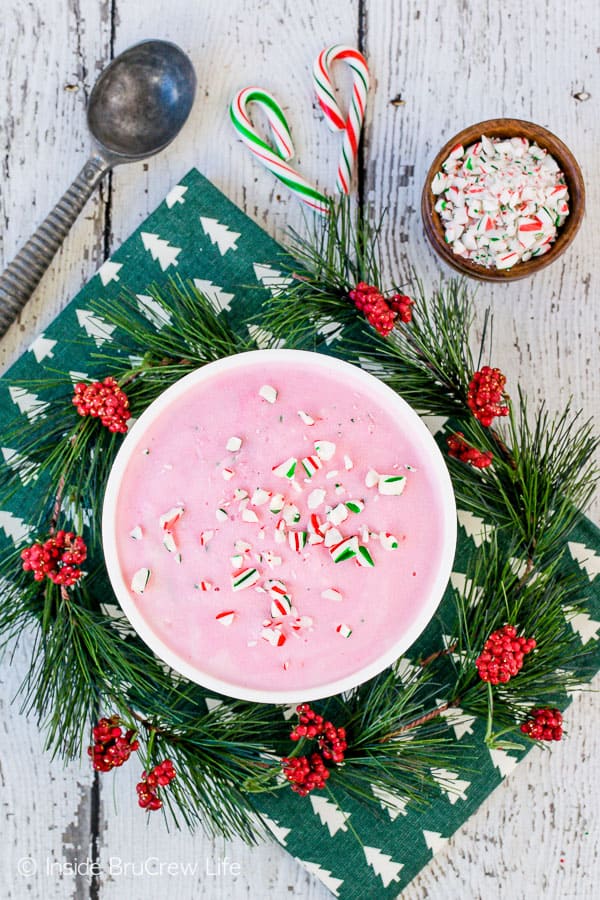 This easy homemade peppermint ice cream gives you a blast of winter flavor with all the summer chills. I know ice cream is technically a summer dessert, but we tend to eat ice cream year round just like most of you.
All the stores in our area are fully stocked with cartons of peppermint ice cream. Sure, I could have just picked up a container at the store to satisfy my sweet tooth, but this year I wanted to make this classic holiday flavor in a creamy homemade ice cream.
I grew up eating homemade ice cream every summer from an old fashioned ice cream maker. There is something so good about a classic homemade vanilla ice cream. But want to know a secret? I have actually never made real homemade ice cream before this.
Sure I've made lots of "two ingredient" ice cream. This Brownie Batter Coffee Ice Cream will make you devour an entire container in no time at all. And this Funfetti Cookie Dough Ice Cream is a fun flavor that kids of all ages love.
But this is the first time I made a mixture on the stove, chilled it, then churned it in an ice cream maker.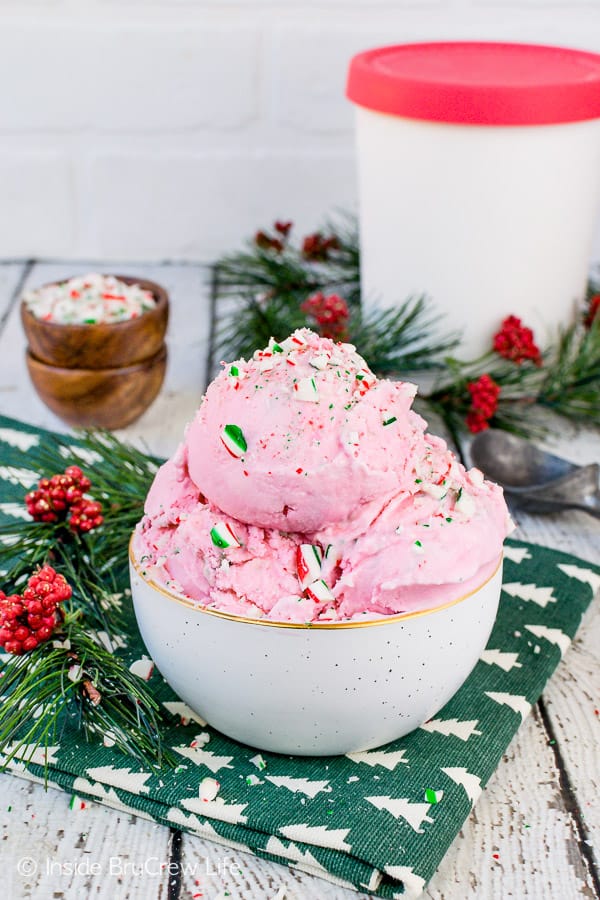 How to make homemade Peppermint Stick Ice Cream
Place the milk and white chocolate peppermint chunks in a saucepan and heat over low to medium heat until the chocolate is melted. Basically you are making white hot chocolate at this point.
Add a layer of ice cubes in a large pan or bowl and place the pan of milk in the bowl to cool the mixture quickly. You can also add more ice around the outside of the pan as it melts the ice cubes.
Stir in the heavy cream and extracts. Tint your milk with food coloring if you want, and then chill the mixture in the refrigerator.
Pour the cold milk mixture into an ice cream maker and churn until thick and creamy. Once it starts to get thick, slowly add the crushed candy canes and let them mix into the peppermint ice cream.
Serve it right away if you want soft serve ice cream, or freeze the mixture in a freezer safe bowl until frozen solid.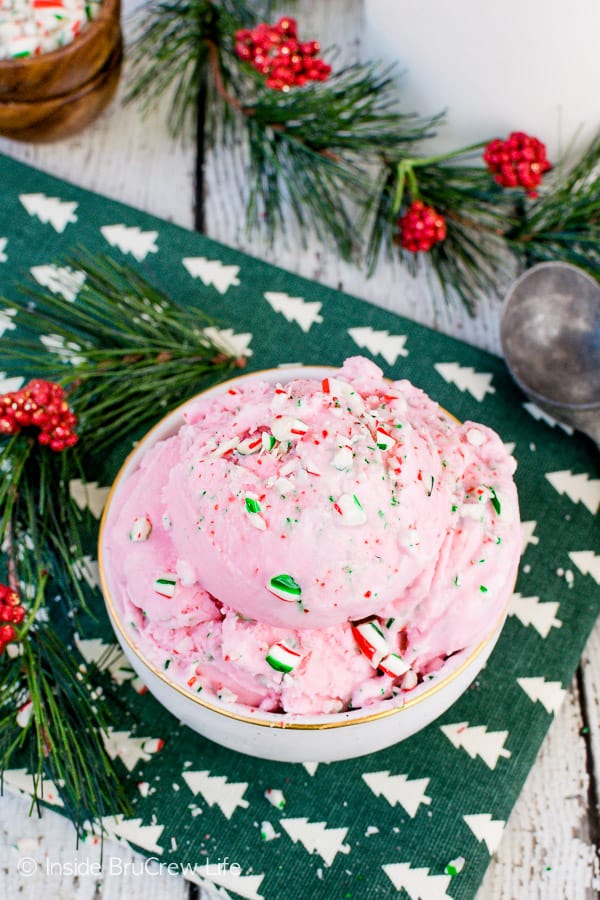 Peppermint Dessert recipes to make the holidays bright
If you are looking for more easy and festive peppermint desserts, you need to try a few of these delicious treats.
This Peppermint Oreo Bark is an easy three ingredient treat. It's a great no bake dessert that is so pretty on cookie trays. You could also crumble this bark up and add it to the Peppermint Stick Ice Cream for a fun twist.
Keep your cookie jar stocked with these Oreo Peppermint Crunch Cookies. Cookie chunks and Andes peppermint crunch chips make these cookies a favorite with everyone.
This easy Peppermint Oreo Cheesecake is the perfect dessert for busy holiday nights. The cookie crust and no bake peppermint cheesecake comes together in no time at all.
These cute and delicious Peppermint Cream Patties are a fun and easy dessert to make for cookie exchanges. You can also customize them with different colored sprinkles.
CLICK HERE TO PIN THIS RECIPE FOR LATER!